This Black History Month, we're telling the untold stories of women, women of color and LGBTQ+ people. Subscribe to our daily newsletter.
In 2007, Rissi Palmer became the first Black woman to have a country song reach a Billboard chart since Dona Mason in 1987. Even then, Palmer was acutely aware of the 20-year gap that signified a very concrete representation of the barriers that existed for Black women in country music — but as she continued in her career, she came to understand that gap more as an erasure of the contributions of Black women to country than a simple absence of their presence. Since 2020, Palmer has used her CMC radio show, "Color Me Country Radio with Rissi Palmer," to tell the stories of Black, Indigenous and Latinx musicians past and present who have very much existed despite being frequently ignored by mainstream country radio and press.
Today, Palmer is still a working and touring musician, the founder of the Color Me Country Artist Grant Fund to support "underrepresented voices of BIPOC artists in country music," and a constant voice calling attention to the history of people of color in country and the way country music has always been a part of Black culture. The theme for Black History Month this year is Black resistance, and Palmer spoke with The 19th about her career as a Black woman artist, gatekeeping and revisionist history, making more room at the table for an audience who has always been there, and country music as a form of resistance.
This interview has been edited for length and clarity.
Jennifer Gerson: How would you describe your career and how you got to where you are today, and how that work ties into the idea of Black women, resistance and Black History Month?
Rissi Palmer: I come from a family that very much appreciates music. My mother was, in particular, a fan of country music. I grew up listening to the records my parents played and just fell in love with the storytelling of country music and the way it made me feel. I also just liked the way that it sounded — in particular artists like Wynonna Judd, Phoebe Snow, Patsy Cline, Dolly Parton. I knew from the beginning that I wanted to be a singer.
Black history reflections — and the path forward
I left college my freshman year when I got my first publishing deal and went to Nashville with my managers, who were two Black women, and I signed this deal with a great publishing company that basically taught me everything about writing songs and treated me like family. I got spoiled — I thought everything was going to be like that first situation, where everyone was extremely welcoming.
Unfortunately, the rest of my experience wasn't exactly like that. Once we had the music and my managers started shopping it around they found that a lot of record companies weren't interested or were baffled as to how to market "someone like you."
When you heard those words from labels, what did you understand them to mean and how did it make you feel?
I was 18, 19 years old and so I knew what racism was. I had experienced it before in life. But still, hearing that I took it personally — I thought, "Well maybe I'm not great enough. Maybe I'm not talented enough. Maybe I didn't sing well enough. Maybe I didn't play my guitar well enough." I would try to rationalize what they were saying and personalize it and just try to work harder and be better. And I did that for years.
It took seven years from the moment I got to Nashville to the moment I signed a record deal — and I didn't sign a record deal with a Nashville label, but with an independent label based in Atlanta. I think the reason they signed me was because they weren't in Nashville and technically a part of the Nashville industry, so they didn't have the same hang-ups as the companies in town.
How have you evolved in your understanding of what it means to be a Black woman in country music and the role Black women play in country music, from the beginning of your career to where you are today?
Evolve is a great word. In the very beginning, we were very focused — my team of managers and then my record label — on how to make me "the successful one" when it came to being a Black woman in country music. Because of Charley Pride, there was this feeling that there was going to eventually be a Black woman that breaks and has this big moment and all of this stuff. While I appreciate the focus, and the push, and the love and the hard work everyone gave me, today I think we were too focused on my being "the one."
I wasn't really thinking about history or anything like that. I knew I was the first Black woman to chart on Billboard [in 20 years] and I knew that I was one of the few Black women that had ever played the Opry. I knew that stuff, but I didn't have an appreciation for the history of things like the Black Country Music Association. I didn't have an appreciation for Linda Martell [the first Black female solo artist to play the Grand Ole Opry] and have an appreciation for the countless other Black artists that don't get talked about and our contributions to the beginnings of country music. I didn't know any of that.
It took me going through the beginning of my career and leaving Nashville and getting married and moving to North Carolina after a lengthy court battle with the record label to leave to really gain some perspective, to gain the wisdom that comes with age and being a parent and having to think about other people than yourself. Then having the experience of being an independent artist — which I have been since 2011 — and having to do the work to save yourself got me here to this moment where I am right now.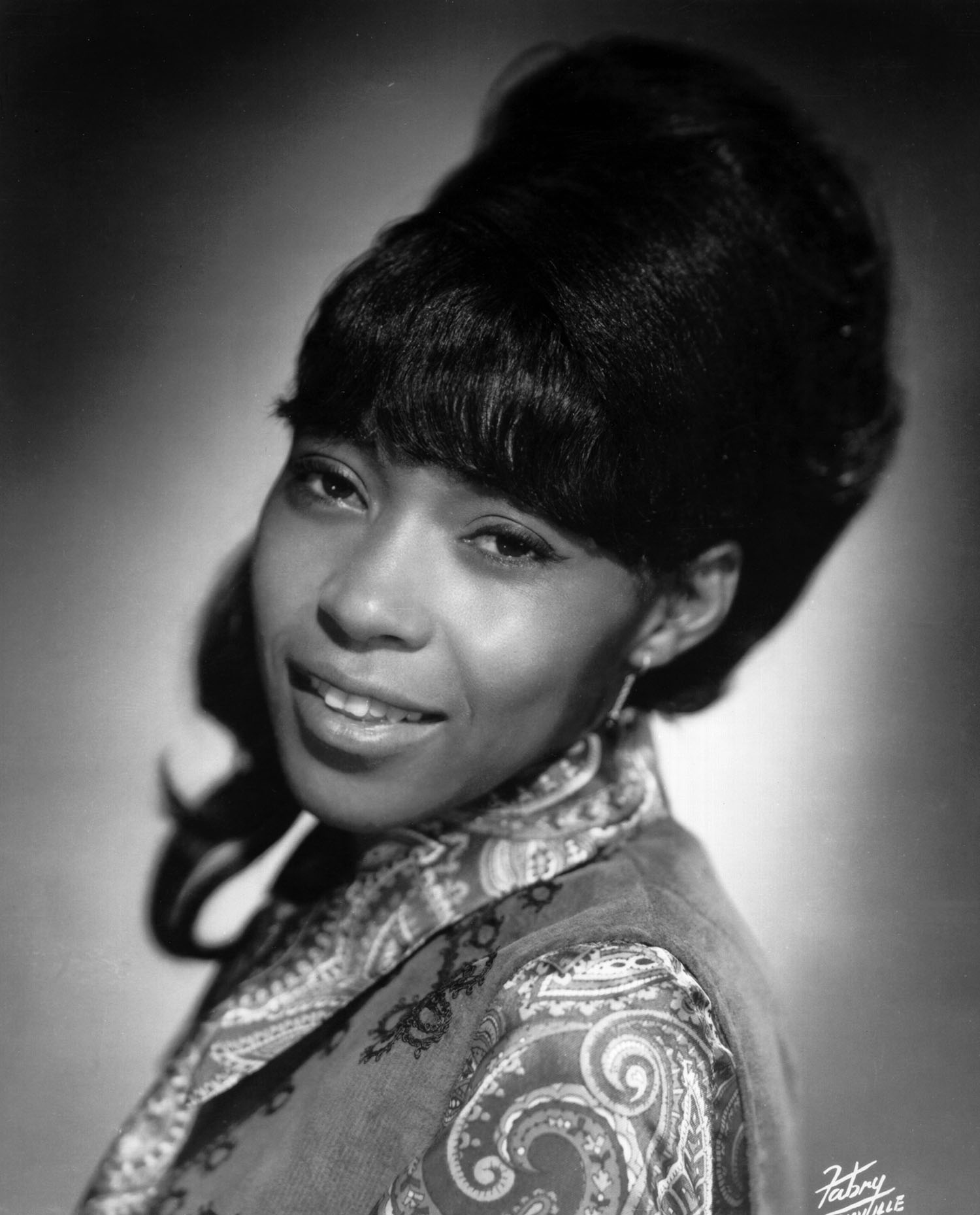 You serve this role now as both an artist in your own right but also as a historian and critic who brings the context of looking back to the past to understanding what artists we need to be looking at in the present. What are some of the things you think people need to be looking to right now in terms of the role Black women specifically have played in country music, and how Black women have used country music as a form of resistance?
The biggest thing everybody needs to look at — and that includes a lot of the new artists of color that people are listening to and writing about in covering this moment we're having right now — is that this has happened before. We've had this moment before. Look what happened in the '70's with Charley Pride's success. Then there was Linda Martell. There was Virginia Kirby and Dona Mason, Barbara Cooper and Ruby Falls. I could go on and on. We have had this influx of people of color — of women of color — in country music before. We're having this moment of high visibility [for Black country artists] right now with Jimmie Allen and with Mickey [Guyton] and Breland and Darius Rucker, of course. But I think the thing we all need to be aware of is that because there was no community, everyone has forgotten.
There was no saying then, "OK we're going to work together as a unit. We're going to move together. We're going to make sure we're all walking through the door together" because there was no sense of community. There were just people saying, "Oh this is so exciting! Look at all these Black and Brown faces! This is so diverse! We've done it! We've cured it!" And then it ended when there wasn't the success that everybody wanted from these other artists outside of Charley because Charley became "the one."
I think it does something to your mindset when you know you are "the one" and you're trying to make sure that you remain successful. It pits you against other people that really, you could be in community with. I caution artists that I talk to to try to think of things globally rather than individually. I try to do that myself. That's part of the reason why I wanted to go on tour with Miko Marks this spring, because I think that we're powerful individually, but collectively — we're really powerful and can make a real statement of solidarity and of unity. I think that is really important because that's something you see White artists do and you don't think twice about. You don't think, "Oh wow, Morgan Wallen is taking another White male artist on tour with him this year."
But when you look at a lot of Black artists, you don't see them doing that. It's unfortunate, and I don't think it's because they don't want to. I think we need to look at who is running the show. We stay so focused on who is onstage, and who is hosting, and who is singing, who is playing and those are all great things — but we need to be mindful of the fact that it also matters who does the casting, and who does the directing, and who does the signing, and who is looking for songs, and who is producing and who is doing the PR.
Black women, in particular, have been really good at fostering the community aspect, like what you see with Frankie Staton and the Black Country Music Association in the '90's. She was the mother of that and did so much good work. Then you have present-day people like Holly G and the work she is doing with the Black Opry is really inspiring. She works really hard and comes from this mindset of community and wanting to take care of artists and wanting the audience to feel taken care of and people to feel comfortable coming to these shows. Black women are also leading in being critical voices, like journalist Andrea Williams and the work that she's doing talking about the not-so-nice, not-so-shiny parts of what's going on right now.
Black women are doing critical work right now.
What do you want people to know about the origins of country, especially when people discuss who country music "belongs" to?
Country music started off being based on gospel music, blues music, traditional music from different countries. It's funny to me that this music that has always been a gumbo of a lot of different things has been boiled down to belonging to only White people. I think we are really grappling with the real history of country music — the fact that the banjo is based on an African instrument, that certain aspects of the fiddle are also from African instruments. We would be lying if we ignored the fact that the early string bands were Black bands.
Who are the artists working today that you are most excited about when you think about expanding our notion of who gets a seat at the table when it comes to talking about country music?
I have to say up top that I am a big fan of Maren Morris. Maren is at the top of her game and could choose to be silent like so many of her peers about what's going on, but she's not. She talks about things, and she says things, and she speaks up about things, and I appreciate that. I think that's really dope. Same with Cam — that's another artist I love for exactly the same reason. She's very outspoken.
I think that Brittney Spencer is a breath of fresh air. I think she's dope and she's a good person. I love, love Yola and I love how she is expanding the genre and the way she attacks country music and Americana music in her work. I think that Allison Russell is pretty dynamic and amazing. I think my tourmate Miko Marks is incredible. It's weird to me to call her a new artist, because Miko has been doing this for so long and on such a high level. But I think Miko is just extraordinary and I'm proud and honored to be joined with her and to be working with her.
I took a bunch of artists to Europe this past summer and they're all women that I just admire and think are so extremely talented: Charly Lowry, Madeline Edwards, Valerie Ponzio, Camille Parker and Miko — these are people I think are really dope.
There is a new artist named Denitia and her record is . . . full of cool juxtapositions to her identity. The music she makes is just so cool and very interesting.
Also Chapel Heart — they're kinda flying under the radar and they are one of my favorite things I have seen in years. They are like if The Pointer Sisters and The Chicks had a baby. I want them to have all the things because I think they are superstars.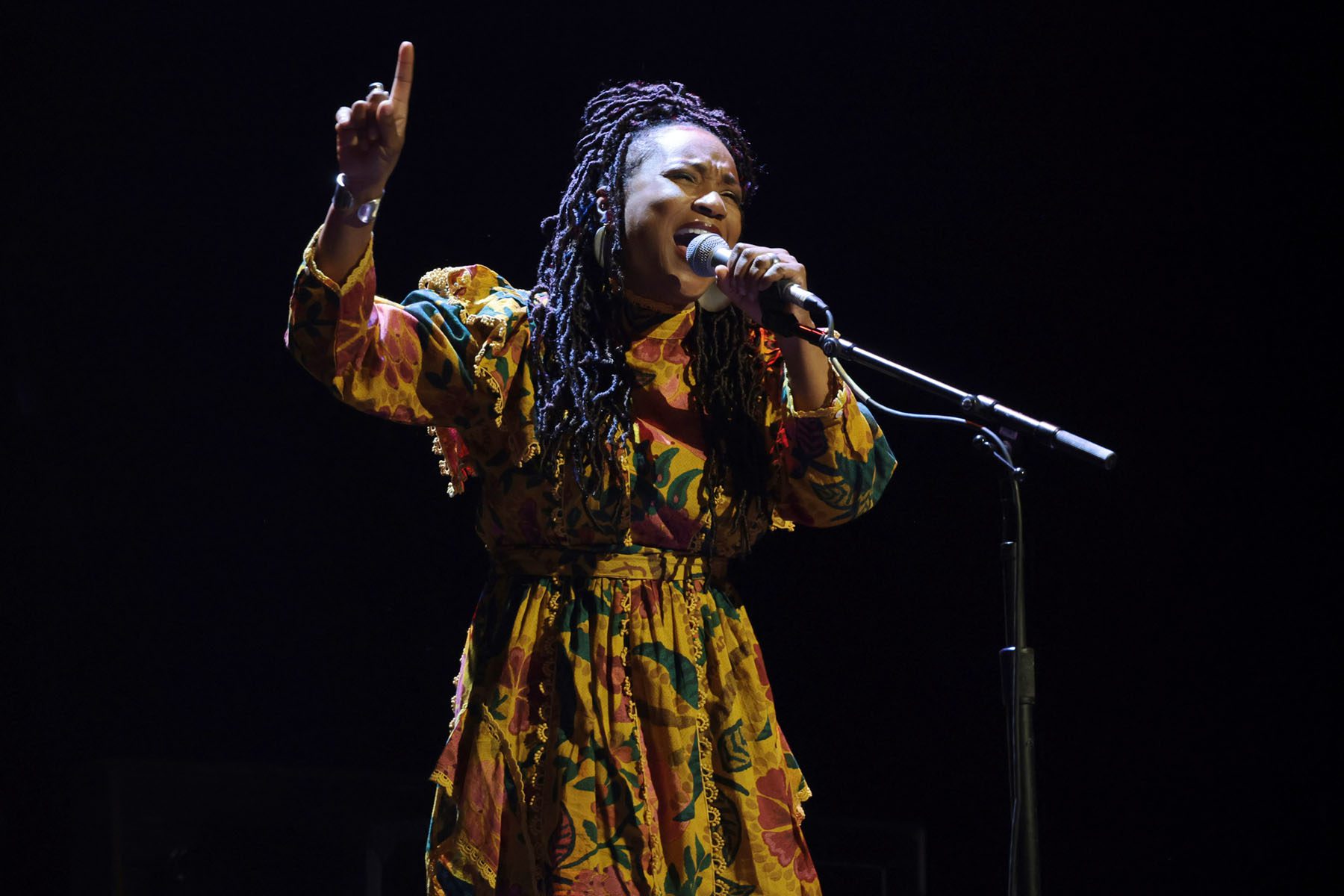 How would you define and explain what country music is and the role it plays in Black women's resistance?
Country music is a feeling. Country music is a vibe. It's a place. It was summer with my great-grandmother and my grandmother in Georgia. Country music is the way I feel about the people I love. Country music is the way I feel about my children. It is the way I reflect on my life and talk about the little joys, the little postcards from God that you get on a daily basis.
Everyone is entitled to joy but I especially feel that for Black people and for marginalized people at large, we're entitled to joy because there's a lot of dark and there's a lot of bad, especially right now. We are entitled to moments of laughter. We are entitled to moments of whimsy. And I think some of the best storytellers, and authors, and thinkers and poets are Black women — and we are as entitled to have our stories told as anyone else. And country music is a place where Black women can tell their stories.
There is a new artist named Julie Williams and she has a song out called "Southern Curls" and it's about how not all Southern curls are met with open doors, how her curls weren't necessarily always the right ones where she was growing up. Think about Mickey Guyton's song "Black Like Me." There is a place for these stories as much as there is for "Hillbilly Bone" and "Country Girl." There is room for all of this. You don't necessarily have to have Black hair or be Black to [hear] Williams' song and to empathize and understand and identify with maybe feeling different, not always feeling within the margins.
Black people are not a monolith. Not everybody is Beyoncé. Some of us grew up listening to Trisha Yearwood and wanting to do that. Country music is a form of resistance because it is a form of joy for those of us who are fans and love this music. It's a form of resistance for everyone who has ever been told, "Well this isn't your music" or "Black people aren't supposed to do that." Yes, we are. Yes, we can.