*Correction appended.
Your trusted source for contextualizing the news. Sign up for our daily newsletter.
MONTEREY PARK, Calif. — With the snow-capped San Gabriel Mountains visible in the distance, Star Ballroom sits next to a noodle shop in a strip mall that looks similar to countless others in the region. That a mass shooting, the worst in L.A. County history, took place in this low-crime ethnoburb of 60,000 has unnerved people throughout the area. Most of the victims were Asian American and ranged in age from late 50s to late 70s. 
Even when attacks on Asian Americans, especially women, increased during the pandemic, many felt safe moving around Monterey Park and neighboring towns with high Asian-American populations. Ballrooms like Star were places where senior Asian Americans particularly felt comfortable. After the mass shooting on January 21 — which left 11 dead and nine injured — that might no longer be the case.
The 19th reached out to nearly a dozen older Asian-American women in the area to ask for their thoughts after the Monterey Park attack. The majority either declined to comment or did not want to be identified, citing concerns about their privacy and a discomfort with potentially publicly saying the "wrong thing" and being misconstrued by outsiders.
Christina, a 68-year-old who wanted to be identified only by her first name, was a regular at the ballroom and knew seven of the 11 people killed in the mass shooting that occurred on the eve of the Lunar New Year.
"We will probably never want to step inside again," she told The 19th at a memorial on Wednesday where Vice President Kamala Harris briefly appeared to pay respects.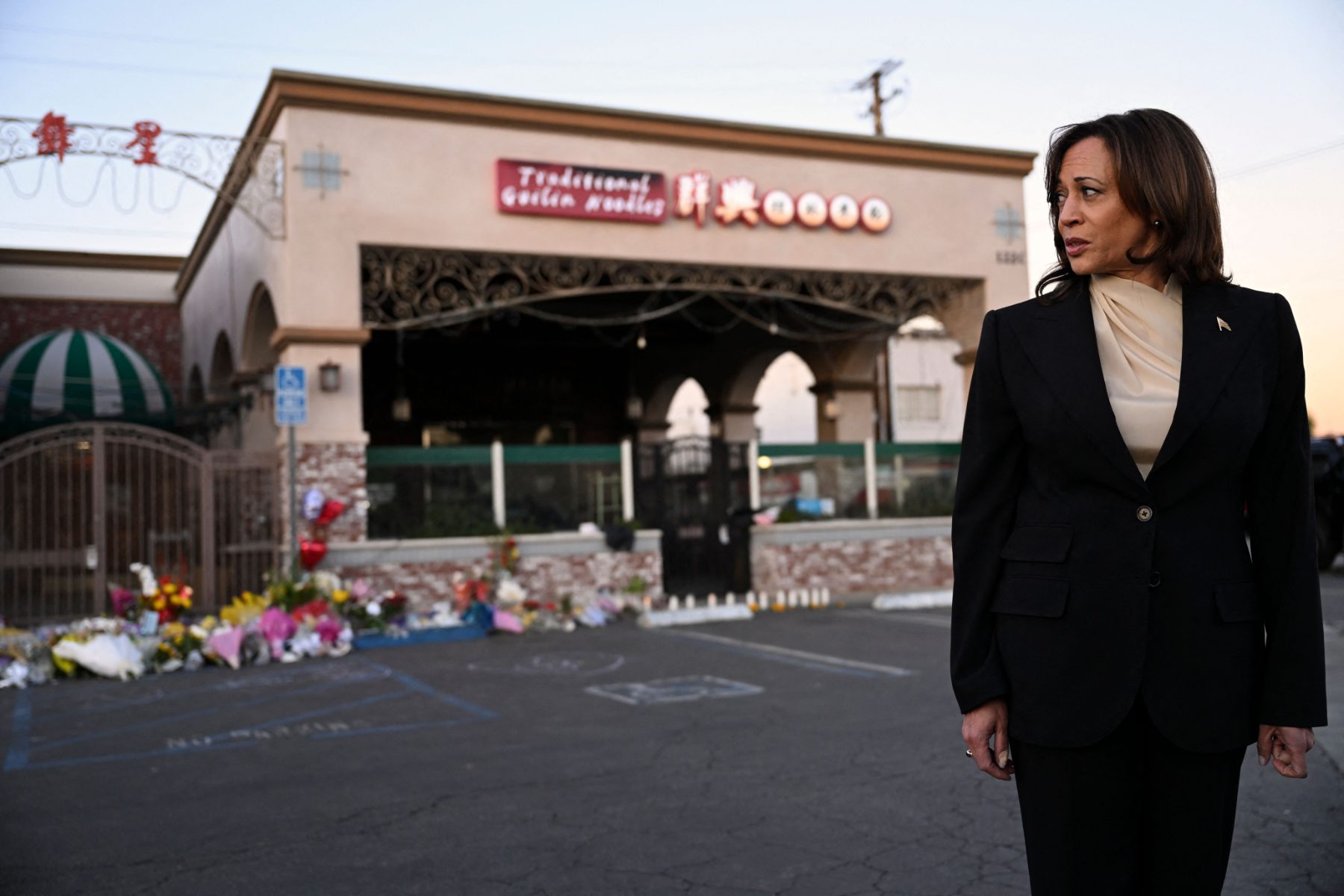 Christina, a Chinese American from Azusa, California, who moved to the United States in 1984, stood out from the hundreds of mourners: With burgundy hair and full face of makeup, she paired a puffer jacket with a tiered crystal-embellished skirt and sandals as sparkly as her dangling earrings. She said that she frequented both Star Ballroom and Lai Lai Ballroom in nearby Alhambra, where the gunman was disarmed by a civilian while attempting another attack just after the Monterey Park massacre.
"There's a room for karaoke and dancing, so we were there two days a week," said Christina, a postal worker who used to travel from as far as Irvine, more than 40 miles away, to dance at Star Ballroom.
"We all dance and sing together," Christina's friend Dora piped in. The 70-year-old Chinese American from San Gabriel also did not want to provide her last name. She said the shooting has left her afraid and that now she must be "very cautious" while attending events.
A retired L.A. County employee, Dora said she's not sure where she and her friends will gather following the shooting. Now, she wonders, "what should we do?"
Asked what she would like lawmakers to do to prevent more mass shootings, Christina said: "It shouldn't be that everybody can easily get a gun. No. It's too much. It has happened too often. It's something that the government has to think about very seriously."
As San Gabriel Valley residents were still reeling from that atrocity, another California mass shooting occurred, this one upstate in Half Moon Bay. Like the Monterey Park shooting, both the gunman and the victims were older Asian Americans. Within the same week, there was also a mass shooting in rural Tulare County in California's Central Valley that left six dead, including a 16-year-old girl and her 10-month-old baby.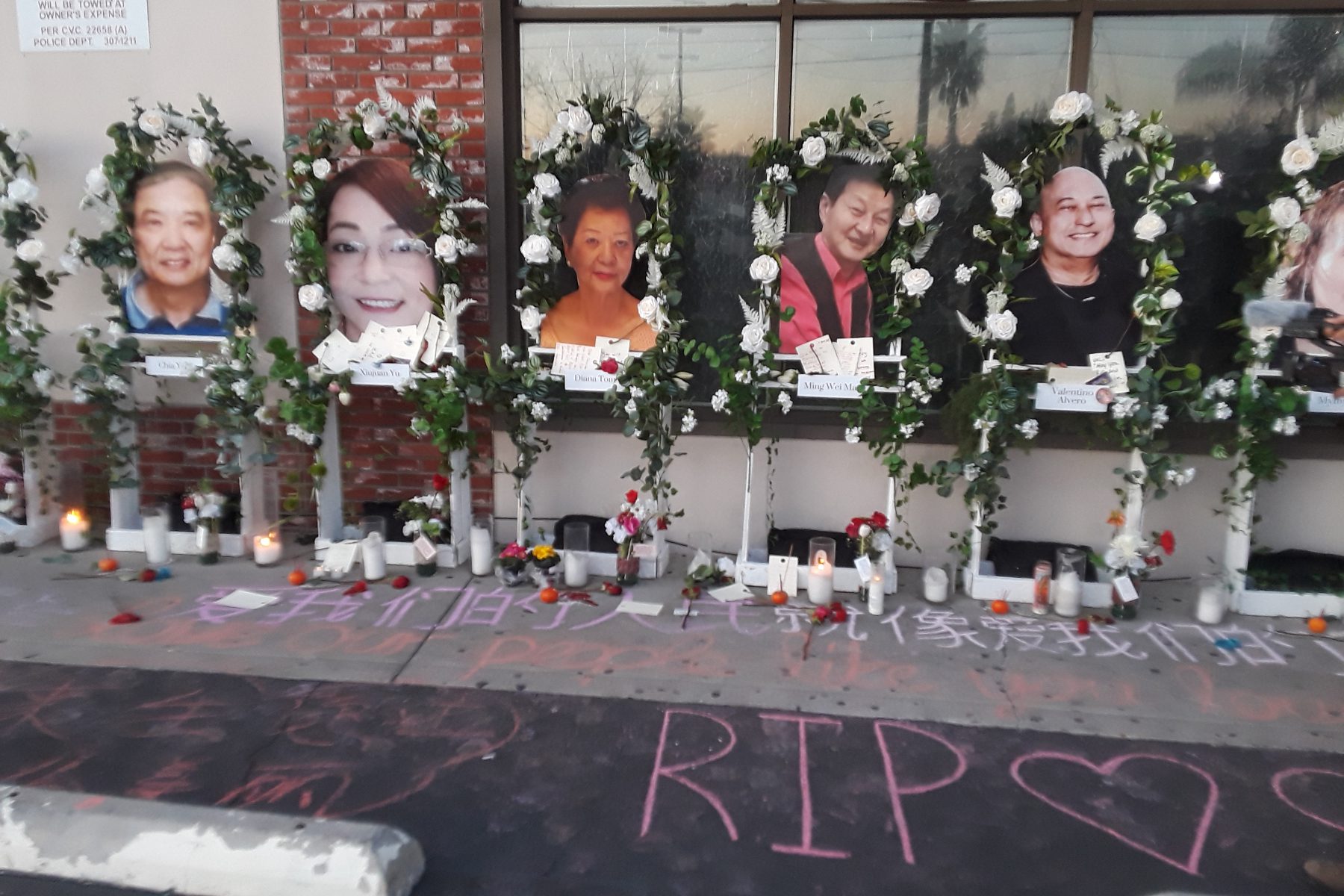 Harris visited Monterey Park on Wednesday, placing a bouquet studded with white roses and yellow lilies at the site of the shooting, where enlarged photos of the victims could be found enshrined with wreaths. She later met with the victims' families.
"California has been courageous as a leader on the issue of smart gun safety laws," she said in front of the makeshift memorial in Monterey Park. "But we also need Congress to act … so we can get at least one step closer to what is right and what is reasonable — understanding that to do so is to fully support the Second Amendment but to understand we need reasonable gun safety laws in our country."
Gun ownership rates soared during the pandemic, with millions of people becoming first-time owners, including Asian Americans/Pacific Islanders (AAPI). According to a peer-reviewed study from the University of Michigan and Eastern Michigan University, Asian Americans were likely to buy firearms for "self-defense" and more than half of those who did were first-time owners. Gun sales to Asian Americans are estimated to have increased by 43 percent in the first half of 2020, according to the data from the National Shooting Sports Foundation (NSSF), a trade association for the firearms industry. According to a 2021 study from the Violence Policy Center, the gun industry specifically targeted Asian Americans as first-time gun owners amid the rise in hate crimes against AAPI people and fear.
Andy Wong, the director of advocacy at Chinese for Affirmative Action, a civil rights organization based in San Francisco, said that it is important to address the intersection between the AAPI community and gun violence.
"While important details are still emerging, we also confront the reality that the AAPI community is not immune to the epidemic of gun violence in the United States, with our cultural holidays added to the list of everyday activities impacted by mass shootings," Wong said during a virtual press conference hosted by the AAPI Against Gun Violence Coalition.
Varun Nikore, the executive director of the AAPI Victory Alliance, said AAPI communities "have been impacted by mass shootings just as much as the rest of America." Nikore pointed to one of the first mass shootings in the country in 1989, in which Southeast Asian children were targeted at an elementary school in Stockton. There was also the 2012 mass shooting at a Sikh temple in Wisconsin, the murder of Asian American women in Atlanta during the pandemic and the Indianapolis mass shooting that targeted Sikhs shortly after.
"The prevalence of guns and potentially for gun violence is so scary to Asian Americans, especially in the context of schools," Nikore said. "Like many Americans, we are scared to have our kids go to school every day and concerned if they're going to come back. We are also fearful of potentially encountering gun violence anywhere we go: the grocery store, our houses of worship and our holiday celebrations."
Nikore said that the AAPI community has expressed strong concerns about gun violence. According to a poll that the AAPI Victory Alliance conducted last year, along with other organizations, gun control is the top non-economic issue about AAPI voters in the United States.
"We need better education in our communities about safe storage, and we must acknowledge that the increase in gun purchases amongst AAPI communities is directly as a result of the justified fear of encountering racist violence," Nikore said during the virtual press conference. "There are consequences to the increased availability of guns in our communities. AAPI youth have the fastest-growing firearm suicide rate of any racial or ethnic group, with a 71 percent increase over the last decade."
Several older AAPI women told The 19th that the recent violence really showed how the same American tragedy and violence they see on television and national news sites — there have already been nearly 40 mass shootings across the country in 2023 — can hit close to home, in their own community.
Betty Bei, 68, has lived in Alhambra for about 25 years and lived in Monterey Park before that. Speaking Mandarin in an interview with The 19th, she said the nearby Lai Lai ballroom was a big part of the community. Bei, who has gone dancing with other senior members of the community, said she recognizes the need for more gun control, "which should have happened long ago." The crux of the problem, she argued, is an American society that is soft on crime and creates an environment where people feel like they need guns to protect themselves. As anti-AAPI rhetoric ramped up in the pandemic, Bei said she herself had been shoved in the street and yelled at while driving.
Still, she said, more needed to be done to limit access to firearms.
"It's as if it's contagious," Bei said, referring to gun violence. "People seemed to have stopped valuing life. It's causing us to suffer."
The recent shooting hit "too close" and during "our everyday activities," Bei said, instigating conversations among her friends and family about whether it's safe to stay.
"Our generation came to the U.S. for the environment, the clean air, the stability and safety," Bei said. "I never thought this would happen here. As a community, we feel very unsettled. Among friends, we talk about whether to go back. … We've been here 20, 30 years. What would going back even look like?"
Thanh Vuong, a 60-year-old Vietnamese woman, said she moved to Alhambra 25 years ago. She raised her children in the area and never felt unsafe. The shooting, she said, was unexpected. In fact, Vuong and her best friend had planned on going to Monterey Park to celebrate Lunar New Year on Sunday, the day after the shooting, before all festivities were canceled.Vuong said lawmakers need to focus on gun control and supporting law enforcement."These were innocent people," Vuong said. "They were celebrating the new year. They love dancing. They love singing, like me. We were just celebrating and praying for a better year, a better life. We've never had anything like this in 25 years, and I don't understand what has happened."
Yvonne, a Chinese woman originally from Hong Kong who has lived in Alhambra for almost two decades, said that she had been to the Star Ballroom years and years ago but does not frequent that social scene anymore.
"I am more afraid of going to Monterey Park because I think it's just more complicated there," said Yvonne, who asked not to have her full name used because of privacy concerns. "Where I live, I feel safe because people just keep to themselves."
Even as anti-AAPI sentiment rose during the pandemic, Yvonne said she has not felt unsafe going about her day-to-day life. And though she took a little solace in the fact that the attack wasn't race-motivated, she was a little taken aback at the murder weapon and high death toll.
Yvonne said that's just what it's like living in the United States today.
"After this happened, I kind of feel like it can happen — whether it's Asian hate or anything else — it can happen if you just happen to be at the wrong place at the wrong time."
Flora Peir contributed reporting.
Correction: Because of an editing error, an earlier version of this article misspelled Betty Bei's surname.