Collection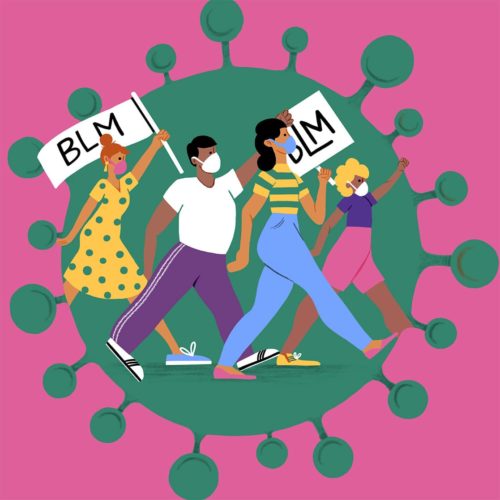 Pandemic Within a Pandemic
Black Americans are disproportionately suffering from a set of dual ills: the novel coronavirus and systemic racism. Evidence shows Black Americans are more likely to fall sick from or die from Covid-19. Concurrently, they are also more likely to die from police brutality. These are just two symptoms of the systemic racism that has disadvantaged Black Americans for hundreds of years.
In This Collection
If the national vaccination campaign does not prioritize racial equity, experts worry, "we will not be able to stop this pandemic."

How some tribal women are getting out the vote in communities long beset by voter suppression and newly impacted by the deadly coronavirus.

The former U.S. attorney general spoke to The 19th about voter suppression, redistricting and the importance of Breonna Taylor's case.

The president called COVID-19 the "China plague" and refused to denounce white supremacy, comments that incited fear in some voters.

Voters will be listening for the presidential candidates to address systemic racism and police violence at the debate, activists say.

The announcement comes after a $12 million settlement for the family and months of Black Lives Matter protests.

Americans are struggling to consistently get enough nutrition. Cisgender women and transgender people — both of whom have suffered disproportionately in the COVID recession — are at the greatest risk.

Black women have lost hundreds of thousands of jobs due to the coronavirus. But long-held, systemic racism had already put them in a precarious position.

Bush's primary win in Missouri's 1st District means the movement could be elevated into federal halls.

Farmers, activists and city planners nationwide are pivoting in light of the pandemic's impact on food access. In Mississippi, that also means restoring a fraught connection with land.