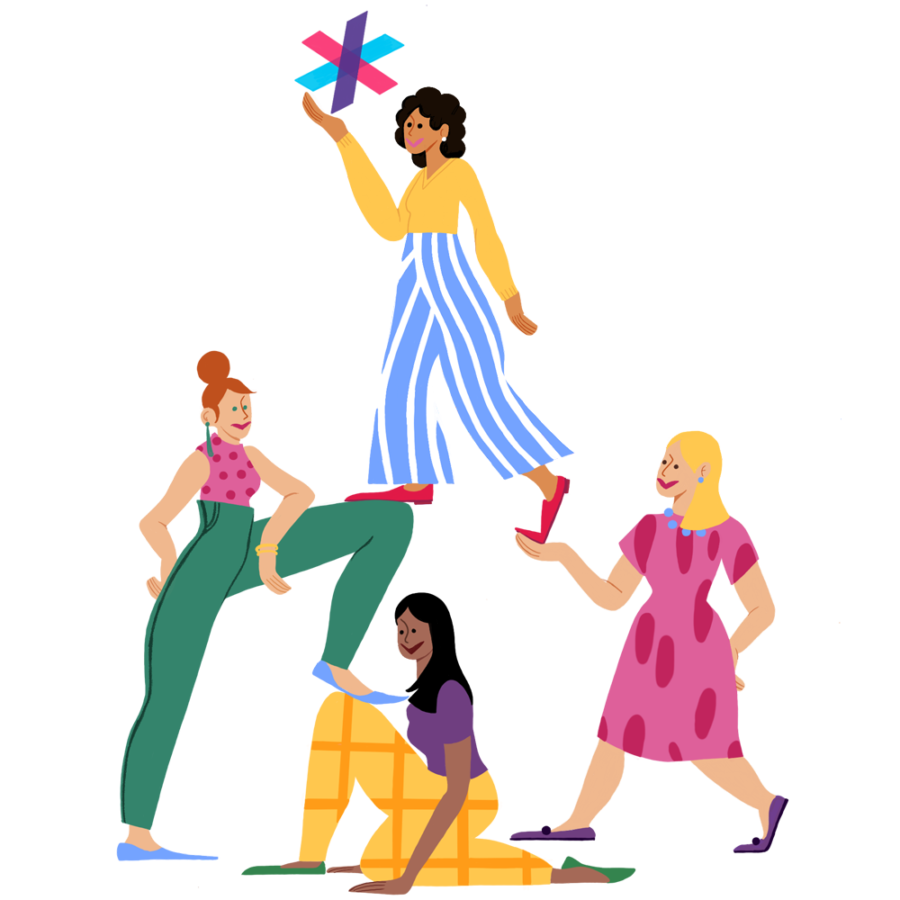 Join Us
Allies. Advocates. Ambassadors. Members.
Join hundreds of others already supporting our mission with their membership. Your financial support helps make our journalism possible.
As a nonprofit newsroom, members are critical to our sustainability.
Recurring gifts help ensure we have the kind of ongoing support needed to plan ahead. A $19/month membership is a great place to start — but we welcome recurring and one-time gifts of any size, if you'd prefer to choose your own amount.
Our most popular membership. From $5 to $19 a year, you'll receive:
A place on our gratitude wall

Our members-only newsletter
For $20 to $199 a year, membership includes:
Ally benefits, plus
Quarterly stakeholder reports
For $200 to $999 a year, membership includes:
Ally and advocate benefits, plus
Exclusive event invites
Become a Patron
Major gifts and philanthropic support help us make significant progress toward our mission and enable us to plan for the future. If you're interested, we'd love to speak with you about major gift options.
Our journalism is powered by readers who believe in our mission…
… to empower women — particularly those underserved by and underrepresented in American media — with the information, community and tools they need to be equal participants in our democracy.
At a time when newsroom budgets across the United States are shrinking, The 19th is investing in serious, nonpartisan reporting that reimagines politics and policy journalism to be more inclusive of and responsive to all women. That means:
Having reporters anchored across the country, not just on the coasts
Meeting our readers where they are, whether it's online, in person or in the pages of their local newspaper
Making our journalism free for state and local publications to republish
Engaging with women to better understand how their lives are shaped by the decisions their elected officials make
Hitting the pavement to listen to women's lived experiences, to tell their stories and to elevate their voices
Do you have questions about our membership program? Visit our FAQ.
We're so grateful to our growing community.
The 19th thanks our growing member community, including 839 total members donating $5 to $999 and 244 patrons supporting us with annual gifts of $1,000 or more. If you're interested, we'd love to speak with you about major gift options. Learn more.
Donor information is current as of July 31, 2020. If you donated to The 19th before July 31, 2020 and do not see your name listed here, please email [email protected] to verify your information.
$1,000,000 and above
Kathryn Murdoch/Quadrivium
Rockefeller Philanthropy Advisors' Collaborative for Gender + Reproductive Equity
$250,000 - $999,999
Arnold Ventures
Barbara and Amos Hostetter
Craig Newmark Philanthropies
Ford Foundation
Michelle Mercer and Bruce Golden
Pivotal Ventures
Yellow Chair Foundation
$100,000 - $249,999
Abigail Disney
Bobbie Nau
Carnegie Corporation of New York
Chan Zuckerberg Initiative
Emerson Collective
Erin and John Thornton
Katy Bettner
Knight Foundation
Lynn and Tom Meredith
Lynne Dobson
Nav Sooch
Packard Foundation
Rachael and Richard Wells
Randa Duncan Williams
Red Butterfly Foundation
Ruth Ann Harnisch
Scorpio Rising Fund/Susan and Nicholas Pritzker
Stardust Fund
The Impact Seat
Tingari-Silverton Foundation
$25,000 - $99,999
Abby Winkelried
Abigail Seldin
Amanda Bennett
Amy Griffin
Amy Rudy
Ann Lovell
Barbara Lee Family Foundation
Boone Family Foundation
Good Words Foundation
Harman-Mayes-Sooch Family Fund
Meryl Metni/Ubiquitous Entertainment Group
Nion McEvoy and Leslie Berriman
Roger and Ann McNamee
Rusty Kelley
Sara S. Morgan
Serena Connelly
Sherry and Gerald Merfish
Simone Otus Coxe
Susan Blount and Richard Bard Charitable Fund
Susan McCaw
Susan Sawyers
$1,000 - $24,999
Adriana Cargill
Alex Albright
Alison and John Shulman
Allen Gannett
Allison Suter
Amanda Hanley
Amanda Martin-Brock
Amy Kristin Sanders
Amy Whited
Ann Lents
Ann Walker Marchant
Anne Avis
Annie Linehan
Annie and Scott Austin
Arlan Hamilton
Barbara and Alan Hartstein
Beatriz Terrazas / Doty Terrazas Giving Fund
Becky Beaver
Becky Brownlee and Ross Ramsey
Betsy Fleming and Ed Weisiger, Jr.
Bettina and Brian Barrow
Bettye Nowlin
Bill and Catherine Miller
Bonnie Mills and Doug Eicher
Brent and Julianna Velthoen
Brett M. Merfish and Christina C. Gorczynski
Carla and Jack McDonald
Carley Roney
Carlos and Audrey Zaffirini
Caroline Barker
Carrin Patman
Catherine Raphael
Catherine Robb
Cathy and Sandy Dean
Cece Fowler
Celia and Larry Veselka
Charisse R. Lillie
Chelsea and Scott Kohler
Chris and Heather Davenport
Chris and Jim Cowden
Chris and Phil Dial
Chris and Sarah Miller
Christie Hefner
Christina Lewis Halpern
Christine Yang Cramer
Cindy Kozmetsky
Claire Silberman
Clark Chandler and Robin Barnes
Cortney Lebens
Cynthia Fowler
Daisy Auger-Dominguez
Dan Bullock and Annette Carlozzi
Dana DuFrane
Debra Williams
Deepa Donde
Diana Nelson
Donna Wilkins
Dorsey Cartwright
Dubravka Romano and Terry Frakes
Ed Patterson
Ed Weisiger, Jr. and Betsy Fleming
Edie Lycke
Edie Rogat and Cotter Cunningham
Eleanor Crook
Elena Marks
Elizabeth Bray
Elizabeth and Justin Nelson
Ellen and Robert Sichel
Emily Pulitzer
Erin Driscoll Thornton
Erin Schanning and Andrew Allison
Eugene Sepulveda and Steven Tomlinson
Gay Block and Billie Parker
Grace Renbarger
Gretchen Sisson
Heidi Zak
Hilary Rosen
Hilda Fu
Hurt Family Investments
Jacki Zehner
Jacqui Cheng
Jake Batsell and Tracy Everbach
Janna Meyrowitz Turner
Jassel Joy Kaye
Jay Novik
Jeff Eller and Diana Kirby
Jenifer Sarver
Jennifer Harris
Jenny Backus
Jessica Lessin
Jessica Schreiber Solera
Jessica Shortall
Joan Johnson-Freese
Joanne Lipman
John and Cindy Luongo Cassidy
Josh and Amy Baer
Joyce Amico
Judith Steinberg
Judy Estrin
Julia Null Smith and Evan Smith
Kacy and Scott O'Hare
Karen George
Katharine Weymouth
Katherine Gehl
Katherine Kitchen and Paul Kovach
Kathleen Kingsbury and Brian Hindo
Kathy Hubbard
Kathy and Patrick Terry
Katy Caldwell
Katy and Ted Flato
Kenny and Sue Jastrow
Kim and Jared Lindauer
Kimberly Agnew
Lauren Blachman
LeAnn Behrens and David Montague
Lenfest Institute
Leslie and Paul Lehner
Libby McCabe
Liddy Manson
Linda Winslow
Lisa Henner and Tim Hundt
Lisa Ivie Miller
Lisa Kerr
Liz and Duff Stewart
M T McCullough
Marge Fisch
Marissa C. Wesely
Marissa Tarleton
Mark and Annie McKinnon
Mary Herr Tally
Mary Vascellaro
Mary and Gregg Ramshaw
Max Sherman and Gene Alice Sherman
McManemin Family Fund
Meagan Jones
Megan Murphy
Melanie Gray
Melissa Jones
Mellie Price
Michael Berman
Michael Goodgame Memorial Fund
Mike and Alisa Wilson
Nancy Burnett
Nancy McGregor and Neal Manne
Naomi Aberly
Nene Foxhall
Nilita Paul
Norbert Goldfield
Oksana Malysheva
PEN America
Pam Ryan
Pamela B. Johnson
Pat Villareal and Tom Leatherbury
Patricia Brand
Phyllis Cohen
Piper Stege Nelson
Pulitzer Center for Crisis Reporting
Quinn Emmett
Rachel Mersey
Rebecca Young Montgomery
Regen Fearon
Rusty and John Jaggers
Ruth Pennebaker
Sanghamitra Kalita
Sarah Adler
Sewell Chan
Sharon Young
Shelayne Clemmer
Stacie Bennett and Milad Tagehehchian
Stacie Cokinos and Pamela Radford
Steve LeBlanc
Steve Sachs and Michelle Lynn-Sachs
Sunwest Communications
Susan Byrd
Susan Haley Jenkins
Susan Longley
Susan McPherson
Susan Merry
Susie Tompkins Buell Foundation
Suzanne Badenhoop
Suzanne Deal Booth Cultural Trust
Tapestry Foundation
The Benevity Fund
The Goradia Foundation
The International Women's Media Foundation (IWMF)
The Lee-Zacheis Family Fund
The Melvin Neuman Charitable Fund
Theodor Weinberg and Eric Hyett
Tori Adams
Tracy Sefl
Trish Houck and Lyssa Jenkens
Visra Vichit-Vadakan
Whitney Warmack
Wyncote Foundation
Up to $999
AJ Juraska
Aaron Cano
Abbie Fassnacht
Abby Blachman
Abby Johnston
Abby Phillip
Abby Sandlin
Adam Griffiths
Aelia Akhtar
Alex Duner
Alex Ferdman
Alexander Traugott
Alice McKown
Alice Walton
Alicia Allen
Alison Beall
Alison Norman
Allie Blum
Allison Babka
Allison McHorse
Alma Aldrich
Aman Batheja
Amanda Engler
Amanda Quraishi
Amanda Zamora
Amber Campbell
Amber DeLind
Amber Jamieson
Amber Pearce
Amy Aughinbaugh
Amy Blakely Laine
Amy Chamberlain
Amy Eskew
Amy Holland
Amy Hunt
Amy Leff
Amy Resnick
Amy Rosen
Andrea Ball
Andrea Eger Canfield
Andrea Fluty
Andrea Martin-Meyerhoff
Andrea Stanfill Castro
Andrew Bennett
Andy Pergam
Aneri Desai
Anika Anand
Ann Marshik
Ann and John Howard
Anna Crotty
Anna Nicholaides
Anna Schumann
Anne Musial
Annette Robinson
Annie Valentine
Annise Parker
Anurita Mittra
April Bethea
Ari Holland-Baldwin
Armando Zamora
Aron Pilhofer
Austin Bonner
Azra Siddiqi
Bailey LeFever
Bailey Steinhauser
Barbara Coleman
Barbara Friedman
Barbara Laudenheimer
Barbara Rodriguez
Barbara-Anne Mansfield
Barry Kappel
Beatrix Lockwood
Beatriz Rosen
Becca Aaronson
Becky Bullard
Ben Welsh
Ben Wieder
Bene Cipolla
Benet Wilson
Bennie Flores Ansell
Beth Goff-McMillan
Beth Sample
Beth Tray
Beth Waldrup
Betsy Morgan
Blake Locklin
Blanca O'Leary
Bonnie DiCarlo
Brandon Alderete
Brian Lin
Bridget Galli
Cady Stanton
Caitlin Reardon
Cami Seward
Carlos Rivera
Carmen Tilton
Carol Lanzara
Carole Kimberlin
Carole Lambert
Caroline Cook
Caroline Linton
Carolyn Devol
Carolyn Fox
Carolyn Scott
Carolyn Walter
Carrie Bivens
Carrie Collier-Brown
Carson Modrall
Cary Barbor
Cassie Wimberly
Catharine Roseberry
Catherine Clark Mosbacher
Catherine Cuellar
Catherine Krummey
Catherine Leffert
Cathryn Prince
Cathy McHorse
Cathy Sisk
Celinda Provost
Ceslie Armstrong
Charlie Bonner
Cheasty Anderson
Cheryl Peirce
Chip Bray
Chris Chang
Chris Watt
Chris masey
Christian Clarke Casarez
Christian McDonald
Christie Zangrilli
Christina Asquith
Christina Binkley
Christy Willhite
Cinde Weatherby
Claire Shoop
Conor O
Cori Zarek
Corrie MacLaggan
Courtney Eshleman
Courtney Goodings
Courtney Runn
Cristina Masters
Crystal Chiang
Crystal Gurin
Cyndi Stivers
Damon Kiesow
Dan Zehr
Daniel Craigmile
Daphne Ogle
Darla Cameron
Darla Kashian
Dave Harmon
Dave Levinthal
Dave Shaw
David Boardman
David R. Brockman
David Serrins
DawnMarie Scott
Deanna Fox
Deanna Kuykendall
Deb Pang Davis
Deb Robison
Deb Weinstein
Debbie Hiott
Debo W. Dykes
Deborah Douglas
Debra Haas
Debra Windsor
Dena Jackson
Denise Rose
Dennis Becker
Derrick Spires
Diane Harris
Diann Andy
Dianne Solis
Dona LeBlanc
Dorene Clement
Dorie Nolt
Doug Didier
Doug Shipman
Drew Shafer
Edward Wyatt
Edward and Ulla Linenthal
Eileen Lynn
Elaine Garza
Elana Zak
Elise Boyan
Elizabeth Doyel
Elizabeth Finny
Elizabeth Hambuchen
Elizabeth Keith
Elizabeth Lazenby
Elizabeth Meador
Elizabeth Oguss
Elizabeth Penaloza
Elizabeth Whitmire
Ellen Butler
Ellen Mazo
Ellen Miller
Ellen R. Cohen
Em Okrepkie
Emily Blobaum
Emily Goldsleger
Emily Koh
Emily Ramshaw
Emily Swelgin
Erica Brooks
Erin Geiger Smith
Erin Kubatzky
Erin Samueli
Esther Marlowe
Faith Pinho
Felicity Maxwell
Gabe Schneider
Gabriel Dance
Gabriela Riccardi
Gaby Galvin
Gap, Inc.
Gary Cohen
George Haj
Gerald Rich
Grace Haley
Greta Poulsen
Hani Shafi
Hannah Boettcher
Hannah Green
Heather Barta
Heather Courtney
Heidi Toth
Helen Harlow
Hillary Frey
Hithta Palepu
Holly Rusak
Ian McCann
Iliana Limón Romero
Irene Dick-Endrizzi
Irene T. Aylmer
Isabel Lohman
Issie Lapowsky
Jackie Wang
Jaden Amos
James Malewitz and Katherine McMullen
Jamie Gump
Jamie Hill
Jamie McWright
Jan Gunter
Jan Silk
Janet Elkin
Janet Hobby
Janet Pierson
Janet Robertson
Jason Stanford
Jay Blackwell
Jean Wyrick
Jeanne Marie Tokunaga
Jeff Corkran
Jeff Dean
Jenna Johnson
Jennifer Abella
Jennifer Ajluni
Jennifer Eibl
Jennifer Ford
Jennifer Pelton
Jennifer Ransom
Jennifer Wijangco
Jenny Ash-Maher
Jenny Medina
Jerry Aubin
Jesse Ayala
Jessica Clark
Jessica Fowler
Jessika Zimmer
Jill Bergus
Jill Rosenbaum Meyer
Jillian Youngblood
Jim Arnold
Jim Hoover
Jim Schachter
Joan Evans
Joan Wyatt
Joanna Castillo
Joanna Fried
Joanne Jennings
Jodi Cohen
Jodi Kantor and Ron Lieber
Jody Sanders
Joel Becker
John Colagioia
John Derlega
John Edwards
John Jordan
Josh Hinkle
Joshua Paunil
Juana Summers
Judyanne Peltz
Juleyka Lantigua-Williams
Julia Blair
Julia Calagiovanni
Julia Parenteau
Julia Thompson
Julian Aguilar
Julie Hinaman
Julie Loyd
Julie Mercer
Julie Sandorf
Julie Scelfo
Julie Tropin
Karen Scherting
Karen Skloss
Karrin Anderson
Kate Clark
Kate Johanns
Kathleen Elder
Kathleen McCarthy
Kathleen Ronayne
Kathleen Stevens
Kathryn Cramer
Kathryn McArdle
Katie Gagliano
Katie Hughes
Katie Stack
Katie Thurman
Katie Wadington
Kellie Dworaczyk
Kelly Dixon
Kelly Himsl Arthur
Kelly Kultys
Kelvin Sauls
Ken Ward
Kendal Gladish
Kiera Wainer
Kim Barnes
Kim Fox
Kim ODonnel
Kimberly Famighetti
Kimberly Mullins
Kimmy Robinson
Kirby Drake
Kristen McConnell
Kristen Taylor
Kristin Jamberdino
Kristina Waldron
Lacey Telge
Lana Bian
Laura Buchanan
Laura Cox Kaplan
Laura Del Villaggio
Laura Favinger
Laura Furman
Laura Haber
Laura Hendrickson
Laura Hernandez
Laura Kennedy
Laura Lee
Laura Mahoney
Laura Morilla
Lauren C Anderson
Lauren Fuhrmann
Lauren Meckel
Lauren Peace
Lauren Petterson
Laurie Frick
Laurie Kretchmar
Lawton Cummings
Lea Galanter
Lee Davidson
Leif Reigstad
Leonette Slay
Lesley Fields
Leslie SHAW
Liam Andrew
Lilly T
Linda Lindler Pederson
Linda Mason
Linda Parker
Linda Shaw
Lindsay Sparacino
Lindsey Rosenthal
Lindsey Stanberry
Lisa Bliss
Lisa Harrell
Lisa Tozzi
Lisa VanWagner
Lisel Scannell
Liz Scully
Lizza Harrison
Lori Mortimer
Lorna Pederson
Lorretta Schauble
Louise and Stephen Feffer
Lucy Melcher Coady
Luis Dominguez
Luz Palacios
M. Elana and Bruce Mazor
Maddie Hughes
Madison Czopek
Maggie Gilburg
Mairin Macaluso
Mandi Cai
Mandy Jenkins
Manny Carrazana
Maralee Schwartz
Marc Franz
Marc Stanley
Margit Detweiler
Marianne Divecchio
Marie HenselderKimmel
Marilyn Rushenberg
Marissa Payne
Marjorie Grayson
Mark Interrante
Marty Hopkins
Mary Anne Connolly
Mary Anne Hardy
Mary Beth Rogers
Mary Cheever
Mary Glendinning
Mary Pharris
Mary Wall
Maryfrances Metrick
Matt DeRienzo
Matthew Fields
Matthew Flores
Matthew Watkins
Maureen Dwyer
May Olvera
Meg Dalton
Meg Donohue
Megan Gilbride
Megan Rate
Megan Tucei
Megan Woodburn
Meghan Kelly
Melissa Abel
Melissa Boughton
Melissa Huebsch
Meredith Soule
Merrily Porter
Michael Fojtasek
Michael King
Michael Sherrod
Michelle Mertz
Mickey Gomez
Mike Lavigne
Mike Palamuso
Mimi Swartz
Mindy Noonan
Molly Armbrister
Molly Clayton
Molly Ellison
Morgan Givens
Morgan Smith
Nancy Cook
Neil Graves
Network for Good
Nick Arnold
Nicki Anselmo
Nicole Cook
Nicole Dewey
Nicole Tan
Nina Seely
Noah Davis
Olivia Paschal
Olivia Rudgard
Paige Bauerkemper
Pam Fine
Pamela Zeko
Patricia Gaston
Patricia Griffin
Patricia O'Dea-Rosen
Patricia Smith
Patrick Kerkstra
Patrick Pringle
Patrick Swelgin
Paul Demery
Paul Sarahan
Paul Theobald
Peggy Harrison
Peter Miller
Phoebe Petrovic
Rachael Copeland
Rachel Black
Rachel Gallardo
Rachel Hill
Rachel Katz
Rachel McCreary-Fielder
Rachel Rehwinkel
Rachel Schallom
Rachel Smith
Raeanne Martinez
Raju Narisetti
Raquel Murray
Ray and Martha Mendoza
Rebecca Beegle
Rebecca Benjamin
Rebecca Elder
Rebecca Elliott
Rebecca Feferman
Rebecca Smith
Reeve Hamilton
Renda Morton
Renee Tucei
Rita Lucido
Robbie and Tom Ausley
Robert Matney
Robert McMurrey
Robin B
Rosalind Jackler
Roslyn Banish
Rubina Fillion
Russ Walker
Ryan Lindsay
Ryann Collier
Sabrina Hersi Issa
Sabrina Rodriguez
Sam Hoisington
Sandi Tomlinson
Sandra Brown Turner
Sandra Kleinsasser
Sanjay Shinde
Sara Martinez
Sara Mitchell
Sara Robertson
Sara Simons
Sarah Ann Jump
Sarah Carroll
Sarah Davis
Sarah Glen
Sarah Platt
Sarah Shapiro
Sasha Koren
Scott Dierdorf
Sehreen Noor Ali
Shelby Landgraf
Shelley Fuld Nasso
Shellie Hayes McMahon
Slee Simms
Sofia Sokolove
Sophie Bryan
Sophie Feinberg
Spencer Bounds
Sree Sreenivasan
Stefanie Dazio
Stephanie Brumsey
Stephanie Carter
Stephanie Cunningham
Stephanie Elsea
Stephanie Rubin
Stephen Belans
Stephen Kaufman
Sue Livio
Susan Chira
Susan Kelleher
Susan Smith
Susan White
Suzanne Bertin
Suzanne Kert
Sydney Bobb
Sydney McQuoid
Sylvia Wingfield
TJ Costello
Tania Curry
Tanya Barnett
Taylor Barnett
Taylor Orth
Teresa Welborn
Terri Broussard Williams
Terri Langford
Terri Troncale
Terry Martinez
Thanh Tan
The Benevity Community Impact Fund
The Carlyle Group
Thea Wood
Tiffany Bui
Tiffany Tupper
Tim McCanna
Tim Taliaferro
Tom Risen
Tommie Huggins
Tonia Norman
Traci Cappiello
Trey Wilkerson
Tricia Cervenan
Valerie Voci
Victoria Petersen
Vilma Luna
Wendy Lemieux
Whitney Shefte
William Gray
Willie Chapman
Yaa Apori
Yoni Kaplan
YourCause, LLC
Zach Lindemann