Your trusted source for contextualizing politics news ahead of Election 2024. Sign up for our daily newsletter.
JOHNSTON, Iowa — Casey DeSantis looked out onto the audience of mostly women inside the small barn on the suburban outskirts of Des Moines.
On this early July solo trip, she talked about her three young children, sharing stories about raising them while her husband, Ron DeSantis serves as Florida governor and now makes a bid for the White House. She also mapped out a vision for the presidential campaign:
"We are going to launch the largest mobilization of moms and grandmothers across the United States of America to protect the innocence of our children and to protect the rights of parents," she said, wearing a Mamas for DeSantis T-shirt.
The 100 or so people in the room, some holding children on their laps or cradling babies, cheered loudly in response.
If Iowa is the epicenter of American politics for the next six months, with Republicans vying to win the party's first-in-the-nation caucus here in early 2024, the women at this Johnston event might just represent the voting bloc who could make a difference in an increasingly crowded primary field.
They are conservative women and in many instances, mothers, and Republican candidates are hoping to appeal to them with policy positions that restrict abortion, limit trans sports access and revamp public education oversight bundled under the label of "parental rights."
It's unclear for now how this messaging will play out in a general election: A majority of voters disapprove of the erosion of federal abortion rights. They have also shown fatigue over gender identity, pronouns and whether schools should discuss them.
But Republicans, particularly the DeSantis campaign, appear to be betting that combining these issues — while arguing that Democrats are trying to undermine parents' power and traditional family structures — will help activate the political power of White conservative women.
These issues have definitely captured mothers' attention, said Mary Whisenand, a member of the Capitol Region Republican Women, a longtime Iowa group that has attended several candidate events this cycle, including the one featuring Casey DeSantis.
"I'm not surprised at that," Whisenand said about DeSantis reaching out to women by tapping into their identity as mothers. "That's just a really good campaign strategy."
Mamas for DeSantis is not new for Casey DeSantis, who first launched a Florida-focused initiative during her husband's 2022 reelection bid. She says 1.1 million mothers and grandmothers signed up in support of that effort.
"It's one thing when your policies come after us as mamas," she told the Iowa crowd. "It's another thing when your policies come after our children. And that's when the claws come out."
Ann Meyer, a Republican lawmaker in Iowa who has endorsed DeSantis and attended the event, remarked on the political headwinds of the moment: Following the COVID-19 restrictions on gatherings, school administrators around the country turned to virtual teaching. That created conditions for more parents to question the curriculums their children were taught, according to Meyer.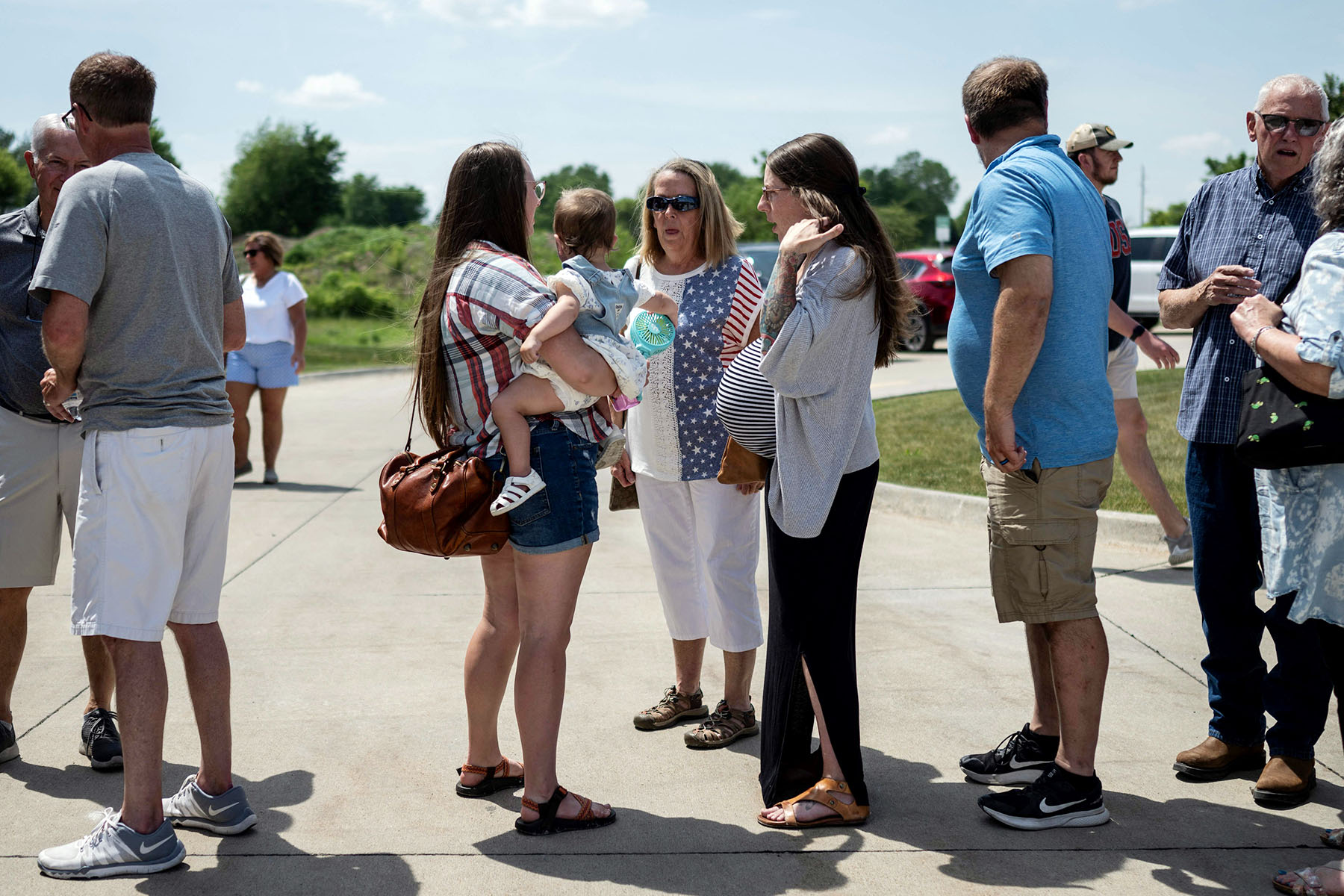 "COVID made people aware of maybe some things they weren't aware of, especially when kids were on Zoom school and parents were maybe looking over their shoulder, maybe in the same room, and they heard some of the things that were being talked about," she said. "I think that COVID was a turning point."
While the DeSantises' pitch to moms has been explicit, many of the GOP hopefuls have been reaching out to conservative women with similar appeals.
Former South Carolina Gov. Nikki Haley, the only Republican woman running for president so far this cycle, has launched a Women for Nikki initiative. She highlights being the only mother in the race (she has two adult children) and how that frames her support for education policy that includes more restrictions on school curriculums and how children are taught about history and gender.
She was one of several candidates to address a recent summit held by Moms for Liberty, a national group of conservative women with local chapters that has pushed for restrictions on how students in public schools learn about race, gender and sexuality. The group has led efforts to ban books that it views as inappropriate, and group members have sought to join school boards around the country to seek more control of education policies. The Southern Poverty Law Center, a civil rights legal advocacy organization, has deemed Moms for Liberty an anti-government organization.
Haley has defended the group, and so have other Republicans. During her summit speech in Philadelphia, Haley tried to broaden the scope of what Moms for Liberty supports beyond "parental rights."
​​"Moms care about a lot of things," Haley said at the event. "It's not just schools. We care about the debt. We care about crime. We care about national security. We care about the border. Moms care about everything that matters that affects their families."
Several women in Moms for Liberty T-shirts were seated near the front of the Mamas for DeSantis event stage, one of multiple appearances this election cycle for the group.
Former Vice President Mike Pence has also attended at least one event this cycle aimed at conservative parents, saying he sees a "culture war" over "state-sanctioned racism" and "radical gender ideology." Former President Donald Trump, who is seeking another bid for the White House and is still considered the front-runner for the party's nomination, tied his education plans to anti-trans rhetoric in videotaped remarks at an April event hosted by the Iowa Faith and Freedom Coalition, a powerful conservative group in the state.
He described supporting trans kids as "left-wing gender lunacy" and committed to signing an executive order to cut federal funding to any school with a critical race theory curriculum, "transgender insanity," and "other inappropriate racial, sexual or political content on our children."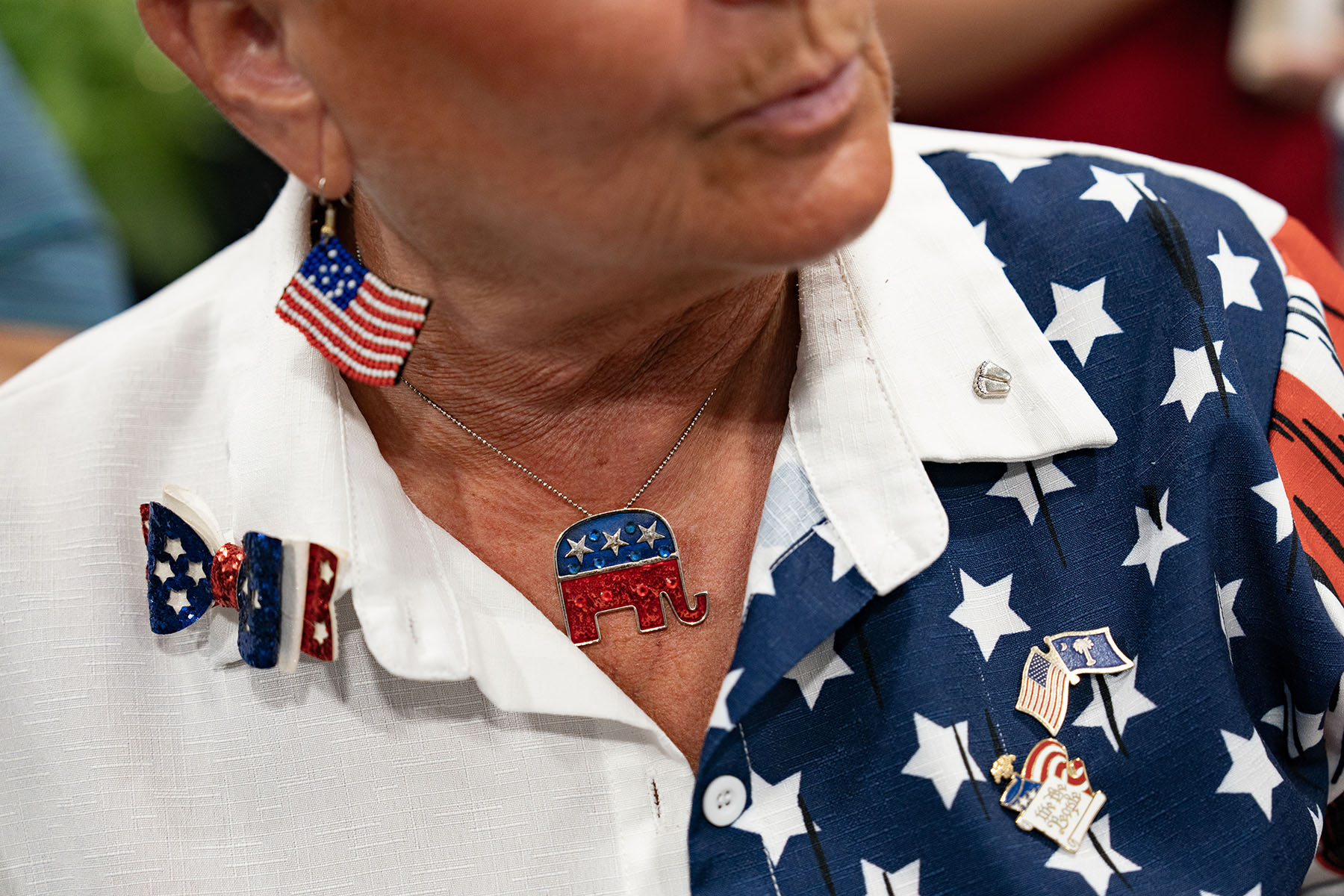 It's unclear who will win at messaging. Most national polling shows DeSantis a distant second to Trump in the Republican race for the nomination, though local polling from March in the respected Des Moines Register Iowa Poll indicated high favorability for the Florida governor.
Harnessing the political power of women in general goes back decades. Whisenand said she still has memorabilia commemorating how Iowa Republican women campaigned for Republican Richard Nixon in the state. But in this election cycle, she said, it's more strategic. At the Casey DeSantis event, signs around the room included the message: "Don't mess with my kids." Tote bags that read Mamas for DeSantis were available outside of the barn, where snow cones and face painting were made available to attending families.
At the Iowa Faith and Freedom Coalition event, candidates' calls for shutting down the U.S. Department of Education — a key issue for Moms for Liberty — got some of the largest applause of the evening.
But Whisenand, who backed former New Jersey Gov. Chris Christie for president in 2016 but is undecided this election cycle, said some of the mothers she has spoken to are not necessarily in favor of dismantling the department. They do want to revamp it and question the role of government in public education.
"They realize they didn't have that level of control that they felt that they needed as the parent," she said.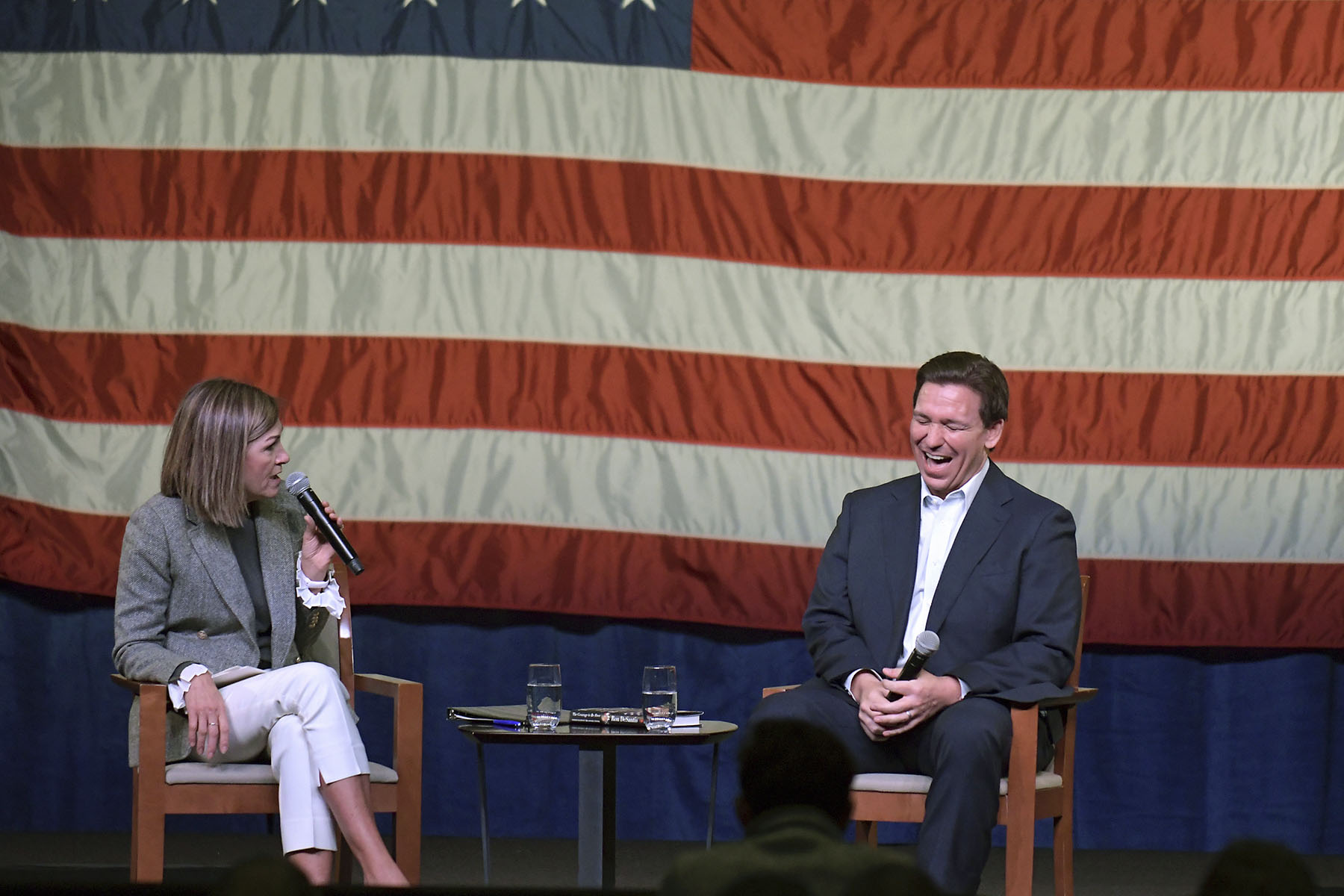 Iowa Gov. Kim Reynolds, who was seated alongside Casey DeSantis at the Mamas for DeSantis event, called it "the parent revolution." A political force among national Republicans, Reynolds has restructured education funding in the state by supporting the use of public funding for private schooling through a new voucher system. She has enacted restrictions on gender-affirming care for trans children. This week, she called a special one-day session where Republican lawmakers passed a bill severely restricting abortion access in the state.
Many of Reynolds' priorities have become key parts of the platforms of Republican 2024 hopefuls, who are eager to be seen alongside her at events around the state. She has said she will not endorse a Republican candidate for president ahead of the party's caucus, scheduled for January 15.
While Reynolds has appeared multiple times alongside DeSantis, the July 6 event marked an unusual solo appearance with a spouse. The governor, who spoke on the same stage with Casey DeSantis about her own three adult children and 11 grandchildren, said the Florida governor has "led the way" on parental rights. Casey DeSantis complimented both governors.
"They held the line in defense of people's rights, liberties and freedoms and never backed down, and we're so proud," she said.
Several of the women in attendance at the Mamas for DeSantis event declined to speak on the record with The 19th. But some expressed an interest in DeSantis as a presidential candidate, as well as support for policies like abortion restrictions, more oversight of school curriculums and new restrictions on immigration. All have been pillars of DeSantis' campaign.
One woman, who would only identify herself as Jackie, did offer a prediction: "Whichever candidate wins, will have harnessed the power of moms."