CLIVE, Iowa — As a group of evangelicals ate chicken out of ready-to-go boxes from Chick-fil-A, Mike Pence made a declaration about what he believed was one of his biggest accomplishments as vice president in the Trump administration.
"Most important of all, we appointed three justices to the Supreme Court of the United States, that sent Roe vs. Wade to the ash heap of history, where it belongs," the Republican told the crowd here last month. "You did that, Iowa. And you've given America a new beginning for life, and I couldn't be more proud to have been part of an administration that did just that."
His remark about the court's decision last year prompted big applause for Pence. That clapping, inside a nondescript events space in a Des Moines suburb, hints at why Pence is thinking about entering the 2024 presidential race.
Republicans who have declared a bid or are considering a run are coming to Iowa — early and often — to see if the state can still propel a candidate from political obscurity to the White House. For many candidates, they're trying to differentiate themselves from former President Donald Trump, still the party's frontrunner.
A few months into the campaign season, Republicans are fine-tuning their messaging to groups gathered at picnics, dinners and fundraisers around the state. Some of the emerging talking points so far: anti-trans rhetoric, criticism of the teaching of gender identity in schools and, in some cases, a commitment to defund or revamp aspects of public education.
At the event in Clive, some Republicans also leaned into their opposition to abortion. The crowd of evangelical supporters — a key political bloc for Republicans in Iowa — gave some of the largest applause of the night for the topic, though their response on topics like supporting foreign aid for Ukraine was more reserved.
Here are three takeaways from Republicans' messaging as they begin to crisscross Iowa:
Abortion remains a top priority, at least in messaging to religious conservatives
Some Republicans on the campaign trail have avoided the topic of abortion — but it's a comfortable topic for an evangelical audience. At the spring kick-off event hosted by the Iowa Faith and Freedom Coalition, a powerful conservative group in the state, nearly every speaker made remarks about the issue.
Trump, who did not appear in person but sent in a video, touted his appointment of justices Neil Gorsuch, Brett Kavanaugh and Amy Coney Barrett — the appointments Pence also pointed to as a major accomplishment in their administration. Trump said he had taken "historic action" to "protect the unborn."
"Last year, after decades of work by organizations like yours, those justices delivered a landmark victory for protecting innocent life," said the former president, who has distanced himself from Pence. "Nobody thought it was going to happen. They thought it would be another 50 years, because Republicans had been trying to do it for exactly that period of time, 50 years."
Since a more conservative Supreme Court overturned Roe v. Wade, access to abortion has become uneven, as Republican-led states have banned or further restricted it. While polling shows a majority of Americans think abortion should be legal in all or most cases, about three-quarters of White evangelical Protestants think it should be illegal in all or most cases.
Most candidates used vague language that implied support for more restrictions or a complete ban on the procedure. The majority aren't pinning themselves to a specific policy or a national ban after a certain number of weeks of pregnancy.
U.S. Sen. Tim Scott of South Carolina, who is on the cusp of announcing a 2024 bid, told the same conservative crowd: "We have the ultimate responsibility to protect the future of this nation, not for ourselves, but for Americans unborn." Scott has said he would support a 20-week ban but has avoided specifically addressing what he'd do on stricter measures.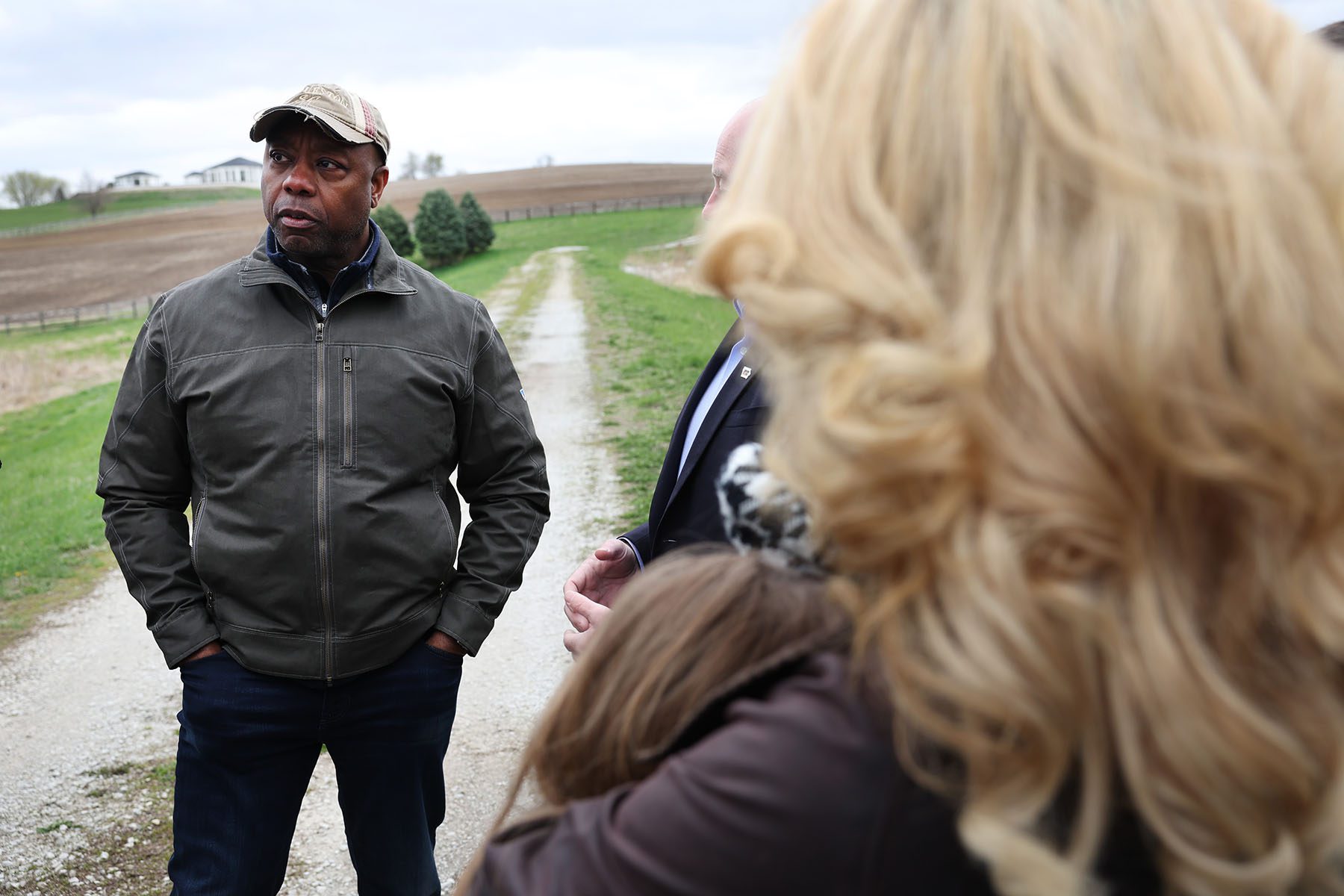 Republican Asa Hutchinson, a former governor of Arkansas who recently announced a bid for president, told the crowd that he signed more than 30 anti-abortion bills during his time in office.
Trump embraced the most extreme anti-abortion claims, saying Democrats supported "abortion on demand, in the ninth month of pregnancy, and even executing babies after birth." It is rare for an abortion in the U.S. to occur at or after 21 weeks of pregnancy — it represents just 1 percent of all abortions. News outlets have also debunked claims, often shared on social media, about new laws that purportedly allow for the killing of babies after birth.
Candidates are embracing anti-trans rhetoric
Some politicians — like Florida Gov. Ron DeSantis, who's not officially in the race yet — are pointing to anti-LGBTQ+ policies passed during their tenure. But even those without legislation to point to are embracing rhetoric that criticizes mentions of gender in schools and demonizes gender-affirming care, echoing what's passing in Republican-controlled legislatures and discussed in conservative media.
During a trip to the Iowa State Fairgrounds in March, DeSantis tied gender identity to education.
"We should not have a situation where a teacher is telling a second grader that they were born in the wrong body or that their gender is a choice," he said. "That is wrong, and it doesn't have a place in Florida schools."
Former South Carolina Gov. Nikki Haley, a declared 2024 candidate, also highlighted gender identity during a Clive stop in March. At an event with Iowa Sen. Joni Ernst about foreign policy, Haley, a former U.S. ambassador to the United Nations, noted the importance of strengthening the military — by claiming twice that the military was more focused on taking gender pronoun classes. Last year, the Department of Defense released a video that highlighted the use of pronouns.
"They don't need to be taking gender pronoun classes, they need to make sure they're being innovative — technology, all of those things," she said.
Perry Johnson, a businessman who was booted from running for Michigan governor last year for not turning in enough valid signatures, is making a long-shot bid for the presidency. At the Iowa Faith and Freedom Coalition event, he called "transition therapy" for minors "child abuse." This contradicts major medical associations, which say gender-affirming care is safe and necessary for trans children.
Vivek Ramaswamy, an entrepreneur and another declared 2024 candidate, said at the same event that Republicans need to present a vision that is separate from the Democratic Party's. He implied that Republicans had struggled with messaging.
"It's time to graduate in the conservative movement to actually solving that problem with a vision of our own. We don't say race, gender, climate, sexual orientation. We have a different vision: God, country, family, and yes, the individual and hard work. That is what it means to be an American."
The Department of Education could be on the chopping block
The Department of Education was repeatedly called out at the Iowa Faith and Freedom Coalition event. It's not the first time Republican candidates have said they would end the federal agency, but it was notable how often the topic came up.
"You may not like this but I'm getting rid of the Department of Education," Johnson said to the audience — who did in fact like it, greeting the statement with broad applause.
Ramaswamy made a similar reference when discussing his views on what he thinks it takes "to be an American."
"It means you believe in the ideals that set this country into motion. From meritocracy, which is why I said I'll end affirmative action, to actually self-governance over aristocracy, which is why I said I will shut down the administrative state, starting with the Department of Education, to the rule of law, which is why I said I will use the military to secure our border," he said. "This is what it means to be an American."
Trump told the evangelical crowd that there is a "critical fight" happening to "retake schools from the radical left." He claimed Marxism is being taught in schools and is hostile to "traditional religious teaching." He added that he would "bring back God to our schools and our public squares."
"On Day 1 we will begin to find the radical zealots and Marxists who have infiltrated the federal Department of Education and we will have them escorted from the building," he said.
Republicans have made education and the rights of parents to approve school curriculum a huge topic on the campaign trail — but that has become interchangeable with support for restrictions on teaching history and discussing gender identity.
Trump tied his education plans to anti-trans rhetoric. He committed to signing an executive order to cut federal funding to any school with a critical race theory curriculum, "transgender insanity," and "other inappropriate racial, sexual or political content on our children."
"The left-wing gender lunacy being pushed on our children is an act of child abuse and it will stop immediately," he said.