Your trusted source for contextualizing the news. Sign up for our daily newsletter.
A video teasing her 2024 presidential campaign announcement includes footage of a grinning Nikki Haley issuing a warning: "I wear heels. It's not for a fashion statement. It's because if I see something wrong, we're going to kick them every single time."
The comments are a nod to traditional femininity in a video otherwise focused on intense hostility toward enemies and traitors, and offer an early glimpse into Haley's campaign message as she becomes one of a handful of high-profile women to have sought the Republican presidential nomination and the first Asian-American woman to ever do so. The former ambassador to the United Nations and governor of South Carolina is slated to formally launch her campaign during an event in Charleston, South Carolina, on Wednesday.
Observers say that Haley's historic campaign will face singular challenges at a time when Republicans have fashioned a platform that hinges on culture war issues of race and gender. But, it also presents unique opportunities for Haley — the first Republican to formally challenge Donald Trump — to make the case to conservative voters that she is a fresh face from a new generation of Republican leaders.
Haley's conservative politics follow the traditional GOP playbook on taxes and immigration, and she staunchly opposes abortion. In her campaign teaser, the word "traitor" is narrated alongside photos of people protesting police brutality, while the word "order" is paired with images of a fence along the U.S.-Mexico border. But, with the launch of her campaign, Haley will be forced to decide how to navigate her identity as an Indian-American woman and daughter of immigrants as she speaks about these issues in a primary field that will likely be led by White men.
"In the Republican Party primary, the base tends to be more conservative, and we know that those voters tend to have gender and racial stereotypes that paint women candidates, and people of color, as more liberal," said Catherine Wineinger, an expert on gender and politics at Western Washington University who has studied women in the Republican Party. "They're really having to work harder to prove their conservative credentials to their party."
During her career, Haley has at times highlighted her upbringing as the child of immigrants and instances of discrimination against her family to talk about race. In the aftermath of the 2015 racially motivated mass shooting by a White supremacist at Mother Emanuel AME Church in Charleston, South Carolina, Haley successfully sought to remove the Confederate flag from the state capitol grounds.
Haley kept highlighting the dangers faced by people of color even into Donald Trump's presidential campaign in 2016, condemning his rhetoric and even linking it to the shooting in Charleston. But that stance did not last into Trump's presidency. Haley joined the Trump administration as the ambassador to the United Nations, becoming a fast ally but also setting off a pattern of contradictions and flip-flops on the president: She condemned his actions leading up to the January 6 attack on the U.S. Capitol, but later said Republicans couldn't do without him. Haley said she wouldn't challenge Trump if he sought the presidency again, and now says the party needs a new generation of leaders.
"Authenticity is something that voters are always after. And I think Nikki Haley, her going back and forth on Trump sort of betrayed a sense that she didn't have like a core that she was sticking to," said Sarah Longwell, a longtime Republican strategist who opposes Trump.
For groups pushing to boost the number of women in the Republican Party, Haley presents a high-profile opportunity to motivate more women to run for office. The group Winning 4 Women, which backs conservative women running for federal office but has not endorsed Haley, said her candidacy is "exciting."
"She is incredibly and uniquely qualified. And those qualifications will make her a formidable candidate," said Olivia Perez-Cubas, the group's spokesperson. "She has executive experience. She has foreign policy experience. She's got it all."
Perez-Cubas said highlighting her executive experience before voters will be crucial to break down voters' imagination barriers. Especially for Republican primary voters — a group that is more likely to be White and embrace traditional gender roles than the population at large — Haley needs to counteract many of the stereotypes about candidates who are women or people of color.
"If you look at the Trump base of Republican voters and you look at their perceptions of gender, they are not friendly to women in leadership. They are of the camp that are saying society is becoming too soft and feminine," said Kelly Dittmar, the director of research at the Center for American Women and Politics at Rutgers University. "They are not necessarily going to see this woman and say, 'Awesome, we really need greater diversity in the party.'"
The pitfalls faced by women in politics in particular have already started to appear. In an interview with conservative radio host Hugh Hewitt, Trump said Haley "suffers from something that's a very tough thing to suffer from. … She's overly ambitious."
Trump's comment — his first public attack on Haley since her entry into the race was confirmed — echoed a criticism attached often to women in politics, and hardly ever to men. And it may resonate with some voters.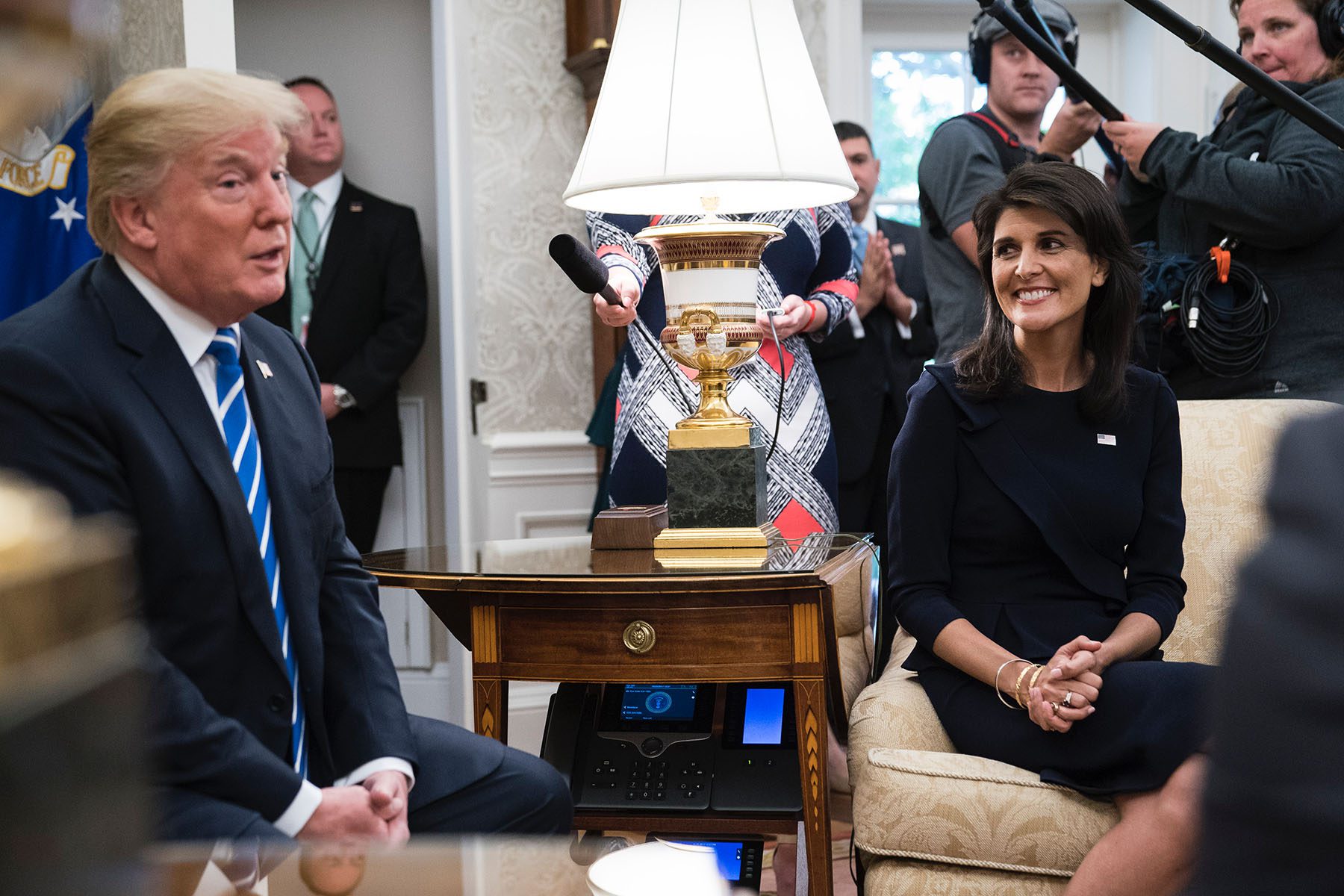 A 2010 study out of Harvard University found that women and men voters reacted with contempt and disgust to women they perceived as "power-seeking," while describing men they perceived as such as strong and competent.
Political observers interviewed by The 19th who have been watching or studied Haley's career in politics say that even in these kinds of attacks centered on her identity, Haley may find opportunities to stand out from the field. Trump is running again and may be joined by other Republicans including Florida Gov. Ron DeSantis, former Vice President Mike Pence, former Secretary of State Mike Pompeo, former Maryland Gov. Larry Hogan and Sen. Tim Scott of South Carolina.
"There are voters who liked Donald Trump because he doesn't have a filter and says things that are sexist and racist. But I also think Nikki Haley can use that to her advantage to win over voters who don't like that aspect of Donald Trump," said Wineinger. "She can probably navigate that in a way that is advantageous to her."
More broadly, big questions loom about how exactly Haley will approach her candidacy, which will indisputably find itself at the intersection of conversations about race and gender. Wineinger said that Republicans nationally have sought out candidates like Haley, believing they could attract women and people of color who have tended to either support Democrats or stay home on Election Day. At least so far, there are no signs that will be Haley's strategy.
"She's not a moderate Republican woman of color, trying to win over other women of color, right? I think she's really trying to cater to the current Republican Party base, which tends to be White, Christian, conservative voters," Wineinger said.
Dittmar said Haley, 51, may still navigate her politics and her identity to convince Republican voters and donors that she is a fresh, new face for a party still reeling from big losses in 2020 and 2022.
"Those messages of, 'I want to take this country in a new direction,' are certainly welcomed differently when the image tied to them is this young, Indian-American woman from South Carolina," said Dittmar, saying that the strategy was effective for Haley in South Carolina.
"People can more easily see that you're bringing something new and different even though she was obviously, in terms of politics, very conservative. It wasn't so much that she was out there fighting for women's rights or racial equity."
Dittmar added that Sarah Palin, the then-governor of Alaska and Republican vice presidential nominee in the 2008 presidential election, provided a lot of a clarity about the limits to which women voters will support women politicians: "Obviously, what happened was that many women voters were like, 'Yeah, well, not that woman.'"
"I'll be interested to see if maybe Haley leans any further in. 'What is it that my perspective brings that is different from my peers?'" Dittmar added.
Haley's speech Wednesday in Charleston, first reported by The Post and Courier, could offer more clarity about the direction she wants to take her campaign. After the Charleston event, Haley will immediately travel to New Hampshire and then Iowa for a series of town hall meetings.
More specifically defining herself and her stances could be crucial for the candidate, who while popular in South Carolina, still faces some national name recognition challenges.
"What I'm interested in — I want to know why Nikki Haley's running," Longwell said, pointing to comments by Haley during a Fox News interview in which she said the country needed leadership from a new generation. That could be any of the rumored Republican contenders younger than Trump.
"Why does she think she should be president? What does she stand for?" added Longwell, whose firm, Longwell Partners, studies conservative and independent voter attitudes. "In focus groups, voters say, 'Sure, she seems fine.' But I don't know that they have got a clear idea of what she stands for. And I think that she's gotta make that clear."
Disclosure: Sarah Longwell serves on the board of The 19th.