Iowa Gov. Kim Reynolds is set to deliver the Republican Party's rebuttal to the State of the Union address on Tuesday, giving her a national spotlight to talk about the power of GOP governors to enact policies at a time their party is out of power in Washington and sell conservatism to women voters.
Republican governors have taken a prominent role in pushing back against President Joe Biden's pandemic policies on masks and vaccines, among them Reynolds. She signed legislation in early 2021 to keep schools open and sued to block vaccine mandates. She has also embraced other policies that have been popular in Republican-led state legislatures, including on restricting abortion, limiting how history is taught in schools and banning transgender people from playing sports that match their gender identity.
"Republican governors across America are leading the charge in defending liberty and securing unmatched economic prosperity in our states," Reynolds said in a statement released when her selection was announced. Her spokesperson declined an interview request from The 19th.
Reynolds, 62, is taking on this national role as her party works to expand its appeal to women voters and voters of color as the Democratic Party increasingly diversifies. As one of three Republican women governors, she's uniquely positioned to combine themes around her state-level authority as governor and what she sees at the benefits of conservative policies through the lens of being a woman. She's also leading a state primed to be at the center of conservative politics: Party officials in Iowa will host the country's first-in-the-nation presidential caucuses in 2024.
Republican women know their power in being key messengers in support of social policies, said Catherine Wineinger, an assistant professor of political science at Western Washington University.
"A lot of these issues do intersect with gender, and I think women in the party recognize that," she said. "They recognize that they have a unique voice to add to that conversation."
In 2020, every Republican who flipped a U.S. House seat was either a woman or a person of color. GOP officials who are not White men have also taken on roles as the face of the party, including in rebuttals like the one Reynolds is set to give Tuesday. During the Obama presidency, Washington state Rep. Cathy McMorris Rodgers delivered the rebuttal speech in 2014, followed by Iowa Sen. Joni Ernst in 2015 and then-South Carolina Gov. Nikki Haley in 2016. South Carolina Sen. Tim Scott, the only Black Senate Republican, responded to the congressional address that Biden delivered during his first year in office.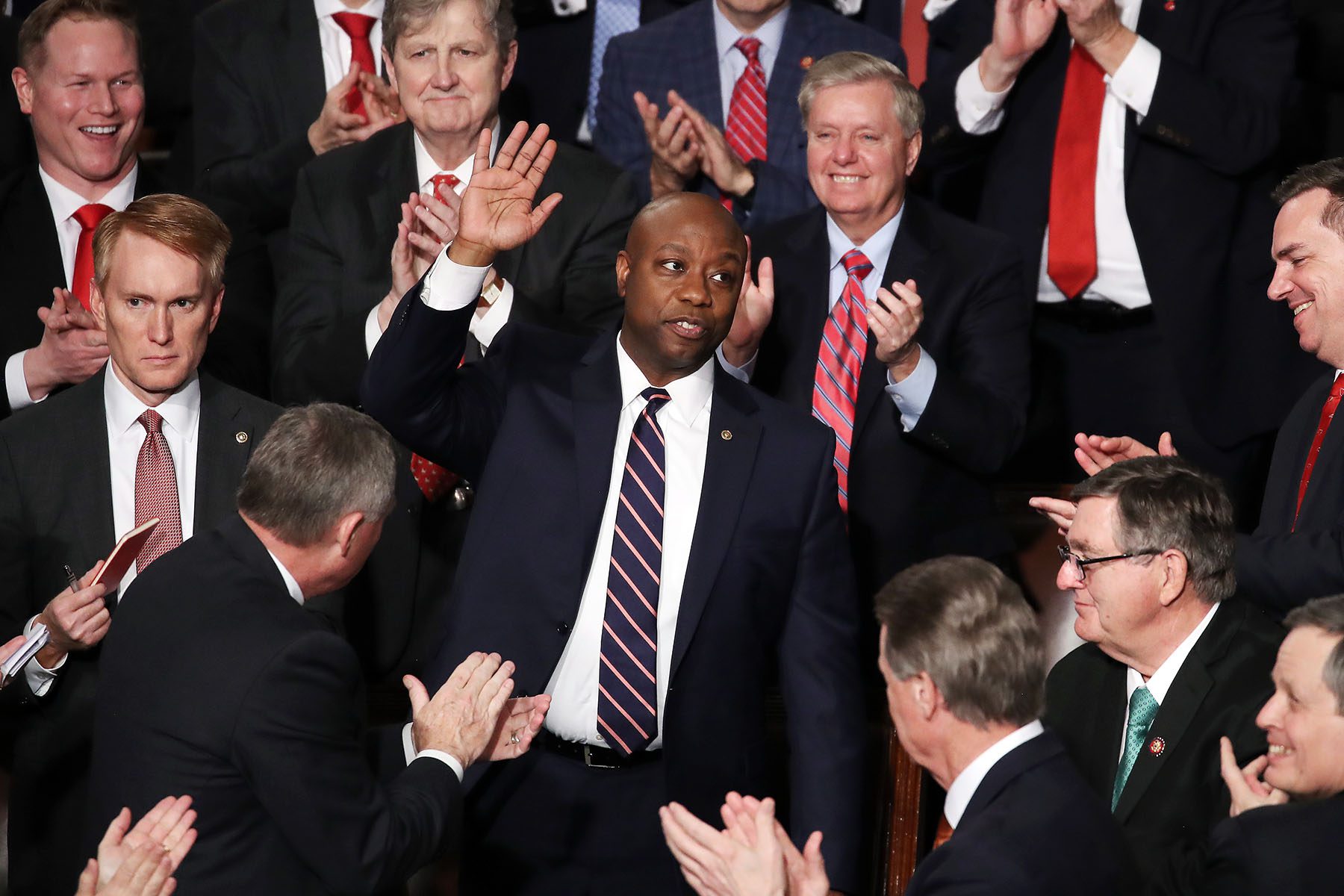 Reynolds' selection may also appeal to suburban White women ahead of the 2022 midterm elections, said Rachel Paine Caufield, a political science professor at Drake University in Iowa. The majority of White women tend to back Republicans, and their support in Virginia suburbs has been described as a key factor in Republicans' statewide and legislative wins last year.
"There are leaders within the Republican Party who recognize that it's vitally important that they elevate women's voices within the party and really find a group of Republican women who can speak to the concerns of those suburban White women voters," Caufield added.
Wineinger said Republicans' selection of women rebuttal speakers in recent years is partially a response to criticism about inclusivity by a Democratic Party in which both officials and voters are more likely to be women and people of color. Wineinger said Reynolds will be visually important after Biden delivers his address alongside Vice President Kamala Harris and House Speaker Nancy Pelosi.
Wineinger emphasized that Republican women are advocating for themselves and their political power in seeking key messaging roles, a nod to the fact that they might not see politics as gender-blind.
"We have really sort of seen this shift in Republican women recognizing that their gender is electorally beneficial for the party, and I think they've been sort of working together to try to convince party leaders that it is," she said.
In a few short years as governor, Reynolds has helped shift a once-purple state sharply to the right. Ahead of her speech Tuesday, she's scheduled to sign into law expansive income and corporate tax cuts.
Iowa Democrats have repeatedly condemned Reynolds' policy positions. Ross Wilburn, chair of the Iowa Democratic Party, criticized Reynolds' policies around the pandemic, taxes and workforce developments.
"The only thing Kim Reynolds should be saying about President Biden and Democrats' agenda is 'thank you' since they delivered when she and her Republican colleagues in Congress have repeatedly failed," Wilburn said in a statement.
Damian Thompson is the director of public policy and communication at Iowa Safe Schools, which provides services to LGBTQ+ youth in Iowa. He noted the juxtaposition of Reynolds prioritizing secondary education opportunities and apprenticeships for high school students and the effect of bills that target transgender youth.
"You can't say that you're supporting prosperity, working on workforce development, ensuring that Iowa is 'future ready' — while entirely marginalizing what is a large part of the student and youth population that you're intending to target with these economic development measures," he said. "Those two items are completely at odds with each other, and it's just disappointing and counterproductive."
Reynolds' political arc stretches back nearly 30 years. She was first elected as a county treasurer in 1994, serving in the role until she won a seat in the Iowa Senate in 2008.
In 2010, Terry Branstad — then a former governor seeking to return to the office — chose Reynolds to be his running mate. They were elected on a ticket that same year.
Caufield said Reynolds' rise as lieutenant governor came at an interesting time in national politics, when the Republican Party in particular was reimagining its definition of electability. In 2008, then-Sen. John McCain chose Sarah Palin, a little-known governor from Alaska, as his vice presidential running mate.
"It was an interesting niche at the time. I think a lot of people just didn't take these women seriously," Caufield said. "And Kim Reynolds has really stepped out of that mold and has really created a genuine space for herself in Iowa politics, which is remarkable."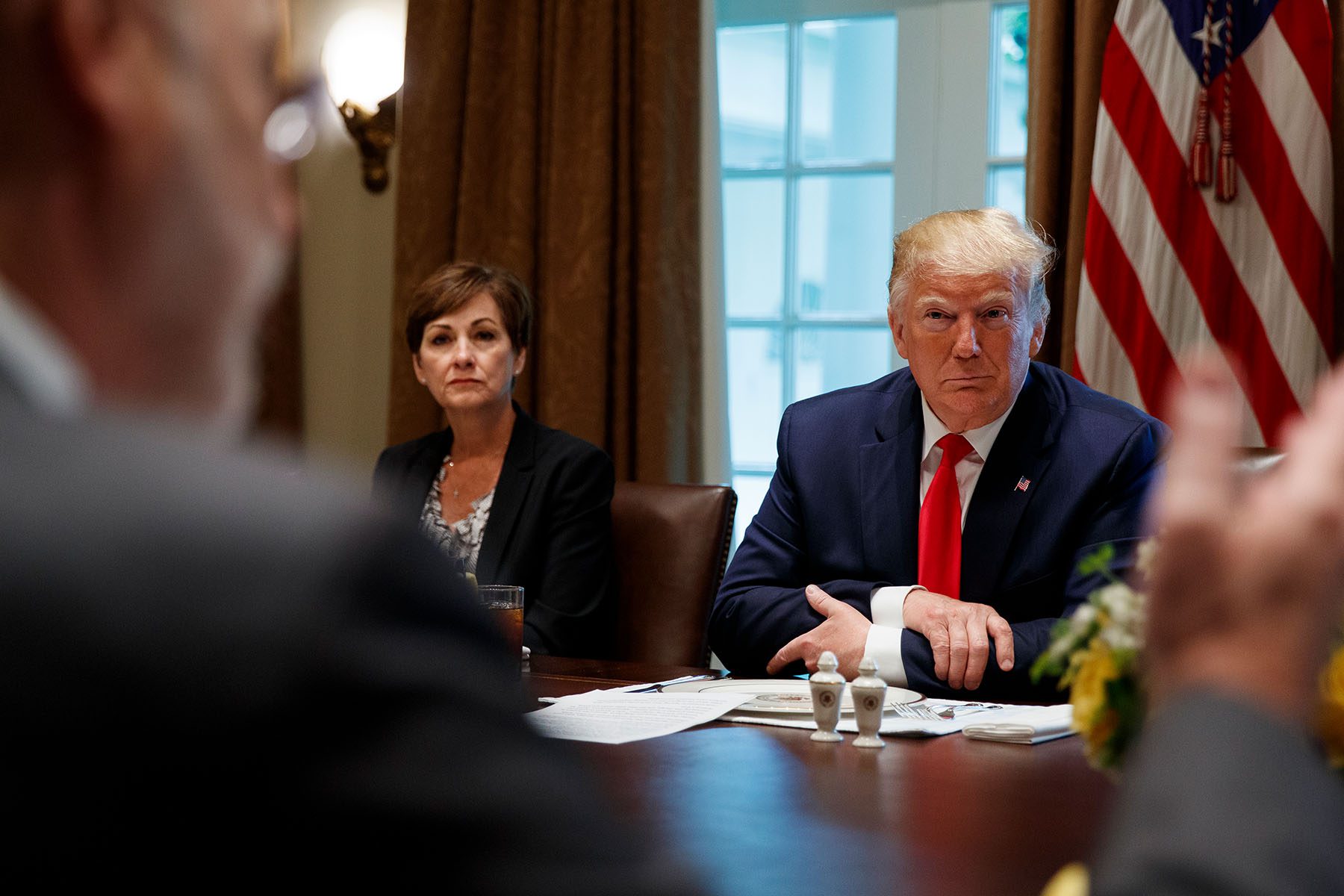 In 2017, Branstad resigned to become the U.S. ambassador to China under the Trump administration. Reynolds' ascension made her the first woman to serve as Iowa governor. A year later, she gained the distinction of also being the first woman elected to the role.
Reynolds is popular in the state. Recent polling by The Des Moines Register shows a majority of Iowa residents say they approve of how she is doing her job as governor. She visits Iowa's 99 counties every year, a choice that has given her a unique ability to tap into the needs of her constituents, said Linda Upmeyer, a co-chair of the Republican Party of Iowa and a former state lawmaker who was the first woman to serve as speaker of the Iowa House.
"Every day, all day, people are coming into her office or she's going out into their workplace," Upmeyer said of the governor's calendar. "She's hearing their stories. She's hearing what works. She's hearing what doesn't work."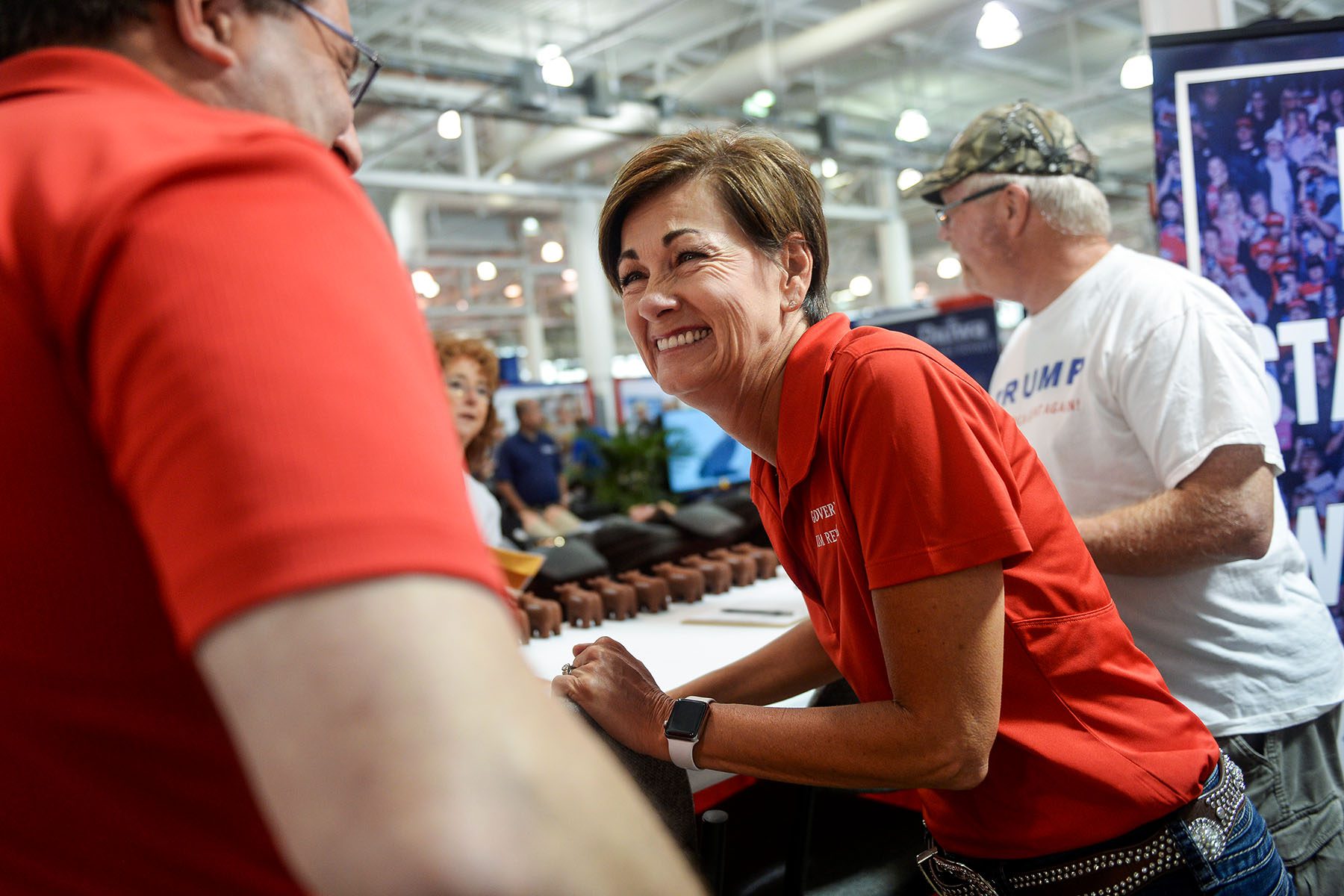 In her first year as governor, Reynolds prioritized a constitutional amendment to automatically restore voting rights to convicted felons who complete their sentences. The legislation has not advanced because of opposition from her own party but she has signed an executive order in the meantime.
It's a policy that Reynolds talked about when discussing second chances. She was arrested for drunken driving in 1999 and 2000 and has talked about the experience publicly through the lens of sobriety.
Reynolds also earned a bachelor's degree through night school and online classes when she was lieutenant governor, an experience that has also shaped how she talks about secondary education and apprenticeships.
Caufield said Reynolds is somewhere in the middle of the rift between supporters of former President Donald Trump and those within the Republican Party who are trying to keep their distance. In late January, Reynolds told a local news television station that Biden was "legitimately elected" but also added: "I do believe though that there are enough concerns about the integrity of the election process, so I think it benefits everybody to take a look at some of these things that were questioned and put them to bed or just find the answers."
Many of the Republican Party's 2024 hopefuls will be courting Reynolds in the future as they travel to the state to try to win over voters and anyone whose endorsement could sway them. Trump indicated last weekend that he is likely to make another bid for the presidency, as well.
Caufield said how Reynolds manages Trump's role in their shared party will be interesting to watch.
"When you think about the core group of elected Republicans who have been kind of the 'ride or die' Trump base, Kim Reynolds is not among them," she said. "In terms of a balancing act, she has kind of stayed above the fray of this divide. She's navigated it, I think, very skillfully."