Be the first to read our 100 days coverage. Subscribe to our newsletter today.
Vice President Kamala Harris and House Speaker Nancy Pelosi are making a statement tonight.
They aren't speaking, but their presence as President Joe Biden delivers an address to a joint session of Congress on the eve of marking his 100th day in office says volumes.
For the first time in the history of the marquee speech — the de facto version of the State of the Union address presidents make in their first year in office — two women are sitting, standing and clapping behind the commander-in-chief.
Moments before the president entered the chamber, Harris and Pelosi took their positions and exchanged a pandemic-friendly elbow bump. When Biden entered and took his place behind the microphone, he started by greeting them: "Madam Speaker, Madam Vice President."
"No president has ever said those words from this podium. No president has ever said those words. and it's about time," Biden said.
The night features two firsts — Pelosi, the first woman speaker of the House, and Harris, the first woman and woman of color to serve in the second-highest position in the country.
"These kinds of representations of progress aren't showy, you don't have to say anything, but it speaks volumes about what America and the world will see, that two out of the top three, senior-most positions in the United States of America are held by women," said Democratic strategist Jen Palmieri, director of communications for Hillary Clinton's 2016 presidential campaign.
Pelosi, who also made history when she stood behind President George W. Bush for the first time as speaker in 2007, noted the moment in a pre-speech interview.
"It's pretty exciting and it's wonderful to make history. It's about time," Pelosi said in an MSNBC interview on Wednesday.
The high-profile speech is the latest opportunity to expand the electorate's imagination, challenging notions about gender, race, what power looks like and who gets to lead. It is also a moment that signals how far women — even when they are literally a step away from the presidency — have left to go in American politics.
Rep. Ayanna Pressley called Harris' and Pelosi's presence "a long-overdue reflection" of the contributions of women, and particularly Black women.
"For the next generation of girls, it is a reminder that there is no limit to their ambition, no ceiling on their dreams," Pressley told The 19th.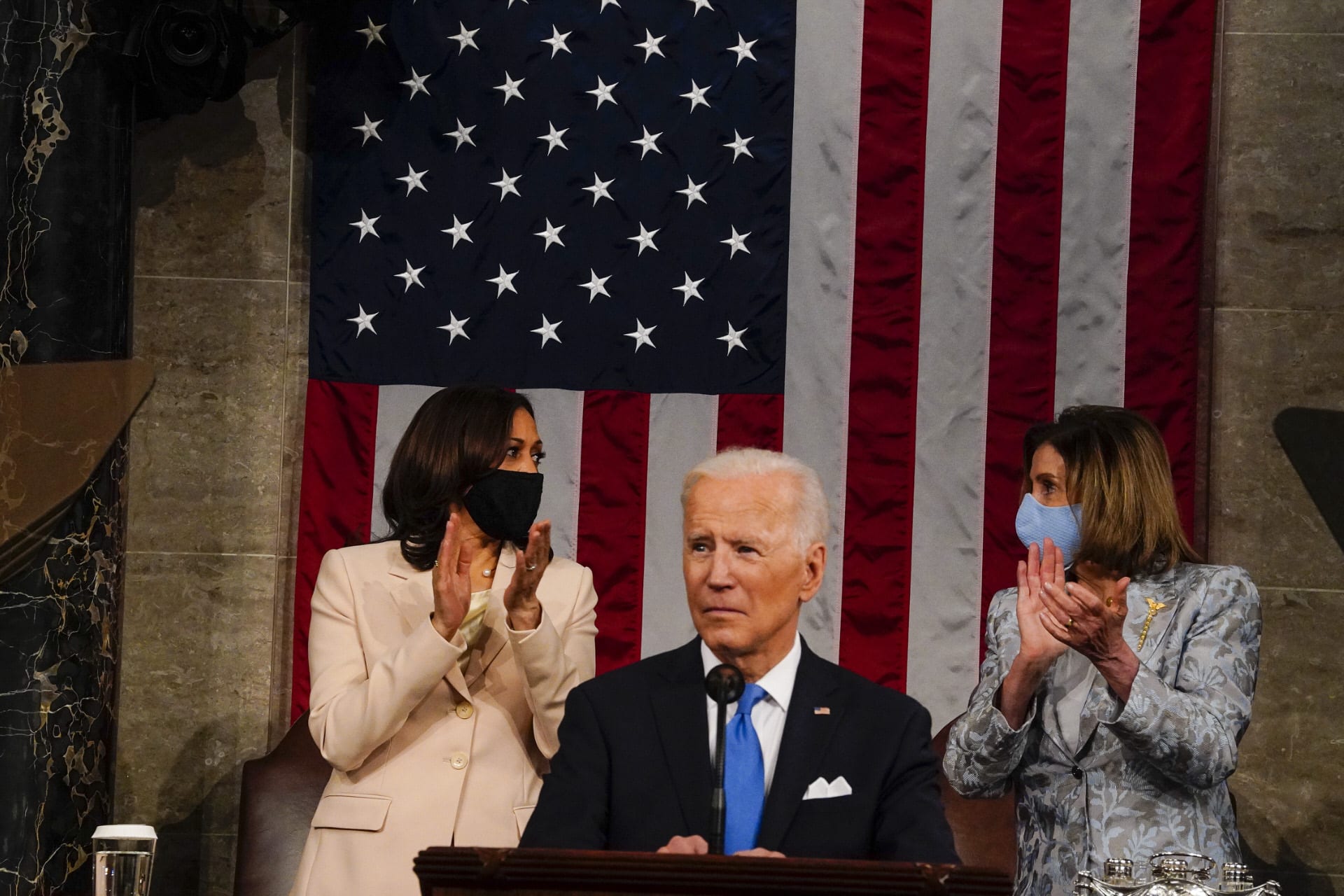 While Pressley was watching from Boston, her fellow Massachusetts Democrat Rep. Katherine Clark was in the chamber.
"Looking up at Vice President Harris and Speaker Pelosi on the dais tonight filled me with hope and optimism. It was a powerful image of powerful women — leaders who are guiding our country in a moment of crisis and spearheading transformative policies," she said. "… I'm feeling energized for the future, not just for this session of Congress, or the rest of this presidency, but for what lies ahead for the women and girls of America."
The image of the two women will reverberate far beyond the halls of Congress: on the front pages of hundreds of newspapers, in a loop on cable news and in viral social media posts. Tens of millions of Americans are expected to watch the address, and more will see coverage and commentary later.
The optics symbolize the progress of women in politics 101 years after the ratification of the 19th Amendment, which guaranteed White women the power to vote in 1920, and 56 years after the Voting Rights Act of 1965 was passed to protect the franchise for Black Americans.
Historian Alexis Coe, author of a book about President George Washington, noted the arc of progress over the last century, since the first woman came to Congress.
"Slowly, very slowly, far too slowly, women have moved their way up," said Coe. "The first and second in presidential succession are women. It's never happened before."
But the few feet separating Biden, Harris and Pelosi also represent an unrealized milestone: America remains among the 57 countries out of 195 that has never had a woman leader. Six women ran for president in 2020, including Harris; none made it past the first few months of the Democratic primary.
Harris' and Pelosi's ascents are an indicator that institutions so long dominated by White men are beginning to change, even as Biden's address will again show a White man as the fulcrum of our country's political power, said Kelly Dittmar, director of research and scholar at the Center for American Women and Politics at Rutgers University.
"It can be seen as what's possible, what's left to change," Dittmar said. "You want to get to the point where having an all-male dais or ticket or Cabinet is abnormal. The overrepresentation of men should make us think twice."
For much of the U.S. population and electorate, Wednesday night will be the embodiment of what they have been building towards, Palmieri said.
"We live with Kamala Harris and Nancy Pelosi everyday and become inured to how historic they both are, but then you see them in this constitutional, very American setting," Palmieri continued. "That's when the import of what's happened hits you: There they are."