*Correction appended.
We're answering the "how" and "why" of politics news. Subscribe to our daily newsletter.
Florida was already attracting a lot of national attention as passage of its six-week abortion ban loomed. Then, state Democratic Party Chair Nikki Fried was removed from an abortion rights protest near the state capitol in Tallahassee earlier this month, and photos and videos of her in handcuffs plastered social media.
Her black t-shirt read, "JUST F**k!ng VOTE." In videos of the arrest, you can hear abortion rights protesters shouting "Shame!" over and over.
Protesting was the last resort for Fried and other state Democrats — a consequence of the political catastrophe facing Florida Democrats. Republicans won so much power in November's elections that there was no question that if they wanted a strict abortion ban, they would enact one.
Fried, who was elected to chair the state party in February, is quick to point out that such policies are unpopular with most Floridians — her job is to address the disconnect by energizing those voters to the ballot box. But winning elections in Florida, a large and expensive state, is going to require convincing donors that Florida Democrats can win again, and improving coordination among groups backing liberal candidates and causes. 
Fried, the former state agriculture commissioner and last Democrat elected statewide, has a job few would envy.
"I certainly spoke to a large list of individuals, from family to lifetime mentors, to people inside of the party and past candidates, to get advice and suggestions. Everybody had advised me not to run for chair," Fried told The 19th.
She said she is on a mission to "rebrand" the Florida Democratic Party, and fashion it into a louder, more aggressive and more engaged political powerhouse — one that is tapping all avenues to communicate with voters.
Fried, who emphasized reproductive rights in her unsuccessful Democratic primary campaign for governor last year, said that even though Democrats can't shut down policies like the six-week abortion ban in the legislature, they can visibly blast them and their effects for all voters to see. They're also drawing attention to the actions of the state's Republican governor, Ron DeSantis, a likely rival to former President Donald Trump for the 2024 GOP presidential nomination.
"But I knew that if we were ever going to win an election again — Democrats have been dominant before — we had to fix the party apparatus. No matter how good a candidate is, without a strong party behind them, they can't win."
To win statewide again, Florida Democrats will need a running start.
They see an opportunity to energize both voters and donors in the race for mayor of Jacksonville, one of the last large U.S. cities with a Republican mayor.
Donna Deegan is vying to become the first Democrat elected to lead the state's largest city in more than a decade, in a county that backed DeSantis' reelection bid by nearly 12 points.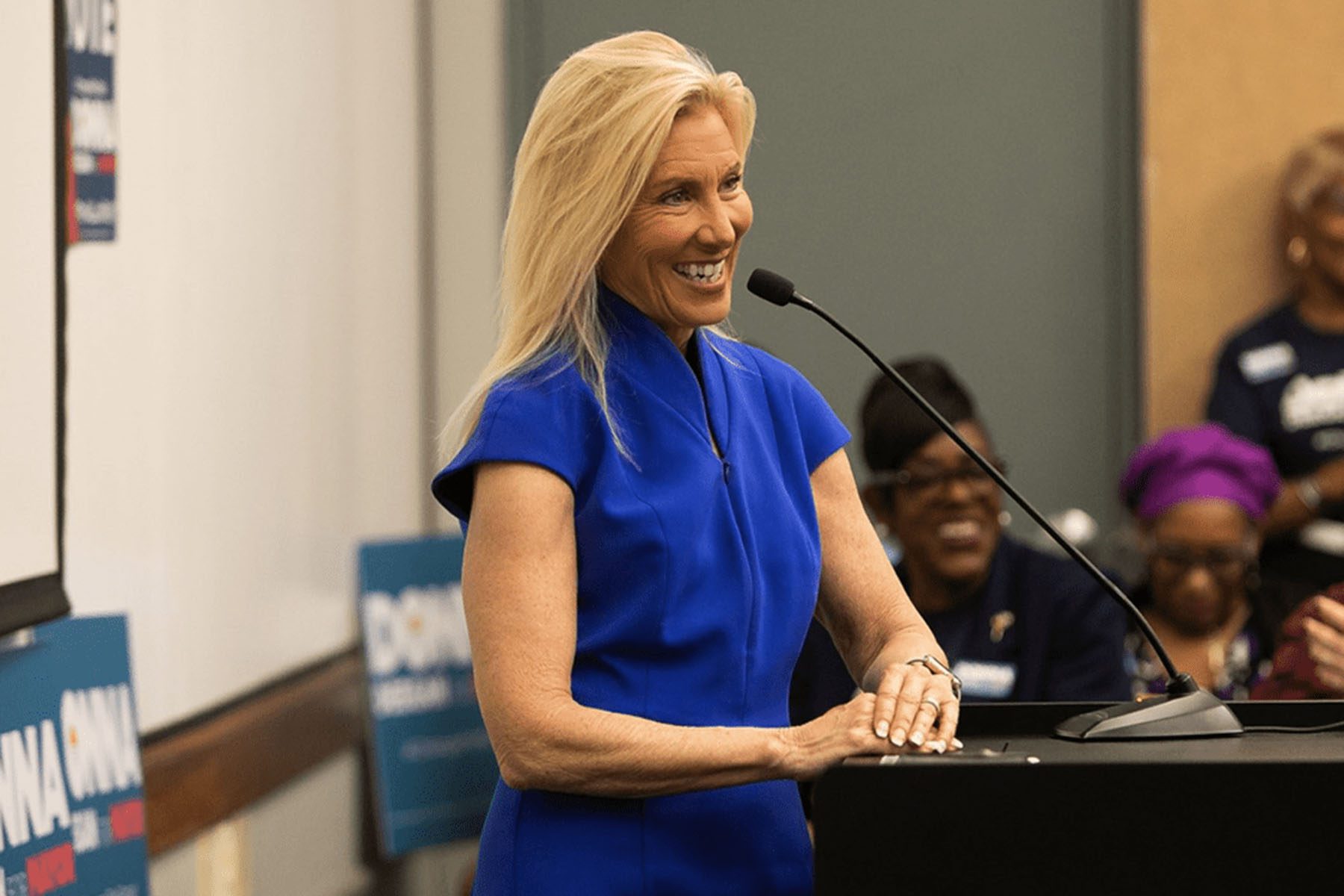 Recent polling ahead of the May 16 election shows Deegan leading Republican Daniel Davis by 17 points, after outperforming him by nearly 15 points in an open primary with one other Democrat, four Republicans and an independent.
Deegan is a former TV anchor; after surviving three bouts of breast cancer, Deegan founded and leads a nonprofit that provides financial support to families grappling with breast cancer. Davis, the CEO of the Jacksonville Chamber of Commerce and has DeSantis' backing, has far outraised Deegan. Last month, Davis' campaign committee raised more than half a million, while Deegan's raised just $185,000.
"We are leaning in on both the organizational and financial aspects," Fried said. "And, we are bringing groups together that have never been brought together before to be strategic about getting out the vote in Duval County."
Winning in Jacksonville could help the party serve hope to its donors, at least when it comes to supporting down-ballot races. Fried acknowledged that even some Florida-based Democratic donors have in recent cycles funneled their money to out-of-state candidates who they believe have better odds of winning.
Christina Diamond, a veteran political strategist and the CEO of Ruth's List, which recruits and supports Democratic women candidates, says local wins will help Florida Democrats energize donors and voters.
Ruth's List was an early endorser of Deegan. The group is also backing Miami-Dade County Mayor Daniella Levine Cava, who launched her 2024 reelection campaign last month. Cava will need to outperform DeSantis, who carried the blue and heavily Hispanic county last year by 11 points — a stunning Republican victory that reverberated nationally.
The group has also set its sights on protecting five vulnerable incumbents in the Florida House ahead of the 2024 elections and is also backing Sarah Henry, a House candidate from Seminole County outside Orlando who lost her last bid for the same seat by just over 3,000 votes in 2022.
Democrats' next big target is the 2024 Senate race for the seat held by Republican Sen. Rick Scott. Democrats don't have clear front-runners for the seat. Lauren Book, the Florida Senate minority leader who was arrested alongside Fried during the Tallahassee protest, is among a long list of potential candidates.
"It's going to take time and money to win elections in Florida," Diamond said. "This is all part of building a bench and betting on our candidates to win at every level."
Fried said that the six-week ban and other policies coming out of the Florida legislature and the DeSantis administration are already attracting national attention and outrage from many voters in the state.
DeSantis signed the legislature's six-week abortion ban into law Thursday, a quiet affair announced via a statement sent to the press after 11 p.m. The after-hours signing is a stark contrast to the signing ceremony for the state's 15-week ban last year, which saw DeSantis gather a crowd of anti-abortion activists at a Spanish-speaking church in Kissimmee, Florida.
DeSantis is a familiar foe for Fried, who served as the only Democrat in DeSantis' cabinet during his first term starting in 2018 and carved out a role as one of his most prominent challengers. "There's nobody that gets under his skin like I do," Fried said.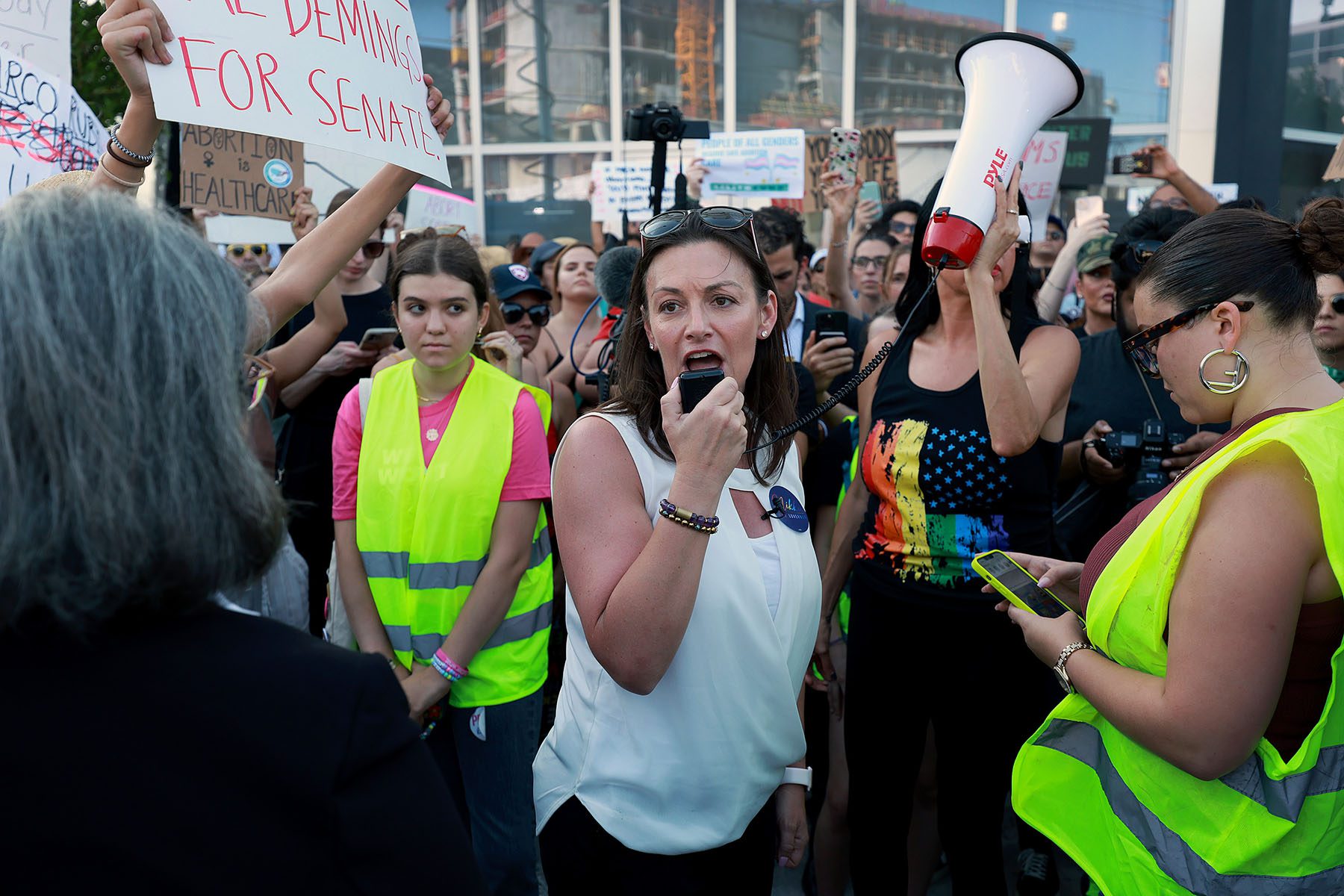 Her job now is to show that the party is "fighting back" against his policies, as he sets his sights on the White House. DeSantis is widely expected to announce a presidential campaign after the Florida legislature adjourns in May.
"I have consistently been hearing for years, where are all the Democrats?" Fried said. "We have not done enough voter engagement over the last few election cycles. That is a great opportunity for us to build to make sure that we're going back into our communities, that we aren't taking any demographic for granted."
Fried said that will include "equipping our elected officials and our organizers to speak up in their local media markets," and making sure that the Democratic Party is consistently putting out messaging to voters about what is going on in Tallahassee and across the state. The party is now pushing out news releases and social media posts multiple times a day — "the kind of external communication that has not been happening for the last couple of cycles."
Fried acknowledged that Democrats have lost ground among some Hispanic constituents, including around Miami-Dade. She said she wants to see better candidate training on geopolitical issues in Latin America to improve how candidates respond to GOP messages on socialism and public safety. Fried said that in the lead up to her gubernatorial campaign, she spent 10 to 15 hours studying the "political dynamics" of Latin America's diaspora.
"We're going to make sure that we're lifting up our Hispanic voices that are inside the Democratic Party, and talking to those that may have left the Democratic Party and figuring out why that is the case and what we can do to regain their trust," Fried said.
Fried said she hopes her arrest will show that the party "will fight back differently."
"This is a different Democratic Party," Fried said. "We are ready to engage. We are ready to donate, we are ready to volunteer and the nation is starting to pay attention to what is happening here in our state."
Republicans were quick to react to Fried's arrest. Christian Ziegler, the chairman of the Republican Party of Florida, lambasted Democrats on social media over what he called a "stunt," and mocked Fried, saying that the Democratic leader was more valuable to Republicans by traveling the state "turning off voters" than behind bars.
"Y'all wrote the script for this 'arrest'," Ziegler tweeted. "[Florida Democrats] = Lots of stunts. Not a lot of winning."
Diamond said it will take Democrats a few cycles to "see real change happen," but she's hopeful in Fried's leadership, and watching as she staffs up her operation.
"This is just like a whole new level of leadership that's just much more kind of reflective of what Florida looks like and wants in a Democratic Party leader right now — somebody who's out there and fighting and energizing and kind of pushing the needle and drawing attention," Diamond said.
"I can already kind of see and feel the buzz around it."
Correction: An earlier version of this article incorrectly stated the month Fried was elected chair of the state party.