The start of the school year can be anxiety-inducing for just about any teenager. Many students are balancing school work with standardized tests, college applications, extracurricular activities and part-time jobs, but LGBTQ+ youth experience all the typical challenges of high school as well as the unique concerns of belonging to the queer community. 
They may attend schools where their pronouns are ignored, where no clubs for LGBTQ+ students exist and books about queer people have been purged from libraries. Others may experience bullying or complete their K-12 education without ever learning about the contributions LGBTQ+ people have made to society.
What hopes do LGBTQ+ youth have for this school year? The 19th spoke with five queer students — in high school and their first year of college — from states including Texas, California and Alabama about their expectations and suggestions for improvement based on previous school years.
Each of these students have served as Youth Voices ambassadors for It Gets Better, a nonprofit that works toward the empowerment of LGBTQ+ youth worldwide. As Youth Voices ambassadors, these students share their own experiences in their classrooms and communities and how schools can better support queer people.
---
Elliot Schneider
Grade: High school sophomore
City: Austin, Texas 
As a queer teenager in Texas, Elliot Schneider has been on the frontlines, demonstrating for LGBTQ+ rights at the state capitol in Austin. They don't have to read headlines to understand the political climate. They've experienced firsthand what it's like to see mobs of angry parents screaming, "'Protect our kids from transgenderism!'"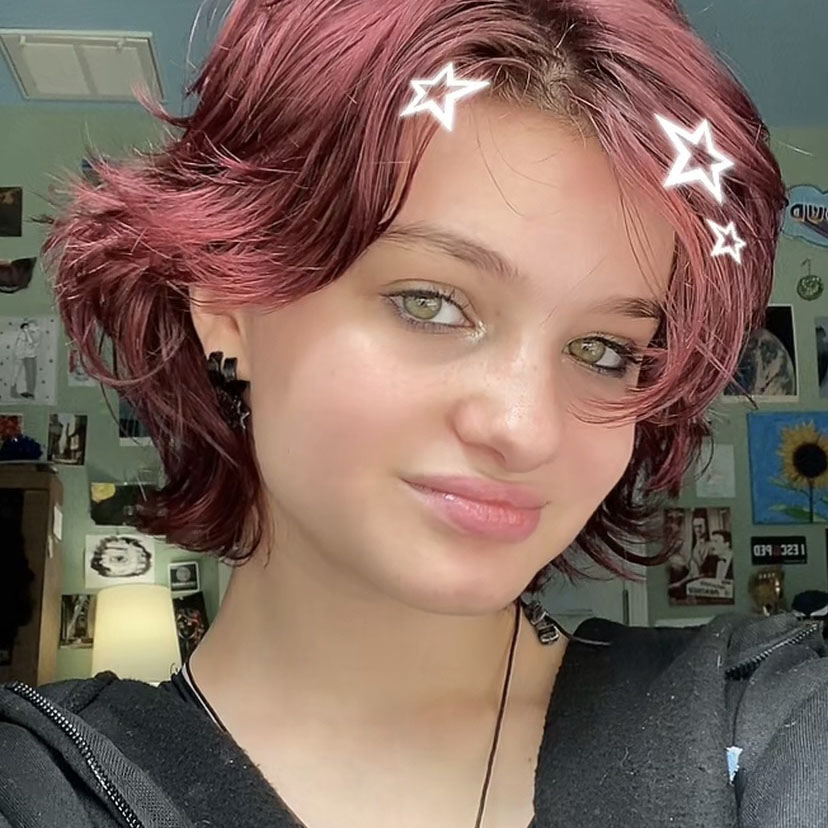 "Some of them yelled at us," they said. "I don't know. It was crazy."
Although Schneider is not currently seeking gender-affirming care, their doctor's office closed because it did offer such care. On September 1, Texas legislation banning physicians from offering transitional care to minors took effect. It marked yet another blow for Schneider, who has several friends transitioning. The Trevor Project, which works to end suicide of LGBTQ+ youth, reported in January that 71 percent of queer youth say their mental health worsens because of state laws that restrict their rights. For transgender youth, that figure rises to 86 percent.
"Now it's illegal for us to have gender-affirming care like hormones, top surgery," they said. "And that's affected me a lot. A lot of my friends have to fly all the way to California to go get it."
Schneider is too young to start the college application process but is considering leaving the state when the time comes, a prospect that makes them feel conflicted.
"Texas is where I've grown up. I was born here," they said. "There are really good parts of it, and it's my home. I want to fight to be able to stay here, but at the same time, given [Gov.] Greg Abbott, the political climate, the bad bills, just everything, I'm pretty sure I'm going to go somewhere else."
One of the positives of living in Texas is their private high school, which includes staff who are LGBTQ+-affirming, they said. But it's not perfect. Schneider said they have been deadnamed and misgendered at times, an occurrence that rattles them even if it happens by accident. 
"Your heart just sinks for a second because you realize, 'Oh, they do just see me as a girl,'" they said. "It feels horrible, and it's really bad if you're feeling very dysphoric."
They also do not see LGBTQ+ people reflected in the curriculum at school. Instead, they have had to learn about LGBTQ+ history on their own time, taking part in a podcast project where they interviewed queer trailblazers. This year, legislators narrowly avoided passing a law that would have limited classroom discussions about gender identity and sexual orientation.
"It seems like we were making so much progress, and then, now, we're going backwards." 
---
Eris Robinson
Grade: First-year student
College: Wayne State University
City: Detroit, Michigan
As a high school student in Montgomery, Alabama, Eris Robinson did not hide the fact that they are queer and nonbinary. They led the Gender-Sexuality Alliance (GSA) at their high school and advocated for a host of issues, particularly those related to LGBTQ+ rights, adolescent reproductive health and communities of color. But in the South, the teenager did not always feel they could be entirely open about their identity and, at times, made concessions to put others at ease.
"In Alabama, in the South, I would have to say, 'You can use she/her pronouns if you want to," Robinson said.
Having started their first year of college at Wayne State University in Detroit, Robinson now feels comfortable sharing their pronouns without fear of judgment. They were drawn to Wayne State, in part, because the university earned 4.5 out of 5 stars on the Campus Pride index, which measures "institutional commitment to LGBTQ-inclusive policy, program and practice."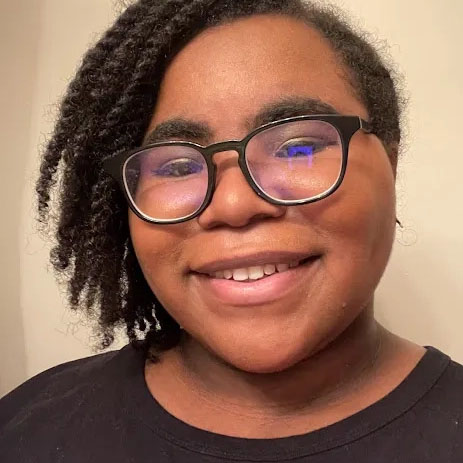 "Every class we have to share our pronouns, which is super-duper affirming," Robinson said. "I've been able to say, 'Hi, my name is Eris. I use they/them pronouns,' and I don't get any weird looks. … Here, I can just fully and authentically be myself."
Alabama has passed multiple laws targeting queer people in recent years, including an anti-transgender sports ban this year and what LGBTQ+ nonprofit theHuman Rights Campaign calls "the most anti-transgender state legislative package in history" last year.
Although Robinson now attends college in a swing state with a Democratic governor, they remain concerned about anti-queer legislation. News reports in August that Florida planned to ban AP Psychology because it discusses gender and sexuality — the state later changed course — especially upset Robinson because they took the class as a high school senior and excelled in it. In addition, Robinson took a woman studies course in 11th grade in which they learned about the Rev. Pauli Murray, a Black American activist, scholar and priest who was nonbinary and had romantic relationships with women.
But, they said, the little they learned about LGBTQ+ people in high school does not suffice.
"We didn't learn about Stonewall in our history class or something like that," Robinson said.
Now that Robinson is in college pursuing a sociology major, they look forward to learning more about queer people and queer history. During their first week of school, they were already assigned to read the writing of lesbian feminist Audre Lorde.
High schools can take steps to be more inclusive simply by acknowledging the LGBTQ+ figures that happen to come up, Robinson said.
"Even if it's not a part of the curriculum, what they can do is just say, 'Hey, this scientist who we're learning about was LGBTQ,'" Robinson said. "'This mathematician we're learning about is LGBTQ.' Even just saying that would make the curriculum more inclusive and give people a lot more representation."
---
Phi Chanda
Grade: High school senior
City: San Francisco Bay Area
As a queer youth in California's San Francisco Bay Area, Chanda feels privileged compared to their peers in states that have passed anti-LGBTQ laws. Gov. Gavin Newsom in September signed legislation that offers protections for queer people, especially queer youth, including a law that requires cultural competency training for school personnel.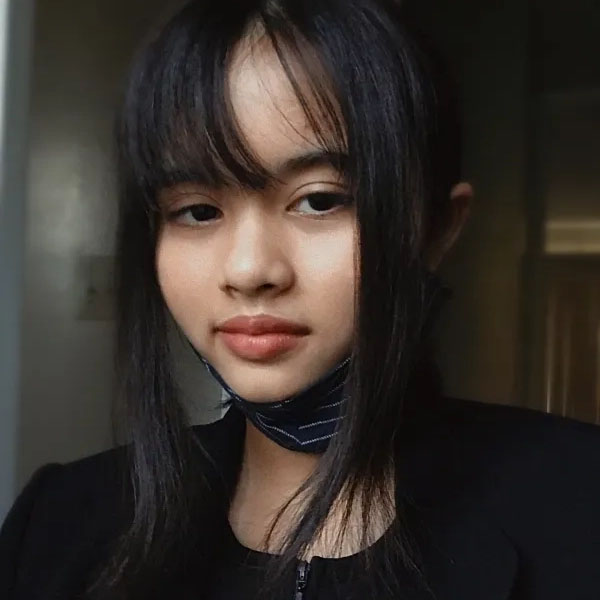 "Because I'm in California — we don't have any bans on gender-affirming care — I'm pretty safe," they said. "Going into the new school year, I am both worried and happy. I go to a school where most of the teachers are allies, and it makes me really happy. I'm worried about my fellow LGBTQ+ youth who are struggling in other states or even the youth in California who are struggling because, despite the fact that we have progressive laws, there's still case-by-case struggles for family, schools or individuals."
In fact, Newsom signed the recent package of LGBTQ+ protections partly because some school boards in the state have enacted policies that aim to censor textbooks that mention queer people or prevent students from using their chosen pronouns. Although Chanda attends a school where the faculty affirms their gender, the teenager said they still face challenges living in a largely progressive state, as do their peers.
Chanda is an aromantic asexual, meaning that they don't experience romantic or sexual attraction to others. But it's not always easy to discuss their sexual orientation and gender identity with their Vietnamese-Indian family, they said, adding that their peers from Asian-American households face similar challenges.
"I never want to say anything like, 'Oh, it's against our culture to be gay,'" Chanda said. "But, in reality, I know a lot of LGBTQ+ students who are afraid to come out who don't want to tell their parents and are afraid to talk about issues like this, mainly because of both cultural and familial values against being a part of the community. I personally have had those struggles because as a Vietnamese and Indian person, both sides of my family are really conservative."
Through Redefine Z, a global nonprofit Chanda started, they are trying to give students a space where they can develop into activists. Chanda also was part of a group of students who designed the first LGBTQ+ mural at their high school.
"It's also the largest mural in the school and it's the only thing on campus we have that is a constant reminder of the LGBT community besides some little Pride flags here and there," Chanda said. "Other than that, we don't have much representation, but I'm going into the school year hopeful because I'm hoping all these new freshmen are seeing that mural, and they're thinking that our campus is at least inclusive."
---
Alejandro Isabella
Grade: First-year student
College: Texas State University
City: San Marcos, Texas
"What if I am a girl?"
Alejandro Isabella wrestled with his gender identity as an early adolescent.
"I was deep in the closet," recalled the genderqueer 19-year-old from Frisco, Texas.
When he determined that he was not, in fact, a girl, his teachers were incredibly supportive, he said.
"They nurtured me into being the adult that I am today," said Isabella, a first-year student at Texas State University (TSU). "And I don't think I could have done it without them. They created that safe, welcoming environment that I had never had in an educational setting. They were able to build up my confidence."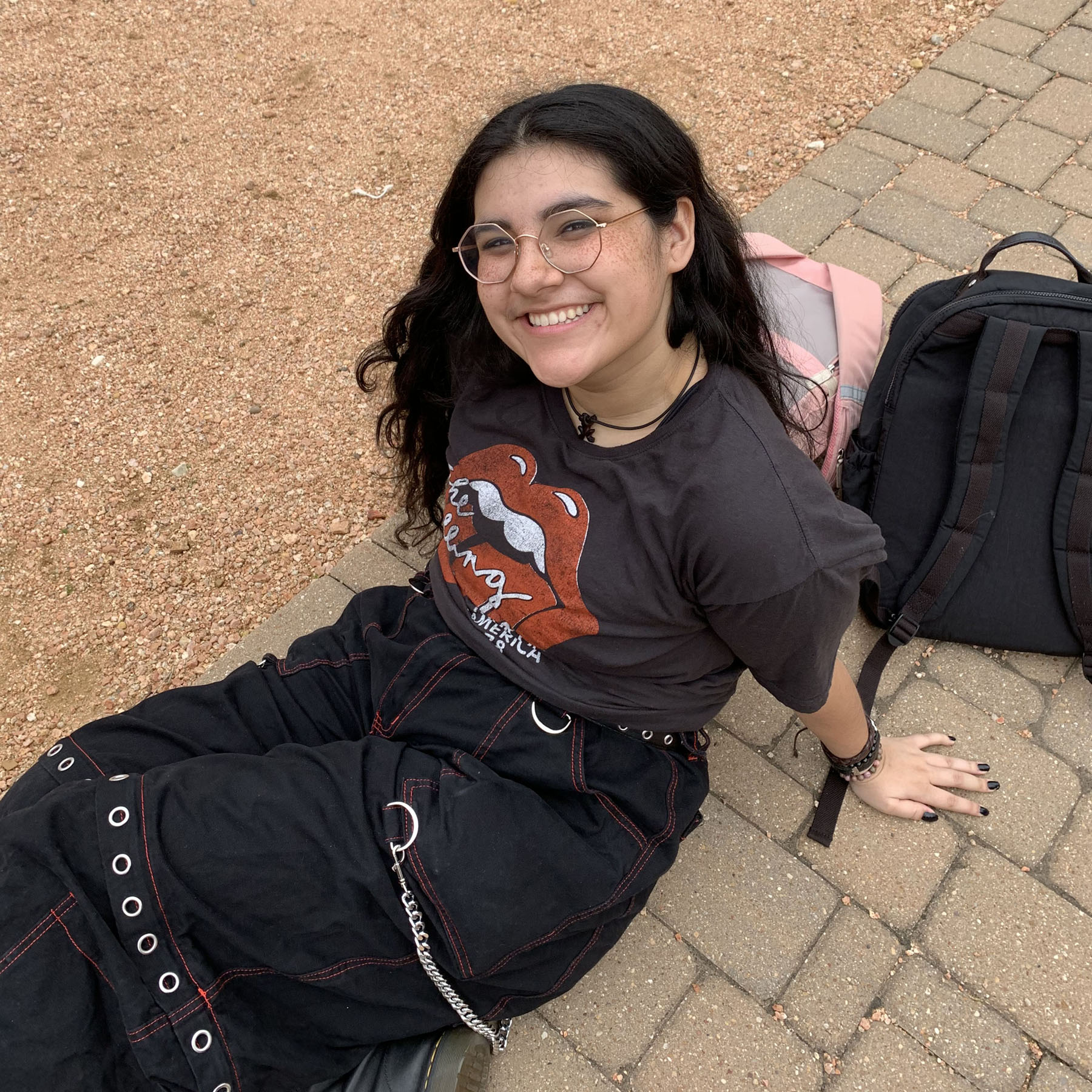 Isabella became vice president and president of his GSA. His classmates and teachers alike supported him by using his chosen name and pronouns even though he did not take hormones, cut his hair or otherwise alter his appearance to appear conventionally masculine.
"Still being seen as a man and having my pronouns respected and having people use my name … and being seen as a man and a masculine person in my high school is something that I'm just always going to be super, super grateful for."
A high school theater enthusiast, Isabella was even cast in masculine roles in school productions. At TSU, he is pursuing a bachelor of fine arts in theater education. Although he describes high school as "amazing" and is enjoying college so far, the new Texas law prohibiting minors from accessing gender-affirming care keeps him up at night.
"I'm really worried about it," he said. "I don't know what I can do except spread my truth."
Isabella worries about which rights the state may take away from queer people next, but the college student has no plans to leave Texas, contending that he doesn't want his friends to have to fend for themselves alone in the current environment.
"I have a connection to Texas," he said. "All I've ever known has been in Texas, and I'm seeing these awful, awful changes that are happening here. I just feel like I owe it to Texas and the people here who have supported me, so I want to give that back."
By pursuing a degree in theater education, Isabella wants to be the kind of adult role model that his teachers were for him in high school.
"I want to continue to be that beacon for younger students," he said. "I want to be a queer teacher that students can look up to."
---
Aaron D.
Grade: High school senior
City: Compton, California
Although Aaron D. lives in Southern California, a region with a sizable and influential LGBTQ+ population, he has not always felt represented in discussions about the queer community. When he sees representations of queer youth in popular culture, they tend to be from middle-class or suburban backgrounds, he said.
"I grew up not really hearing stories from queer youth from disadvantaged communities like Compton and South L.A.," said Aaron, a high school senior. "So I really wanted to be a part of this effort and share diverse queer youth stories because I have seen how my voice is really different from other people."
Aaron now lives in Compton and before then lived in South Los Angeles, both areas that are predominantly Latinx and Black.
They are a queer Mexican American with ancestry from the Tlahuica and Cora peoples, and their cultural background is one of the reasons they've been motivated to advocate for their community. They are the president of the S.A.G.E. (Sexuality and Gender Equality) club at their high school and the secretary of their block club in Compton, which informs people about the political developments concerning their community.
In Compton, Aaron has been surprised to connect with numerous queer people, including one neighbor who is nonbinary and another who is gay.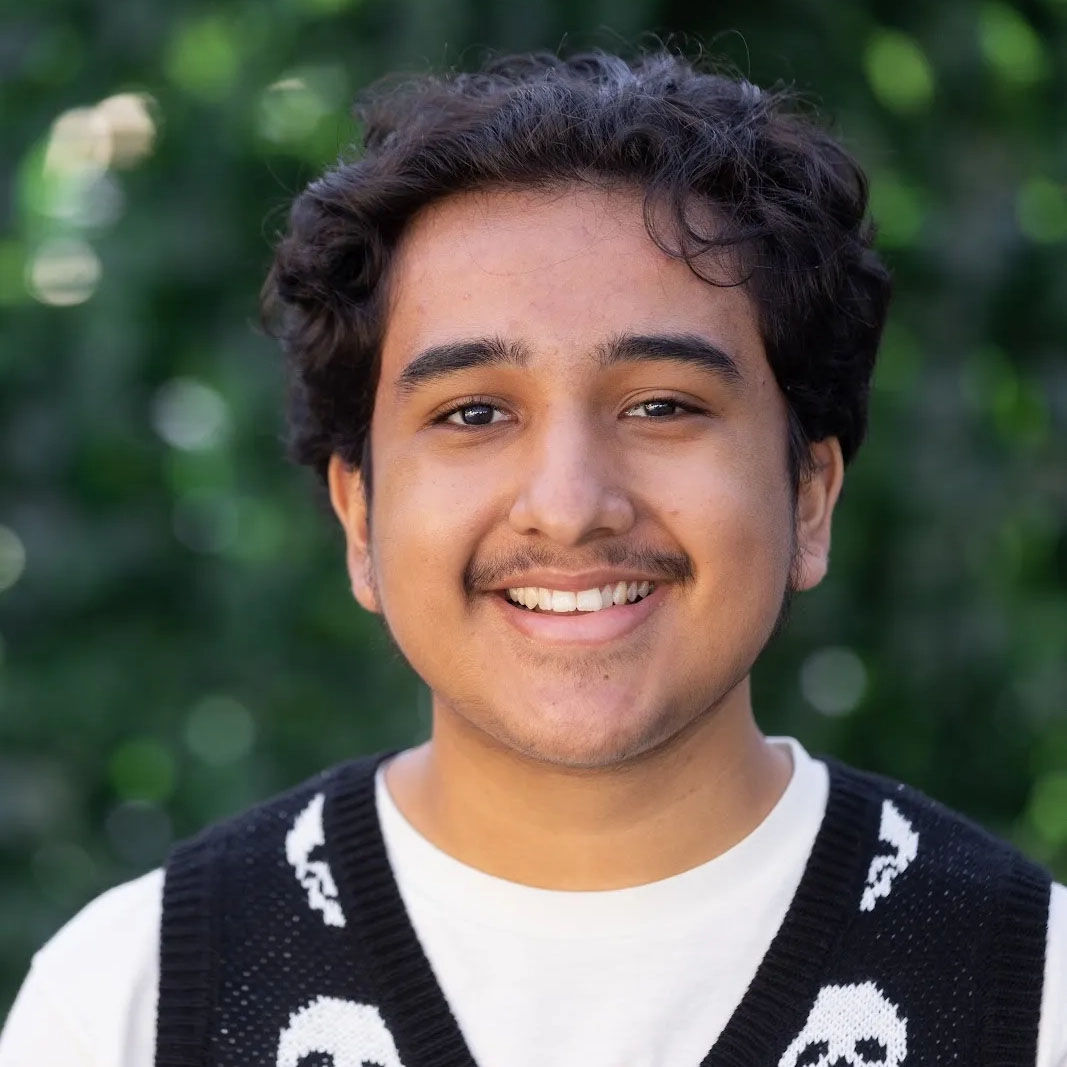 "During Pride Month, my family put up our Pride flag and just seeing all the positive reactions to it — to be honest, we weren't really expecting that because my experience, my community and my identity have never had a positive reaction."
School has been an environment where Aaron has often felt rejected. He's experienced bullying, only to turn to school counselors who lack awareness about different forms of bias and how to address bigotry effectively and empathetically, he said.
"I cannot tell you the stress and the absolute disbelief I went through going through school, even in South L.A., Inglewood, Lawndale and even now in El Segundo, and seeing a common thread of counselors not knowing what to do when it comes to homophobia," they said.
Aaron is frightened that some California school districts and community members have objected to Pride Month celebrations, calling students by their chosen pronouns or textbooks that mention Harvey Milk, the first out gay man to serve as a California public official. He said that students need to know about history makers such as Milk and Stonewall Uprisings figures Marsha P. Johnson and Sylvia Rivera to give LGBTQ+ students a sense of self-respect.
"At the core of it, them knowing about LGBTQ contributions is about empowering them," they said.