Your trusted source for contextualizing the news in California and beyond. Sign up for our daily newsletter.
As the Glendale Unified School District board voted Tuesday on a resolution to observe June as Pride Month, clashes grew violent between nearly 500 demonstrators outside the meeting just north of Los Angeles.
Split among individuals expressing their support for the LGBTQ+ community and conservative counter-protesters in shirts stating "Leave Our Kids Alone," crowd members began to punch, shove, kick and even pepper-spray each other as the school board convened.
At least three Glendale demonstrators were arrested on various charges during a Pride Month in California that has seen conservatives oppose the acknowledgement and inclusion of the LGBTQ+ community in schools. With a liberal reputation and the nation's biggest queer population, the Golden State has largely been excluded from reports about the wave of anti-LGBTQ+ laws sweeping the country that has prompted advocacy group the Human Rights Campaign this week to declare a state of emergency for the LGBTQ+ community.
But recent violence, censorship and school board campaigns funded by conservative groups indicate that California is not immune to the nationwide push to challenge diversity, equity and inclusion in education. Rather than statewide, these incidents are occurring in California at the local level. Since May, three communities in Southern California — Glendale, North Hollywood and Temecula — have found themselves at the center of controversies related to LGBTQ+ inclusion.
Glendale
The Glendale Unified School District, which serves 25,000 students, has observed Pride Month for several years. But this year, the meetings leading up to the school board's resolution to recognize June as such have attracted protesters arguing that Pride observances infringe on parents' rights.
Vivian Ekchian, the district's superintendent, objects to the idea that GUSD is observing Pride for sinister reasons. She said the district is following the state curriculum. "We have absolutely no agenda," she told local news channel KABC-TV. "We are not in the business of converting anyone's child."
Due to the brawls outside the headquarters, Glendale Police issued a shelter-in-place order that brought the school board meeting to a halt. Police blamed the skirmishes on "a small group of individuals" they deemed "a risk to public safety."
But this was not simply a clash involving Glendale parents. Individuals affiliated with the Proud Boys and other far-right groups were reportedly spotted outside the district headquarters. Moreover, the signs of some protesters took aim at the Los Angeles Unified School District, indicating that these demonstrators were outsiders unaware that Glendale, a city of about 190,000 people, has its own school system.
After the board meeting paused to allow police to clear away the protesters outside, school officials voted unanimously to recognize Pride Month.
Gov. Gavin Newsom described the violent demonstration as an "organized campaign of hate" in a statement. He added that, "what should have been a routine vote — simply recognizing Pride Month for the fourth year in a row — turned to violence."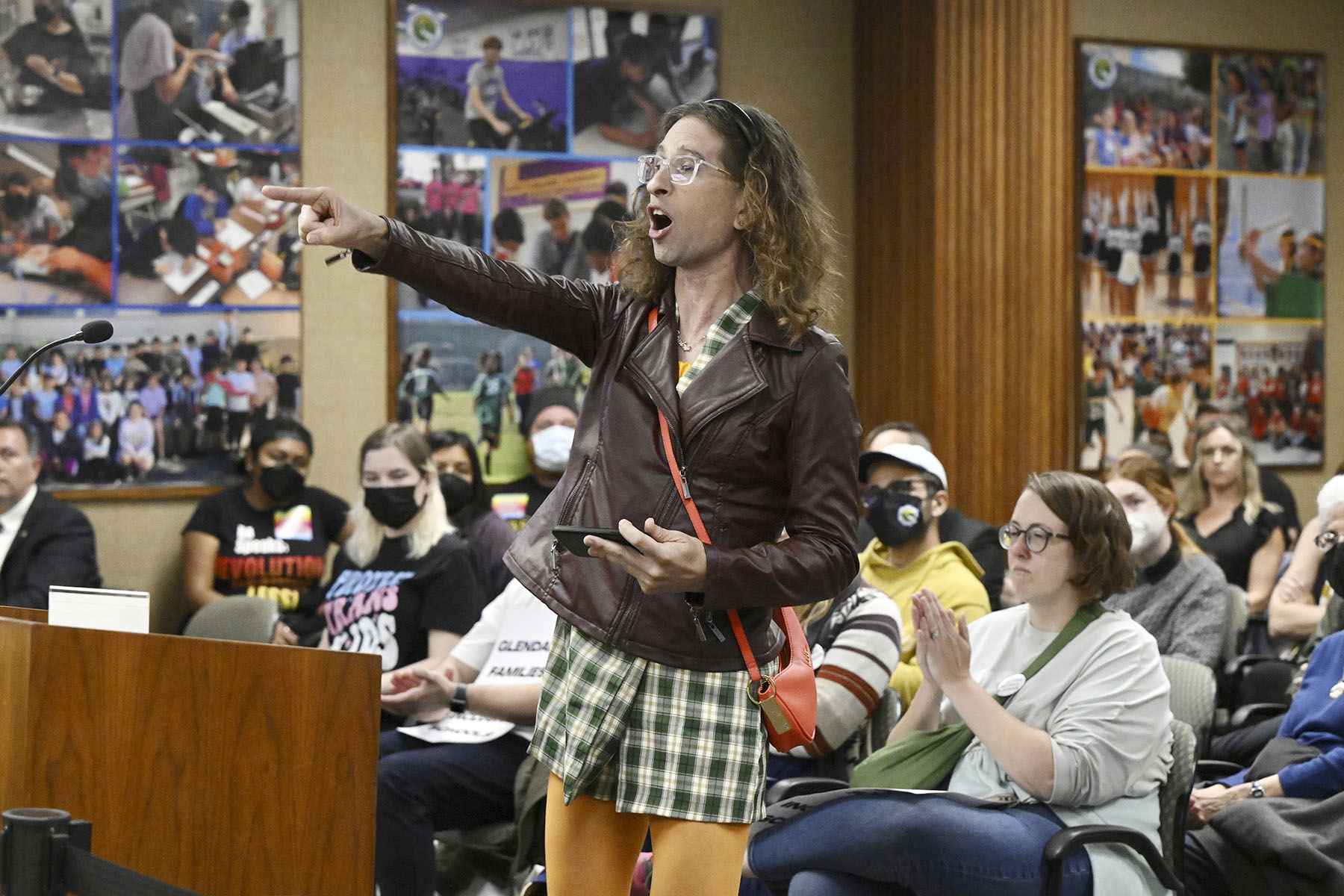 Grey James of grassroots organization glendaleOUT told The 19th that some of the anti-Pride protesters don't have school-age children and others appeared to be outside agitators. Mostly, he's concerned about the message the protests send to queer youth.
"We have a bunch of kids right now who see these adults who want to erase them," he said. "There's a country full of people that just want to erase them. And you can imagine that if you're already in a contentious family, if you already have parents that don't love you … and you have this whole thing going on in the country, what would that do to a kid?"
North Hollywood
At Saticoy Elementary School in nearby North Hollywood, tensions over Pride Month escalated in late May after a teacher reportedly discovered a burned Pride flag that had been in a flower pot. The pot was found broken.
On Friday, families and other demonstrators clashed over a Pride Month assembly at the school. Specifically, some parents objected to the reading of "The Great Big Book of Families" at the event because the book includes LGBTQ+ families. These parents argued that they should have the right to limit their children's exposure to LGBTQ+-related content.
Police formed a buffer to keep the protesters apart after a fight broke out at the school. Some families simply kept their children home on assembly day.
The scuffles between parents at Saticoy Elementary, part of the Los Angeles Unified School District, led three LGBTQ+ groups to issue a joint statement about inclusive curricula. Somos Familia Valle, GALAS LGBTQ+ Armenian Society and glendaleOut said: "LGBTQ+ people exist in all cultures and communities. Our treatment as equal and contributing citizens is not a subject of discussion, but a civil right that was fought for and gained through brave and exemplary LGBTQ+ activism. School curriculum should continue to be inclusive and celebrate the diverse lived experiences of all students rather than erasing references to LGBTQ+ people."
James said that many anti-Pride protesters care more about creating a "public circus" than they do about the curriculum.
"If they were really concerned about their child's curriculum, then choose the proper pathways of communication and have those conversations with your administrators and your educators," James said. "Everybody's welcome to do that. But creating a circus of this magnitude is a whole different idea and ballgame."
He said anti-LGBTQ+ sentiment nationally has emboldened people to openly embrace bigotry.
On Tuesday, however, the Los Angeles Unified School District voted unanimously to recognize Pride Month despite the backlash from some individuals. "We are deeply committed to fostering a safe and welcoming learning environment for all," said Superintendent Alberto M. Carvalho in a statement about the resolution. "We must continue to stand against hate and violence and move toward inclusion and unity. Everyone at Los Angeles Unified deserves to feel supported, and it's our collective responsibility to ensure all students have the resources they need to thrive academically and emotionally."
Temecula
In May, the school board of the Temecula Valley Unified School District, about an hour from San Diego, voted 3-2 to ban a social studies curriculum because the supplemental materials included Harvey Milk, the first out gay man to serve as a California public official. Milk was later assassinated.
The trio in favor of banning the curriculum won election to the board last year after campaigning with the help of the Inland Empire Family PAC, which focuses on Christian and conservative values and parents' rights. Allison Barclay, one of two board members who voted to approve the textbook, explained at the school board meeting that nearly 50 teachers had already piloted it, teaching it to 1,300 students. Barclay said the district had not received any complaints from the parents of those children about the material.
Joseph Komrosky, Temecula Valley Unified board president, referred to Milk as "a pedophile" at the meeting. That remark led Newsom to address Komrosky directly on Twitter. Newsom called the statement "offensive" and the board president an "ignorant person." Komrosky stood by his remarks on Wednesday.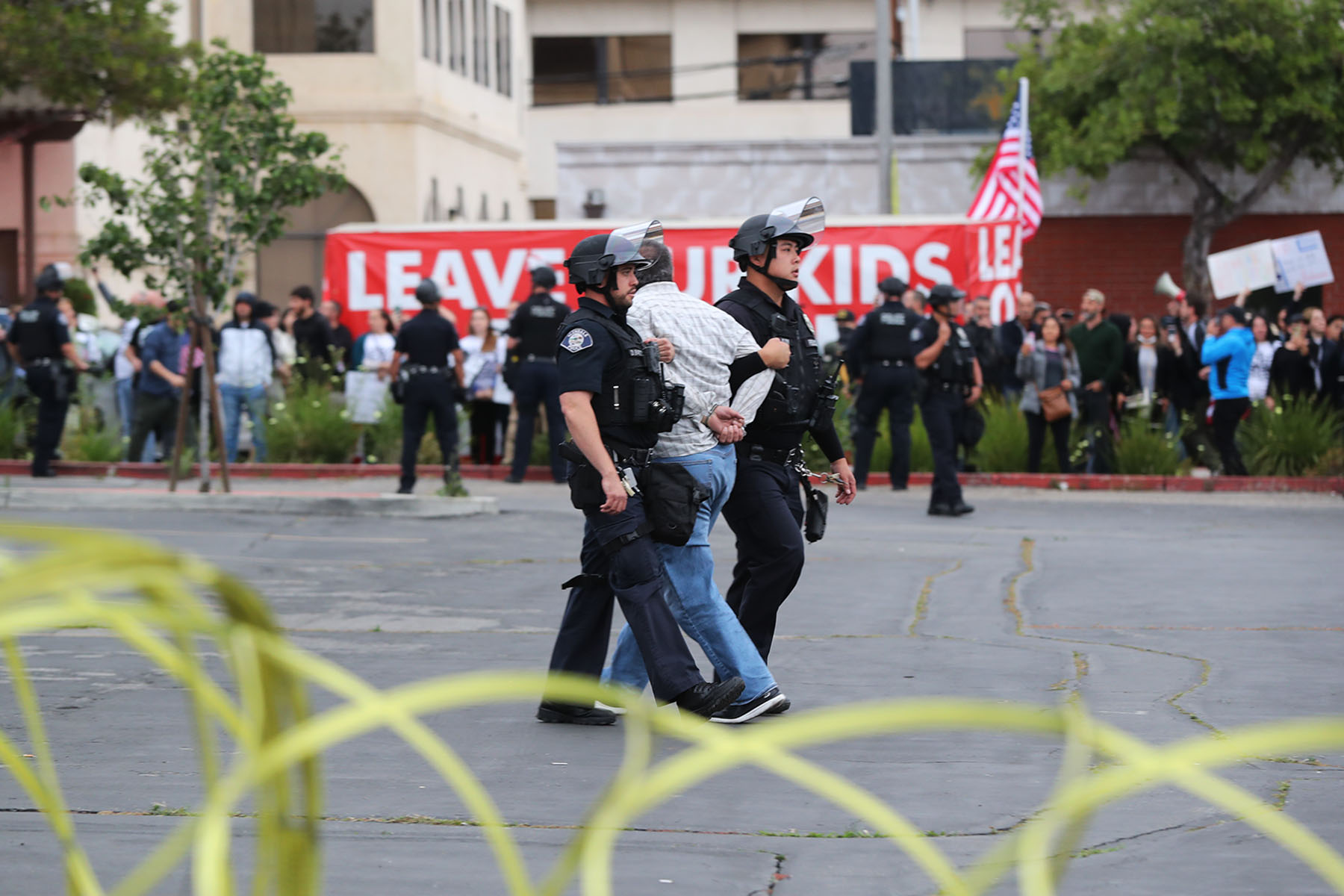 On June 1, Newsom wrote a joint letter with state Superintendent of Public Instruction Tony Thurmond and state Attorney General Rob Bonta informing schools that it is unconstitutional to remove learning materials for politically motivated reasons or simple dislike of the content. Learning materials should be unbiased and reflect society's diversity, the letter added, concluding by warning school districts that the attorney general may reach out to them if they practice censorship.
The Temecula Valley school board's decision to reject the curriculum may leave nearly 12,000 students without a social studies textbook next school year. Temecula teachers are working to get the curriculum they chose approved. They held a rally in support of the new curriculum Tuesday and have another protest scheduled June 13.
On Wednesday, Newsom decried what he described as a "wave of division and demonization sweeping our nation." He said that hate is on the rise nationally and emphasized the importance of affirming Pride Month in California. "In the Golden State, no matter who you are or what diverse community you are from, you belong," he said.