LOS ANGELES — The L.A. Fashion District buzzes with energy on a sunny afternoon in March. Bolts of colorful fabric — beaded, velvet, speckled with tulle butterflies, patterned, lacy — spill out onto the sidewalk. Storefront after storefront sells spools of ribbon and bags of sequins. The smell of taco trucks fills the air.
Nayantara Banerjee — a campaigner with the Garment Worker Center (GWC), a labor rights organization located in the Fashion District — walks down the street, pointing out multi-story buildings where sewing and pattern-making takes place.
Through the grid of windows, there are signs of an industry at work. A woman appears to be pressing fabric in one room, two dressmaker dummies are positioned in front of another like headless ghosts. In one of the buildings, the steady hum of sewing machines permeates as workers diligently sew from behind closed doors.
Banerjee has given a similar tour of the Fashion District — a key part of sustainable fashion in the United States — to L.A. city planners and council staff, who hold immense influence over its future.
In an effort to bring more housing to Los Angeles, where it is desperately needed, the city has been working on a plan to rezone the Fashion District and other parts of the city since 2014. Banerjee wants the district and the 20,000 garment workers who power the district top of mind for city officials, who have until May 12 to vote on this plan and could vote as early as Wednesday.
"We've spent a lot of time trying to educate our elected officials, our city planners, even our allies about what this industry is, and how it works and our vision for the future of it as well," Banerjee said.
The Downtown Los Angeles Community Plan has enormous implications for the future of the district and the garment workers — mostly immigrant women from Mexico and Guatemala — who power the industry.
It opens up more opportunities to build hotels, apartment complexes and other businesses in the district that advocates fear will compete with an already fragile industry composed of small and large apparel companies, pattern makers, sewers — part of the more than 1,400 businesses that power the existing garment manufacturing hub. They worry it could lead to gentrification, pricing workers out in the surrounding neighborhoods.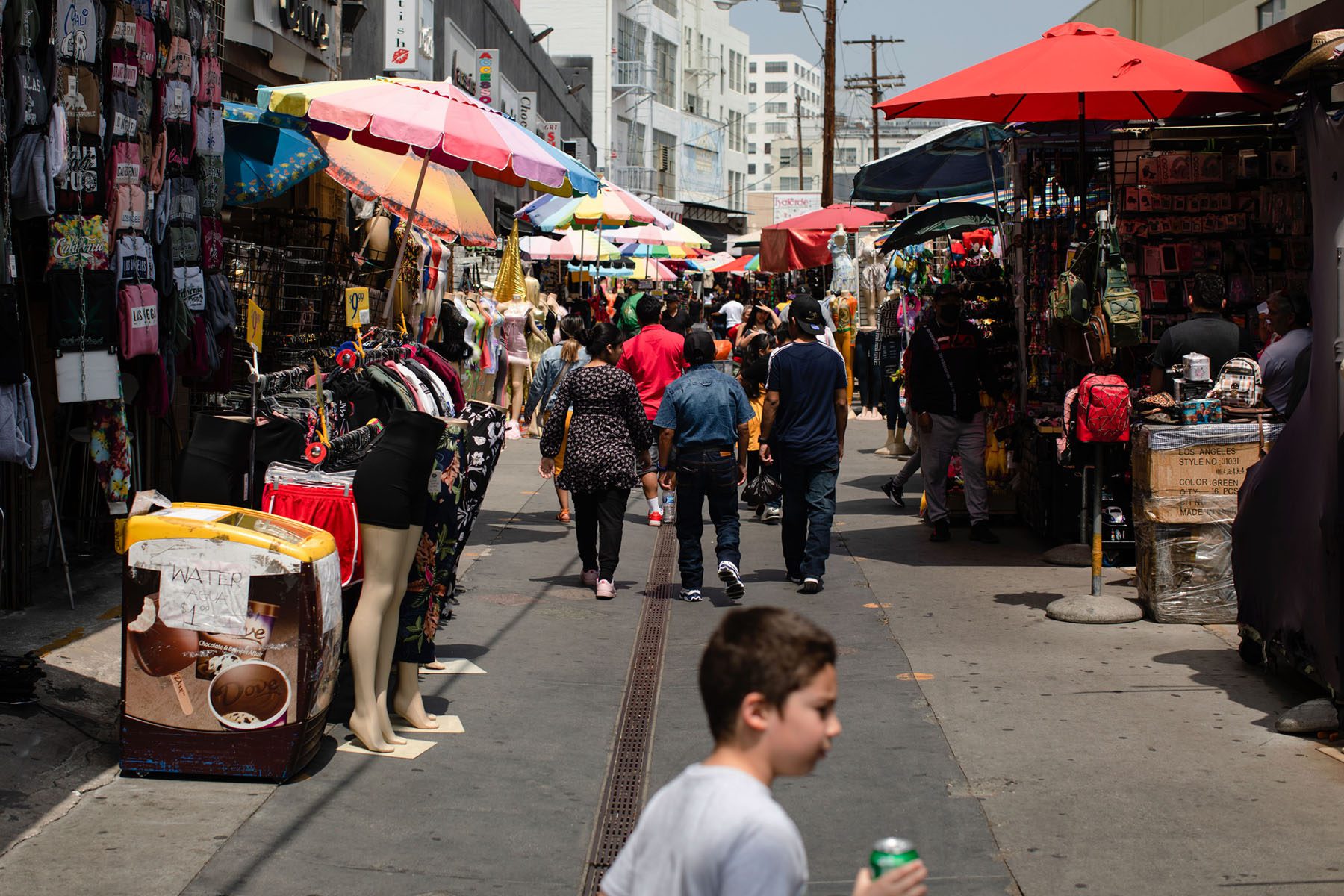 This comes at a time that the GWC and its allies nationally are fighting to preserve domestic manufacturing in the United States, through federal legislation like the FABRIC Act, which was introduced last May by Sen. Kirsten Gillibrand, a New York Democrat. The bill will be reintroduced this September during New York Fashion Week. The act aims to incentivize domestic garment manufacturing nationally and strengthen worker protections.
Eighty-three percent of domestic garment manufacturing in the United States takes place in Los Angeles, so without measures in place to protect the district, the chances of reshoring, or bringing back more of the industry domestically, narrows.
"In sustainable fashion, where the industry is trying to move, we want to reduce the carbon footprint of garment manufacturing," Banerjee said. "Los Angeles has already been doing that, because you have your pattern maker, your sample maker, your production house, your cutter, everything is right here … The ecosystem is very strong here where different partners rely on one another."
Bringing in market-rate and luxury housing not only affects those who are directly in that building, but all of these other partners as well, she said.
To get ahead of potential impacts of the new zoning, the GWC has been educating the City Council and the city's planning department about the importance of the industry, working with them on ways to make the Downtown Los Angeles Community Plan more inclusive of garment work and workers.
So far they've been successful at working with city staff, who they've been meeting with over the past two years to influence the plan's outcome. They feel optimistic that the full City Council will vote to adopt a plan that includes their recommendations.
In the process, the GWC has attracted a larger coalition of sustainable apparel companies that see the fight for the Fashion District as integral to their ability to source ethically and create sustainably made garments. If they are successful, they could cement a future not just for themselves and their community, but for the industry as a whole, as sustainable apparel companies aim to grow their operations in the United States.
The Fashion District is one of two major hubs for domestic garment manufacturing in the country. New York City steals the limelight for its fashion designers and world-renowned fashion week, but a majority of domestically produced apparel is made in L.A. According to the World Trade Center in Los Angeles, apparel is the city's second-largest manufacturing sector, worth around $11 billion annually.
In recent years, the Fashion District has become a hub for sustainable fashion, attracting apparel manufacturers like Mary Price, who makes eco-friendly tunics through her line, Ocean and Main. Price has over 30 years of experience in the industry. Over a decade ago, she felt she had to make a change. "I was like, I can't do this anymore. I can't be part of this system. And the world doesn't need another $5 T-shirt," Price remembers.
For most of her career she was a designer and buyer for luxury brands, but in 2015, she started her own company in L.A. where nearly every aspect of the work on her pieces occurs within a 15-mile radius — the Fashion District. She's been heavily involved in the campaign to save it.
"Being able to support this really delicate ecosystem within the downtown Los Angeles area is really core to my business, and sustainability has been a key part," she said. "I don't import and ship everything over a continent and an ocean before we make it. And all of the fabrics that we use are noble fabrics [or made of natural fibers like silk and cotton] that are all sourced here from local vendors. And I use a lot of upcycled fabric. So to me, keeping that carbon footprint as low as possible is really key."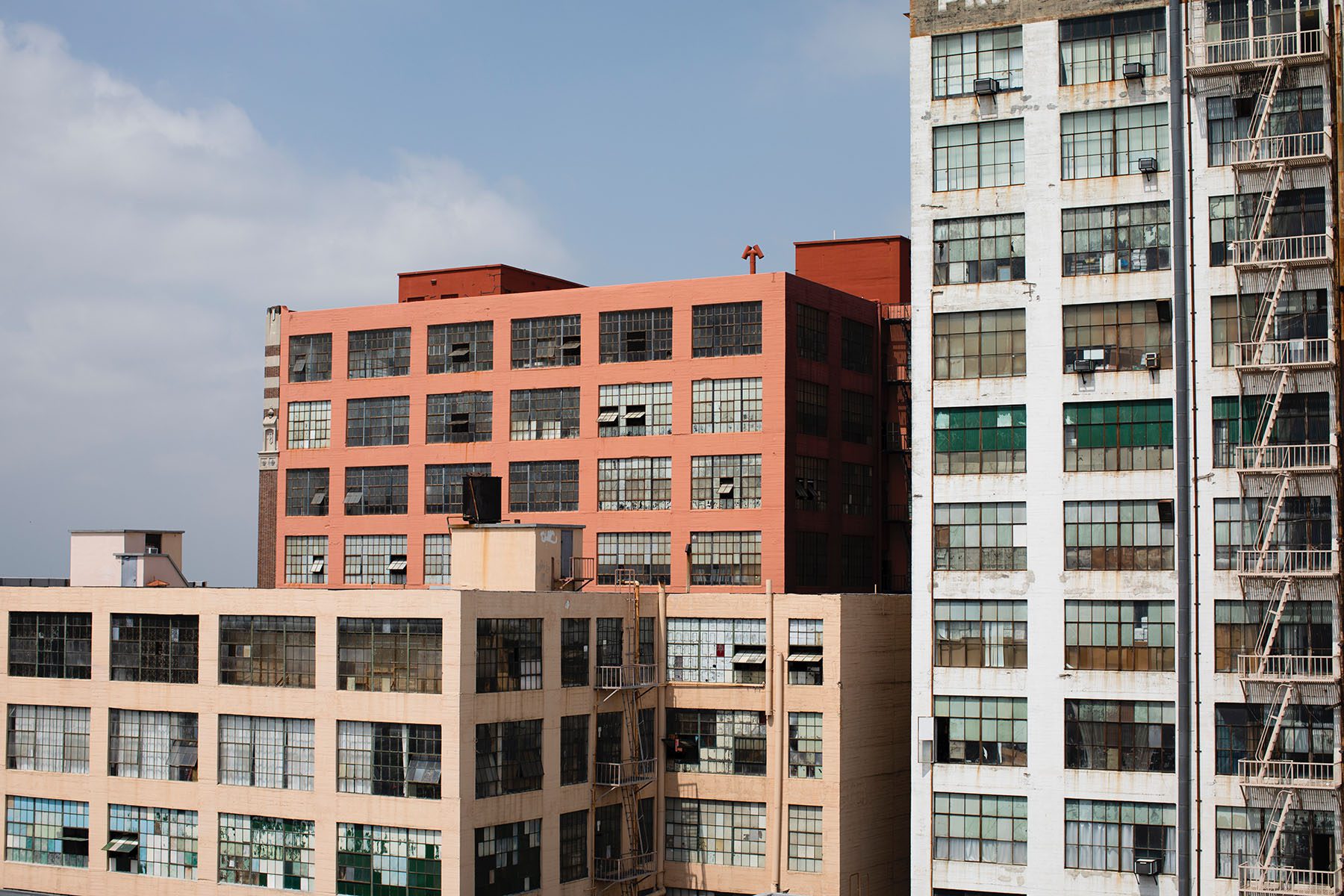 A majority of clothing production happens outside of the United States in places like Bangladesh, where rivers have been heavily contaminated with pollution from dyes and tanning acids used to make clothing. A factory collapse in Bangladesh killed over a thousand garment workers in 2013, mostly women. Workers there are paid paltry wages, and their rivers are contaminated by a mixture of toxic dyes and chemicals. According to the UN Environment Programme, textile dyeing is the second largest contributor to water pollution globally.
For business owners like Price, there is an opportunity to do things differently in L.A.
On a Monday afternoon in March, Price is busy filling orders from her fulfillment and logistics office, located in a building with dozens of other apparel companies. Paper orders are lined up in a neat row on the table in front of her. A cart of fabric in the shapes of her tunics has recently been brought back from the cutting service a couple blocks away.
"We need to take those over to the sewer, which is across the street, who will do all the sewing and then it'll come back here. We'll separate it out … and then they'll go to the dye house," she explains, pointing out how close all the various stages of manufacturing are through her window.
"Being able to walk across the street and get whatever I need, from fabric to buttons … It doesn't exist anywhere else."
It also reduces the carbon footprint of her production. The fashion industry is responsible for anywhere between 4 to 8 percent of total greenhouse gas emissions.
"One of the biggest problems facing the impact that apparel is having on global emissions is overproduction," said Price. Abroad, apparel companies have to meet order minimums, which are usually in the thousands and lead to an excess of clothing waste.. "So being able to manufacture here, we only make what we can sell," she said.
Price said keeping production here also helps eliminate the guesswork around worker well-being. "I can walk into the factory, I know the people, and I know that we're paying them well, I know their spaces are livable," she said. "And there's no human trafficking, there's no slave labor. When you go overseas, you're just kind of crossing your fingers."
Many of the same brands that are part of this campaign to save the district, including Price's company, previously joined the GWC in the fight to pass California's Senate Bill 62 in 2021, which required that workers be paid an hourly wage instead of a piece rate system that pays workers based on the number of units they produce.
"One of the ways that the issues are really linked when it comes to the climate crisis and inequity is that when you have so much pervasive wage theft, when you have a piece rate system, that's when you're also able to produce products at very cheap prices," said Ayesha Barenblat, CEO and Founder of Remake, a global fashion advocacy organization.
Remake has also been a supporter of the campaign to preserve the Fashion District, along with Fashion Revolution USA, which works on systemic change in the fashion industry and advocates for more transparency in the industry.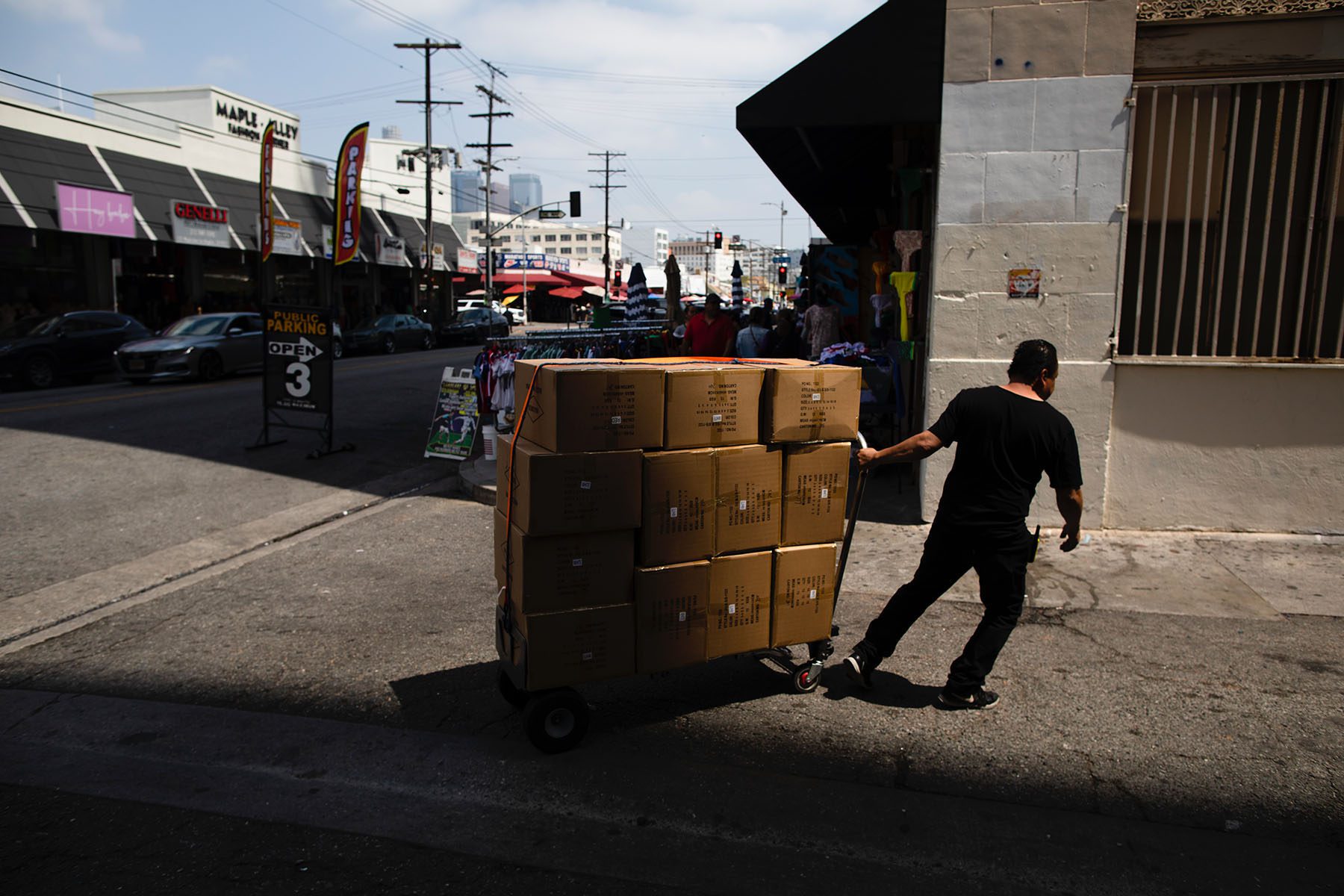 At the end of March, around 30 garment workers gathered to talk about the rezone at a park in Pico-Union, a neighborhood where many of them live. The workers and their family members — many who organized to pass SB 62 — spoke about how the plan would affect their communities.
Workers like Grigorio Mancilla would be out of a very specific job if the industry were to shrink or move. Grigorio, like many other garment workers, plays a specialized role in this garment manufacturing ecosystem. Originally from Mexico, Grigorio has 35 years of experience affixing buttons and sewing button holes for garments. When he's not sewing buttons, he's fixing sewing machines.
His wages support his three daughters. "We are fighting because we need money for the rent for the bills, and every year the rent is rising," he told me.
His concern gets to another demand being made by garment workers — that the city prioritize the development of affordable housing for those with extremely low income levels in the rezone.
Banerjee, who helped draft these housing demands with workers, said it is important to be specific about what kind of affordable housing is required in new developments.
"Affordable can mean you're making 80 percent of the average median income for the area, and our members may be earning 15 to 30 percent," she said. "So that's a huge, huge difference."
For workers like Magdalena Utuy, garment work moving out of the district could mean longer commutes. Utuy lives in Pico-Union, which is well-connected to the district by public transportation, requiring about a 15-minute commute. She has two daughters who are in school in the area.
"My main concerns are that they move all the garment work outside of the district, and we have to look for work much further," Utuy said. "I would have to be away from my children for much longer to go to my work."
Utuy was considered an essential worker during the pandemic. Her job shifted to making masks, which were urgently needed across the country as supply chain issues made it difficult to import them. At the time, the mayor of L.A. launched an initiative to produce 5 million masks with local apparel companies. Many workers became infected in crowded factories.
As the GWC has pointed out in their campaign to save the district, its workers and the industry played a crucial role in protecting L.A. residents. The pandemic also showcased the need for reshoring garment manufacturing when supply chains went haywire.
In the month since the forum, workers and their allies ramped up their advocacy efforts, organizing a march to city hall and sending letters advocating for ways the planning commission could preserve and incentivize the garment industry in L.A. This included asking that resources be allocated to businesses displaced by development, requiring a percentage of manufacturing space be preserved in redevelopments and required in new buildings, and prohibiting industrial spaces from being converted into other uses like stadiums or entertainment venues.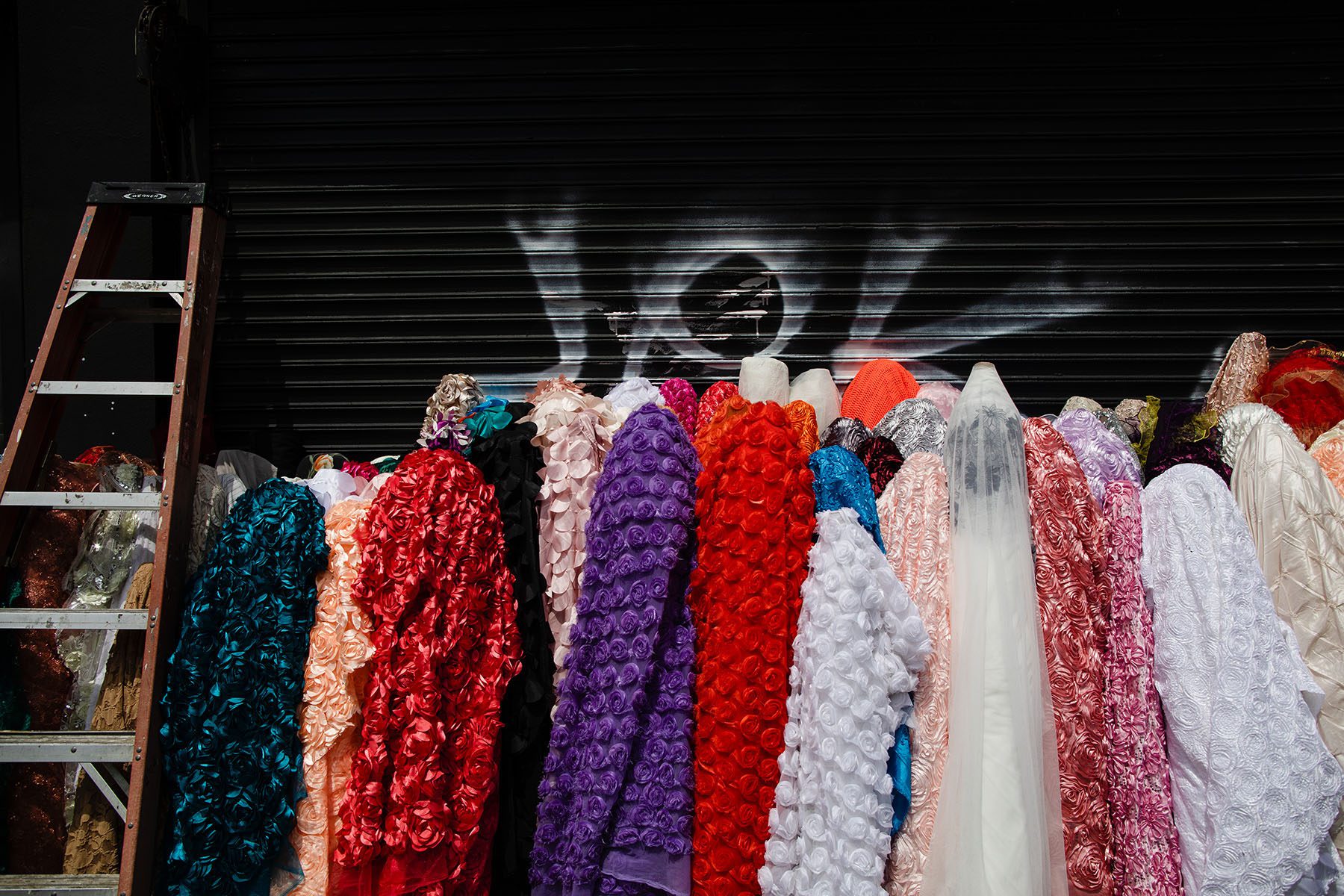 On April 24, around 100 workers attended a hearing held by the L.A. City Council planning and land use management committee. Workers, including Cris Lopez, testified about how the rezone would impact them.
"We are here because most of us have been working in this industry for over 20 years … behind us we have families, children, our grandchildren who will all be affected by this plan," Lopez said.
Their advocacy worked. City council members voted unanimously to adopt recommendations pushed by GWC, including incentivizing developers to create more room for manufacturing in new construction and supporting efforts to expand affordable housing in the district for very low wage workers.
"There are definitely still concerns about displacement, but within this plan we were able to get some strong anti-displacement measures," said Daisy Gonzalez, an organizer with GWC.
Now Gonzalez and others are focused on the next chapter for the Fashion District, working on a workforce development program that could include upskilling workers for apparel companies working on sustainable clothing initiatives and continuing their advocacy work on a national level for legislation like the Fabric Act.
For organizations like Remake, keeping the Fashion District moving forward is essential to the future of the industry.
"When we think about sustainable industry, it is really about looking at both sides of the coin, [both] quality of life and wages for workers, and also how it's better for the planet," Barenblat said. "In both of those realms the production hub that we have right here in California, is really important."