We're telling the untold stories of women, women of color and LGBTQ+ people. Sign up for our daily newsletter.
When Kyra Jones wrote for the ABC broadcast show "Queens," she collected a $14,000 residuals check that helped her get through the months after the project ended and she was without work. Then last summer, she got her first residuals check for writing on the Hulu streaming show "Woke."
It was $4.
The rapid evolution of the television industry model, with the meteoric rise of streaming and the cost-cutting measures that have become industry norms, have transformed TV in just a few short years. Writers say their wages and protections on the job have not kept pace. It's that tension that has sent more than 11,500 writers into the streets across the country on a strike that began earlier this month and is expected to go on for weeks, halting production on some of the biggest shows on TV.
Their fight for better pay and consistency on the job is one that could define what pathways — if any — remain for writers who can't afford to go months without pay and also can't afford smaller residual checks. Women, women of color and LGBTQ+ people have the least access to writing jobs, and the financial precarity of the work could mean they have to leave the industry altogether.
"One of the reasons that the industry has been dominated by White men is they are the ones with the generational wealth and the privilege," Jones said.
The sheer volume of shows has risen in recent years because of opportunities created through streaming. But that hasn't necessarily translated to more opportunity: The shift in streaming has also led to the proliferation of mini-rooms, smaller writers rooms that marginalized writers say shut them out of opportunities, limit pathways to higher-paying jobs, shrink pay and shorten how much time writers even spend on projects.
Up until now, the share of underrepresented writers has been growing in the industry: Women make up about 45 percent of all TV series writers, people of color make up 37 percent, women of color are 21 percent and LGBTQ+ people are nearly 12 percent, according to the Writers Guild of America's 2022 equity and inclusion report. But there is still ample room for improvement. Writers with disabilities are only about 2 percent of TV series writers, and women and people of color are underrepresented as a share of the population.
Marginalized writers are also getting stuck in lower-paid writing jobs. In 2020, nearly 60 percent of showrunners — TV shows' CEOs — were White men. Women of color made up just 7 percent of showrunners, but they were overrepresented as staff writers, the lowest level. At that level, 37 percent of writers were women of color in 2020, compared with 17 percent who were White men.
Because TV has changed so rapidly, there is no language in writers' union contracts reflecting the latest streaming reality. And residual payments have changed substantially. It used to be that writers could count on royalty payments whenever shows they wrote on were syndicated and re-run on cable TV. But with streaming, the complex calculation for residuals is completely different and often leads to smaller checks. Writers say there needs to be more transparency and a better process for calculating residuals on streaming shows to ensure they are fairly compensated.
All of that is on the table now since May 2, when negotiations between the Writers Guild of America (WGA) and the Alliance of Motion Picture and Television Producers, which represents the largest studios, crumbled and set off the largest Hollywood labor strike in 15 years.
According to the WGA, the share of writers working at minimum pay is up from 33 percent a decade ago to nearly half today as the median pay for writer-producers has fallen by 23 percent when adjusted for inflation.
In that time, mini-rooms, smaller in both the number of writers and the duration, have become a popular cost-cutting measure that helps studios test out ideas. Those rooms are often staffed with more experienced writers who some studios believe can get more done in a shorter time period. And because the time frame is so short, that's less guaranteed income and less time to train with other writers and on set. Many writers ultimately want to be showrunners, but it's difficult to reach that step without experience on the entire process. "Game of Thrones" author George R.R. Martin has called mini-rooms an "abomination."
Years ago, there were enough writers in the writers room to allow some to spend time on set and learn the trade, said Franchesca Ramsey, an actor, writer and producer whose viral YouTube video "Shit White Girls Say…to Black Girls" helped launch a successful career.
"These smaller writers rooms are essentially squeezing out newer writers," said Ramsey, the creator behind MTV's "Decoded." "You cannot make this a sustainable career if you don't get the opportunity to be in the room for enough time and collaborate with senior writers, go to set so you can learn how to produce your episode. … The people who need those opportunities are queer people, are women of color, are people with disabilities — people who normally don't have access to those spaces."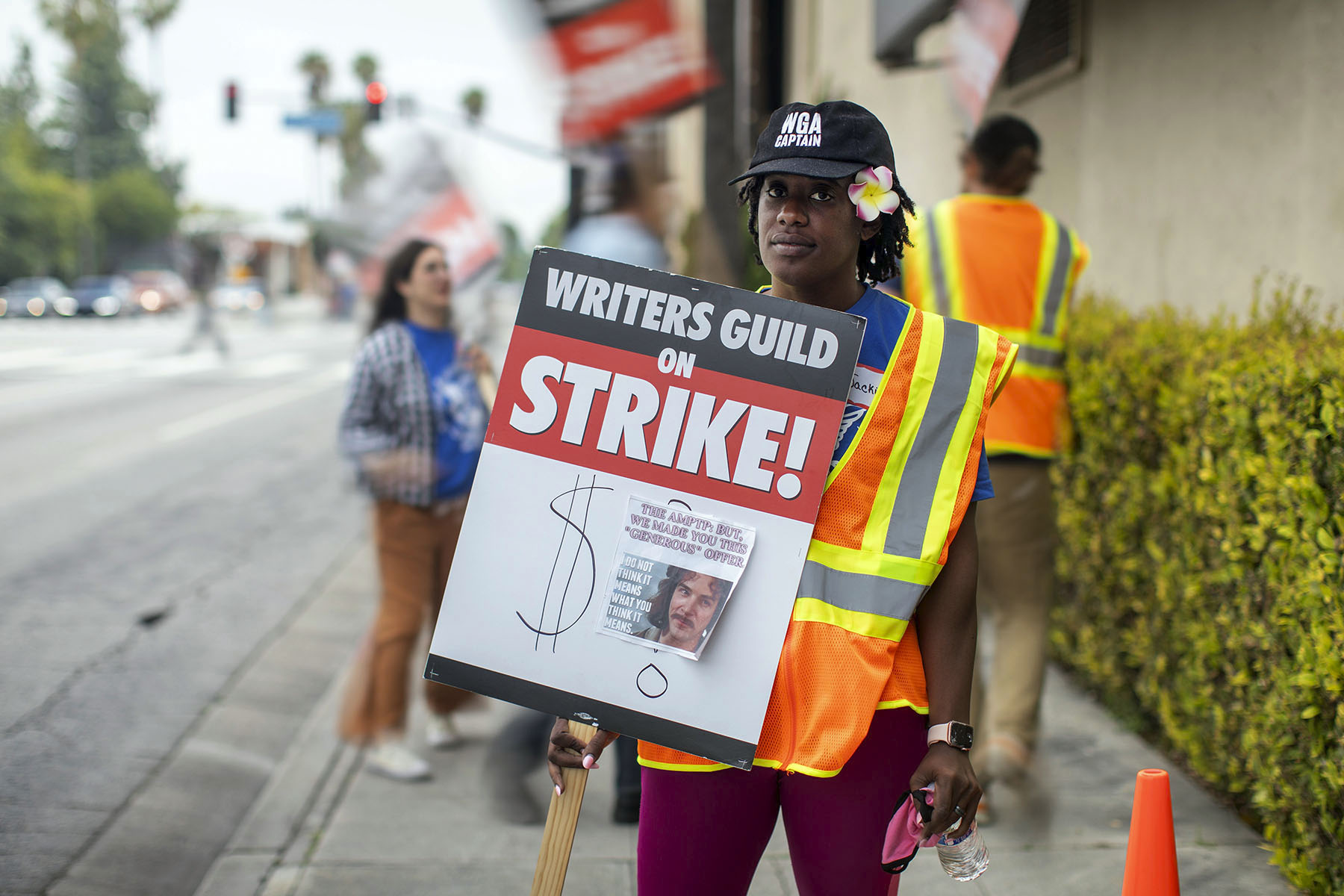 Instead, writers are not progressing. Typically after someone is a staff writer on a show, they are promoted to the next highest level, story editor, and eventually different producer levels before reaching showrunner. But studios often say writers need to have 20 or more episodes under their belt to get to story editor, when most shows — particularly on streaming services — run eight to 10 episodes, Jones said.
About 36 percent of underrepresented writers — defined as women, people of color, nonbinary people, LGBTQ+ writers, writers with disabilities and lower-level writers over the age of 50 — had to repeat staff writer positions in 2021, compared with 24 percent of overrepresented writers, according to a survey of 1,200 TV writers conducted by the Think Tank For Inclusion & Equity.
"It's a self-fulfilling prophecy because what often happens is, then you say, 'I would really love a Black woman showrunner for this show,' and they go, 'Sorry, we don't have any of those,'" Ramsey said. "You don't have any because you don't promote people so they can become a showrunner one day."
Jones worries how that lack of access will affect her. She has sold several scripts, but can she run a show?
"I'm scared about the process of them getting greenlit," Jones said. "I know I don't have enough experience to be a showrunner."
Mini-rooms, levels and pay are all top of mind for the WGA during the strike. The demands include minimum staffing requirements and guaranteed weeks of employment for writers rooms, minimum pay for writers that extends to when shows are in post-production, higher residual pay on streaming shows and more transparency, as well as limitations on the use of artificial intelligence in the writing process.
Those terms were rejected by the Alliance of Motion Picture and Television Producers. When asked about the concerns raised regarding the specific impacts to marginalized communities, the Alliance pointed The 19th to the statement it made earlier this month saying it offered the union "generous increases in compensation for writers as well as improvements in streaming residuals." But it argued that the WGA's proposed changes for mini-rooms are "in reality a hiring quota that is incompatible with the creative nature of our industry."
"We don't agree with applying a one-size-fits-all solution to shows that are unique and different in their approach to creative staffing," the Alliance said.
The WGA's demands extend to film screenwriters as well and would cut back on how much free work writers are often doing in an attempt to stay on with films. Marcella Ochoa, a feature screenwriter who co-wrote the 2020 film "Madres," said writers often produce an initial draft and then studios can decide whether to rehire them to work on edits and rewrites. The WGA's demands include a requirement that writers are at least hired to that second step.
Ochoa, who is a Latina, said she is a rarity: a woman of color who is a screenwriter in the horror genre. But the industry has few protections built in for people like her to write stories for her community.
"There is a misconception that, 'You make so much money, you're so successful,'" Ochoa said. "I could sell one script and then not have another project for two years, and you have to live off money from a project you had sold a year before."
The inconsistency of the work is something many writers talked about — Jones took on a part-time job at her alma mater, Northwestern University, to pay bills. Ramsey considered quitting at one point and now works multiple other jobs (public speaking, branded content, producing a podcast, writing a book) to keep a roof over her head.
It can be months before writers see paychecks for the work they do sell, Ramsey said.
"I sold a show — nine months later my contract closes and I get paid," she said. "No wonder so many nepo babies are in this industry. Who can afford to go nine months without getting paid working on a show?"
Diversity of writers ultimately means diversity of stories, the kinds that have succeeded in recent years exactly because they tell authentic stories about communities in a way Hollywood has rarely done. It's stories like Oscar winner "Everything, Everywhere All At Once" and Emmy winner "Abbott Elementary."
"With the way that America is crumbling politically and the attacks against queer and trans people, and critical race theory and women's rights, students aren't going to learn this information in schools, and one of the most powerful tools we have is our art and our entertainment and to continue to tell these stories without being policed," Jones said.
Writers who have caregiving responsibilities also face unique pressures, said Kirsten Schaffer, the CEO of Women in Film, an advocacy organization fighting for parity in the screen industries. Unionized writers got paid parental leave only three years ago, and access to sick time or time off to care for someone is highly dependent on the benevolence of the showrunner. It's not uncommon for a writer to have a job for a few months, and then spend a year unemployed.
"For women who are also parents, especially for anyone who is a single parent, it's totally untenable, because you don't know that you're going to make enough money for the year and to sustain your family, and also the hours are really long. It's difficult to find child care," Schaffer said.
Out on the picket lines in Los Angeles, Teagan Wall was recently out with her then 5-week-old son, holding a sign that read, "I've never seen writers treated this poorly IN MY WHOLE LIFE." 
Wall, a neuroscientist who made the leap to screenwriting on shows including CBS' "Young Sheldon" and Netflix's "Bill Nye Saves the World," said she never revealed she was pregnant with her son for fear she wouldn't get jobs.
"If you're interviewing for shows and you don't get it, you just hear back like, 'Hey, they don't think you're the right fit this time,' or 'Hey, they were going for something slightly different,'" Wall said. "You have no way of being like, 'Was this because I'm pregnant?'"
The only reason she is able to be a writer is because she has a partner who is a software engineer and has a steady income, she said. If he couldn't support her, "I would not be able to continue this career with two kids in good conscience," Wall said. "When there isn't work, they can't not eat."
She's known several writers who have put off having kids for that reason. In her seven-year career, there have been two periods where she has gone 12 months without a paycheck. She's gotten by because, as a former grad student, she's learned how to budget for the in-between times, Wall said.
For her, the writers' strike feels like an inflection point. It's about how the nation treats laborers. It's about what kinds of stories we want to protect. Historically, broadcast TV was about writing to a general audience, she said. Now, streaming provides a new opportunity for new perspectives — if handled wisely.
"We have all of these different ways that people watch TV or see movies or get their media. We're able to better target specific subgroups of the audience and you're able to do that in a way that you're not preaching to the general audience about what the experience of these people is," Wall said. "You're telling a story for these people that they can enjoy and that they can relate to specifically.
"And that makes it better."