Your trusted source for contextualizing politics news ahead of Election 2024. Sign up for our daily newsletter.
Parents are entering the 2024 election cycle facing higher costs, longer waitlists and fewer options in a child care system on the brink. Child care providers are stretched thin and struggling to stay afloat, with subsidies set to dry up this fall. Both groups and advocates say the system is at a breaking point — and that both political parties should make family care a significant priority on the campaign trail. 
Efforts to invest in child care and paid leave in President Joe Biden's proposed Build Back Better agenda stalled out in the Senate, but, advocates say, the push elevated child care to an indispensable part of the political discourse at both the federal and state levels. State lawmakers in both parties have picked up where Congress left off in investing in child care, and many are emphasizing the issue as part of their agendas.
"We've moved past the point now where child care is a side issue and a nice-to-have issue," said Melissa Boteach, vice president for economic security and child care/early learning at the National Women's Law Center. "The pandemic really underscored that child care is the backbone of the economy. And even though we didn't ultimately make it into the final reconciliation bill, I do feel like the narrative has forever shifted on that and it's now become a political imperative."
Gender and the economy played a major role in the 2020 election when Biden ran on getting the economy back on track. In the 2022 midterms, backlash over abortion bans propelled many Democrats to victory. Both abortion and the burgeoning child care crisis will be top of mind for many voters — especially women voters crucial to both parties' fortunes — in 2024.
The most significant investments in child care in recent history came through the American Rescue Plan (ARP), which Biden signed into law in March 2021. The law gave the child care industry a $39 billion lifeline, adding to $10 billion in emergency pandemic subsidies passed in December 2020 and $3.5 billion to child care block grants passed in March 2020 under the Trump administration. 
Boteach lauded the ARP's subsidies to states and localities as "the largest investment in child care we've seen" and "an enormous accomplishment from the child care perspective." But those funds are set to expire in September, threatening to send parents and providers over a cliff.
"Already, half of families lived in a child care desert before COVID," she said. "And so we're not even recovered to that place, and now we're about to lose the funding that was stabilizing states."
Elliot Haspel, director of climate & young children at think tank Capita and author of "Crawling Behind: America's Child Care Crisis and How to Fix It," said the industry was "treading water" before COVID-19 but still in the same pool as other sectors.
But the effects of the pandemic combined with a lack of sustained public investment, he said, means "the crisis is deeper now than it ever has been in the recent past."
"It leaves us on the precipice of working parents facing down a wasteland of care options before the 2024 elections," he added. "This is a pain point that goes into the middle class and upper middle class."
Child care, Haspel argued, is fundamentally "a human service masquerading as a private market." And the industry's economics aren't working, either, for child care providers, who face low wages, little to no benefits and increasing difficulty keeping their doors open.
"The workforce is paid poverty wages — half of them are turning to public assistance just to make ends meet. These are the people who are caring for our children and they make less than dog walkers," Boteach said. "On the other side, you have parents who are struggling to afford care already, even with the providers making poverty wages. And so the solution is public dollars."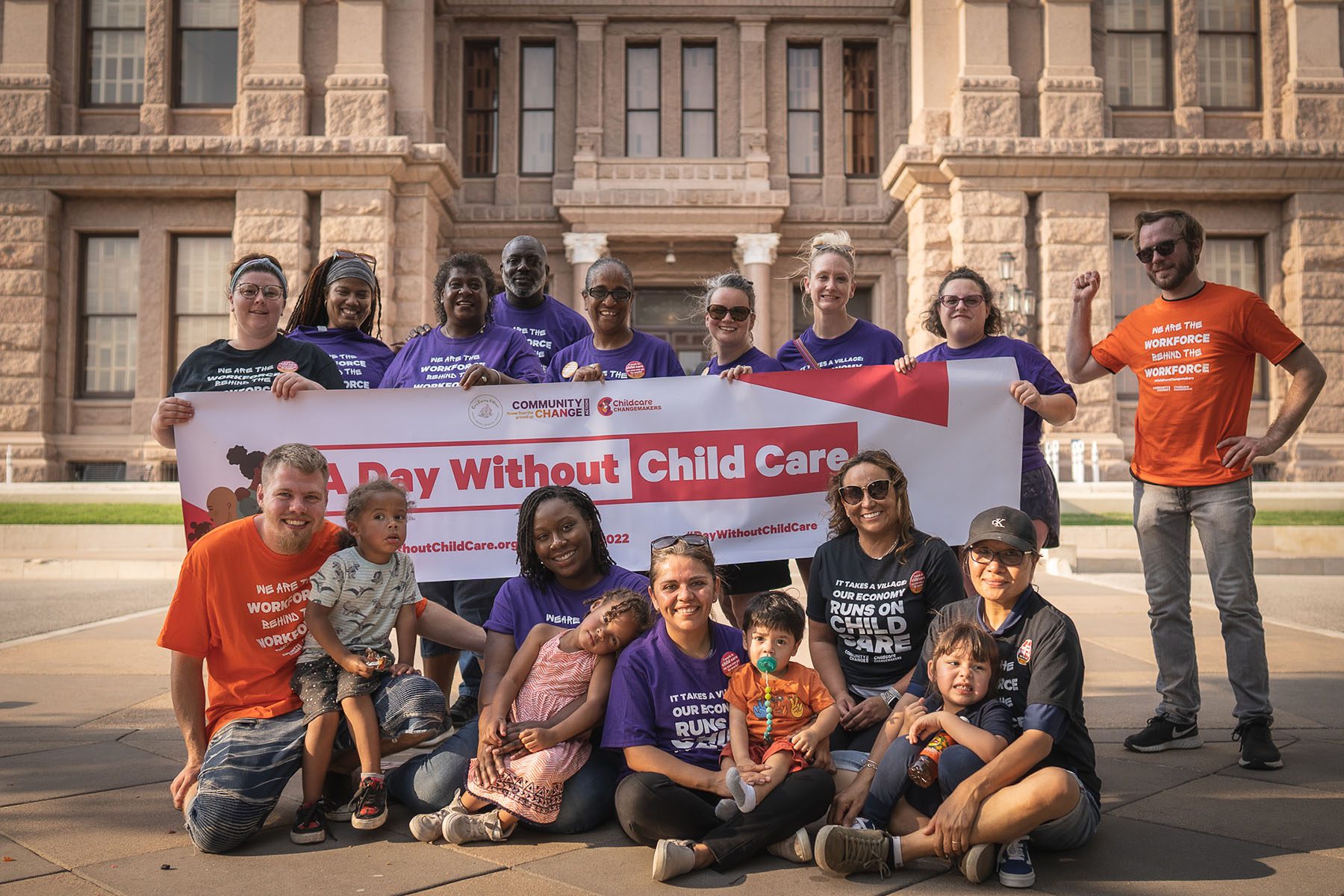 On Monday, Community Change Action and over 725 child care professionals are holding the second annual national Day Without Child Care. Providers are closing their doors for the day to hold over 50 actions, including news conferences and rallies in 20 states and the District of Columbia drawing attention to the crisis.
"When we don't have a fully funded child care system, the true cost of care is financial, emotional and socioeconomic," BriTanya Brown, a Texas-based child care provider and advocate with Community Change Action, said in a Thursday call with reporters. "And it gets placed on the shoulders of women — especially Black and brown women who make up a disproportionate amount of the child care workforce."
The child care and paid leave spending failed to pass due to unanimous opposition from Republican senators and Democratic Sen. Joe Manchin of West Virginia. But Manchin wasn't the only Democrat who prioritized other provisions over care when drafting Build Back Better's successor, the Inflation Reduction Act. Sen. Sheldon Whitehouse of Rhode Island, a climate-focused progressive, told Insider in April 2022 that "social investments can be accomplished later," saying, "There's a different nature to getting climate right now" than child care.
"It's not the first time that women, particularly women of color, were the casualties of compromise," said Dawn Huckelbridge, director at Paid Leave for All Action. "There's just an expectation that care work will continue to get done, that it will be done undervalued or unvalued."
Biden is framing his reelection bid around economic and personal freedom and highlighting child care as a critical part of his message.
Without Congress, Biden has few tools to bolster child care access. But he and his administration have taken actions, including a new executive order on caregiving and a Commerce Department rule requiring companies seeking over $150 million in funds from the CHIPS and Science Act to provide employee child care.
"I think his commitment to funding a child care system that works for us is probably one of the strongest things that he has going," said Jennifer Wells, a West Virginia-based organizer and Director of Economic Justice for Community Change.
Republicans have traditionally balked at endorsing ambitious social spending programs, and many decried Democrats' child care proposals in Build Back Better as a "toddler takeover." But some conservatives have endorsed higher social spending and support after the Supreme Court overturned Roe v. Wade.
Celinda Lake, a top Democratic pollster and president of Lake Research Partners, said that backing child care, paid leave, and other family and social programs could help Republicans among women voters who strongly disapprove of abortion bans. 
Bipartisan polling from Lake Research Partners and the Tarrance Group conducted in December 2022 found that 78 percent of all voters, including 83 percent of suburban mothers, 75 percent of independents and 62 percent of Republicans, support expanding funding for child care while letting parents choose their providers.
"These policies can be very mobilizing to this bipartisan agenda, and that puts Republicans under a lot of pressure," Lake said. 
Child care could also be a winning issue to court Latinx voters, who will be a key swing constituency in 2024. In the Lake Research and Tarrance Group survey, 95 percent of Latinas supported increasing funding for child care, and 89 percent supported 12 weeks of paid family leave, the highest levels of support from any demographic group.
"Latino voters are a real battleground," Lake said. "These policies are off the charts for Latinos, even though they're very tax-sensitive, even though they're very job-sensitive. This is a way back into the Latino community. Particularly, Latinas are unbelievably, intensely supportive of these policies."
With Congress divided, the states have taken the lead in addressing the child care crisis. Predominantly Latina advocates won a fight to get child care funding enshrined in New Mexico's state constitution, a first-of-its-kind achievement in the nation. Some Democratic states, including California and Minnesota, are also pursuing significant investments in child care.
"The economics are broken — they do not work, in the same way that public education wouldn't work if there wasn't some public support," Democratic state Rep. Dave Pinto of Minnesota said on the Community Change call. "There needs to be ongoing public support. We're recognizing that in our state, and other states around the country are as well."
Some Republicans at the state level are also making overtures to fund child care. Virginia, which has divided control of government and a Republican governor, passed millions in new child care funding in 2022. Republicans in North Carolina, who recently enacted an expansion of Medicaid, also allocated $170 million of funds for family programs and caregiving in a new, wide-ranging abortion restriction bill, including $75 million to child care and $20 million to fund paid parental leave for teachers and some other state employees over the next two fiscal years.
But in a debate over the bill Wednesday, Democratic state Rep. Laura Budd argued that it shouldn't have taken abortion restrictions for Republicans to invest in child care, calling the measures "tokens" attempting to soften the blow of "fundamentally devastating" legislation.
Proponents of universal child care have long focused on the economic benefits and societal return on investment from child care and early childhood education. But as the child care crisis pushes women out of the workforce and limits where many families can live to access care, Haspel said that Biden and the Democrats should adjust their message to frame access to child care around freedom and liberty.
"I would like to see the president saying child care is patriotic in supporting families to be able to have the care they need to meet the family choices that they want," he said. "Child care is much more about freedom, much more about choice and liberty. And it's not an argument that Democrats have made very often."
Boteach said Biden's elevation of child care in his budget proposal and 2024 campaign messaging speaks to "that mothers everywhere and parents everywhere did not forget the experience of the pandemic."
Now, it remains to be seen how — if at all —top Republicans will follow suit.
"There is a lot of trauma and anger that would serve all elected officials and all candidates to recognize," Huckelbridge said. "It's important to recognize that this is about common humanity."