Your trusted source for contextualizing LGBTQ+ and education news. Sign up for our daily newsletter.
In Florida and Kentucky, teachers are struggling under the weight of the most extreme anti-LGBTQ+ education laws in the country. And some of them are leaving — either their profession or their state. 
Nick Clarkson, a transgender man who has been teaching for 13 years, resigned last month from the New College of Florida after the college voted to eliminate the gender studies program where he taught.
Policies enacted this year by the state's board of education, or signed into law by Gov. Ron DeSantis, would keep Clarkson from telling students the pronouns that match his gender identity — which he's used for all of his adult life — and from being able to use the correct restroom on campus. As policies started going into effect this summer, the surreal new reality of being a trans teacher in Florida started to sink in. Clarkson wasn't sure if he'd be safe on campus anymore.
When the college voted to dissolve the gender studies program in August, that was the final signal to Clarkson that it was time to go. He joined an exodus of faculty and students after nearly half of the college's board of trustees was replaced by DeSantis.
"Gender has changed before, and it is changing again. You can't keep your kids from being gay or trans. You can only make them hate you and themselves," Clarkson wrote in his resignation letter to the college's interim president, a DeSantis ally appointed by the new trustees. Gender studies gives students the knowledge to understand how gender is evolving in the modern world — which is exactly why it was eliminated, he argued in the letter.
Clarkson feels like he's been at the center of a test case for the future of America's education system. He's worried about more states adopting Florida's tactics to restrict and politicize discussions about LGBTQ+ people and marginalized groups as a whole.
"The direction that higher education is headed in the country right now is really scary," Clarkson said. 
Florida and Kentucky are the only two states to ban classroom instruction on sexual orientation or gender identity all the way through 12th grade. Both states have passed anti-LGBTQ+ education laws that advocates see as the most extreme in the country, largely due to how far-reaching they are compared to other states. As both states face high teacher shortages and turnover, more educators say they plan to leave due to the political climate.
Jason Glass, who's leaving his post as Kentucky's education commissioner on September 29, believes that his state took a page out of Florida's playbook on anti-LGBTQ+ education laws and made it worse.
"I think it's really shameful and embarrassing," he said. "I'm embarrassed as a Kentuckian to be associated with this."
Glass said he felt deep unease as he watched anti-LGBTQ+ policies mutate and become law in the eleventh hour of the state legislative session this year. He chose to resign from his job as the state's top education official rather than enforce restrictions under the state's omnibus anti-LGBTQ+ education law. Instead, he has started a job that will take him a six-hour drive away from his wife and children. He wants to stand with LGBTQ+ people, he said, including those who are close family and friends.
Kentucky's law bans students, regardless of grade level, from being taught about gender identity or sexual orientation. The law also bans students from using restrooms and locker rooms that don't match their sex assigned at birth and keeps students in fifth grade and below from learning about human sexuality and development. Additionally, the law bans gender-affirming care for trans youth across the state.
Glass wants his resignation to signal to students and educators that this is not normal. These kinds of laws should not be normalized or accepted, he said.
"When it was introduced in the session, they kept adding things that made it worse and more fascist as it went along," he told The 19th. "Ultimately, I felt like resigning was the step that I could take to not be complicit with the implementation of the law."
Glass knows that not everyone is in a financial position to be able to leave their job because of state law, and he says he can't judge anyone who stays. Still, the emotional costs for teachers who stay are high — especially for LGBTQ+ teachers.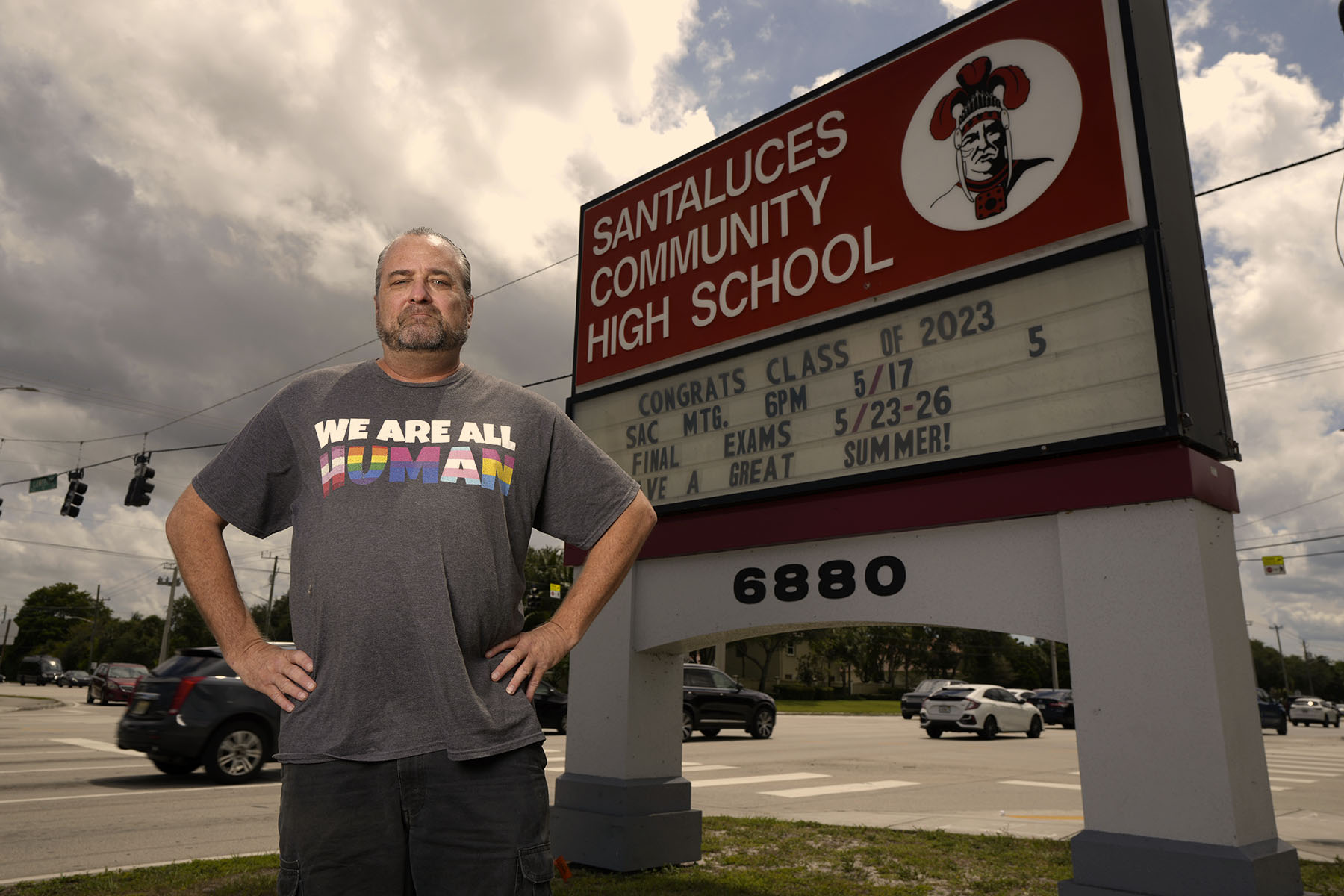 Michael Woods, who's been teaching for 30 years, keeps a small rainbow flag on his desk chair in his school's planning area for teachers, where students aren't able to see it. That's because in Florida, having a Pride flag around students could be a dangerous thing — especially for an out gay teacher.
As Florida has tried to erase LGBTQ+ people from classroom curriculums, Woods has felt beaten down. But he's tried to stay strong for his students. The flag reminds him that though he's had to sterilize the kind of education he can give his students, he's still the same person he was before recent anti-LGBTQ+ school laws started to take root.
This week, thanks to his friends' encouragement, Woods has decided to hang up his Pride flag where fellow teachers can see it. He doesn't want to just keep it on his chair where it's invisible.
"I hate that I've been made to feel ashamed of being me," he said over text message. 
As a kid, Woods went to school in the same district that he teaches in now — Palm Beach County. He found solace in confiding about his identity with teachers well before he could ever tell his parents, so he's always tried to make LGBTQ+ students feel welcome during his three decades of teaching. But Florida's laws have made that challenging.
His school district has informed teachers that they are not allowed to ask students for their pronouns — and if students go by something other than their legal name, they'll need parents to fill out an updated student registration form.
There has been confusion throughout the state about how Florida teachers should address students now, and how schools should enforce a flurry of laws approved by the governor. In addition to the state's "Don't Say Gay" law, another bill signed by DeSantis says that all public K-12 schools should make it a policy that "it is false to ascribe to a person a pronoun that does not correspond to such a person's sex." 
Many school districts in the state are enforcing expansions to the "Don't Say Gay" law by preventing teachers from asking students what their current or preferred pronouns are. Restrictions on teachers and staff have continued to grow in Florida, alongside restrictions for students. Right now, Florida's state board is considering a policy that would make it a fireable offense if trans university employees use a restroom that matches their gender identity.
Woods said that one of his colleagues, also an out queer educator, was quickly harassed on social media after speaking out against Florida's anti-LGBTQ+ policies at a school board meeting two weeks ago. He plans to attend the next school board meeting in his colleague's place.
Woods has watched plenty of his colleagues leave Florida in response to advancing laws and anti-LGBTQ+ restrictions. After December, Woods will be eligible to retire. When he feels overwhelmed, he's considered leaving, but he knows that that would come with a cost.
"When I get very overwhelmed, I'm like, 'I'll just leave.' But then part of me also says, 'I can't, because when I leave, my voice is gone,'" he said.
The country as a whole faces chronic teacher shortages, and laws restricting how educators can talk about race, gender, and sexuality have only hastened more teachers to leave the classroom. And the increasingly tense atmosphere for teachers in these states may make it harder to replace those who leave.
Kentucky's Democratic governor believes that finding a new education commissioner will be more difficult due to the political backlash that Glass faced while in office. Glass agrees. His former job is also now newly subject to confirmation by the state Senate, which is controlled by the Republican Party.
"Time will tell if that becomes a litmus test to, are you going to be a yes man or yes woman, and go along with these culture war policies that the GOP has been pushing for," he said. "But I think that anyone considering this job in Kentucky is going to have to consider that climate."