*Correction appended.
This Disability Pride Month, we're telling the untold stories of women, women of color and LGBTQ+ people. Sign up for our daily newsletter.
July 26 is normally a time when disability groups gather and celebrate.
On that date in 1990, the Americans with Disabilities Act — the landmark legislation that established wide-reaching rights for disabled Americans — was signed into law.
But COVID-19 disrupted celebrations marking the anniversary in 2020. As thousands of disabled and older Americans died in hospitals and nursing homes, the community took a step back from in-person organizing. This year's anniversary is the first since the end of the COVID public health emergency in May. Most states have stopped tracking prevalence numbers, making it difficult to know the current extent of the pandemic. Federal funding for vaccination and other public health initiatives has also largely stopped.
Slowly, disability groups have started celebrating in person again. But with little to no information on the disease's continued spread and few, if any, official guidelines on best practices, disability groups have had to develop their own.
"I think what has made planning celebrations very tricky is how, even within the disability community, there are very different perceptions of where we're at related to COVID," said Maria Town, president of the American Association of People with Disabilities.
The American Association of People with Disabilities will be hosting its ADA celebration Wednesday in Washington, D.C. Speakers will include Democratic lawmakers Sen. Tammy Duckworth and Reps. Debbie Dingell and Steny Hoyer. Attendees will be required to be vaccinated and boosted and to wear masks.
"I continue to wear a mask at major events. Most of our staff do as well. And yet even within the disability community, masking isn't consistent," Town told The 19th. She noted that masks are not accessible for everyone. For example, many deaf and hard of hearing people rely on lip reading. Facial expressions also make up an important component of sign language.
"I wish there was clear guidance on what we should be doing. Instead, we are really having to evaluate the need for people to come together, while also protecting people's health and safety and being responsive to access needs," Town said.
Earlier this month, Vice President Kamala Harris and Secretary of Transportation Pete Buttigieg hosted a roundtable discussion in honor of the Americans with Disabilities Act. The room was packed with disabled leaders from dozens of nonprofit organizations and the federal government. Transportation and air travel were the main focus, and COVID was not mentioned. There was no vaccine requirement. Few people in the room wore masks.
One major divide in the community is how the chronic illness community has responded to the pandemic versus how disability organizations more broadly have responded.
Matthew Cortland, a senior fellow at the progressive polling firm Data for Progress, leads the organization's disability work. Cortland has an autoimmune condition and takes immunosuppressive medication. Since beginning their work in disability advocacy spaces, Cortland has attempted to bridge the gap between the larger disability rights and the chronic illness communities.
"The conception of disability in the United States has been fairly narrow historically," Cortland said. "It is still surprising to many folks who have chronic illnesses, illnesses that are really disabling, that they have a disabling condition within the meaning of the ADA."
This has been difficult for Cortland as COVID precautions have fallen away for many Americans, even within the disability community, where people are likely at higher risk. Anecdotally, Cortland has noticed that people with chronic illness tend to be more careful about COVID precautions than people with other disabilities.
"My hypothesis is that people who are chronically ill and have to deal with the health care service and delivery system because they're chronically ill better appreciate the risks of adding on more chronic illnesses" like long COVID, Cortland said.
Cortland suspects they have been invited to fewer events because they ask questions about COVID safety. They are critical of the Biden administration when it comes to COVID precautions.
"I don't understand why the White House has made the deliberate choice not to be a leader, not to be an example of best practices when it comes to mitigating the risk of COVID-19," they said.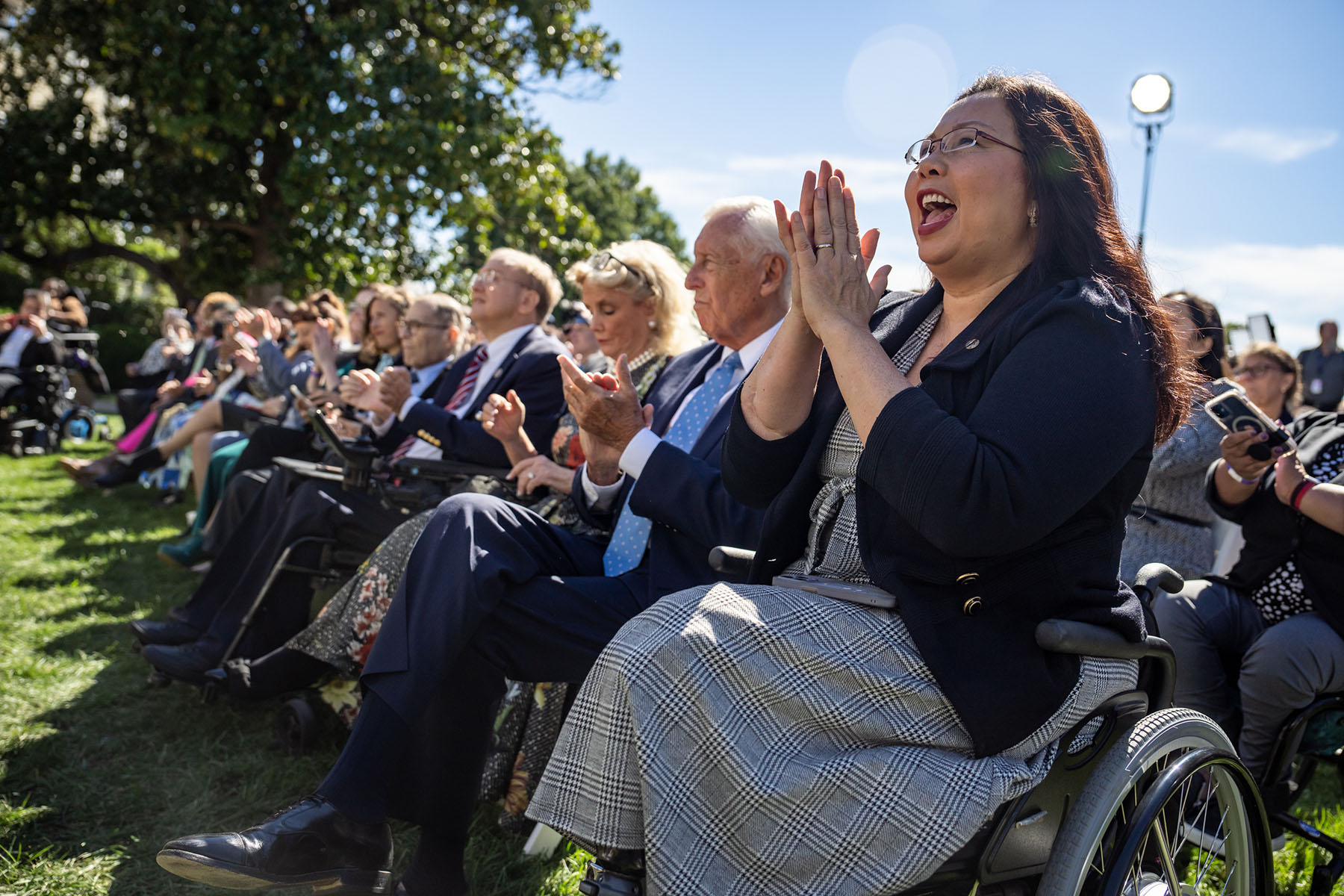 The National Council on Independent Living (NCIL) is also hosting its annual conference in Washington, D.C., this week, its second in-person conference since the beginning of the COVID-19 pandemic. NCIL's conference is one of the longest-running disability rights conferences in the United States.
NCIL opted to remove the vaccination requirement it had for last year's in-person conference.
"I think this year the COVID numbers are slightly lower. And some people are finding out they can't get vaccinated for one reason or another," said Jenny Sichel, the organization's operations director.
In 2020 and 2021, the NCIL conference went entirely remote. In 2022 and 2023, the conference embraced a more hybrid model.
Executive Director Theo Braddy said the organization intends to continue providing some degree of remote access to the conference for as long as is financially feasible. According to Sichel, a hybrid conference is five times more expensive than a regular in-person conference due to audio-visual needs.
"When you open stuff up virtually, you get a wider audience. People can participate from all over the world," Braddy said. "We learned during COVID that employment for people with disabilities went up because people had the ability to work remotely. We recognize there are a lot of significantly disabled people who cannot deal with the accessibility logistics that come with transportation."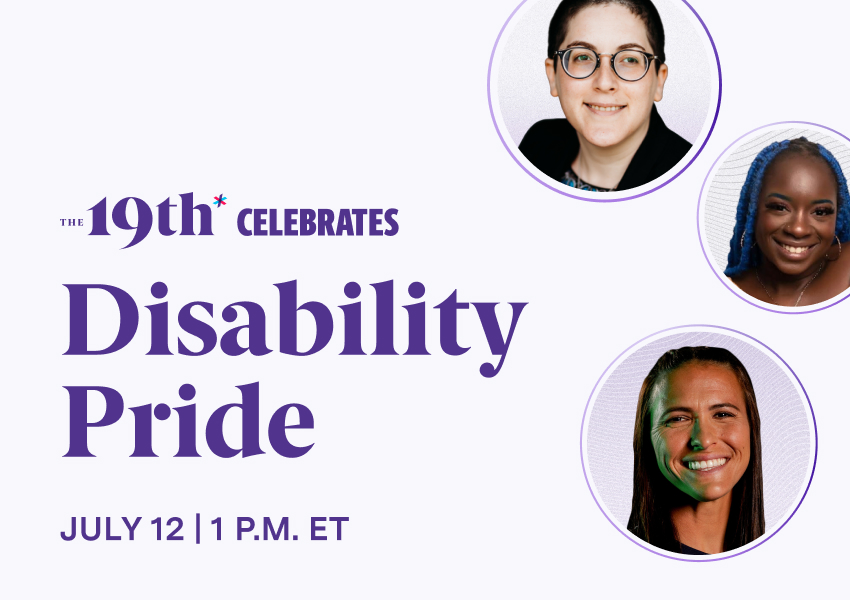 Originally aired on July 12, 2023
For Disability Pride Month, we welcomed Raven Sutton, a disability advocate and influencer, and Carson Pickett, a defender for Racing Louisville FC, to discuss the state of people with disabilities in our culture.
New Disabled South was launched in November 2022. The group will be celebrating its first Americans with Disabilities Act anniversary this year in Atlanta.
"It's a smaller local event, more about community organizing than the ADA itself. Our message is that the ADA is the floor, not the ceiling," said Dom Kelly, president of New Disabled South.
The group will set up a table outdoors at Ponce City Market to get the word out about the organization and how it serves Atlantans. Because it's a public space, organizers won't be able to control whether people are masked or vaccinated. But being outdoors affords some protection for attendees. The group will have extra masks available for those who want them.
"The big challenge for us is how do we show up and establish ourselves in bigger spaces where [COVID precautions] are not happening," Kelly said.
Because New Disabled South is such a young organization, Kelly is constantly traveling to fundraise and build connections with other disabled organizers. The lack of COVID protections has been a barrier for him, but he has sometimes crossed those barriers anyway. Kelly has cerebral palsy and is at higher risk of complications from COVID.
It has been, at times, too difficult to do his job while doing what would make him feel safe and comfortable. Despite being careful, Kelly got COVID for the first time in January.
"I was lobbying in Georgia and I took a meeting in a restaurant. I was nervous but I thought, 'You know what? I've never had COVID. It's been three years. It's a small meeting. There won't be a lot of people in the room.'"
Kelly says he would not take the same risk today. He has a newborn baby and is concerned for her health in addition to his own. But he continues to struggle with situations that compromise his sense of safety to work on the issues he cares most about.
Kelly suspects that the lack of COVID precautions in many disabled community spaces is about people juggling the need to do their jobs with their own health, rather than ideological opposition to precautions. Disabled advocates, who want to be effective in their fundraising and lobbying, have been put in a position where they need to act against their own judgment. That has certainly been the case for Kelly.
"It feels like COVID has been neglected by the White House and others in power. We have these conversations about Disability Pride and the ADA. We haven't heard about the fact that COVID has disabled and killed millions of people in our community. And my guess is we won't, because they want to act like COVID is over," Kelly said.
Correction: An earlier version of this article misstated the number of deaths in hospitals and nursing homes.