Your trusted source for contextualizing the news. Sign up for our daily newsletter.
Vice President Kamala Harris convened a roundtable discussion with Transportation Secretary Pete Buttigieg and over a dozen disability advocates Tuesday in honor of the 33rd anniversary of the Americans with Disabilities Act, with a focus on air travel for wheelchair users.
Every year, airlines damage thousands of wheelchairs. Currently, wheelchair users on flights must be transferred from their chairs to smaller chairs designed for airplane aisles, and their chairs are stowed away. Buttigieg announced last summer that the Department of Transportation would work toward a new rule that would allow disabled travelers to stay in their own wheelchairs when they fly. That rule has not yet been announced.
On Tuesday, Buttigieg highlighted Charles Brown, former president of Disabled Veterans of America, who suffered a broken tailbone and an infection that almost resulted in his death after airline employees dropped him while transferring him from his wheelchair in 2019.
Many wheelchairs have custom fittings to prevent complications like pressure sores, and can cost upwards of $30,000. Replacing or repairing wheelchairs is an extremely expensive and time-consuming process. During that time, people who rely on them end up isolated and often unable to leave their homes.
During the 2020 Democratic primary, Buttigieg was one of the first candidates to address the issue of air travel for wheelchair users, and allowing wheelchair users to stay in their wheelchairs during air travel was part of his platform.
Harris highlighted the fact that many wheelchair users and others with physical disabilities will reduce how much they eat and drink before travel because the majority of flights still lack an accessible restroom.
"The issue of transportation is about making sure people get where they need to go. It's that basic. But we know the obstacles to that goal can be great," Harris said.
Buttigieg kicked off the proceedings by describing, for blind attendees and community members, his blue suit. Last year, many Americans were exposed to image descriptions for the blind for the first time, as conservative media kicked up a furor over Harris' description of her own blue suit.
This year, the vice president wore a lavender suit with an American flag pin.
Harris' comments covered a wide range of topics, including voting rights, reproductive rights, bias in artificial intelligence and remembering Judy Heumann, the disability rights giant who died earlier this year.
Advocates at the meeting included Mia Ives-Rublee, head of the Center for American Progress's Disability Justice Initiative, as well as longtime advocates like Kelly Buckland, who now works for the Department of Transportation.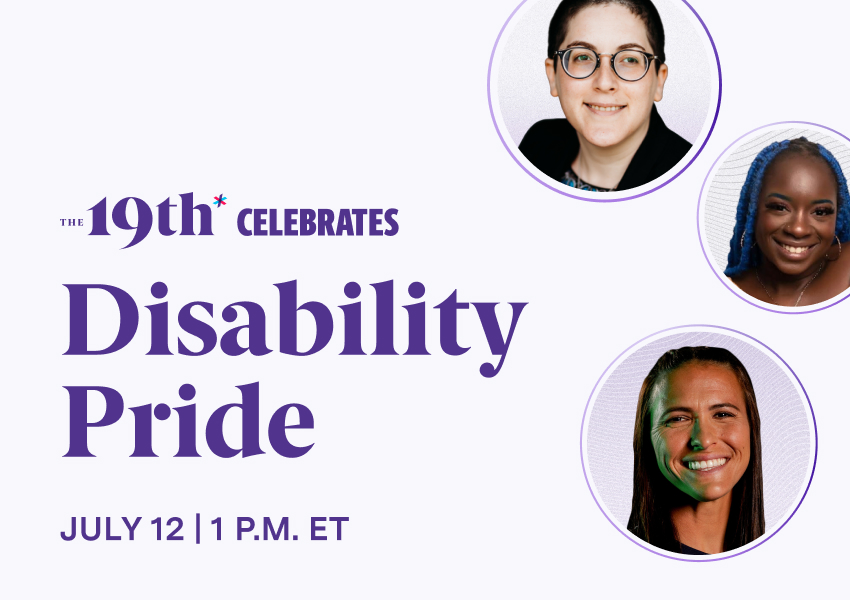 Originally aired on July 12, 2023
For Disability Pride Month, we welcomed Raven Sutton, a disability advocate and influencer, and Carson Pickett, a defender for Racing Louisville FC, to discuss the state of people with disabilities in our culture.
There were also unplanned remarks from former California Congressman Tony Coehlo, one of the authors of the Americans with Disabilities Act during his time in Congress. The act was signed into law on July 26, 1990, by President George H.W. Bush, and the anniversary is marked each July as Disability Pride Month.
Coelho called the Biden administration "the most pro-disability administration that [he] had ever seen."
In particular, Coelho highlighted President Joe Biden's sponsorship of the Americans with Disabilities Act while he was a senator. The legislation had over 60 sponsors in the Senate.
The convening did not announce any new policies, but it did signal that disability rights remain a priority for the Biden administration.
"The solutions will be at hand. We will be announcing some of these solutions very soon," Harris said in her closing remarks.