This Disability Pride Month, we're telling the untold stories of women, women of color and LGBTQ+ people. Sign up for our daily newsletter.
Fannie Lou Hamer is widely heralded as someone whose multiple marginalized identities coalesced to make her a stronger activist. She was a poor Black woman sharecropper from rural Mississippi who became an integral part of the struggle for voting rights in America. Hamer was able to speak about issues that many Black Americans faced as someone who was close to the problem. But often buried in her history is the fact that Hamer, who died in 1977, also spoke as a person who had a disability.
Keisha N. Blain — a professor of Africana studies and history at Brown University — wanted to highlight Hamer's disability in her biography of the late activist "Until I Am Free," which was published in 2021.
"I thought it was important to emphasize that from the beginning, not only because it was important to give that intersectional analysis, but because it was part of who she was. It was crucial to her politics," Blain said.
Blain notes that many people with disabilities reach out to her after reading her book to tell her that they did not know that Hamer had a disability, and learning that she was able to accomplish so much while living with a disability brings them a sense of pride, encouragement and empowerment.
"That's what Hamer's story should do for all Americans," she said.
Hamer survived polio as a child, which left her with a permanent limp. At the 1964 Democratic National Convention (DNC) in Atlantic City, New Jersey, she testified about a brutal arrest and beating in Winona, Mississippi, that worsened her limp and left her with permanent kidney damage and a blood clot behind her eye — all because she attempted to register to vote.
Hamer attended the DNC as a delegate of the Mississippi Freedom Democratic Party, which was created by the Student Nonviolent Coordinating Committee, to protest the exclusion of Black Mississippians in the state's Democratic Party. Her testimony at the convention shed light on the extent of disenfranchisement in America. Fearing that the broadcast of Hamer's testimony would cause him to lose the support of Southern Democrats, then-President Lyndon B. Johnson called an impromptu news conference as she spoke.
But Johnson's attempts to distract from Hamer's words only amplified her voice.
Her testimony was rebroadcast during primetime news shows, giving her a much broader audience and making it harder for anyone to deny that Black people, particularly those living in the deep South, were being deprived of their constitutional right to vote.
Less than a year after Hamer's testimony, Johnson signed the Voting Rights Act in law.
"We would not have the Voting Rights Act were it not for the efforts of someone like Fannie Lou Hamer, " Blain said.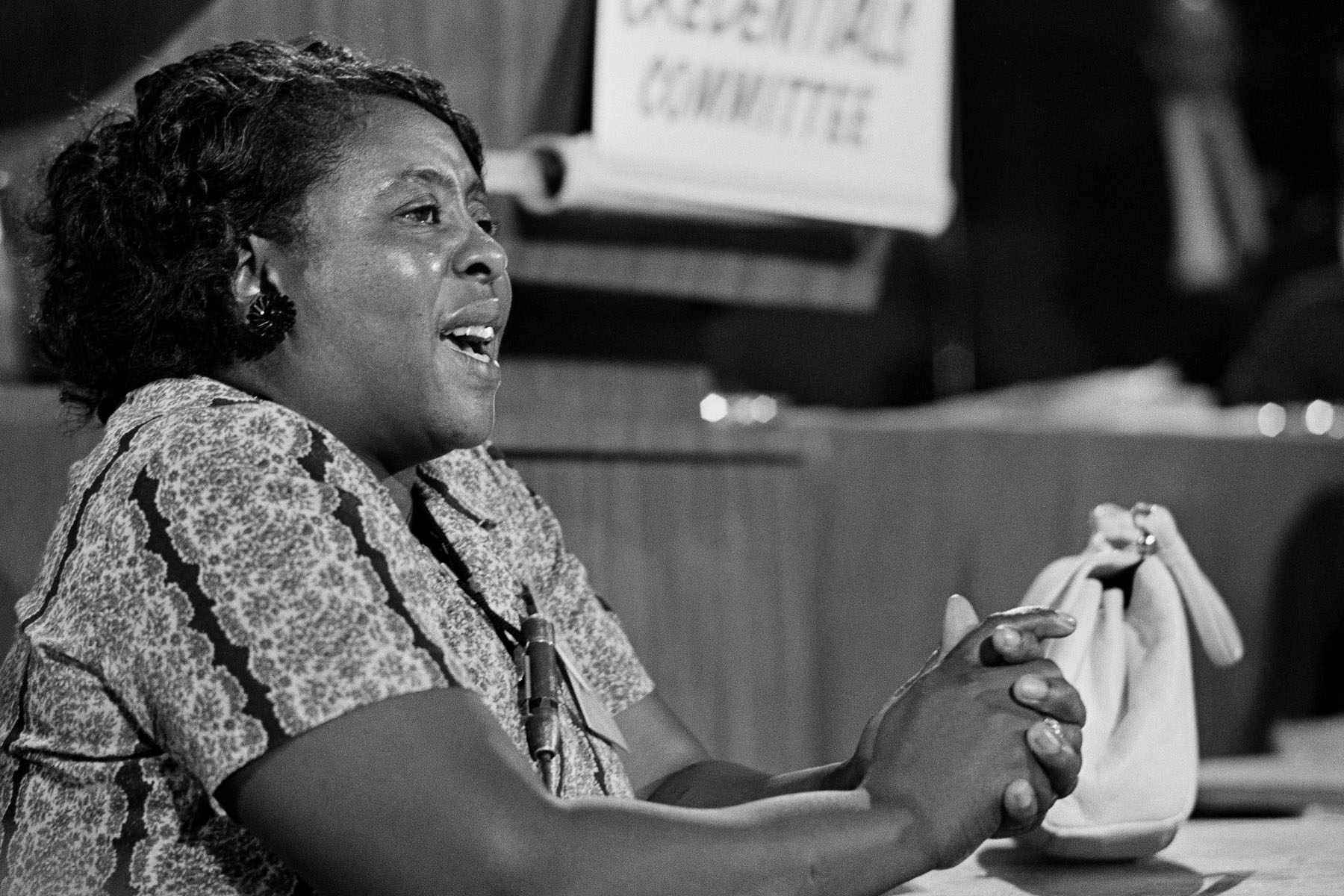 When Blain first learned about Hamer's work when she was a college student, she did not realize Hamer had a disability. She notes that most of the scholarship around the civil rights leader focused on race, gender and class analysis. But as she studied Hamer more, Blain realized that Hamer's disability was an important part of her politics, one that she spoke of often.
"She spoke about the beating in Winona in '63, how that left her with physical scars on her body. She had a limp. She had damage to her eye. She spoke about all the ailments and she spoke about them over and over again, so that even if you didn't see it — if you encountered her and didn't necessarily notice the limp — she would tell you, because that was part of who she was," Blain said.
Hamer was outspoken about the issues impacting her at a crucial time in history, when the civil rights movement, women's rights movement and disability rights movement were all converging. Hamer died 13 years before the Americans with Disabilities Act (ADA) was passed.
Vilissa Thompson, a Black disabled activist, who proudly refers to herself as a member of the ADA generation because the groundbreaking legislation has been in place since she was a young child, said Fannie Lou Hamer created a space for Black disabled women and femmes, whether they center disability in their work or not.
That is why, for Thompson, it is so critical that Hamer's disability not be relegated to the footnotes of her story. Although she always admired Hamer's work, it was not until Thompson became an activist that she realized Hamer had a disability. Learning this made Thompson think more deeply about how Hamer would have had to navigate the world
"When you have Black women who grew up under Jim Crow and had a disability, not including disability in their narrative is shameful. It's shameful on us. It doesn't give a full-circle understanding of who they are, and it shows our lack of comfortability of connecting disability to these people," Thompson said.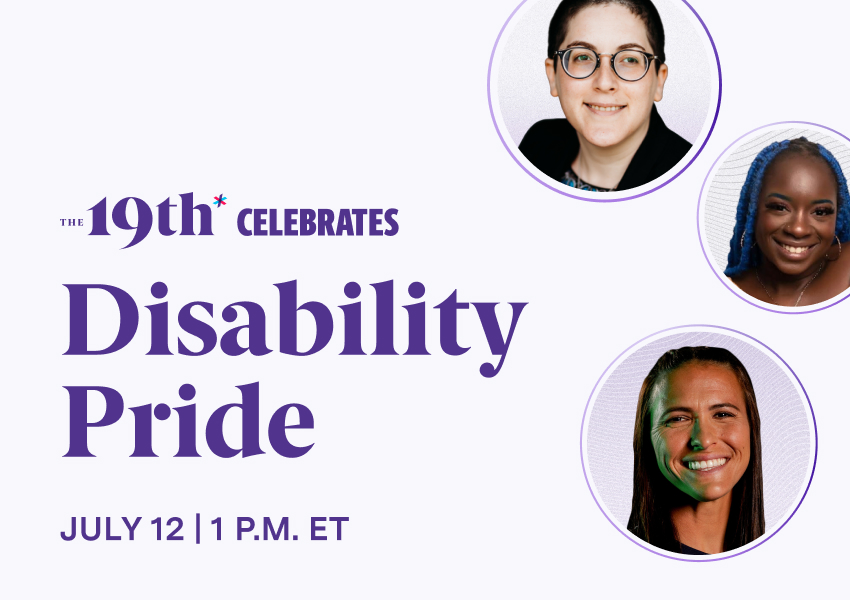 Originally aired on July 12, 2023
For Disability Pride Month, we welcomed Raven Sutton, a disability advocate and influencer, and Carson Pickett, a defender for Racing Louisville FC, to discuss the state of people with disabilities in our culture.
Born with a brittle bone disease, Thompson founded RampYourVoice, an organization that seeks to promote empowerment, education, inclusion and self-advocacy for people with disabilities across the United States and abroad. She also created the #disabilitytoowhite hashtag on Twitter, which emphasizes the need for intersectionality within the disability movement.
"Disability is as valid an identity as someone's Blackness, womanhood, femmehood or queerness," Thompson said.
Dom Kelly, the co-founder of New Disabled South, an organization that fights for disability rights and justice in the South, noted that when Hamer was active, the United States had just gotten out of the eugenics movement. Hamer, herself, was forcefully sterilized, leaving her unable to bear children.
There was still a prevailing belief that the disabled body, and the Black body, were bad.
"For someone like Hamer to be a leader in this work, she literally had to put her body on the line in multiple ways — not just as a Black woman in the South, but as a disabled Black woman having to navigate her own health and body," Kelly said.
Kelly notes that a lot has changed since that time, but there is work that needs to be done to uplift the needs and concerns of people with disabilities, particularly in the South, where one-third of disabled people in the country live.
"She was in a space as a Black disabled woman, working for voting rights, working in the civil rights movement, having to go up against the powerful White men in a region where you can be criminalized for the color of your skin, where you're looked at as less than because you have a disabled body," Kelly said.
This year marks 10 years since the Shelby v. Holder Supreme Court ruling that gutted the Voting Rights Act, the legislation Hamer fought so hard to secure. Since that time, voting laws have been enacted across the South that have made it harder for Black people and people with disabilities to vote.
"Post 2020, we've seen attacks on absentee voting, bans on ballot drop boxes, bans on curbside and mobile voting. All of those impact disabled people. We're not a monolith, so we often have different access needs," said Kelly, who was born with cerebral palsy.
Kelly notes that in 2018, there was an attempt to close seven of nine polling places in Georgia's Randolph County, a majority Black district, in part because a consultant claimed they were not ADA accessible. Though the plan was ultimately rejected, Kelly said that shows how the ADA has been weaponized to restrict the right to vote.
"We're going to see more and more of that, because places aren't accessible, they're going to start to close polling places in Black and Brown communities and this is an issue that has really flown under the radar," Kelly said.
Kelly also noted that Senate Bill 202 — Georgia's omnibus voting law that makes it illegal to hand out food and water to those waiting in line to vote — also bans private funding to elections offices and polling places. In previous years, private funding could be utilized to make polling places more ADA accessible, but that is no longer the case.
Nearly 60 years after the passage of the Voting Rights Act, the work of Hamer and so many others continues. It is work that understands that any fight for access to the ballot must be intersectional.
Even before Kimberlé Crenshaw coined the term, Blain says, Hamer embodied intersectionality.
"Part of the reason why she spoke about her disabilities was to send a message about how we treat people and how we provide resources," Blain said. "Who do we include? Who do we exclude? Those broader questions, she emphasized, and that is still true to this day in the way we think about disability rights."