This Disability Pride Month, we're telling the untold stories of women, women of color and LGBTQ+ people. Sign up for our daily newsletter.
Three decades ago, people with disabilities — and all workers marginalized because of their identities — began to see a transformation in the workplace thanks to the Americans with Disabilities Act (ADA).
The law, signed by President George H.W. Bush on July 26, 1990, represented a new approach to understanding the full scope of what employees truly need in the workplace to do their jobs. That concept has evolved in the years since the ADA went into effect: Back then, courts were only starting to understand the power and promise of the ADA, said Ben Klein, who litigated the first case on the ADA. Klein represented the plaintiff in Bragdon v. Abbott, a 1998 Supreme Court case about a Maine woman who was refused treatment by a dentist because she had HIV. Klein, now the senior director of litigation and HIV law at LGBTQ+ civil rights organization GLAD, helped successfully argue that Abbott was protected from discrimination thanks to the ADA.
One of the ADA's key foundational principles, Klein argued then, was that the United States had "constructed a world that doesn't work for everybody" and that people needed to be accommodated to allow for participation and opportunity. That concept could be applied in the most concrete form in terms of changes to architecture and infrastructure — the ADA led to new regulations for buildings to include ramped entrances and parking spaces for disabled people. But it also could be applied to how prejudice and bias — and misunderstandings about health conditions — was preventing people from participating fairly in society, from employment to housing to health care.
"That was a really profound conceptual aspect of the ADA," Klein said, and one "that people are still struggling to understand."
The Bragdon case and the amendments to the ADA that followed in 2008 have helped expand the definition of disability. Since, the ADA has helped create a standard for workplace accommodations for women and LGBTQ+ people, serving as the blueprint for new laws and interpretations. The recently passed Pregnant Workers Fairness Act is modeled on the ADA. So are workplace accommodation laws that protect domestic violence survivors.
An expanded definition of disability also helped set the precedent for the ADA to cover gender dysphoria, or the distress many transgender people feel due to their body not aligning with their gender. Last year, a federal court ruled that gender dysphoria is a disability protected under the ADA because it applies under the concept Klein argued before the Supreme Court in 1998: "It's part of the non-discrimination mandate," he told The 19th, "that you have to make these modifications simply to create equal opportunity — not to give somebody an advantage."
The ADA also helped open a space to discuss how to accommodate disabilities at work, creating an avenue to bring civil rights into the workplace, a shift that was particularly important for marginalized groups, including women and LGBTQ+ people, said Emily Martin, the vice president of education and workplace justice at the National Women's Law Center.
"The ADA took us a long way in reconceiving workplace civil rights to allow for the idea that part of what workplace justice requires in some circumstances is changing the rules so that everybody can fully participate," Martin said. "It's not just a matter of making sure that the rules are applied equally to everybody, but really interrogating whether particular structures and requirements are necessary at all, and how we change them so that people can thrive at work."
That ADA did that through two new standards. One was the introduction of the concept of "reasonable accommodations," and the other was the creation of the "interactive process," through which employers had to engage with employees one on one to learn more about their needs and attempt to accommodate them.
"I can't think of a legal system in place in the workplace before the ADA that specifically required that sort of very individualized analysis," Martin said. It helped propel a cultural shift that is still happening today away from "conceiving of employees as these sort of disembodied automatons."
That really came into play with pregnant workers prior to the passage of the Pregnant Workers Fairness Act, which was first introduced in 2012 both in the spirit of the ADA and as a response to its limitations. Under the Pregnant Workers Fairness Act, which went into effect in June, pregnant workers have access to reasonable accommodation in the same way that people with disabilities do under the ADA.
Before that law, Martin said the challenge she came up against when litigating cases regarding pregnant workers was that not all fell into the definition of a disability as outlined in the ADA: "a physical or mental impairment that substantially limits one or more of the major life activities of such individual." Some conditions related to pregnancy were disabilities, like gestational diabetes or sciatica. But others were not, though pregnant people needed accommodations, like water bottles or lighter loads, that were specific to pregnancy but had no legal mechanism for requesting them.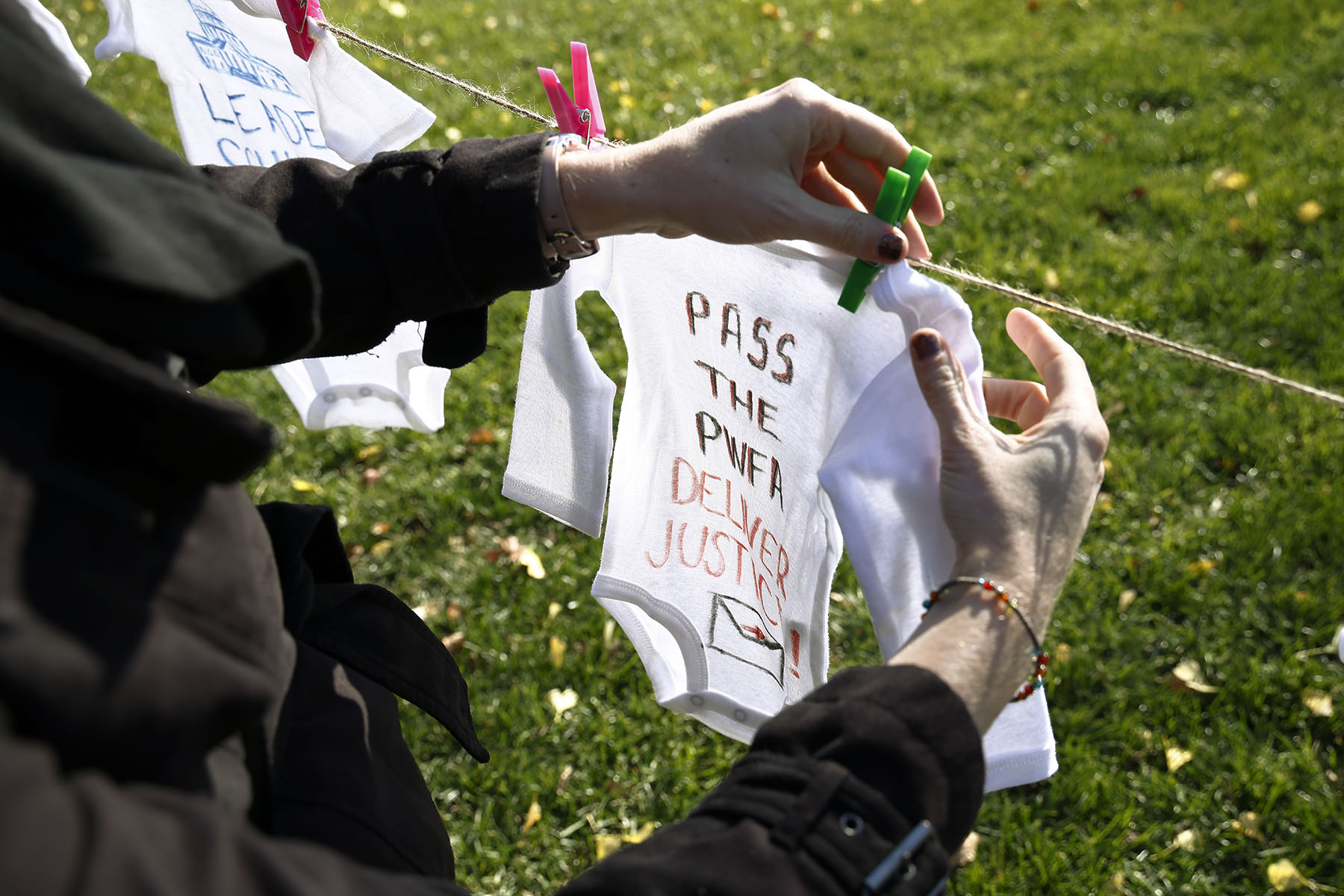 "It was dancing on the head of a pin: 'This isn't just pregnancy, this is the disability related to pregnancy,'" Martin said.
Elizabeth Gedmark, the vice president of A Better Balance, the advocacy organization that helped draft and led the decade-long movement to pass the Pregnant Workers Fairness Act, said the ADA was a useful model to counter arguments around whether providing accommodations to pregnant workers was special treatment or not.
But a separate law was needed to cover conditions outside disability and to correct further legal complications created by a 2015 Supreme Court case. Based on the ruling in the case of a pregnant UPS driver, to get an accommodation outside of the ACA, a worker had to prove that someone similarly situated to them got an accommodation. Because pregnancy is so unique, that was a difficult barrier for many.
Instead, under the Pregnant Workers Fairness Act, pregnant workers no longer have to prove someone else already received an accommodation.
"Under the ADA, there is not that same need to find a comparator, instead it's just 'I need this accommodation, end of story — or start of story,'" Gedmark said.
That interactive process — or the conversation employers are required to enter to help accommodate a worker as defined by the ADA — is crucial for marginalized workers whose needs have long been invisible in the workplace, said Ming-Qi Chu, the deputy director for the American Civil Liberties Union's women's rights project.
"It encourages learning about an employee's condition, and this is particularly valuable for medical conditions that women tend to experience where there is a huge gap in understanding about how the conditions affect work," Chu said. "The interactive process at its best, when it's working as it should, allows employees to explain what they can and can't do."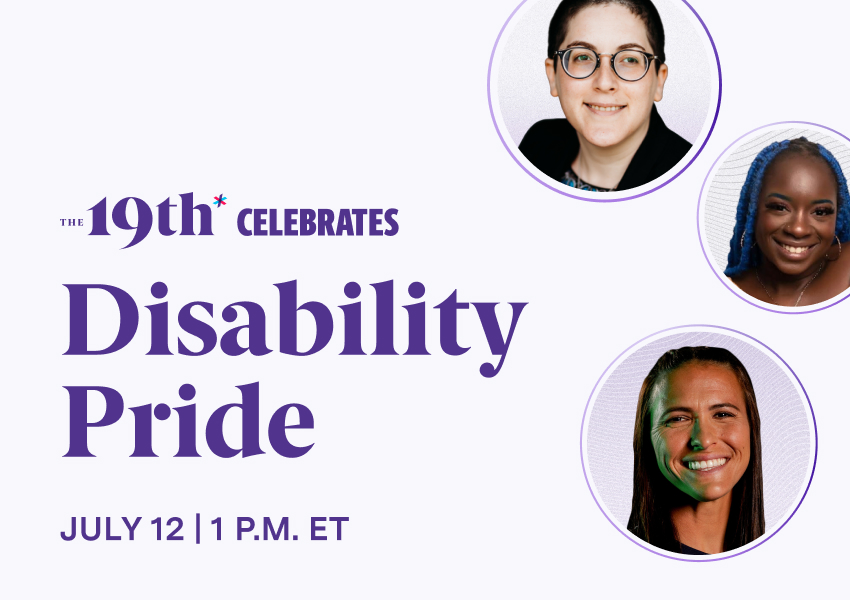 Originally aired on July 12, 2023
For Disability Pride Month, we welcomed Raven Sutton, a disability advocate and influencer, and Carson Pickett, a defender for Racing Louisville FC, to discuss the state of people with disabilities in our culture.
It's a different vision of what workplace fairness requires, and one that incorporates racial justice, she said, because people of color are often in lower paid jobs where the most rampant discrimination takes place.
"We know that intersectional discrimination can really compound harms for women with disabilities, in particular Black women, who face just many more substantial barriers in work and in schools," Chu said.
ADA amendments in 2008 were particularly important on that front and came following a series of Supreme Court decisions that had narrowed the definition of disability under the ADA and were leading to more discrimination at work. There were cases of people with epilepsy who were fired after having a seizure or people with diabetes who were being discriminated against at work, said Claudia Center, the legal director at the Disability Rights Education & Defense Fund, a national disability civil rights policy and law center.
The amendments, which passed with bipartisan support and were signed into law by President George W. Bush, helped once again broaden the scope of what was considered a disability, speaking "to the progress that was made at the time that by 2008 there was such a greater understanding of the broad protections needed for people with a range of health conditions," Center said. Newly covered under the amendments, for example, was post-traumatic stress disorder for domestic violence survivors, something that previously was "incredibly fraught" in court cases, Center said.
"It just completely changed the landscape for domestic violence survivors," Center said.
Since, new laws that protect domestic violence survivors have been enacted. Robin Runge, the attorney who worked to draft the majority of domestic violence workplace protections that have gone into law in states since the mid-1990s, said she had to become an expert in the ADA so she could use it as the foundation for domestic violence survivor workplace protections. The concepts of reasonable accommodation and the interactive process, in particular, have been central to the latest wave of laws in several states. They require employers to provide reasonable accommodations to victims of domestic violence such as a lock on their door, a move away from a front desk job or a schedule change to comply with domestic violence shelter hours.
Still, the ADA has not been perfect. There are limitations around the protections for caregivers of people with disabilities, aging isn't covered and stigma has followed as definitions were broadened. Around the HIV crisis, for example, Klein said he encountered people who didn't want to be associated with having a disability because they had HIV.
But what the ADA was able to do was start the long arc toward a reimagined workplace culture that recognizes workers' full lives — conversations that are now central in labor strikes across the country and discourses over spending packages that see access to child care as an economic issue.
"We are slowly — much more slowly than one might hope for — shifting as a culture to recognize that not only do workers have bodies, they have lives outside of work," Martin said.