In the spring of 2021, Arizona Secretary of State Katie Hobbs was in public with staffers following a televised interview when the group spotted a man nearby.
The man, according to Hobbs, began filming and following them. Hobbs' staff was on high alert: Unbeknownst to the secretary at the time, that day her office had received a threat from an anonymous caller who said Hobbs "deserves to die." The caller asked what the secretary was wearing to find her more easily.
Hobbs' staff did not know if the caller was the same man following them, but they pulled the secretary away just in case.
"This guy ended up basically chasing me into the building," Hobbs told The 19th. "We didn't know who he was or who he was associated with. But that threat had come in and my staff knew about it. And it just all felt very attacking in a way that I don't think would have happened to a man."
It's been two years since secretaries of state were propelled into the public consciousness for running America's elections — and pushing back against lies about the 2020 election's legitimacy that ultimately led to an insurrection at the U.S. Capitol. As falsehoods about that election and their deadly consequences go on display during hearings by a special congressional committee on the Jan. 6, 2021, attack, the ongoing realities of challenging those lies continue for these secretaries.
These election officials back in 2020 debunked lies, myths and conspiracy theories about a presidential election that ultimately was deemed the most secure in U.S. history. Secretaries of state of both parties were subject to harassment for addressing disinformation (misleading information that is intentionally designed to cause harm to people) and misinformation (misleading information that is shared because a person truly believes it).
But for the women secretaries of state serving in key battleground states — many of whom are Democrats — the work of combating inaccurate information made them targets for misogynistic harassment and threats of violence. In the lead-up to the nation's next major election this year, some of these women secretaries say the harassment has not let up as they devote even more time to combating misinformation.
Jena Griswold, the secretary of state in Colorado, said former President Donald Trump's lies about his loss to President Joe Biden in 2020 led her office to be more focused on insider threats — concerns that some people now seeking to work in elections are doing so to overturn free and fair elections in the future. Griswold has also had to be more responsive to vitriol targeting election workers and "massive" misinformation.
"I think a way to conceptualize it is that the former president of the United States tried to steal the presidency in 2020 and failed, but the actions on that failed attempt have not stopped. They're now focused on 2022 and 2024," she said.
Griswold said her office has received numerous threats of violence since 2020, including death threats linked to misinformation.
"Gender plays a major role. It plays a major role when you're secretary of state. It plays a major role in your day-to-day — the threshold to be threatened for doing your job is much lower," she said.
New Mexico Secretary of State Maggie Toulouse Oliver, who just oversaw her state's June 7 primary, launched a "Rumor vs. Reality" website aimed at fact-checking myths about her office's election administration.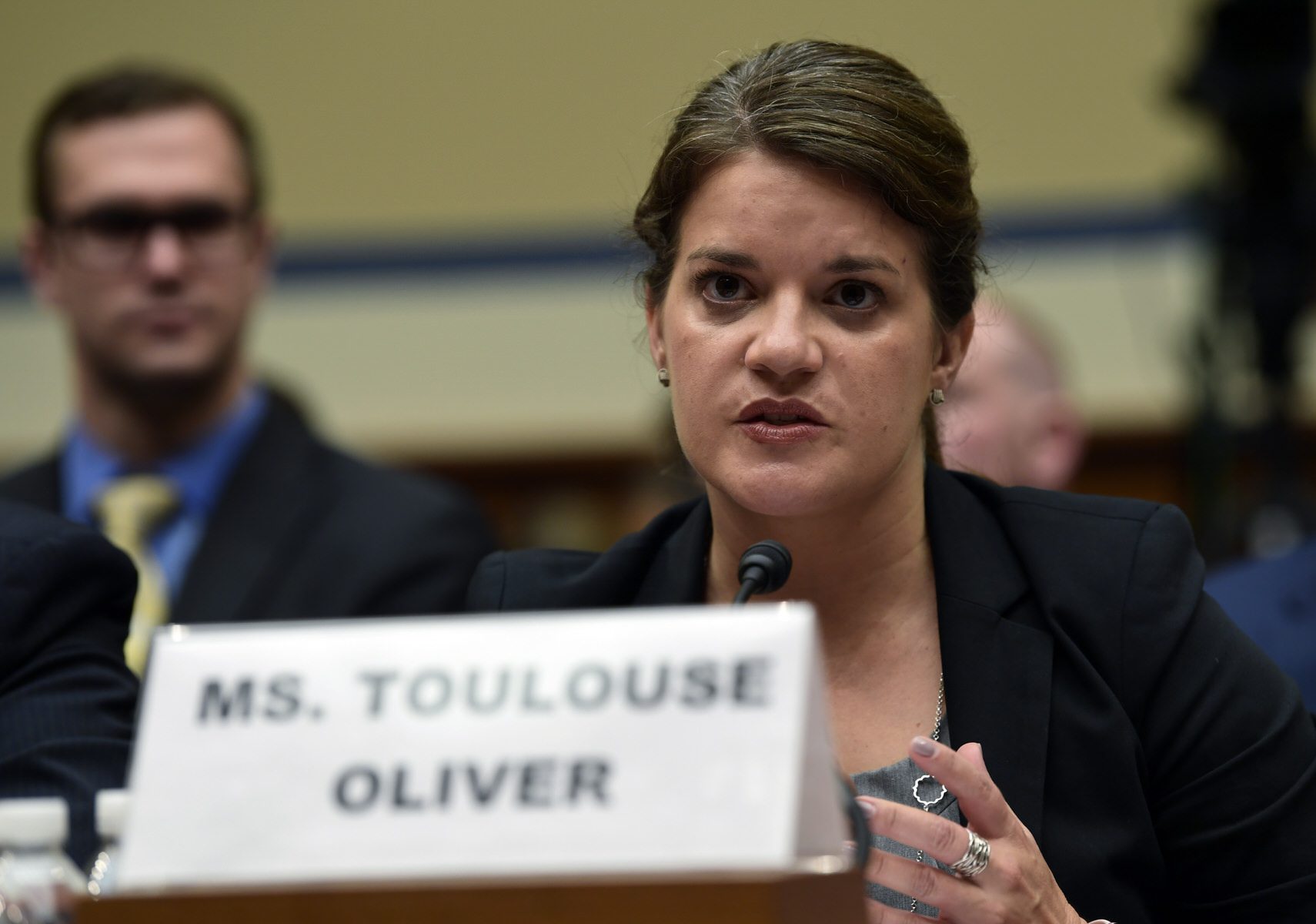 "The point of having this site is it's sort of a central clearinghouse for everything that we know about that is New Mexico specific and not New Mexico specific. Even if it's like a macro-level conspiracy theory that potentially could influence voters in the state, we're addressing that there too," she said.
Toulouse Oliver called the work of combating disinformation and misinformation, which has popped up at other secretary of state offices, necessary given the political climate. The effort is bipartisan and includes some Republican secretaries of state.
"We are in an almost completely different universe of just literally having to combat complete lies and falsehood that have no basis in reality," she said. "We are still dealing with, almost two years later, the big lie and all of its various components."
In Colorado, Griswold pushed this year for a package of election bills, including one that would expand security requirements around voting equipment.
"When election deniers threaten my life for safeguarding Colorado's elections, it strengthens my resolve because I know I'm on the right side of history," she said.
It's not just secretaries of state — the majority of election workers are women. It's important to highlight ongoing threats toward that workforce, said Joanna Lydgate, co-founder and CEO of States United Democracy Center, a nonpartisan organization that advocates for advancing free, fair and secure elections. She said it's important to highlight ongoing threats of harassment toward election workers to better protect them. Several states are considering legislation aimed at doing that and more.
"The reason our democracy held in 2020 was because really good election officials on both sides of the aisle did the right thing. And now those very people are dealing with really unprecedented levels of harassment and threats just for doing their job," she said. "The people who are making those threats don't discriminate by political party, but we definitely do see them tap into all kinds of prejudice. So that puts people who've historically been targeted — whether it's women, people of color, religious minorities — at greater risk."
Hobbs called the onslaught of misinformation about elections administration a challenge in her state. After the 2020 election, Arizona Republicans called for an audit; no credible evidence of widespread fraud was found. Since then, many GOP lawmakers have continued to point to discredited claims of voter fraud in introducing new restrictions on voting laws.
"We figured out early on in the 2020 cycle that misinformation was going to be a problem. And we had to get out in front of it, and we did everything we could to do that. But we're still having to stay out in front of it," said Hobbs, who is now running for governor. "It's been a constant battle, and it's one of the biggest challenges that we're facing."
In Michigan, Secretary of State Jocelyn Benson said in an interview last month with NBC News that she learned around the 2020 elections that Trump suggested she be arrested for treason and executed.
A Trump spokesperson claimed Benson lied in the interview. Kristina Karamo, a Republican who is challenging Benson in the secretary of state race and has falsely claimed the 2020 election was rigged, said on social media that Benson is lying about threats against her life.
Lucina Di Meco, who studies gendered disinformation around the world, is cofounder of #ShePersisted. She said women political leaders are often the target of harassment linked to accusations of being liars or untrustworthy.
"We see this happening in a number of countries around the world, where misogyny is weaponized," she said.
Benson, who confirmed recently that she was interviewed by the U.S. House committee investigating the Jan. 6 insurrection that has been linked to Trump's lies about a stolen election, has talked publicly about taking on more security measures around her state's elections, including asking state officials to investigate attempts to illegally gain access to voting equipment.
There is no comprehensive data available to quantify the intersection of gender and misinformation. Much of it — and the gender-based attacks and harassment — spread online. In April, the U.S. Department of Homeland Security said it was creating a disinformation board and named Nina Jankowicz, an expert on disinformation and extremism and author of the book "How to Be a Woman Online," to head it. But just a few weeks later, after Jankowicz was targeted for harassment and her work mischaracterized by attacks from the right online, the board was shut down, The Washington Post reported.
As misinformation becomes a more serious threat to the administration of elections, some researchers are trying to study the effects of gender in the sharing of misinformation.
At the Center for an Informed Public at the University of Washington, researchers say they're studying the gender dynamics of instances of "information attacks." The research, which is not complete yet, is expected to include the examination of social media accounts that include those of election officials.
Rachel Moran, a postdoctoral fellow at the center, said she wants to examine whether more misinformation exists in places where there are women holding positions of power within elections. Moran said other areas of misinformation — around abortion, gender-affirming care and COVID — treat the study of gender as a variable instead of a key area.
"There's this idea — this underlying misogynistic framework that makes a lot of this misinformation more attractive for people to believe in. And so there is this entire gendered element that has gone pretty understudied in the past," she said.
Gowri Ramachandran, senior counsel for the Brennan Center for Justice, said legislators have the power to provide more funding to help election administrators protect themselves. The Brennan Center estimated recently that about $300 million could help election workers for the next five years, including to bullet­proof­ offices and shield their personal inform­a­tion. Among policy ideas that have floated around is enrolling election workers in programs that protect the identities of domestic violence survivors.
"It's sort of a coincidence that programs that are designed for domestic violence survivors who are primarily women, historically, that those are now seeming like attractive programs and useful programs for election officials, including secretaries of state and their staff," she said.
Di Meco said democracies around the world, including in the United States, risk losing a generation of women political leaders if there are not more concerted efforts to challenge disinformation about their work and the gendered attacks aimed at discrediting them.
She said while individual people are advocating for state-level policy aimed at protecting election workers and launching debunking websites, more digital platform standards are needed to protect gender rights and democracy.
"We need to think beyond the small solution of digital literacy and putting the burden on the individual to try and fix the world," she said. "We need to think instead about what digital platforms can and should do. Because this isn't a problem that's happening by chance. It's happening by design. Those platforms are designed to maximize hatred and outrage, because those generate the most engagement."