Tina Peters says she was just looking into potential election fraud. Prosecutors say the county election official in western Colorado was involved in an illegal election security breach.
Even as she faces criminal charges, Peters is continuing to spread falsehoods about the integrity of the 2020 election, which experts have said was the most secure in U.S. history. She's doing so as she runs for the Republican nomination for Colorado secretary of state. Peters is among candidates in more than a dozen states, overwhelmingly Republicans, who are running for top election posts and also have shared baseless skepticism about the accuracy of America's election system.
These candidates and current elected officials who have embraced debunked myths about the 2020 election raise concerns about the potential for future insider threats to election integrity. While this type of threat is still rare, it's particularly troubling when local election officials like Peters take up these false ideas because they have power over day-to-day election operations and how ballots are counted, according to one author of a report released Wednesday on partisanship and election officials.
"Those are the individuals that actually have the kind of proverbial keys to the kingdom," said Matt Weil with the Bipartisan Policy Center, a Washington, D.C.-based think tank that advocates around several issues including bipartisan policy solutions for elections administration. "They're overseeing the actual voting apparatus. They touch the ballots. They count the ballots."
For now, insider threats from election officials are very uncommon, said David J. Becker, executive director and founder of the Center for Election Innovation & Research, a nonpartisan nonprofit that works with election officials from both major parties to ensure elections run smoothly. Only a handful of cases involving election workers have emerged, including in a different Colorado county and one in Michigan.
"It's not so much that we've just put our faith and trust in people to do the right thing. It's that that faith and trust has been well earned," he said. "And as it turns out, nearly 100 percent of them are incredibly noble and dedicated public officials. We can literally name the people who aren't."
Wednesday's report by the Bipartisan Policy Center and the group Election Reformers Network examines how most of America's election officials are chosen through partisan elections or picked by members of political parties — a system that has traditionally relied on people to run elections ethically and without favoring party affiliation. That setup is now ripe for future problems if more people who believe the country's elections aren't free and fair win local and state election positions or are appointed to related roles.
Already, some local election boards tasked with double-checking voting results are being filled with people who are expressing partisan views about elections. Elsewhere, local boards of elections are being replaced with conspiracy theorists and Republican-led legislatures are attempting to appoint themselves to help oversee elections.
Among the Bipartisan Policy Center's recommendations:
Codifying ethical norms that would prohibit activities like election officials openly endorsing or campaigning for candidates. More standardized policies could also set expectations for election offices, such as election experience or certification.
Reconsidering the use of elections to select election officials. One idea is nominating commissions sometimes used to select judges.
Reducing the "privileged status" of the Democratic and Republican Parties by incorporating other stakeholders in the election process; codifying bipartisan collaboration between parties at all levels of election administration; and implementing neutral tiebreakers in evenly split bodies to ensure no advantages in the system.
Weil said the recommendations are intentionally broad.
"There's no one-size-fits-all solution for every state," he said.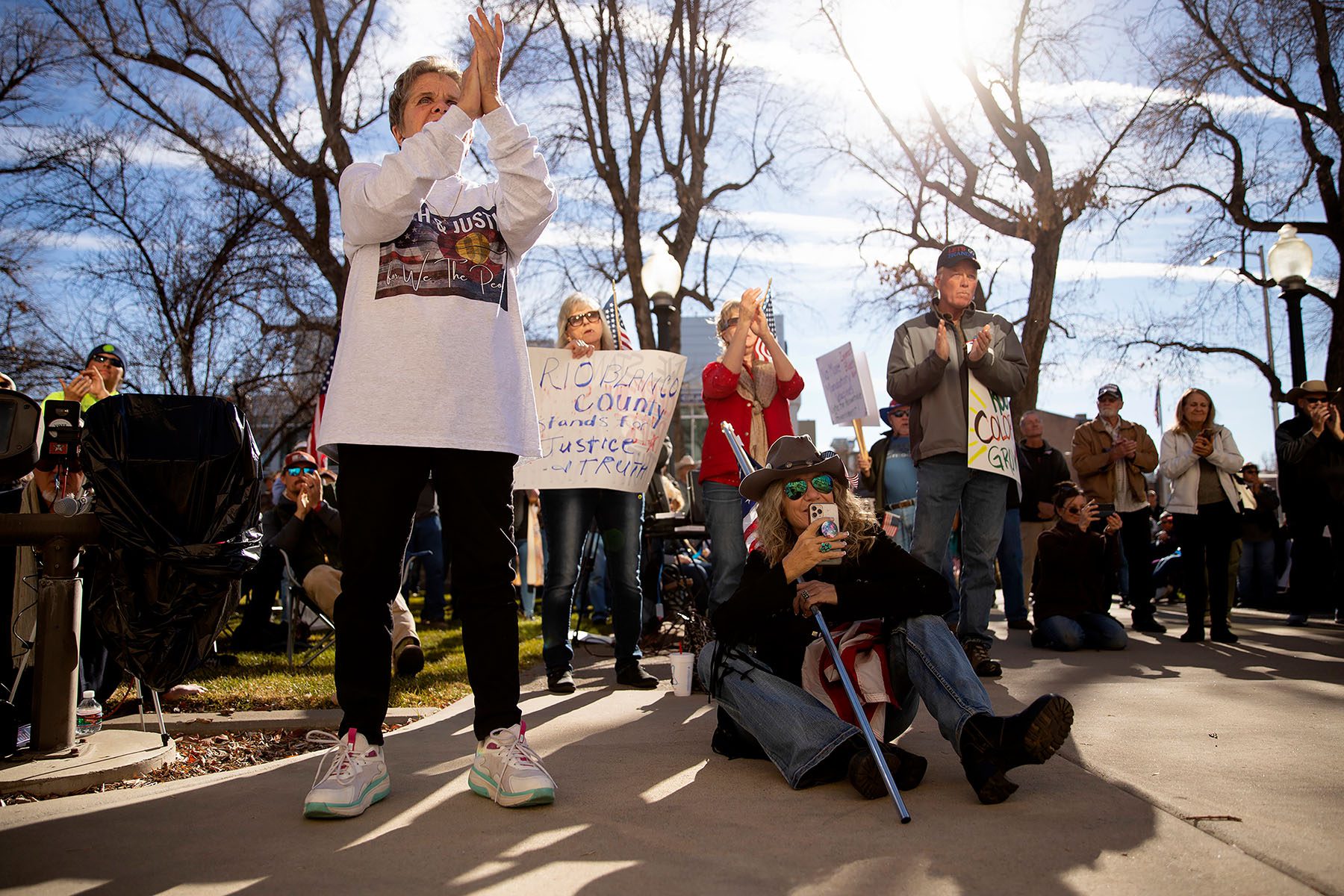 The recommendations come as money pours into Democratic and Republican secretary of state races that were once considered low-key administrative offices but are now at the center of the fight over voting rights.
Trump, who attempted to overturn election results that showed President Joe Biden defeated him in 2020 and who is weighing another bid for office, has also drawn attention to some of these races. He has endorsed several candidates for attorney general and secretary of state — key positions that may be involved in addressing disputed election results around the country in the 2024 presidential election.
In Colorado, the Democratic-led statehouse is advancing legislation that aims to more immediately address the issues raised by Peters' alleged security breach — which state officials say included accessing hard drive images of equipment. The bill would add security requirements for voting equipment and require that county clerks and other staff receive training.
A provision that would have banned election workers from "knowingly or recklessly" making false statements about elections was removed.
Democrat Jena Griswold, Colorado's current secretary of state who is seeking reelection, has been vocal in fact-checking election misinformation and disinformation that continues to stem from the 2020 election. She has highlighted Peters' case in campaign materials and is advocating a package of election security bills.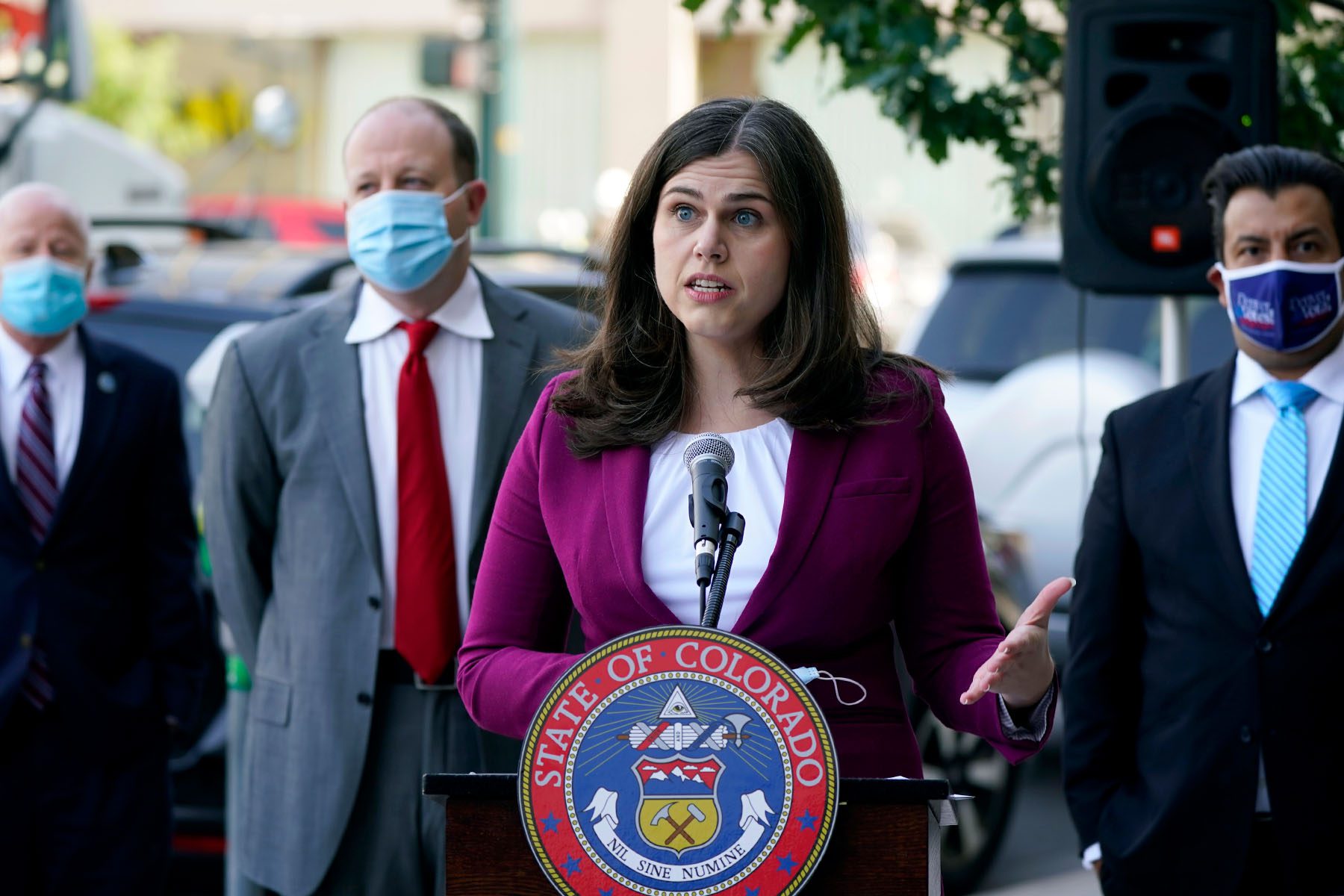 "The big lie has morphed into a big threat to our democracy," Griswold said. "Whether it's what happened in Mesa County, fake audits, insurrectionists and conspiracy theorists running to be chief election officers, we are seeing a coordinated attack on democracy which has been fueled by the extreme right insiders trying to tilt future elections in their favor."
A judge last year removed Peters' authority to oversee the 2021 elections. Last month, Peters was indicted on seven felony charges and three misdemeanor charges related to the alleged security breach. The felony charges include attempting to influence a public servant and conspiracy to commit criminal impersonation. She has denied all wrongdoing. A co-worker, Belinda Knisley, has pleaded not guilty to six charges. Both are expected back in court in late May.
Peters appeared Tuesday at a rally outside of the state Capitol where she continued to push debunked conspiracy theories about elections. In a statement, she doubled down on her claims.
"I am running for Colorado Secretary of State to restore trust and confidence in the people's vote," she told The 19th.
Becker said Peters' case shows the current checks and balances worked because her alleged actions triggered charges. While he understands why Colorado might consider adding additional security protocols, he also hopes more states consider comprehensive protections for workers who have reported increasing instances of harassment and threats of violence. His group has established a legal defense network that has been helping election workers seeking legal advice and representation. Some states are considering new protections to ensure the safety of election workers, many of whom are women and make up a mix of full-time and part-time workers.
"That is another area — protection of election officials — where we might want to consider additional policies," he said. "Because it looks like law enforcement doesn't have the tools it needs."
Weil with the Bipartisan Policy Center said policymakers and the public have relied on most people acting in good faith and respecting democratic norms. He worries that is not guaranteed going forward.
"The risk is now real," he said. "And it's not going to go away on its own."