Bee Nguyen said she watched with alarm as the lies began trickling in about alleged widespread voter fraud in Georgia after the 2020 election. What the Democratic state representative heard behind closed doors from Republican lawmakers, she said, was different from what they said publicly.
They sowed doubt, she said, even as they privately "admitted that they didn't believe the election was stolen, but went along with everything that was being facilitated in Georgia and across the country."
Nguyen challenged those false assertions, including at a highly publicized legislative meeting late last year about election results. One day after polls closed on a pair of close U.S. Senate races in Georgia that gave Democrats control of the chamber, the January 6 insurrection became a physical manifestation of the flawed fears of a rigged election. Soon, Georgia's Republican-led legislature was introducing bills with a host of changes to the state's election system.
Not all made it into law, but lawmakers ultimately passed legislation that restricted absentee voting, added new voter identification requirements and limited drop boxes. Nguyen said she was most troubled by new oversight of local election administration that voting experts said would add partisanship to the process.
"The bill that they passed was not just about making it harder for people to vote, but it was about being able to open the door for the subversion of democracy," she said.
Nguyen is now running, along with a handful of other Democrats, for the party's nomination to be Georgia's secretary of state — a once low-profile elections administration job that has been propelled to key race status in the state's midterms next year. Also on the ballot will be the race for governor, where Democrat Stacey Abrams is seeking the party's nomination after leading a nationwide effort to get people access to the ballot. A high-profile Senate race features incumbent Democrat Raphael Warnock.
The three races, against the backdrop of baseless attacks by former President Donald Trump on election integrity and nationwide voting restrictions, effectively places Georgia at the center of the country's 2022 midterm elections. While Warnock's reelection bid could mean the difference for Democratic control in a deeply divided chamber, it's Nguyen's and Abrams' campaigns that solidify Georgia's standing in the fight for voting rights next year.
"We all understood that everybody would still have their eyes on Georgia with Sen. Warnock being back on the ballot in 2022," Nguyen told The 19th. "But now with the addition of Stacey, I think it creates even more excitement and mobilization across our state."
The increasingly purple state, which has had massive population growth due in part to people of color, nearly put Abrams in the governor's mansion when she first ran in 2018. Abrams accused her opponent, Brian Kemp, then Georgia's secretary of state and now its Republican governor, of unfair tactics that led to her loss. He denied those allegations.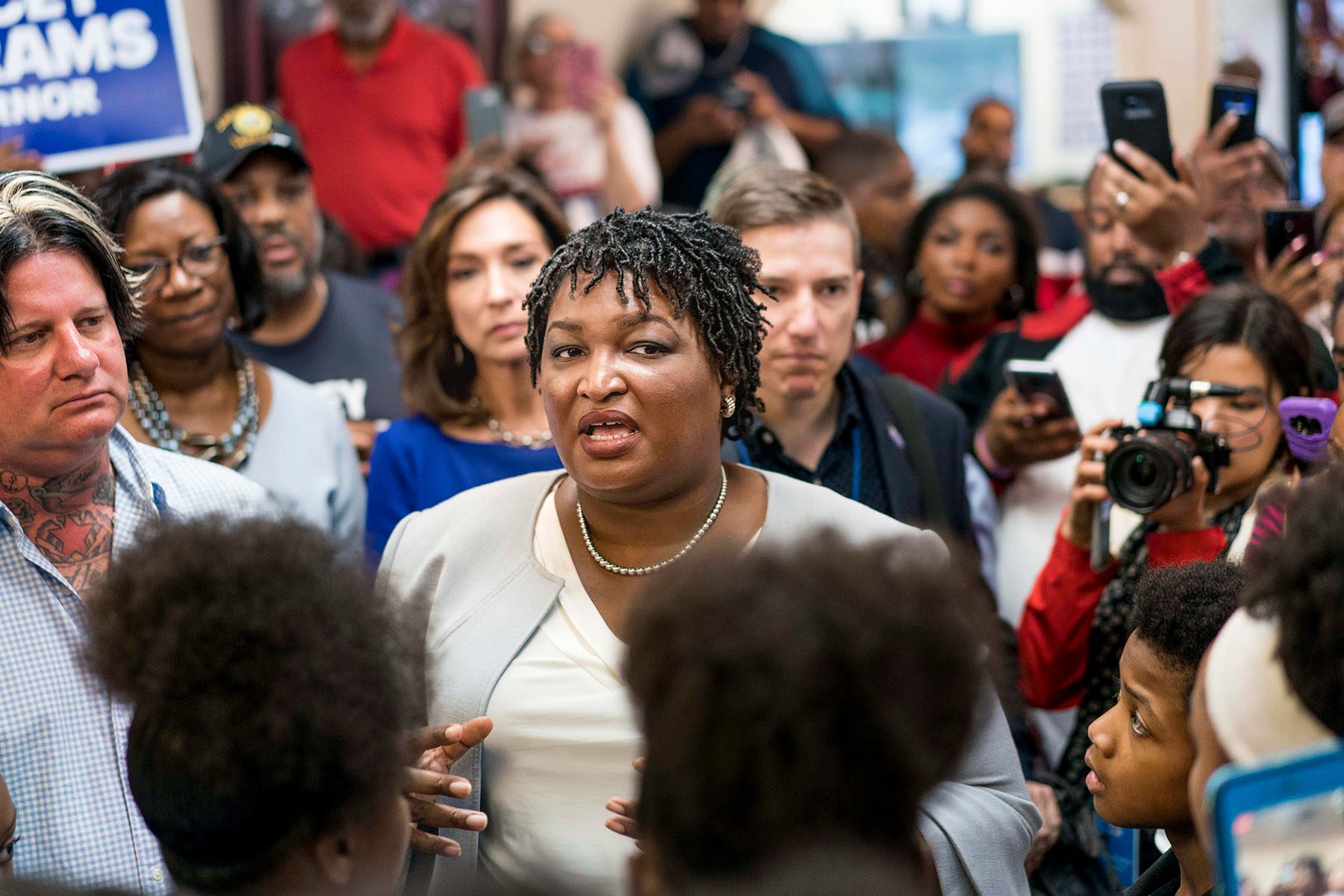 As governor, Kemp refused to overturn Georgia's 2020 election results and signed new voting restrictions into law. Next year could be a rematch for the two though that has yet to be determined; Kemp has lost Trump's backing and now faces a primary challenge from former U.S. Sen. David Perdue, who has said he would not have certified Georgia's 2020 election results. The Republican primary for secretary of state is expected to include a supporter of Trump who has claimed inaccurately that the 2020 election was rigged.
LaTosha Brown, co-founder of Black Voters Matter, isn't surprised that voting is shaping up to be such a defining topic for candidates next year.
"It is an issue that will determine whether we have a reflective democracy or if we have a plutocracy. It is the single most critical issue because it is the fundamental foundation of having a democratic system," she said. "If we don't have a democratic system, every other issue that we care about is actually at stake and is vulnerable."
At the forefront of this fight are women of color, who are also running for key elective seats in other parts of the country with a focus on voting rights. Several U.S. Senate seats — including in Florida and North Carolina — could help determine which party controls the chamber and future policy discussions about federal voting legislation.
The secretary of state office is expected to get new attention in 2022, as Trump has already backed a handful of candidates seeking the job. At least 27 elections for secretary of state are scheduled next year, with many of them focused on oversight of elections. But it's the offices in battleground states that could have the most outsized role.
Trump has endorsed in multiple races, including in the key states of Arizona and Michigan, where he's announced backing for Kristina Karamo, a Black woman who challenged Michigan's 2020 election results and is now seeking the Republican nomination for secretary of state. Democratic Michigan Secretary of State Jocelyn Benson, among several women election officials who challenged disinformation after the 2020 election, is expected to seek reelection.
Chelsea Clark, a Black woman who is seeking the Democratic nomination to be Ohio's secretary of state, said she was motivated to run because of the work of longtime activists in her community and national figures like the late John Lewis, a civil rights activist who represented the Atlanta area in Congress. Clark, a city council member in the Cincinnati suburb of Forest Park City, said she has witnessed long lines to vote as a precinct leader in her community.
"The fact that we can have folks 60+ years in the making still with the same mission, to make sure that we have equitable access to something as basic for birthright, it blows my mind," she said.
Clark said that if elected secretary of state, she would be vocal as a member of a key commission that oversees redistricting, which can come up every four years in the state. The latest proposal is in litigation.
"You would have an ardent voice that's going to push back to try to make sure that we don't end up with gerrymandered maps, that we actually are following the Constitution to make sure that every voice is heard," Clark said. "Because the way it is right now, there's no way they could be heard."
Elsewhere, local election jobs are expected to gain new prominence. Amanda Litman is the co-founder of Run for Something, an organization that supports Democrats in down-ballot races. She said a recent organizing meeting with potential candidates interested in election posts included hundreds of participants. Litman said it's too soon to know how that will break down in terms of gender, but candidates are bringing their lived experience to the table.
"A lot of the folks who have expressed interest in running for these positions have done so because of either them or their communities' experience having trouble getting to the polls or having trouble getting access," she said. "So it's personal for a lot of them."
Women of color acutely understand the ramifications of voting restrictions because of their long history of trying to secure the right to vote, both for women and people of color, said Aimee Allison, founder and CEO of She the People, a voter engagement organization that focuses on women of color.
"We're the least supported, and yet we're the most important organizers and advocates for this vision of where the country needs to go," she said.
Allison said with little movement on the federal level to solidify voting protections, people are turning their attention to policy solutions and candidates on the state level.
"It's one of those few roles where they could make a difference, not just for '22 but '24 and beyond," she said.
Only 12 women are currently secretaries of state, and most are White women. Shirley Weber in California is the only Black woman in the position, and she was appointed; Nellie Gorbea in Rhode Island is the only Latina.
Brown expects representation of women of color in statewide office and federal office to increase with time as the political landscape shifts and voters seek more action from their elected leaders on voting.
"I think that we're in an environment where we're seeing the rise of white supremacy. We're seeing the rise of an intensified White male patriarchy," she said. "I think that there is a different kind of appetite. Communities are actually pushing, encouraging, supporting and drafting women of color to run for office."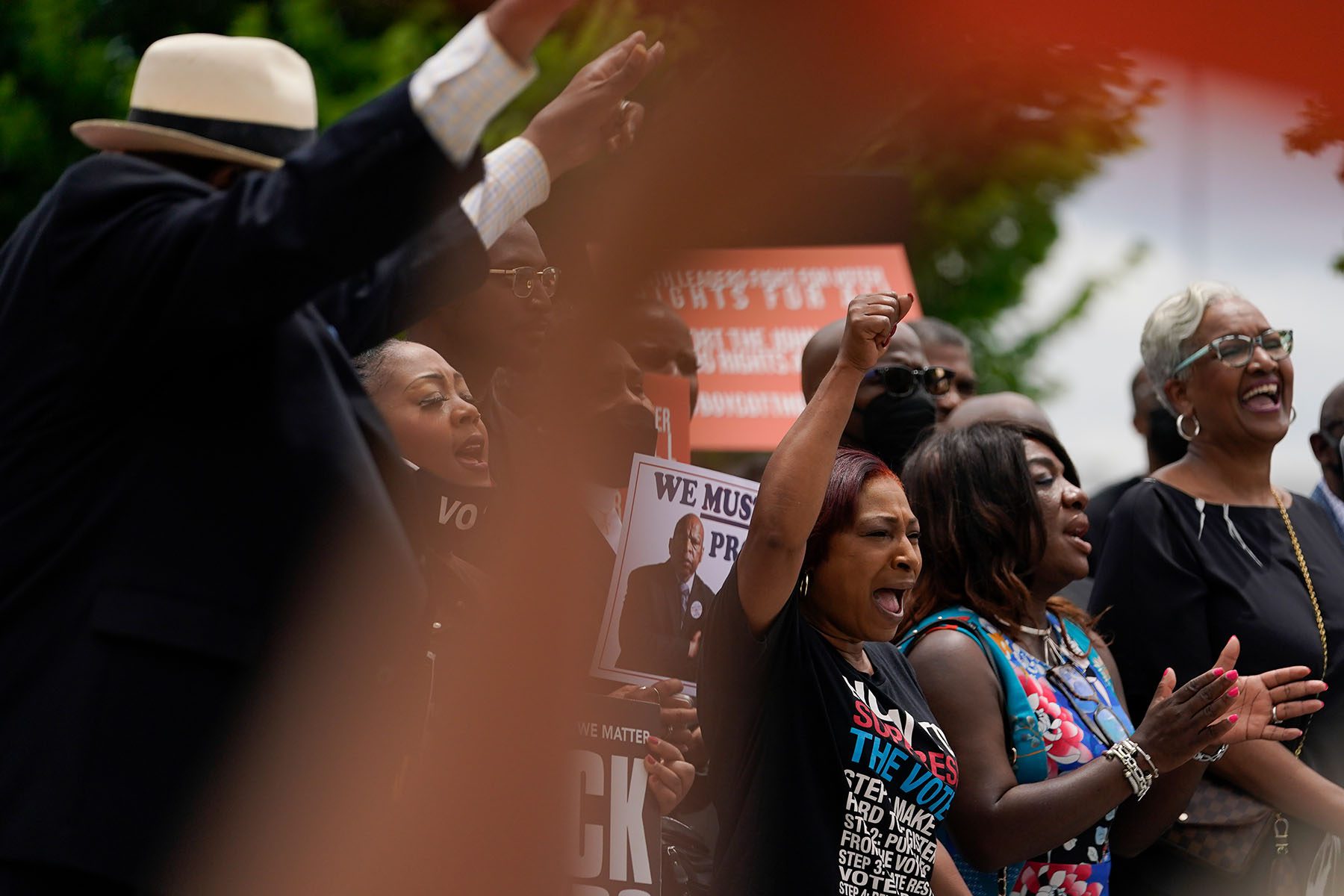 In Georgia, Trump is supporting primary challenger Georgia Rep. Jody Hice against Brad Raffensperger, the Republican secretary of state who refused to alter 2020 election results. Hice has said he doesn't believe Georgia had fair elections in 2020.
Nguyen said the rhetoric about widespread fraudulent voting worries her the most.
"I'm very concerned about the future of our country," she said. "Because it's not just happening in Georgia. It's happening across the board. And this very idea that the results of an election can be overturned by an individual because they didn't like the results of the election … it will fundamentally change what our democracy is going to look like in the future."
Nguyen recognizes there's only so much she can do if elected, especially if she is in the role while Republicans have power in the legislature to further change election rules. She hopes, if she wins, to invest in training and resources for election boards, public communication and education. She also wants to create a division that solely focuses on combating disinformation, improving cybersecurity and addressing foreign interference. Most importantly, she pointed out, the certification of elections lies within the secretary of state's office.
"It's really thinking through — what are the things that the secretary of state can do under these limitations that will ultimately increase access to voters?" she said.
Brown said Republicans have responded to Georgia's shifting demographics — voters of color helped secure President Joe Biden's 2020 win — with voting restrictions and redistricting maps that favor the party. She added that an explosion of voting restrictions passed in Republican-controlled state legislatures in 2021 around the country could also impact elections next year. Georgia's new law shortened the window for returning absentee ballots. An analysis by The Atlanta Journal-Constitution shows election officials rejected 4 percent of absentee ballot requests in the recent November municipal elections, an increase from less than 1 percent in 2020.
"I think we're going to have an uphill battle next year … and it shouldn't be," Brown said. "The only reason why I think it is going to be that extensive is because we have a Herculean responsibility to try to overcome the voter suppression that's been enacted in the state."