We're answering the "how" and "why" of politics news ahead of Election 2024. Sign up for our daily newsletter.
When Republican Ron DeSantis won a second four-year term as Florida's governor last year, he promised that the state was where "woke goes to die."
"We reject woke ideology. We fight the woke in the legislature, we fight the woke in the schools, we fight the woke in the corporations — we will never, ever surrender to the woke mob," he said to cheers at his victory party.
DeSantis' anti-woke crusade had already led him to sign a law barring transgender girls from playing on public school sports teams that match their gender identity, as well as to applaud the state's Department of Education for rejecting 54 of 132 math textbooks for their alleged wokeness. And he'd signed another law limiting how elementary schools could teach gender identity and sexual orientation that kicked off a legal power struggle with The Walt Disney Company, the state's largest employer.
Then, as DeSantis turned his sights to the White House, his war on wokeness intensified. He backed a law that prohibits professors at the state's public colleges and universities from teaching that systemic racism is "inherent in the institutions of the United States." And he defended the state's Department of Education for its release of a Black history curriculum that posits enslaved Africans "developed skills which, in some instances, could be applied for their personal benefit."
For many LGBTQ+ people, particularly trans people, DeSantis' war on woke has seemed like a direct assault on their ability to participate in society. For some people of color, particularly Black people, the Florida governor has appropriated a word from their culture and weaponized it against them. For those on the right, like DeSantis, who have embraced "woke" as an enemy, it can be a more palatable catch-all for a variety of race- and gender-based grievances designed to appeal to White voters worried about holding onto their power, according to experts. But it can also turn off Republican voters — for some, it's seen as openly racist or anti-LGBTQ+, and for others, it's too vague. And many of the GOP primary voters who relish attacks like those from DeSantis and others in the primary field already have a candidate: former President Donald Trump.
"The anti-woke thing has become a little bit desperate," said Eric McDaniel, government professor at the University of Texas at Austin and co-director of its Politics of Race and Ethnicity Lab. "It seems like they're trying to out-dog-whistle each other."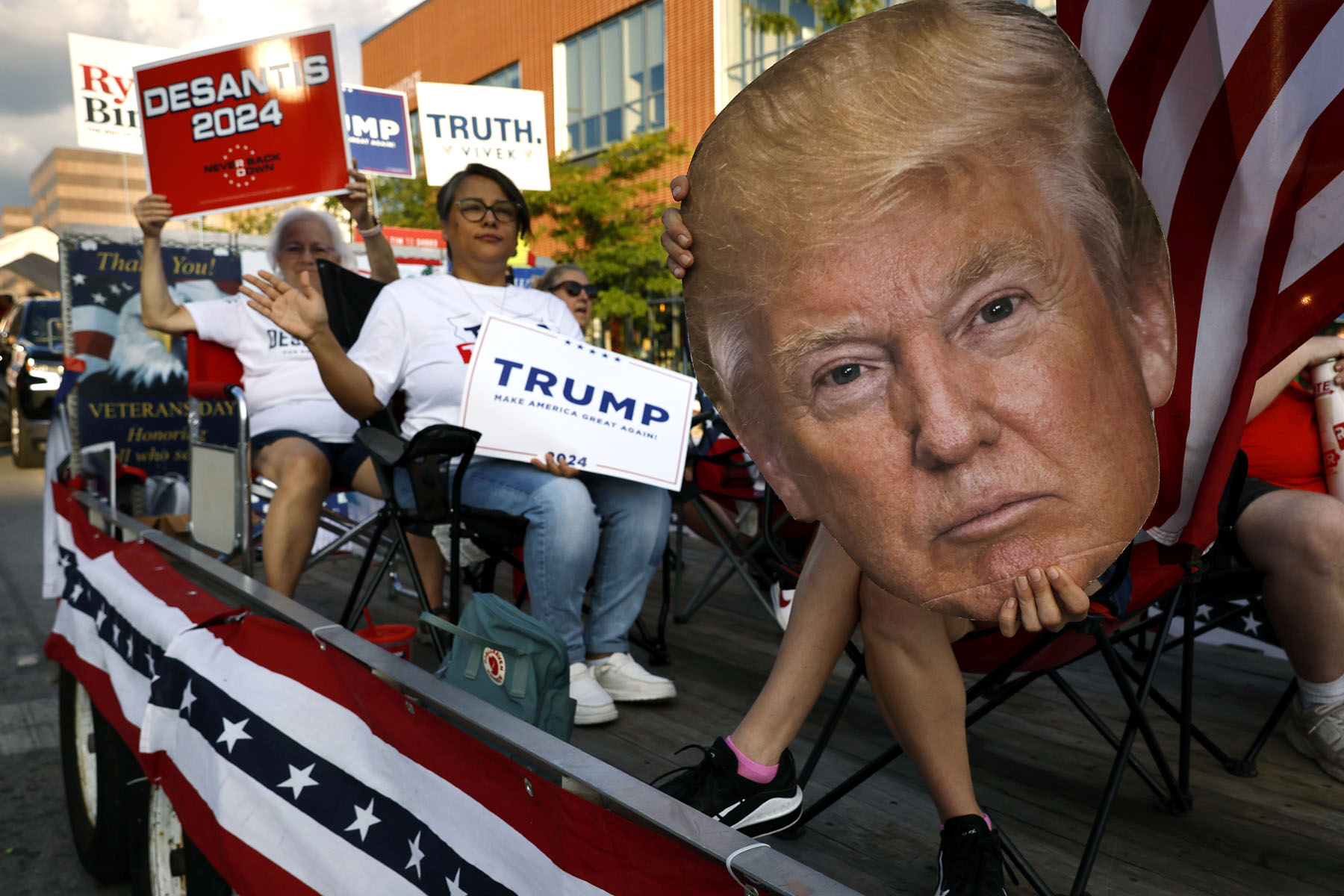 In politics, "dog whistles" are coded phrases that are designed to either be understood by only a narrow target audience or give that group social cover to support policies that are not written with explicitly racist language, but would have a disparate racial impact or capitalize on racial animus. Trump was criticized for using racist "dog whistles" when he talked about protecting suburban women from low-income housing and disparaged "shit-hole countries" that were majority Black.
McDaniel said "woke" as it's being used by DeSantis and other GOP politicians such as fellow White House hopeful Vivek Ramaswamy — the author of "Woke, Inc.: Inside Corporate America's Social Justice Scam" — is borrowed directly from Black people and therefore cannot be separated from race. Woke means "being conscious, being aware of your situation, being aware of harms that may come to you," he said. McDaniel therefore expects that voters who understand it and are "anti-woke" would "be much more racially conservative, much more hardcore about their white supremacy."
Before DeSantis entered the Republican primary in May, polls showed him with support from about 40 percent of Republican primary voters. By the time of his glitch-ridden debut, when he criticized wokeness with Elon Musk on the platform then known as Twitter, it was down to about 20 percent. Now, only about 15 percent say they would support the Florida governor. DeSantis is still thought to be Trump's strongest challenger, even though he trails the former president by nearly 40 points, with Trump facing multiple indictments related to alleged 2020 election interference.
"Woke is where DeSantis' campaign went to die," said Republican former Rep. Barbara Comstock, invoking the Florida governor's own language to dissect his political strategy. "It's very insular and very base-oriented."
Trump's seeming unassailability with the Republican base is one reason DeSantis' numbers are faltering, but the governor's anti-woke message is likely a factor as well. Polling of Republican voters released recently by the New York Times and Siena College showed that just 24 percent would be most likely to support a candidate who "focuses on defeating radical 'woke' ideology in our schools, media and culture." More than twice as many — 65 percent — said that they would be most likely to support a candidate who "focuses on restoring law and order in our streets and at the border."
"You can build a coalition on the border, and on crime, but you can't build a coalition around anti-wokeness because anti-wokeness is so blatantly anti-Black," McDaniel said.
As anti-DeSantis Florida attorney Daniel Uhlfelder put it: "Trump's not going to push something unless it can be easily understood — 'Make America Great Again,' 'Build the Wall.' But woke? Nobody knows what it means. Everyone has a different definition of it." Uhlfelder ran for Florida attorney general in 2022 but lost in the Democratic primary. He is now proud to be known in the state as "DeSantis' Chief Tormentor."
Uhlfelder is no fan of Trump, either, but on "woke" the two men agree. "I don't like the term 'woke,'" the former president said at a campaign event earlier this summer. "It's just a term they use. Half the people can't define it; they don't know what it is."
Comstock, who represented the political swing state of Virginia in the U.S. House from 2015 to 2019 — she lost to a Democrat — is supporting former governors Chris Christie of New Jersey and Asa Hutchinson of Arkansas in the Republican presidential primary. Both have positioned themselves as anti-Trump, if not both as political moderates on policy, and both are polling below 3 percent. Comstock says having gone door-to-door wooing voters herself, she has doubted from the beginning whether DeSantis' anti-woke strategy would resonate outside of increasingly conservative Florida.
"He's latched onto a TV issue, it's not what even the average Republican cares about. Nobody knows what it means. My parents watch Fox News, and they don't know what it means," Comstock said.
"He fell into a Fox trap," she added.