*Correction appended.
Your trusted source for contextualizing politics news ahead of Election 2024. Sign up for our daily newsletter.
When Vivek Ramaswamy denounced human-caused climate change as a "hoax" Wednesday night in Milwaukee during the first Republican presidential debate, the responses from undecided independent voters participating in a real-time focus group revealed a gender gap.
"Let us be honest as Republicans," began Ramaswamy, a pharmaceutical entrepreneur with a penchant for conspiracy theories, "I'm the only person on this stage who isn't bought and paid for, so I can say this: The climate change agenda is a hoax."
As the audience jeered, 15 miles west in the suburb of Brookfield, analysts with the progressive strategy firm Navigator watched as a group of 33 voters registered their responses to Ramaswamy's comments. Using a handheld dial that they could adjust from 0 to 100 throughout the debate, the men's scores, which had been hovering around 50, dipped a bit, into the high 40s. The women's scores, which had been in the mid 40s, plummeted to 20. The line chart Navigator overlaid over the Ramaswamy segment showed a clear gender split on climate.
"We had some inkling, going in, that women were a bit more concerned because it's something that we've actually seen in some of our quantitative work," said Rachael Russell, Navigator's associate director for polling and analytics.
While majorities of both men and women within the Republican Party do not believe that climate change is caused by human activity, Navigator's recent polling of registered voters on climate reveals a GOP gender divide on related weather changes, with 42 percent of the party's women saying their community's weather this summer is different than in the past, versus 35 percent of its men. Among the registered voters who said their community's weather had changed this summer, 80 percent of Republican women said it was hotter, versus 59 percent of the party's men.
At a time when the Republican Party is already struggling to retain and attract women voters due to its restrictive stance on abortion access and other issues that disproportionately affect them, ignoring climate change and its impact on weather could further hurt GOP candidates with women, as well as young people and independents.
The Navigator poll tracks responses from nonbinary voters but does not overlay that with party due to sample size.
Navigator found that 44 percent of GOP women and 40 percent of Republican men agreed that climate change was a "very serious" or "somewhat serious" problem. And a July poll conducted by Marist for NPR and PBS found that 31 percent of Republican women said they thought climate change was having a significant impact on the planet, while just 17 percent of the party's men thought the same.
The numbers didn't surprise Nathaniel Stinnett, founder of the nonpartisan nonprofit Environmental Voter Project (EVP). "Women care much more about climate than men, and most women won't put up with climate denialist crap anymore," he told The 19th. EVP also found that climate could have resonance with more women voters in red states.
Stinnett's organization identifies groups of voters who are likely to list climate or other environmental issues as a top priority, then uses the data to make sure they get to the polls. EVP research found that in 12 purple or red-leaning states, "non-voting environmentalists" — registered voters who have a high likelihood of listing climate or the environment as their top priority but did not cast ballots in the 2020 presidential election — were "disproportionately young, female and people of color."
The gender gap among these "non-voting environmentalists" is particularly pronounced in red states. In Texas, for example, about 60 percent of non-voting environmentalists were women, nearly two-thirds were aged 18 to 24 years old, and 37 percent were Latinx. In Florida, 53 percent were women, nearly 50 percent were aged 18 to 24 years old, and nearly 54 percent were people of color. The numbers show that there is an opening for candidates to motivate these voters in general elections and, to a lesser degree, also in the Republican primary, when the field of candidates is often crowded and small blocs of voters can be determinative.
A Republican White House victory in 2024 could slow or stall action to combat climate change. Trump, who maintains a strong lead in GOP primary polling and did not participate in Wednesday's debate, has also referred to climate change as a hoax. His administration rolled back more than a hundred environmental regulations put in place to protect the country's land, air and water, according to an analysis by The New York Times. Trump also withdrew the United States from the Paris Agreement, an international treaty formed with the goal of reducing the global greenhouse gas emissions that are contributing to the climate crisis.
All of the Republican candidates have criticized Biden's landmark climate bill, the Inflation Reduction Act, which earmarked $369 billion for climate action, making it the largest climate-funding bill in history. Former South Carolina Gov. Nikki Haley has called it a "communist manifesto." Trump has said he would repeal it, and others have signaled they'd do the same or claw back some of its funding.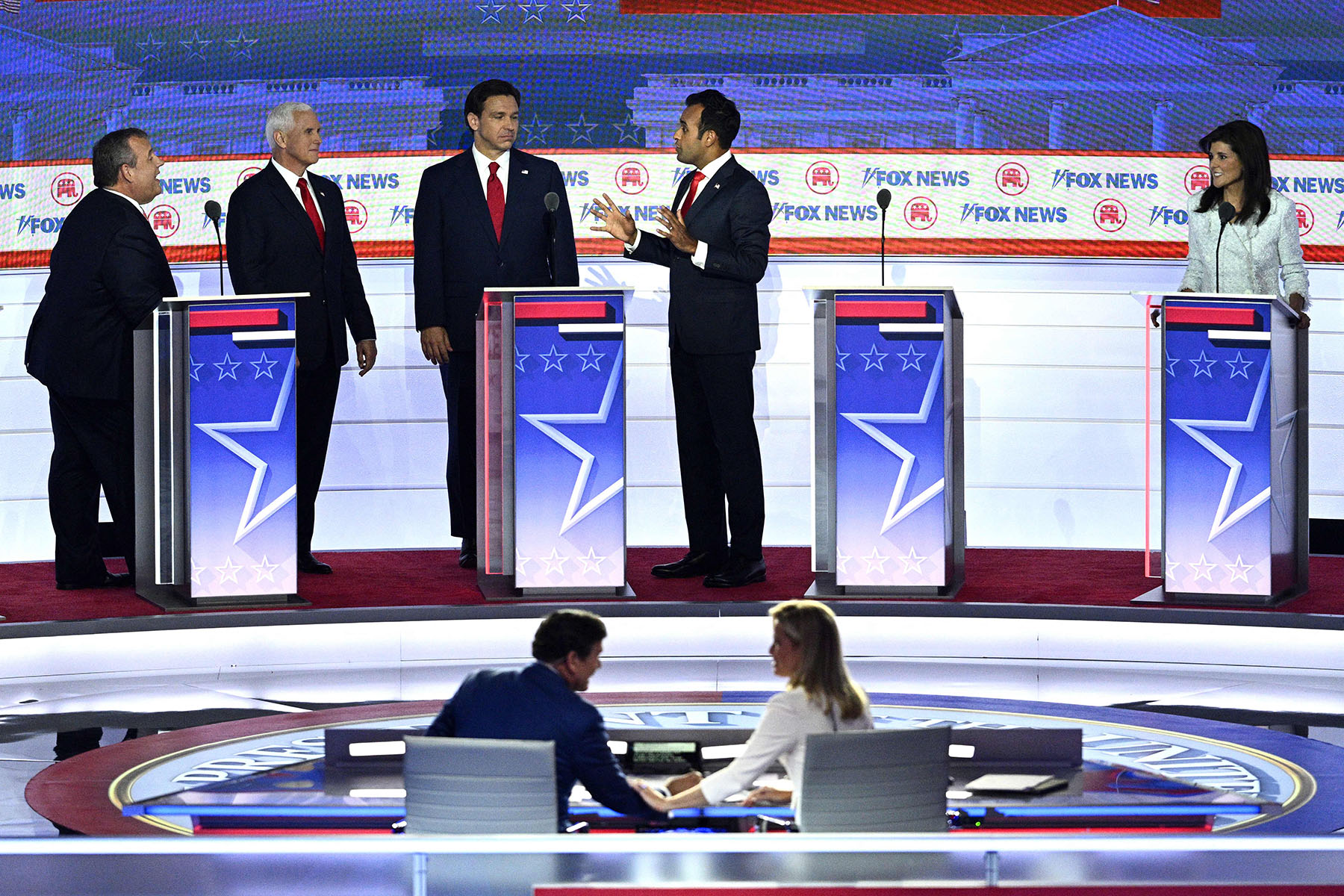 The gendered response to climate change was mirrored Wednesday night on the actual debate stage. Moderators played a clip from a young conservative man who asked the candidates what they would say to calm young voters' "fears that the Republican Party doesn't care about climate change." Then, having framed the request in the context of recent flooding in Southern California, record-breaking ocean temperatures in Florida and the deadly wildfire this month in Hawaii, Fox News' Martha MacCallum asked the candidates to raise their hands if they believed human behavior is causing climate change.
The stage quickly devolved into one of the most chaotic moments of the debate. Before anyone could answer, Florida Gov. Ron DeSantis interjected: "We're not schoolchildren." Ramaswamy called it a "hoax," prompting former New Jersey Gov. Chris Christie to call him a chat bot. U.S. Sen. Tim Scott from South Carolina partially deflected, saying that there are more serious environmental threats from countries such as China.
Then, the only woman on the stage, Nikki Haley, offered her response, and was the only candidate of eight who affirmatively answered MacCallum's question.
"This, is exactly why Margaret Thatcher said: 'If you want something said, ask a man. If you want something done, ask a woman,'" said Haley, who served as an ambassador to the United Nations under Trump.
"First of all we do care about clean air, clean water, we want to see that taken care of, but there's a right way to do it." She said the country needed to "start telling China and India that they need to lower their emissions," omitting the fact that the United States is the second highest annual emitter in the world.
"Is climate change real? Yes, it is," Haley said.
As Haley answered, the numbers from both the men and women in the Navigator focus group hovered around 50, then quickly shot up to nearly 80 among the women, but only to about 60 among the men.
Correction: An earlier version of this article gave an incorrect last name for Rachael Russell.