Your trusted source for contextualizing abortion and politics news. Sign up for our daily newsletter.
In January, Ohio Republicans eliminated the state's August special elections, citing high costs and low turnout.
Then in May, as organizers were gathering signatures to get an abortion rights measure on the ballot in November, they added one back.
It's set for next Tuesday, when Ohio voters will decide whether to raise the threshold to pass constitutional amendments from a simple majority to a 60 percent supermajority. The Republicans who helped add the special election to amend the state's over 100-year-old citizen-led initiative process did not hide their motivations: The GOP secretary of state said it was "100 percent" about keeping abortion off the ballot.
Across the country, Republican officials and activists who oppose abortion access have worked to make it harder to pass citizen-led ballot measures and added roadblocks to the process of getting abortion directly on the ballot These attempts to stop voters from weighing in directly on abortion aren't new, but advocates say the current anti-ballot-measure efforts are taking on a renewed pace and ferocity. As voters even in conservative states have chosen to back abortion rights, GOP legislators and officials have been willing to fundamentally change the rules of democracy.
"We've been seeing an acceleration of these attacks on ballot measure processes more every year for the past several years," said Kelly Hall, executive director of the Fairness Project, which works to pass progressive ballot measures. "And the success that abortion rights advocates have had at the ballot box in 2022 is putting fuel on that already burning fire of red state legislatures wanting to exclude their voters from direct democracy."
In the 2022 midterms, voters resoundingly rejected anti-abortion ballot measures in three Republican-controlled states and passed expansive reproductive health protections in three others. Efforts to raise the threshold to pass ballot measures to 60 percent failed in Arkansas and South Dakota.
In Mississippi, the fight over ballot measures predates the overturn of Roe v. Wade but now includes abortion. The state supreme court struck down the state's entire ballot measure process in 2021, and the Republican-controlled legislature hasn't reinstated it. One of the proposals considered by lawmakers this year would have restored citizen initiatives — but not for abortion or budget-related matters. Those efforts fell apart amid disagreement between legislative chambers.
Some Republican officeholders in Missouri, the first state to ban abortion after the Supreme Court overturned Roe v. Wade, have tried to derail a proposed reproductive rights measure that would establish an affirmative right to abortion and other reproductive health care.
In March, abortion rights advocates in Missouri submitted proposals to the secretary of state's office to put a measure on the November 2024 ballot. 
But the measure quickly got tied up in a dispute over its fiscal impact. State Auditor Scott Fitzpatrick concluded the proposal would have a minimal cost to the state, but Attorney General Andrew Bailey initially refused to sign off on his estimate, arguing that restoring legal abortion access would cost the state billions in lost tax revenue from people who would have otherwise born.
"I think that's really disgusting," said Mallory Schwarz, executive director of Abortion Action Missouri, a group supporting abortion rights. "It was not surprising to see such disgusting logic used to come to such a ridiculous conclusion. Missouri puts so little value on the people of our state."
Research has found a strong correlation between abortion access and positive economic outcomes at the state level.
The courts stepped in to resolve the impasse, siding with Fitzpatrick and rebuking Bailey. But advocates have been entangled in another fight with Secretary of State Jay Ashcroft over the summary text for the measure. And the weeks-long standoff over certifying the fiscal note cost organizers critical time to start gathering signatures.
As the dispute between Fitzpatrick and Bailey played out, a leader of Missouri Right To Life assured fellow attendees of a one-year celebration of the overturn of Roe v. Wade that Ashcroft was "not going to write good language" to summarize the amendment and laid out the group's future strategies.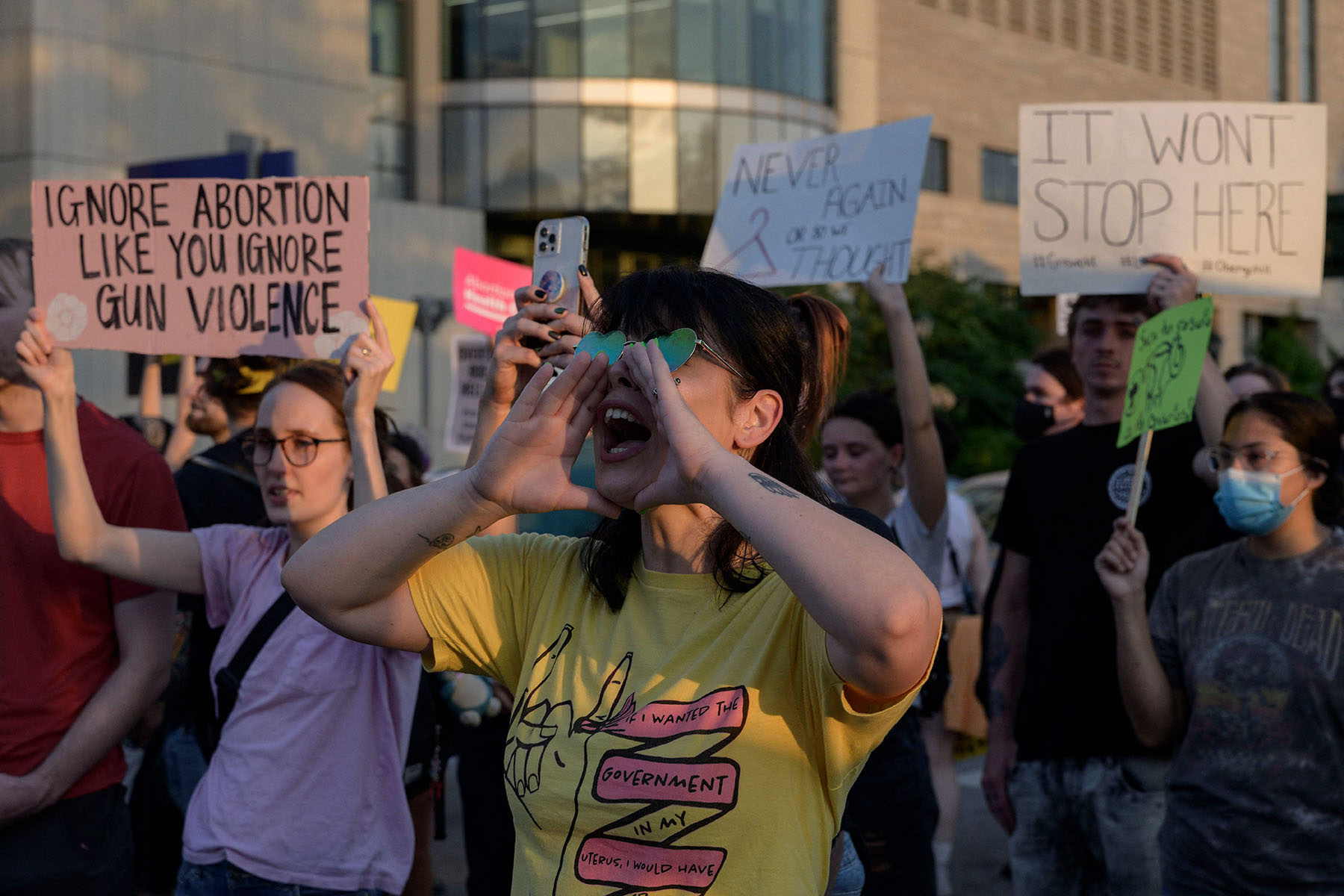 "We hope to delay as long as possible their ability to gather signatures. So we're going to try to … force them to use up their resources to keep that off the ballot," Pam Fichter, the former president and current Eastern Division chair of the organization, said in videos later posted to social media. "If they start gathering signatures, we're going to train people on how you encounter those signature gatherers."
She also said the group would push lawmakers to revive proposals to raise the threshold to pass a constitutional amendment. Missouri Right To Life did not respond to a request for comment.
"I think the fact that they're willing to say it so bluntly and transparently is embarrassing," Schwarz said. "They know that abortion access would win on the ballot, and they know the only chance they have of stopping it is to use these underhanded, hostile, unconstitutional, potentially illegal tactics to block it from moving forward."
Advocates on both sides of the abortion issue see Ohio — where a ballot measure that would establish a constitutional right to abortion and other reproductive health care is on the November ballot this year — as a critical inflection point for battles over ballot measures nationwide.
"I think what's so important about the Ohio election is that it's going to shape the contours of the debates on direct democracy," said Sarah Walker, the policy and legal advocacy director at the Ballot Initiative Strategy Center, a hub of research and resources for progressive ballot measures.
Early voting turnout for next week's vote has been strong. Supporters of Issue 1, which include anti-abortion groups, gun rights groups and some business interests in the state, say the measure would bring Ohio in line with other states and reduce outside influence and spending.
"At its core, Issue 1 is all about protecting Ohio's constitution from out-of-state special interest groups, no matter who that special interest group is — conservative and liberal," said Amy Natoce, press secretary for Protect Women Ohio, a group opposed to abortion that has spent millions supporting Issue 1. "Certainly not one party has a monopoly on pushing for constitutional amendments with out-of-state money."
But top proponents of the measure in Ohio have also explicitly tied it to abortion. A six-week ban passed by lawmakers is currently blocked by the courts. The state Senate President Matt Huffman said in March it would "be a great thing" if the state "saved 30,000 lives" by spending $20 million to hold a special election. Secretary of State Frank LaRose, who is also a candidate for U.S. Senate in 2024, said in late May the measure was "100 percent about keeping a radical, pro-abortion amendment out of our constitution."
"Other states across the country are looking at us to see what happens here, and to see if we are successful not only on August 8, but with stopping the ACLU's extreme agenda come November," Natoce said. "I think if we're able to stop them there, that will really take the wind out of their sails, and leave it up to the states where it should be decided for abortion policy."
The issue has divided Republicans within Ohio, with several former governors and attorneys general speaking out against Issue 1. Opponents argue the measure would undermine democracy by making it prohibitively expensive to put forth and pass citizen-led ballot initiatives and incentivize more, not less, outside and special-interest spending. One of the groups supporting Issue 1, Protect Our Constitution, has received the majority of its funding from a single Illinois-based GOP megadonor, Richard Uihlein.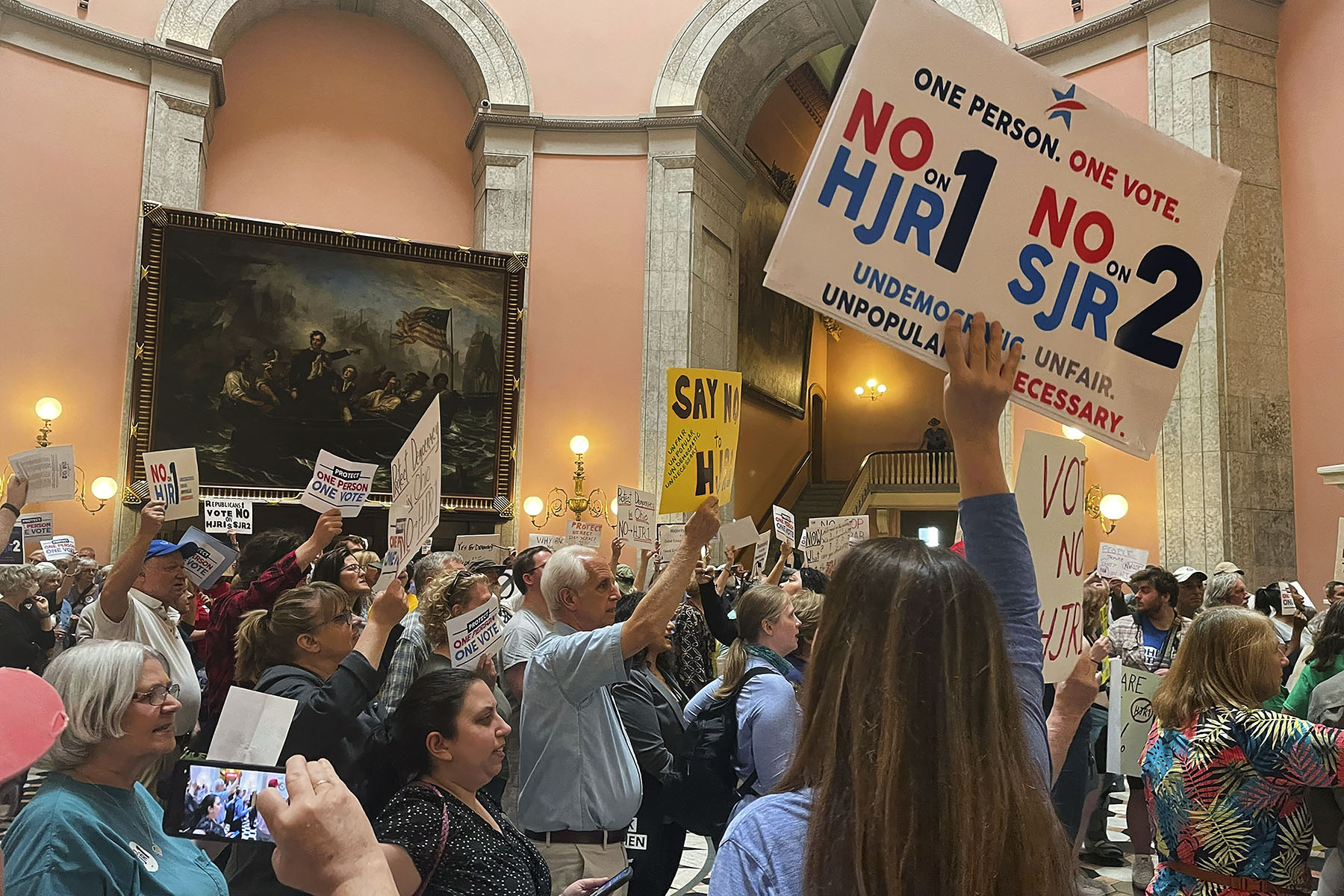 Issue 1 would not only raise the threshold to pass ballot measures but require signatures from voters in all 88 of Ohio's counties, as opposed to 44 currently, for citizen-led initiatives to get on the ballot. It would also eliminate the 10-day period for voters to contest their signatures on a ballot initiative petition getting thrown out.
"The threshold is directly aimed at the abortion, but that signature-requirement piece effectively ends any future citizen-led initiatives," said state Rep. Allison Russo, Ohio's Democratic minority leader in the House.
Hall said the cascading attacks reflect how anti-abortion advocates and Republicans, on their heels from losses in 2022, are pursuing a multi-faceted "death by a thousand cuts" approach intended to disrupt the process with the official levers of state power and at the grassroots level.
"The opposition is not going quietly. They are getting smarter. They are changing tactics to try to prevent ballot measures from moving forward at all," she said. "Our excitement and enthusiasm about the results from 2022 should not be coupled with complacency. We have to fight just as hard, if not harder, because our opposition is not stepping back or backing away."
Amanda Becker contributed reporting.