We're answering the "how" and "why" of abortion news in Ohio and beyond. Sign up for our daily newsletter.
A coalition of doctors and abortion rights advocates wants to make Ohio the first Republican-controlled state to vote to enshrine abortion rights in its constitution — but they must first defeat Republicans' efforts to thwart the measure.
Ohio Physicians for Reproductive Rights (OPRR), which launched in the wake of the Supreme Court overturning Roe v. Wade, and Ohioians for Reproductive Freedom are leading the effort to pass in November a constitutional amendment to guarantee abortion rights and other reproductive freedoms in Ohio.
The groups and their partners are working to gather over 400,000 signatures from Ohio voters by July 5 for the amendment to appear on the general election ballot in November.
Providers and advocates in Ohio view the amendment as their last chance to safeguard abortion access in the state and shield it from the uncertainty of the legal system — and future restrictions from Ohio's Republican-controlled state government.
Ohio Republicans, who hold a supermajority in the state legislature, have called an August special election in a last-ditch effort to make it more challenging to pass the amendment on abortion, raising the threshold for any ballot measure to pass from a simple majority to a supermajority. Both votes will test how voters see elected Republicans' efforts to alter how the levers of power work in Ohio — which has drifted further right over the past decade, including voting twice for former President Donald Trump — and how they see abortion access The procedure is currently legal up to 22 weeks in the state, with a six-week ban with no exceptions currently blocked by the courts.
"First and foremost, this is our best opportunity," said Lauren Blauvelt, vice president of government affairs and public advocacy at Planned Parenthood Advocates of Ohio and chair of Ohioans for Reproductive Freedom. "It is essential. It is our one shot to pass a ballot initiative right now."
Dr. Lauren Beene, a pediatrician, and Dr. Marcela Azevedo, a pulmonologist, launched OPRR shortly after the Supreme Court overturned Roe v. Wade. Azevedo, an intensive care physician, told The 19th that pregnant patients are severely ill by the time they get to her. A strict abortion ban "would literally increase the number of women that I would be seeing close to death," she said.
"We were not willing to wait until 2024," Azevedo said. "We needed to put this on the ballot immediately because we're in the middle of a health care emergency."
The highly publicized cases of a 10-year-old Ohio rape victim who traveled to Indiana to receive an abortion and a Washington, D.C., area woman who recounted experiencing severe bleeding after an Ohio hospital denied her a procedure to treat a miscarriage spurred national attention, and outrage, over the law. Last September, a Hamilton County judge blocked the ban in a legal challenge bound for the now Republican-controlled state Supreme Court.
"We thought that as doctors, it was our duty to do something about this, because we were gonna see people get hurt," Azevedo said.
Anti-abortion advocates in the state are working to block the measure both by advocating for Issue 1 and with a $5 million television and digital ad campaign that argues the abortion amendment would infringe on parents' rights to have a say in their children's health care.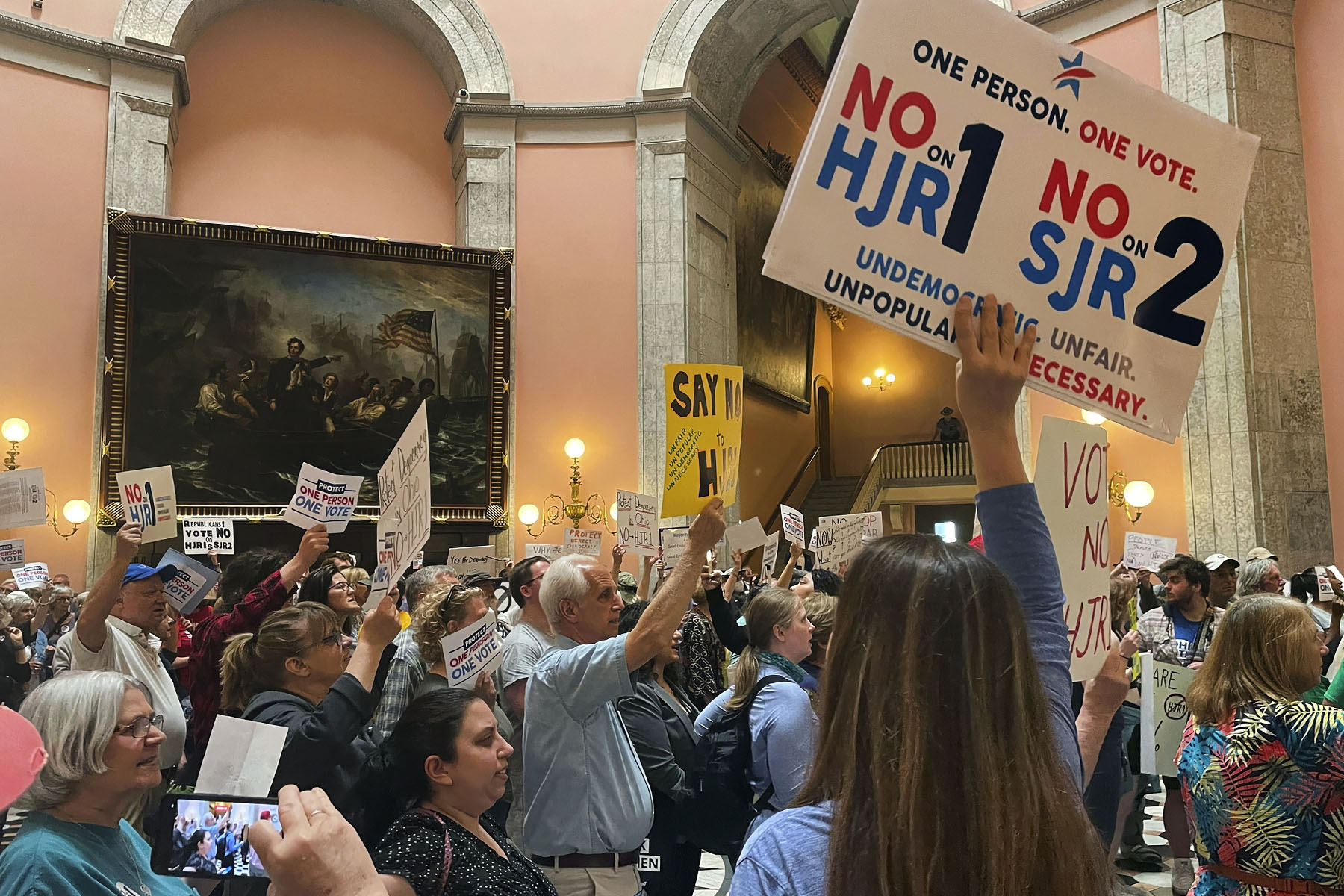 "This amendment that's coming up in November will wipe away parental rights to be engaged in their teenagers' decisions to get an abortion or not, in their teenagers' decision to get sex change operation or not," Ohio Right to Life CEO Peter Range said in testimony supporting putting Issue 1 on the ballot, according to the Ohio Capital Journal. The proposed amendment does not discuss parental consent for abortions, which Ohio requires for patients under 18, nor does it mention gender-affirming health care for transgender youth.
The amendment, titled the Right to Make Reproductive Decisions Including Abortion Initiative, is modeled after a first-of-its-kind "Reproductive Freedom for All" measure that Michigan voters approved in 2022.
It would establish an affirmative right to abortion, contraception, miscarriage care and fertility treatment and broadly bar state interference in those decisions, requiring any state intrusion to use "least restrictive" means. The measure would allow abortion to be prohibited after the point of fetal viability except in cases that threaten a pregnant person's life or health.
"It is a fairly moderate proposal for the right to reproductive freedom," said Emily Schriver, CEO of The Matriots PAC, a nonpartisan organization that works to elect women candidates in Ohio.
"Ohioans typically joke, 'Oh no, not Michigan,' but I don't think that's true for this," she added, referring to the fierce college sports rivalry between the two states. "They put forth a really reasonable, energetic effort."
In 2022, voters in the red states of Kansas and Kentucky rejected anti-abortion ballot measures that would have established that their state constitutions contain no right to abortion. But supporters of the Ohio measure have a much more difficult task: convincing voters to affirmatively put new abortion rights into the state constitution. They anticipate a challenge even though polls show majorities of Ohioans overwhelmingly oppose a strict abortion ban and would support an amendment establishing abortion rights protections.
"Voting 'yes' is always harder, it's just part of the calculus with ballot initiatives," Blauvelt said.
Anti-abortion politicians in Ohio are mounting an aggressive and expensive campaign not just to oppose the measure itself, but to increase the barriers to passing citizen-led ballot initiatives altogether.
In December, the Ohio legislature passed a bill abolishing most August special elections, citing costs and low voter participation after only 8 percent of registered voters turned out to vote in Ohio's August 2022 elections.
But in May, Republican lawmakers passed a resolution establishing an August 8 special election and allocating $20 million to vote on Issue 1, which would impose stricter signature requirements to get a constitutional amendment on the ballot and require a 60 percent supermajority to pass it.
Abortion rights advocates and good-government groups have slammed the proposal as a brazen and desperate power grab.
"If this passes in August, it will be nearly impossible for everyday Ohioans to get issues on the ballot and get them passed," said Jen Miller, executive director of the nonpartisan League of Women Voters of Ohio. "But it won't change the possibility for groups who are well-funded by out-of-state special interests."
Republicans, she argued, are "rushing it through in August when they know fewer people vote so they can trick voters into giving up their rights."
GOP leaders have openly stated their goal in advancing the measure is to block the amendment on abortion. State Senate President Matt Huffman told reporters in March: "If we save 30,000 lives as a result of spending $20 million, I think that's a great thing."
And Republican Secretary of State Frank LaRose, a leading proponent of Issue 1 and a likely candidate for U.S. Senate in 2024, said at a local Republican Party event in late May that the effort is "100 percent about keeping a radical, pro-abortion amendment out of our constitution."
"The left," he charged, "wants to jam it in there this coming November."
The legal back-and-forth over Ohio's abortion ban has made for a "deeply stressful" one-two punch for clinics, Blauvelt said, with patients and providers unsure of how much longer they have until the clock runs out on abortion access.
"All of our helplines are always full — there's this just stress that tomorrow, they could lose access, and people want to get in as quickly as they can," she said. "And similarly, providers are making hard choices: are they going to stay in Ohio or are they even going to come to Ohio?"
For Azevedo, Ohio voters protecting abortion in the state constitution would mean less confusion and fear among patients and providers and fewer pregnant patients close to death in the ICU.
"That is not how I want to practice medicine, and abortion care helps us prevent that," she said. "So to me, I am literally fighting for my sisters' lives."