Your trusted source for contextualizing abortion and politics news ahead of Election 2024. Sign up for our daily newsletter.
DES MOINES, Iowa — When Kim Reynolds stepped on a stage Friday at a downtown events center in Iowa's capital city, hundreds in the crowd delivered a standing ovation for their governor.
The rock star welcome came from some of Reynolds' most ardent supporters, evangelical Christians, who had gathered here for an annual summit billed as the largest in the Midwest. Minutes later on stage, the Republican governor signed into law a ban on most abortions in the state after six weeks of pregnancy.
Reynolds this week had called the Republican-led legislature back for an unusual one-day special session with the sole focus of passing the six-week abortion ban — a window that allowed her to sign the legislation in time for a summit hosted by The Family Leader, a major evangelical group in Iowa.
"It is such a pleasure to address this summit just days after I convened a special session of Iowa's General Assembly to once again address the most important human rights cause of our time: protecting unborn human lives from the atrocity of abortion. A worthy battle, and one I will never concede," she said.
The ban was being challenged in court even before it was signed, but the ceremony on stage still solidified the political ascension of a governor who wields growing influence within the Republican Party. Her policy priorities on issues such as using public dollars for private education have been echoed by many of the 2024 presidential hopefuls now crisscrossing the state she leads — a state that is first on the nominating calendar next year.
"She is arguably the best governor in the country," said Bob Vander Plaats, head of The Family Leader, as he introduced her on stage Friday.
Stephanie Cox, a 32-year-old attendee who works in hospitality, was at the summit with her husband and visited a booth organized by the group Iowa Right To Life. Cox said she "has been pleasantly surprised" by Reynolds' time in office.
"I'm really impressed with her," said Cox, a mother to a toddler who says restricting access to abortion is a political priority for her. "She is doing a great job pushing Christian values and conservative values."
Reynolds' popularity within the state means most presidential candidates are all hoping for signs of her support. That included, at least until a few days ago, Donald Trump.
This week, the former president criticized the governor on social media for not endorsing a candidate before the Iowa caucus — a practice that previous state governors have adopted to encourage the local politicking process that can skyrocket a candidate's national chances.
Trump's ire included claiming credit for Reynolds' ascension to the governorship. In 2017, he picked former Iowa Gov. Terry Branstad for an ambassadorship that created a pathway to the state's top post for Reynolds, who was lieutenant governor at the time.
"I opened up the Governor position for Kim Reynolds, & when she fell behind, I ENDORSED her, did big Rallies, & she won," Trump wrote on his Truth Social platform. "Now, she wants to remain 'NEUTRAL.' I don't invite her to events!"
Reynolds, who appeared with Trump in Iowa weeks before the 2018 election, won a four-year term that year by about three percentage points. In 2022, she won reelection by about 19 percentage points, one of the strongest showings for a Republican incumbent.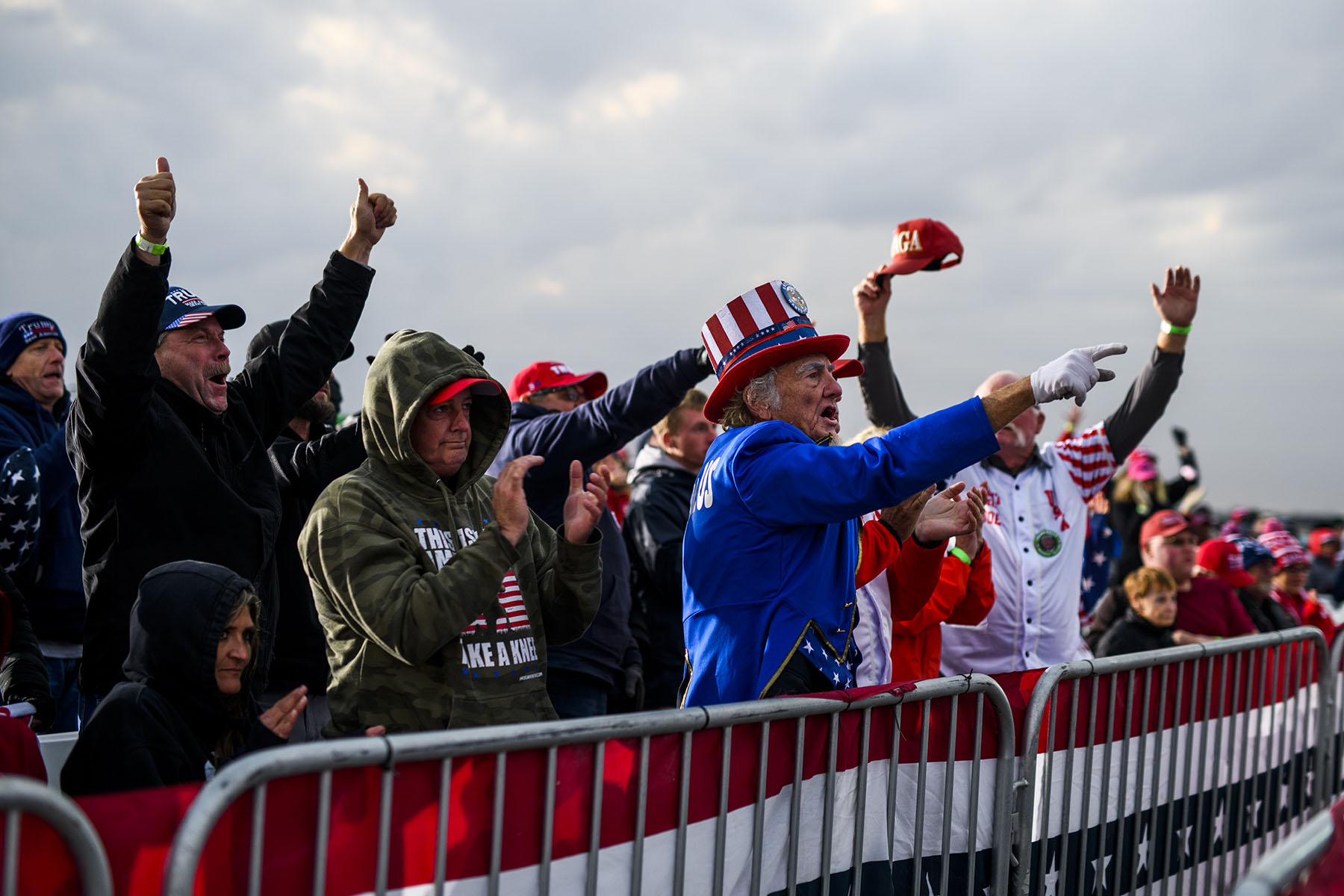 After Trump's criticism, several presidential candidates came to Reynolds' defense, including Florida Gov. Ron DeSantis, former South Carolina Gov. Nikki Haley and former Arkansas Gov. Asa Hutchinson. Separately, an anti-Trump political action committee quickly launched an ad in Iowa that focused on the criticism.
Vice President Mike Pence, when asked Friday by the press about Trump's attack, said: "I have some familiarity with my former running mate's jabs. I served alongside him for four years and he's entitled to his opinion … I couldn't be more grateful for Gov. Kim Reynolds' leadership on life and on so many other other issues here. And I respect the fact that she's continuing the great tradition of governors of Iowa in remaining neutral in this Republican primary. But I don't have to be neutral. I'm for Kim Reynolds."
On social media, Vander Plaats linked Trump's verbal attack of Reynolds to a potentially poor showing in the caucus.
He quoted the fictional character Forrest Gump's line that, "Stupid is as stupid does" and added, "My Mom says don't call anyone, 'stupid.' So, I won't. However, this isn't smart. Iowa is wide open."
For now, national polling shows Trump remains the top candidate for the Republican nomination — though there are signs that a spate of investigations into the former president's handling of classified documents may hurt him as the primary season heats up. And while local Iowa polling from March also showed a strong position for Trump among likely caucus goers, his favorability has slipped since 2021.
The former president has also begun to shun some Iowa events that are often seen as musts for a candidate to do well. While he has held some rallies in recent weeks, he did not attend The Family Leader's summit on Friday and skipped a popular fundraising event in June hosted by Sen. Joni Ernst. Most top GOP candidates attended both.
Cox said she voted for Trump in 2016 and 2020 but she's interested in DeSantis this election cycle. She said she'd still vote for Trump if he's the nominee, but he called the former president's criticism of Reynolds "a mistake."
"Dunking on Kim Reynolds is like dunking on the people of Iowa," she said. "Can he recover from that? Yes, maybe if he apologizes."
The swift defense of Iowa and its governor is a sign of Reynolds' power, which has been growing for some time among Republicans. She signed a similar ban in the state in 2018, years before the U.S. Supreme Court overturned Roe v. Wade, the 1973 ruling that guaranteed federal abortion rights. A legal challenge kept the law from going into effect at the time, and a series of state court rulings over the years kept it that way.
In June, a more conservative state Supreme Court deadlocked on whether to reinstate the law. Reynolds was critical of three state justices whose ruling stopped the law going into effect. In her remarks on Friday, she committed to policies beyond abortion restrictions.
"We have a responsibility not only to protect the unborn, but to change the destructive culture of abortion that still exists in a post Roe world," she said. "Even with a 'fetal heartbeat' bill, the fight continues for a robust culture of life that welcomes children, supports mothers and involves fathers."
Most Iowans — 61 percent in a March poll from the Des Moines Register — say abortion should be legal in all or most cases. But bans are more popular among Republicans and evangelical voters, like those gathered Friday. The state Capitol building on Tuesday was filled with protesters who opposed the bill.
Still, Reynolds' policies continue to gain traction in the legislature. This year, she signed into law the use of public dollars for private schooling that is now being touted by the 2024 Republican hopefuls. She had pushed for the policy for years — and supported primary challenges against several Republican lawmakers who opposed the measure. All the incumbents lost their races.
Reynolds' policy is part of a broader "school choice" effort whose proponents argue that it gives kids access to schools that are best for them. Opponents say it undermines public schools. Reynolds this year also signed into law new restrictions on trans rights and gender-affirming care — issues that have fallen under a "parents' rights" push that's dominated Republican candidate events.
It's unclear what comes next for Reynolds, who continues to appear alongside Republicans visiting the state. But on Friday, some openly wondered about her aspirations for higher office.
One attendee, who declined to share his name, said: "The future president is going to have to choose a vice president."