This column first appeared in The Amendment, a new biweekly newsletter by Errin Haines, The 19th's editor-at-large. Subscribe today to get early access to future analysis.
In 2016, The Washington Post published the now infamous "Access Hollywood" video of a 2005 hot-mic conversation between Donald Trump and host Billy Bush. Trump, then the Republican presidential nominee, was heard casually discussing potential sexual assault as a privilege of the rich and famous.
Exactly one month later, Trump was elected president. This month, the same video was a key piece of evidence in the writer E. Jean Carroll's civil lawsuit accusing Trump of sexual assault and defamation. A New York jury watched a deposition where Trump was confronted with his comments from the 2005 tape by Carroll's attorney; last Tuesday, they found him liable and ordered him to pay $5 million in damages.
The next day, Trump, the front-runner for the 2024 Republican nomination and subject of multiple state and federal criminal investigations, made his highest-profile appearance since returning to presidential politics in a CNN town hall at Saint Anselm College in New Hampshire. There, he tripled down on his "Access Hollywood" comments and insulted Carroll, calling her a "whack job" and saying he had never met her, let alone assaulted her — repeating his claims that she lied about the incident. A live studio audience cheered and laughed. Carroll and her attorney are considering additional legal action against Trump for his remarks.
The events of last week were a window into questions of consequences, accountability and norms in our politics and in our society. In the assumed rematch between President Joe Biden — again campaigning that he is "in a battle for the soul of America" — and Trump, a lot about the candidates, the press and our politics feels familiar. But some things have undeniably changed.
In 2016, we hadn't yet gone through the explosion of #MeToo accusations or reckoned with how powerful men regularly abused women. Trump has since lied countless times to the American people, been rejected by voters and incited an insurrection. Survivors are now seen as more credible, and Trump's credibility has eroded — though he still has a clear base of support.
---
That support was on full display inside the room at CNN's town hall. Carroll's verdict was nearly overshadowed by Trump's response, which was given a platform on a major cable news network and applauded by potential GOP voters.
"We get this town hall where he's allowed to freely walk around and double down on his nonsense and double down on his lies, to bask in this power that he has — and you have a national news network that supported that," said Tarana Burke, founder of MeToo International.
Trump's 2016 election sparked some of the largest protests the country had ever seen, with women in particular taking to the streets of cities and towns after his inauguration. His nomination of Brett Kavanaugh for the Supreme Court, and the accusations of sexual assault that were aired at Kavanaugh's confirmation hearing, sparked a new round of outrage that played out at the ballot box in the 2018 midterms.
While there has been a national dialogue around sexual violence in the Trump era, the issue still remains somewhat unaddressed in our politics, Burke said. We still lack guardrails to tell us what's acceptable and what isn't – or worse, different people have different guardrails.
"You have a person who is literally trying to be the leader of the free world who is supposed to be a moral authority … people are supporting him and voting for him, are lifting him up as a leader and the behavior he is, out of his own mouth, espousing is contrary to that," she said.
Burke sees survivors as a key piece of the electorate and thinks the town hall could galvanize them headed into 2024.
"When you let people in a room, let them laugh in the face of a victory that was really our victory, all you're doing is saying, 'This is what they think of us, they think that we don't have power, they think that our wins are meaningless and empty,' so let's just give them more," Burke said. "Movements move, and they are moved by different things: legally, by narrative, by community, by policy, by all kinds of different things."
---
Americans watched Trump win power and fulfill many of his promises. He received more votes in 2020 than he did in 2016 but lost — as did many of the candidates he supported that year and in 2022.
It's evidence that even as Trump and some of his base remain consistent, the electorate has shifted some since 2016 since seeing him wield — and prompt violence in his attempt to keep — power.
"The question, not just from last week and not just for CNN or the media, but for all of us over these next couple of years is: who are we now?" said Fatima Goss Graves, president of the National Women's Law Center Action Fund. Trump has "been clear that he is not changing. It's not like this was a town hall filled with contrition for his presidency or the [Carroll] case. But there's no evidence that small room is representative of this country. And that small room was there and it's always been there, but we get to choose who we want to be."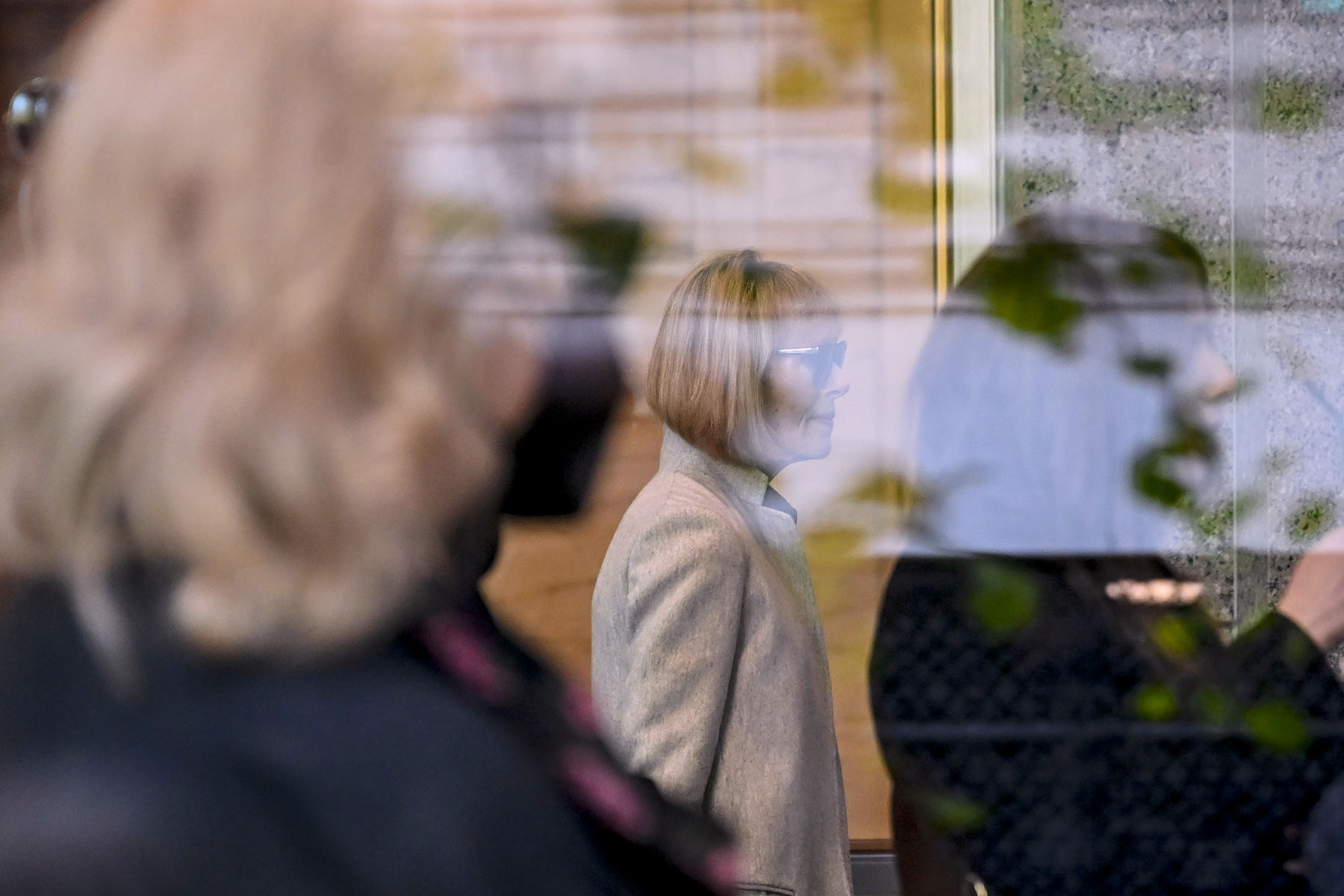 But while some GOP voters are fatigued and searching for an alternative, Trump's declared and would-be 2024 opponents have steered clear of commenting on the allegations — and verdict — against him.
"I was not on the jury, I am not the judge," fellow presidential hopeful Nikki Haley said in an interview on "Face the Nation" on Sunday when asked to weigh in as a conservative woman about whether it undermines the Republican Party for the front-runner to be found liable of sexual assault. "I think both of them had their voices heard and there has been an appeal. That's up to Trump to defend and to decide that," Haley said.
Florida Gov. Ron DeSantis, who is widely expected to announce his candidacy for the GOP nomination, declined to comment on the case.
"That group of 'always Trumpers' is big. And they don't want to offend them," said Republican strategist Sarah Longwell, who regularly conducts focus groups of GOP voters. "For most people, this kind of thing would be an opening to go attack your opponent, to say he's unqualified, to say that you're better. That's not what they're doing."
The jeering CNN town hall audience, made up largely of people who voted for him and are considering doing so again in 2024, had long ago decided much of Trump's behavior — including allegations of his treatment of women — were either acceptable or not a dealbreaker, Longwell said.
"When you're a star they let you do it" – Trump's rationale for grabbing women overheard on the "Access Hollywood" tape — couldn't be more true for a Republican primary audience, Longwell said.
"They bake in a different moral code for him … they think he lives in a different moral universe and he is a star and he's been with a lot of women," she explained.
While much of the backlash from the town hall focused on the audience's laughter, what's also notable is the people in the room who weren't laughing. But their stony silence shouldn't be mistaken for rejection, Longwell told me.
"Not everybody's on board with what he's saying, but there's a group of Republicans who don't think that stuff's funny, where they compartmentalize his moral behavior," she said. "They'll basically say, 'Look, I don't like his mouth. I don't like his morals. I don't like how he talks about women. But I agree with his policies.' They're OK with it in a different kind of way. They condemn it as a moral matter, but not as disqualifying."
---
On Monday, in an MSNBC interview with Rachel Maddow, attorney Roberta Kaplan and Carroll confirmed additional defamation charges against Trump for his town hall remarks are imminent.
"I couldn't believe the pain he was causing to thousands of people by joking about sexual assault — and I'd love to have Robbie Kaplan just shut him up," Carroll said.
This is just one of the ways in which Trump may again be held accountable by the legal system. He's also been indicted in connection with alleged hush-money payments to an adult-film actress and is being investigated for attempts to interfere with the Georgia election and, separately, over classified documents he took when he left office. He says no investigation or indictment will keep him from running from office, and he attacks the justice system's integrity.
While Trump's defiance of democracy isn't new, all this puts him in a different position than he was in 2016. His successor, a 30-year veteran of the Senate and former vice president, took office pledging a return to respect for the rule of law and the norms that have previously guided our politics.
The country remains deeply divided, between these two vastly different visions for America and who should lead it. It's the same divide that was there in 2015, when he first announced his candidacy — but now with a lot more evidence about what it means. The decision in 2024 will again in part come down to a question of character and whether it matters: Should the most powerful person in the world also be someone who has been proved to abuse people and power?
Disclosure: Sarah Longwell serves on the board of The 19th.