This column first appeared in The Amendment, a new biweekly newsletter by Errin Haines, The 19th's editor-at-large. Subscribe today to get early access to future analysis.
In 1923, on the 75th anniversary of the Seneca Falls Convention — considered the country's first women's rights convention — suffragist Alice Paul announced that she would be working for a new constitutional amendment that would call for equal rights for men and women in the United States.
A century later, the Equal Rights Amendment still has not passed, and American women are still not equal to men in our society. Yet American women are widely seen as independent, and our democracy has historically been a beacon, if an imperfect one, and a leader around the world.
In the coming months, The 19th will look to challenge long-held assumptions. In this column, building on my existing body of work around these issues, I'll explore the United States' role on gender equality around the world, why it matters, and how it intersects with the erosion of rights, the fragile state of democracy, and complex issues around race and identity.
"How are we pushing forward on equality if you're taking away rights?" said Mona Sinha, executive director of Equality Now, which advocates for legal and systemic change to promote women's and girls' rights. "Ultimately, it's going to harm our economy, education, safety, health care. … It all boils down to women not having the same status as men."
---
Nearly 30 years ago, at the 1995 United Nations' Fourth World Conference on Women, Hillary Clinton declared that "human rights are women's rights and women's rights are human rights." The convening in Beijing was a watershed moment in the global push for gender equality: 189 countries agreed on strategic objectives to consider factors including climate, poverty and violence as obstacles to full equality.
A decade later, UN member states adopted the Sustainable Development Agenda, with a 2030 deadline to achieve legal gender equality and the empowerment of women and girls. But the UN now estimates progress is happening so slowly that the world is centuries, not years, away from achieving that goal.
Organizers returned to Seneca Falls last week in a renewed call for the passage of the Equal Rights Amendment. Earlier this year, several members of the U.S. House of Representatives launched the ERA Caucus in an effort to make the legislation a national priority.
In the long battle for gender equality around the world, the prevailing narrative has been that the United States is still the leader among nations. But several recent reports paint a different picture, showing America lagging behind smaller, younger democracies in making progress toward parity across a number of issues.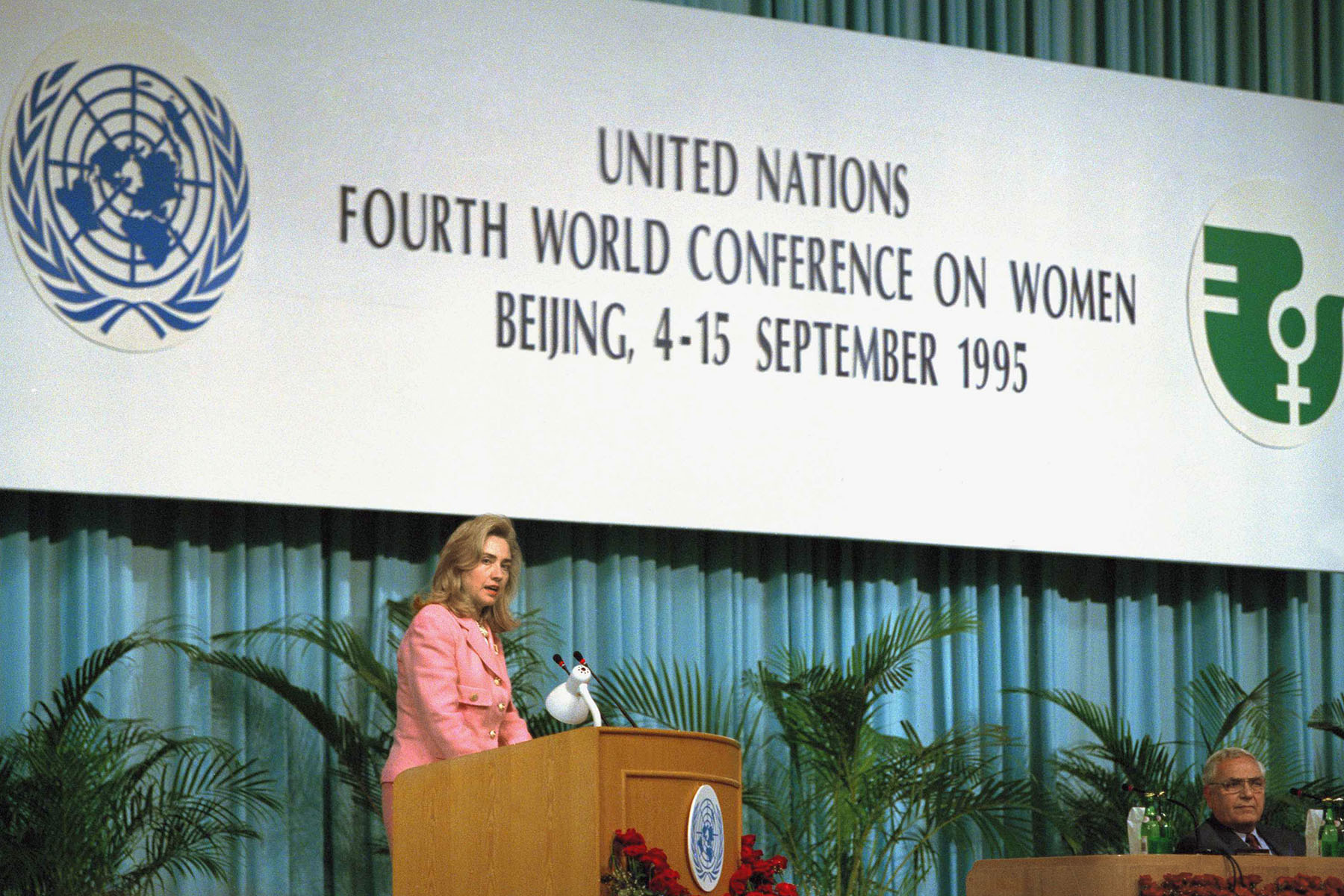 According to a pair of recent studies from the United Nations, no country has achieved full gender parity and fewer than 1 percent of women and girls live in a country with "high women's empowerment" — not including the United States. The Women's Empowerment Index, released last week, ranked America 21st in the second-highest ranking of "upper-middle women's empowerment," behind countries like Lithuania, Finland, Slovenia, Canada, Germany, France and Singapore. Six countries were labeled "high": Australia, Belgium, Denmark, Iceland, Norway and Sweden.
The analysis of 114 countries called for policy action on universal access to reproductive health, a focus on STEM education, quality child care and flexible work schedules, more equal participation in public life, and measures aimed at violence prevention.
---
In many ways, the United States is showing leadership: The second-most powerful person in the country is a woman of color. Women and LGBTQ+ people are running for and winning elected office in record numbers across the country. Women have earned the majority of college degrees for nearly a decade. Women are driving the post-pandemic return to work.
But America has never elected a woman as head of state, a distinction we share with more than 100 countries. State lawmakers are rolling back protections for LGBTQ+ people less than a decade after gay marriage was declared the law of the land. And the UN report cited the proliferation of abortion bans in states around the country, saying they "compound the challenges women face in accessing safe sexual and reproductive health care."
The world watches what happens in the United States: Just days after the decision in Dobbs v. Jackson Women's Health Organization on June 29, 2022, Liberian officials cited the case in their plea to end female genital mutilation, writing in a letter to their speaker of the House: "Even with the recent reversal of the landmark constitutional ruling in the United States of Roe v. Wade, majority of persons living in civilized democracies still believe that a woman right over her body is a private right and may not be interfered with by the State or traditional institutions."
---
In March, when I asked U.N. Ambassador to the United States Linda Thomas-Greenfield about the impact of the Dobbs decision on the world stage, she told me her counterparts are looking at that decision and are worried about how it will impact global policy.
"There's a real respect for what we do and what we promote and what we believe in, and real concerns about how that will change in the future," Thomas-Greenfield said, adding that part of what makes her job harder is that she has to "be able to explain to the world the contradictions that they see in our system."
"When we're pointing the finger of blame … I do have to talk about women's rights," she continued. "But ultimately, they still look at the United States as a role model."
Vice President Kamala Harris, who has been a leading voice in the administration on issues of gender, has also tied the state of democracy to the empowerment of women domestically and abroad. The United States has a Gender Policy Council, established by President Joe Biden soon after he took office. And the State Department has an Office of Global Women's Issues. But what would it look like to have a Secretary of Gender? Other countries have cabinet-level ministries dedicated to the issue.
---
In some ways, it feels like the Summer of the Woman.
"Barbie" is the movie of the summer, already grossing $337 worldwide (and an untold number of cosplay selfies). Director Greta Gerwig made history with the biggest opening weekend ever for a woman — and among the best debuts for any director.
Halfway around the world, the FIFA Women's World Cup is underway, with no shortage of compelling narratives featuring a range of women and their lived experiences, from veterans to rookies, as moms, and as athletes continuing to fight for equal pay.
These moments are on a continuum in the fight for gender equality, stretching back to Alice Paul's fight for the ERA, which began just three years after she'd helped win passage of the 19th Amendment. While the law secured the right for women, the Black women who fought alongside them for their access to the franchise were largely locked out under Jim Crow America. They, along with Latinas, Asian American and Native women would have to fight for several more decades to secure the ballot. 
Women were excluded from our founding documents, but the push for gender equality has been taken up by successive generations of women — and momentum is building again.
In the coming months, I'll be delving into issues of equality in health care, the economy, politics and more. What do you want to know about where the country stands on gender equality?