*Correction appended.
This Black History Month, we're telling the untold stories of women, women of color and LGBTQ+ people. Subscribe to our daily newsletter.
Joan Johns Cobbs was 12 and afraid as she looked onto the stage where her older sister, Barbara Johns, urged her fellow students at Robert Russa Moton High School in Farmville, Va., to protest the poor conditions of their segregated Black school. Like the students around her, Cobbs was inspired to join, and the 1951 student-led strike would eventually make civil rights history. 
Their student-initiated lawsuit protesting the conditions of their school would eventually become part of Brown v. Board of Education, the case that led to the landmark 1954 U.S. Supreme Court decision declaring "separate but equal" public schools unconstitutional.
A statue of Cobbs' sister, Barbara Johns, is being built to represent Virginia in the U.S. Capitol's Statuary Hall, replacing a statue of Confederate Gen. Robert E. Lee. Last month, the Virginia commission tasked with leading the effort selected a sculptor and unveiled a mock-up of the coming statue, which is rife with symbols alluding to the historic strike. The mock-up shows a teenage Johns in a defiant stance holding up a book; the floorboards beneath her feet are held up by stacks of books by Black authors. Johns died in 1991, and the high school is now a National Historic Landmark and civil rights museum.
To mark Black History Month, The 19th spoke with Cobbs about her reactions to the mock-up — which remains a work in progress — and what memories it conjures of her sister and the effort to fight for the rights of Black students.
Just a few weeks ago, the public got to see a mock-up of the statue of your sister, Barbara, that is planned for Statuary Hall at the U.S. Capitol. This statue will come to mark an important piece of American history. What do you remember about the events surrounding the strike, particularly when you look at the mock-up?
The day of the strike, I saw her standing on that stage, and she was telling us to do something that I knew could cause problems both at home and in the community. And I was afraid to follow her, but I knew I should, and that she would have been very upset if I hadn't. I knew that I had to listen to her and follow what she was saying. But yes, I was shocked and, like all of the other students, I didn't know anything was going to happen that day. I was in the same boat as everyone else, and listening to what she was asking us to do and wondering about the repercussions.
Black history reflections — and the path forward
At the same time, the condition of the school was bad. We had a school that was designed to hold 150 students and we had 450 students. Some of the students had to have classes in the auditorium and sometimes on school buses. And, instead of building a new school for us, they built three buildings around the main building, what we called tar-paper shacks — because of how they were made — and they looked like chicken coops.
In the winter, we had a pot-belly stove. And those students that stood closest to the stove were too hot, and those of us that were farther away were cold, and we'd have to sit in class with coats and boots on. The roof leaked, and teachers would tell us to put pails around the room. It was a terrible situation. We had books that evidently came from the White schools, and they were tattered and torn and written-on, and so we didn't have anything decent to learn with. No school, no books, no cafeteria, no gym, no science labs. So yes, the school was very inadequate.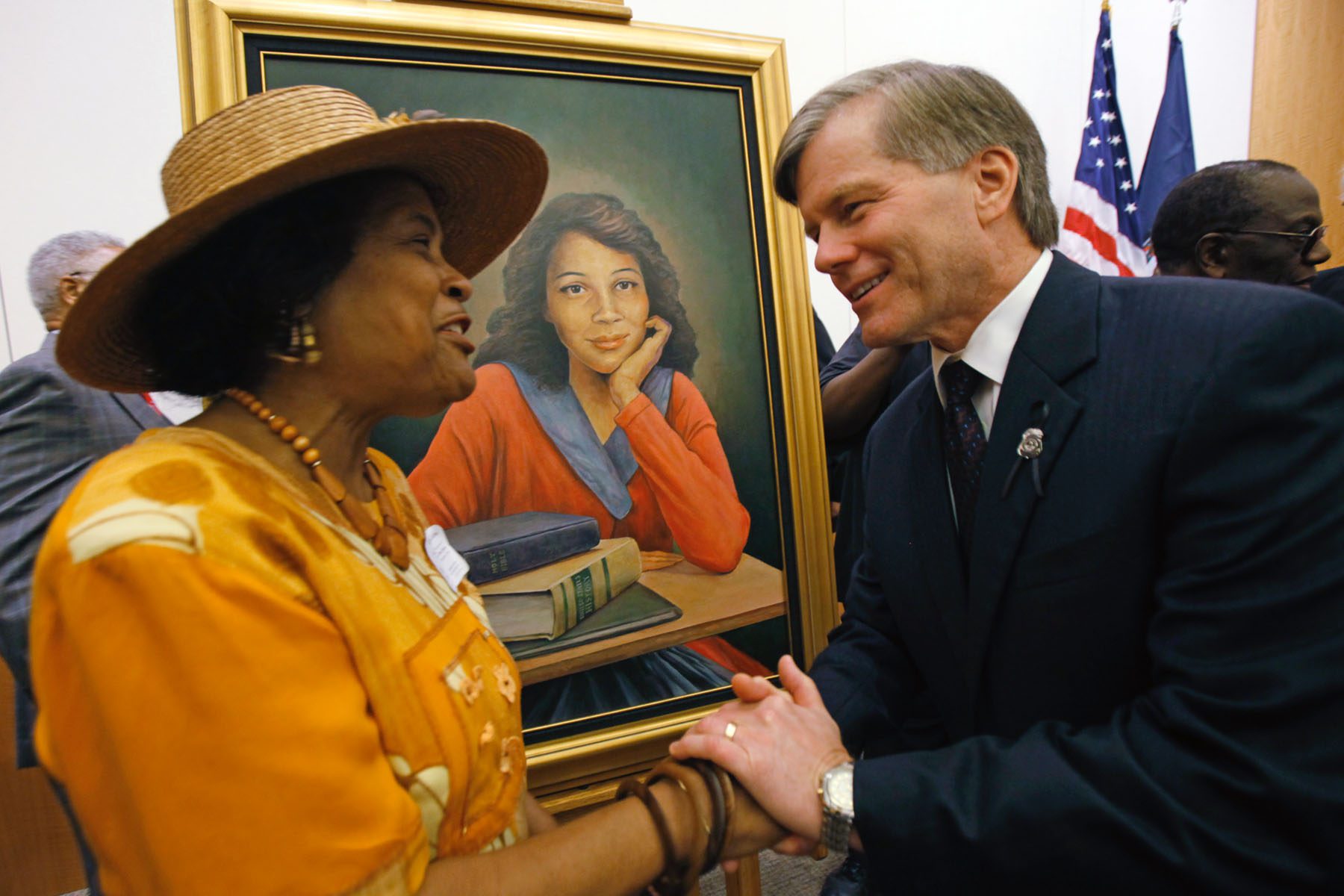 There are so many other small but meaningful details and symbolism in the mock-up. Which one stuck out the most to you, personally?
The fact that she's raising the book, you know, makes me think that that's an action photo. I think that captures some of the way she was and the fact that she was serious about what she was telling us. She was determined to try to make a difference. I mean, at that point, she was really just fighting for a new school. And, of course, you know, it had morphed into the fact that it became part of Brown v. Board. But the main thing she was thinking about was our rundown school and how she wanted to change that — she wanted to have a better school. That was the whole idea.
The title of the book she's holding — if any — still hasn't been decided. One member of the commission leading the process suggested that it might be a history book about Virginia. Do you have any ideas about what book it might be? What do you think Barbara would have chosen?
Barbara was a very studious person. She had read a lot of books about different authors, Black and White. And so, I'm not sure what type of book she would have held up or she would have been most interested in. I just remember that she read all kinds of books.
For me, the first book I would pick would be one about Harriet Tubman because in my opinion, she was the most courageous person, an almost unbelievable human. A person who performed miraculous deeds by freeing slaves, and she did it for years. I think she really believed in what she was doing, and didn't worry about the danger of it.
What else did you notice when you first saw the mock up?
Actually, when we did meet with the sculptor, he had a prototype, but it was not really Barbara, so we're going to meet with him and help with the image of her. We want to make sure the sculpture is of her likeness, as close as possible. We don't have many photos because during that time, our house burned down.
There is this one photo of her at that age that reminds me of how she was when she was speaking. This photo shows a side view of her when she was talking. It looks like the way she looked when she was standing on that stage and telling us to walk out of school. I think it shows her determination and her forcefulness. But I don't know what photo he's eventually going to use.
One detail that stuck out to me were the books by Black authors under the floorboards. This detail feels prescient given that there is this national debate about what books belong in schools and libraries, and in many districts across the country, including in Virginia, conservative leaders are pushing to ban some books, many by Black authors. Tell me about this particular detail, and how you are thinking about this issue in light of your sister's work?
I'm very disappointed about the fact that books are being banned, and particularly, in my state of Virginia. My home state seems to be one of those states that is trying to ban the books of Black authors and I think that's shameful. I can't understand it, because it makes no sense.
When we were young, we were not taught anything about Black history, and we only learned what our families told us about different Black leaders. My uncle [Vernon Johns] had a library, so we read a lot of his books. To think that schools nowadays are trying to ban books of Black authors is unbelievable.
A decision was made to depict your sister as a teenager, and I know you were supportive of this. Tell me about the importance of this detail — of Barbara as a young woman — and what you hope it will evoke for the public when they see it?
I think it should be a photo of her as a young person because I think that people will look at it and think about the fact that you can be young and still make a difference in the world by standing up for what you believe in. I believe that's what she did. I'm thinking that young people will see it and say, "Well, you know, maybe I can do something to effect change."
As a staff, we've decided to approach our Black History Month content by exploring Black resistance and the many ways African Americans have resisted all forms of oppression. How does your sister Barbara's legacy speak to Black resistance for you?
I thought my sister was a very brave and courageous person who stood up for what she believed in. In the face of injustice, she decided to do something about it. And I am very in awe of what she did, and only after I was older did I really understand the effect of what she did. To me, she was like a biblical character. When the Bible says, "A little child shall lead them." That's the way I think about Barbara.
Correction: An earlier version of this article misstated Joan Johns Cobbs' age and the proper name of the Moton Museum.