Same-sex marriage has been legal in Hawaii since 2013 and legal in the U.S. since 2015. But that does not mean it is accepted by everyone, including many who remain in influential positions.
A new coalition of local organizations that includes the American Civil Liberties Union of Hawaii has formed to push for repealing a section of the Hawaii Constitution they worry makes the right vulnerable to opposition. Section 23 reads, "The legislature shall have the power to reserve marriage to opposite-sex couples."
The Change 23 Coalition wants to put the constitutional amendment before voters next year. The coalition says it will demonstrate that the state where the same-sex-marriage struggle began 30 years ago is still a leader in civil rights.
In 1993, a ruling by the Hawaii Supreme Court made Hawaii the first state to consider legal challenges to same-sex marriage bans.
If voters do as the coalition wishes, they will reverse what voters did in 1998, when more than 2 out of 3 voters approved a constitutional amendment that gave lawmakers the power to limit marriage to opposite-sex couples.
"It is the only section in our Bill of Rights that was inserted to deny a right," said Jeff Hong, Change 23 Coalition chair and a board member of the local ACLU.
Hawaii approved same-sex marriage in 2013, about a year and a half before the U.S. Supreme Court. But it took a special session that drew thousands of passionate testifiers on both sides. It also was not a unanimous vote.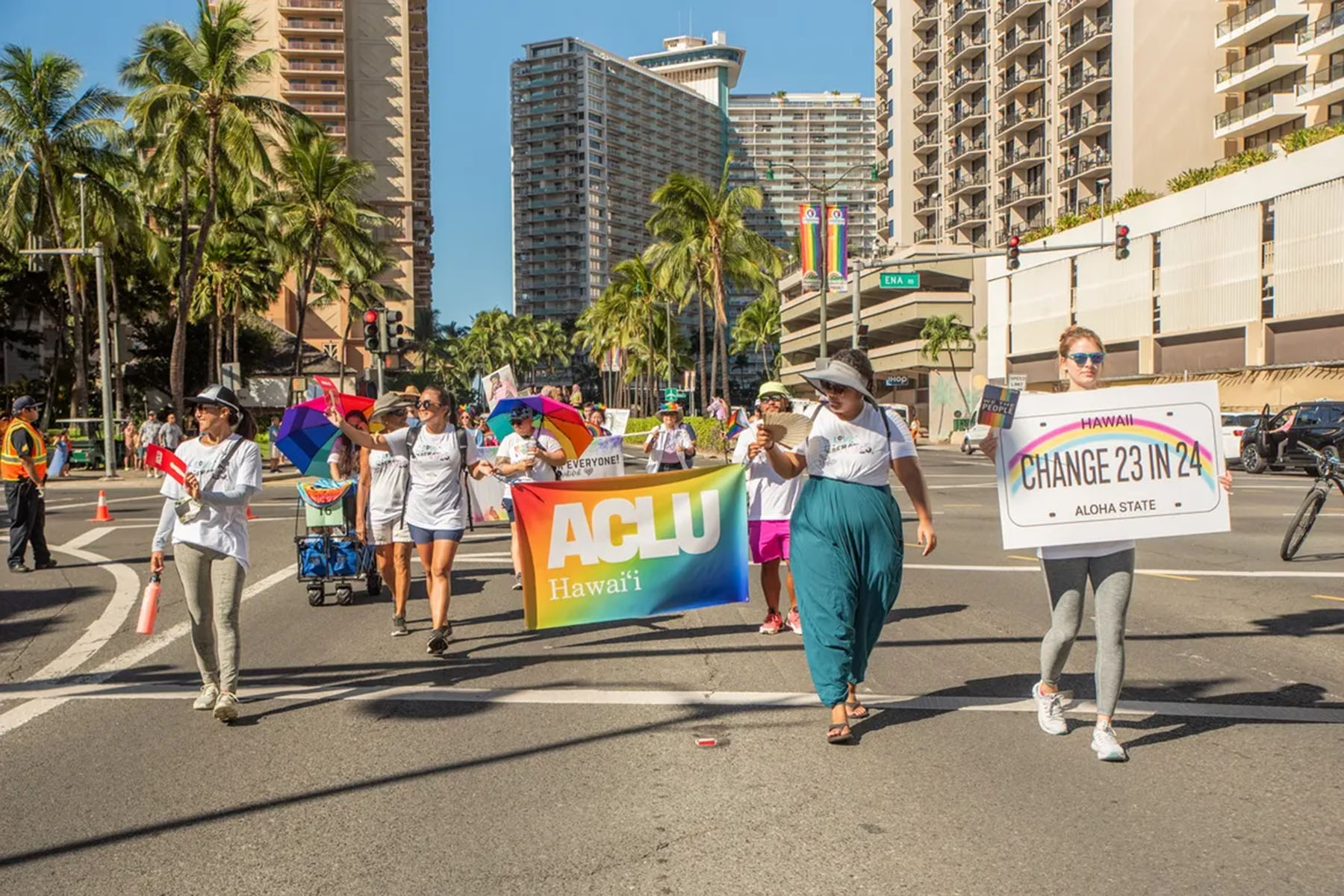 The repeal effort faces two major hurdles.
The first is getting both chambers of the Hawaii legislature next year to approve by a two-thirds majority putting a constitutional amendment before voters in November. While the legislature is controlled by Democrats who usually favor LGBTQ+ rights, there are conservative contingents that may well aggressively oppose the move, especially in an election year.
Then the constitutional amendment needs a majority for approval. In addition to "yes" and "no" votes, votes left blank and over-votes — that is, when someone votes for more than the maximum number of selections allowed — would count against it.
Only constitutional amendments have this requirement, and it has impacted the outcome of elections. In 1996, for example, a majority of voters narrowly approved a ballot measure to hold a constitutional convention. But the Hawaii Supreme Court ruled that the blank and over-votes had to be included in the total, and so there was no ConCon.
Hong said the Change 23 Coalition will work hard to get the vote out in both cases. In the legislature, he said Sen. Chris Lee and Rep. Adrian Tam are helping champion the repeal.
Tam said he thinks his colleagues will be supportive because most recognize the repeal's symbolic significance.
"As an openly gay man working in the Hawaii State Legislature, I can tell you that we are constantly reading the constitution and making sure that the bills we write fit within the constitution," he said. "But for me it is saddening to see how discriminatory Section 23 is. It's a constant reminder that the constitution does not fully represent me right now over that one sentence."
The majority vote in November may be more difficult, but Tam and Hong expressed hope that Hawaii voters would reject a growing backlash against LGBTQ+ rights as seen in recent battles over bathroom access, business transactions and school books and curriculum.
Changing landscape
The Change 23 Coalition is worried that a rising conservative tide could result in the rescinding of same-sex marriage rights. They point to the fact that there are still three U.S. Supreme Court justices who dissented in the landmark 5-to-4 decision in Obergefell v. Hodges that made same-sex marriage legal nationwide: Chief Justice John Roberts and Associate Justices Samuel Alito and Clarence Thomas.
Thanks to the Trump administration, the court is even now more conservative. In a 6-to-3 decision last summer — Dobbs v. Jackson Women's Health Organization — it rejected nearly a half century of precedence by taking away the constitutional right to an abortion.
After striking down Roe v. Wade, Thomas said the court "should reconsider all of this Court's substantive due process precedents, including Griswold, Lawrence, and Obergefell." 
Griswold v. Connecticut (1965) allows married couples to buy and use contraceptives, while Lawrence v. Texas (2003) struck down a statute making it a crime for two persons of the same sex to engage in intimate sexual conduct.
Meanwhile, the new Republican speaker of the U.S. House of Representatives, Mike Johnson, fought to ban same-sex marriage in his home state of Louisiana, authored articles that argued for the criminalization of gay sex, and once worked with a conversion-therapy organization.
Jeff Hong said the Dobbs decision on abortion was an important catalyst in forming the repeal coalition, which also counts as partners the Hawaii LGBT Legacy Foundation, the Hawaii Health and Harm Reduction Center, Papa Ola Lokahi and the Council for Native Hawaiian Advancement.
Honorary co-chairs include retired Hawaii Intermediate Court of Appeals Associate Judge Dan Foley and retired Hawaii Supreme Court Justice Steve Levinson, who played leading roles in making marriage equality a reality.
This story originally appeared on Honolulu Civil Beat, the only news outlet in Hawaii dedicated to public affairs reporting. Its mission is to engage and educate the community on important public issues through in-depth reporting, explanatory and investigative journalism, analysis and commentary.