Lady Maga USA still has a blonde wig, heels and a beauty pageant sash. She still goes to Republican rallies and meetings in gowns.
She just doesn't call herself a drag queen anymore. A lot has changed in three years.
"The perception, especially among conservatives, of drag queens was getting more and more negative, and I wanted to differentiate myself," said Lady Maga, a conservative Republican whose name outside performance is Ryan Woods.
Today, Woods calls himself a "costume artist." He knows most LGBTQ+ people think he's working against his self-interest. He's fine with it.
While few LGBTQ+ people are conservative, their influence on Republican politics — in particular their willingness to cast themselves against mainstream LGBTQ+ rights— has given them outsized power in conservative circles.
Republican lawmakers have flooded statehouses with hundreds of anti-LGBTQ+ bills since 2020. Many gay conservatives are backing those lawmakers headed into the 2024 election regardless. The 19th first spoke to Woods in 2020, ahead of the election, and reached out to him and other LGBTQ+ conservatives again recently to gauge their views on politics ahead of the 2024 election.
Woods firmly supports former President Donald Trump. So does gay conservative Mario Presents.
"I feel that the Republican Party is actually very open to LGBTQ rights," Presents said. "Donald Trump went into office supporting LGBTQ rights."
LGBTQ+ advocacy organizations have largely dismissed claims that Trump backed equal rights at all, tallying actions he took to dismantle LGBTQ+ rights during his time in office.
Even still, Woods and Presents support the former president and other GOP contenders not despite their stances on LGBTQ+ issues, but often because of them. Many gay conservatives have embraced the GOP's increasingly harsh rhetoric on transgender children.
Presents campaigns against trans rights — often in stilettos. He backed a bill banning gender-affirming care for trans youth in Nebraska this spring.
"I 100 percent believe that if you're over the age of 18 you should have every access to whatever you want," he said. "For me, gender-affirming care is one of those things that we very much need to prevent children from receiving before the age of 18."
LGBTQ+ advocates have labeled this line of thinking as "extremist" and not unlike the policies pitched by straight conservatives they say aim to erase transgender people from public life.
Progressive news watchdog Media Matters accuses Presents and others in the anti-trans "Gays Against Groomers" group of profiting off of transphobia. It noted that Presents has peddled QAnon conspiracy theories.
As of 2020, The Williams Institute at the UCLA School of Law reported that of the 9 million queer people registered to vote, just 15 percent self-identified as Republican. Transgender people made up just 2 percent of all Republicans.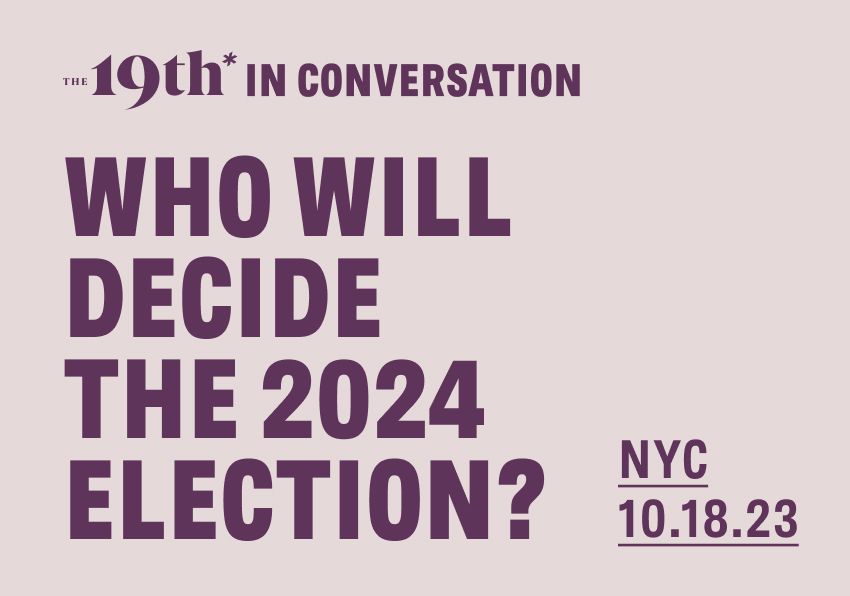 Originally aired on Oct. 18, 2023
One year out from the 2024 presidential election, The 19th visited the Diane von Furstenberg Studios in New York City for a bold and urgent event on civic engagement and voting rights. 
The 19th's annual poll found that as of 2023, just 11 percent of LGBTQ+ people identify as Republican. Still, some, like Woods, believe that the number of gay conservatives has grown.
"It's not a fringe group of a few people here and there," Woods said. "In 2019, it was a lot smaller, but the exodus from the LGBTQIA+ group-think is very, very real."
The Williams Institute survey found that 41 percent of LGBTQ+ Republicans wished they could be heterosexual, compared with 17 percent of Democrats.
Goud Maragani, president of the Utah branch of the gay conservative organization Log Cabin Republicans, said it's unclear if gay conservatives matter at all when it comes to deciding elections.
"We've had a tremendous growth in the organization over the past almost a year now, with a lot more gays showing up and … kind of feeling like they've been left out because they're not liberal," Maragani said of his own Utah-based chapter.
Earlier this year, Woods spoke in support of Senate Bill 16 in Utah, which bars gender-affirming care for kids.
For Woods, who grew up loving Disney princesses and Barbies, the issue is personal.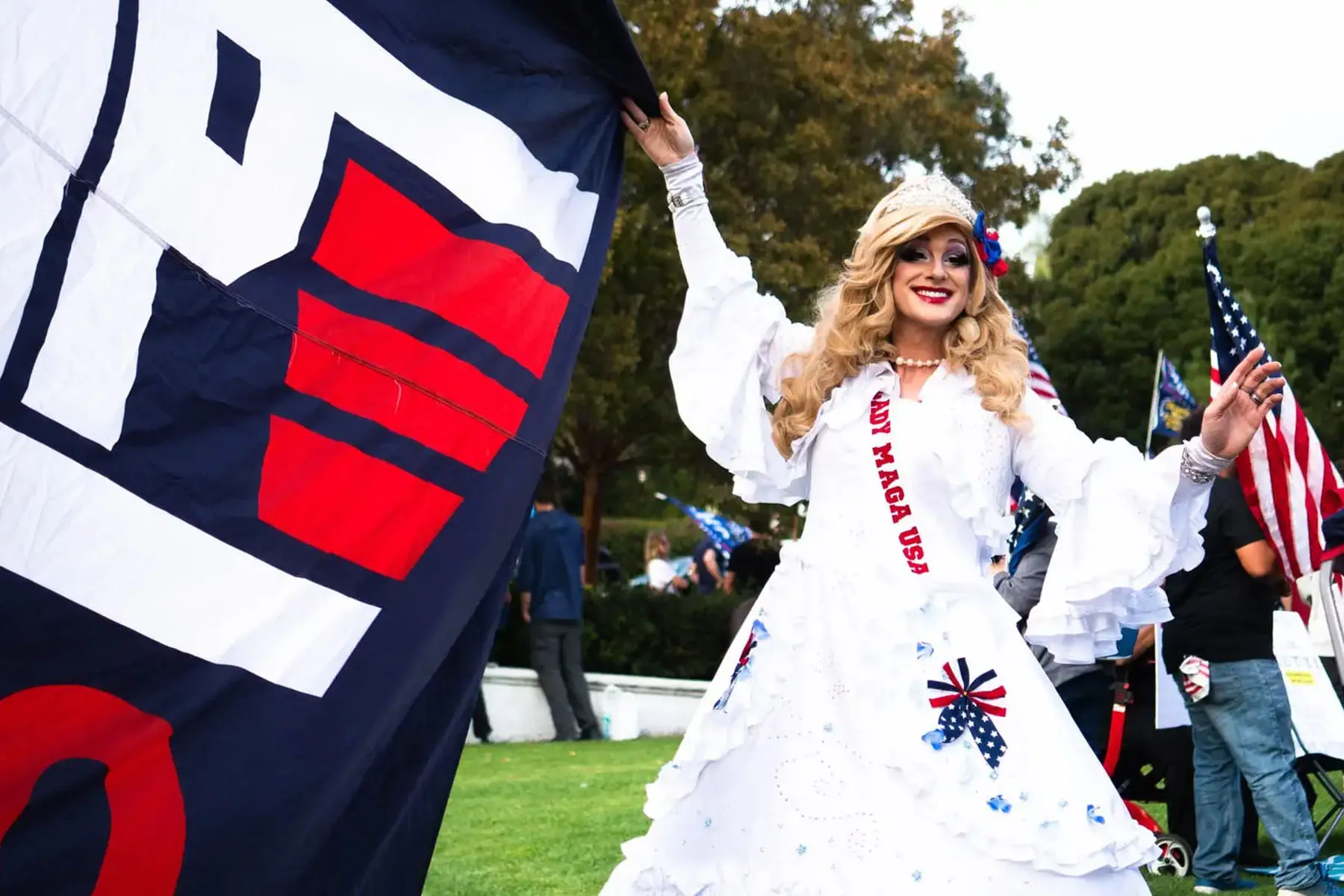 "I really do believe in my heart that children like me are not being given the opportunity to just explore what they love," Woods said.
Woods is positive that if he were born to progressive parents today, they might convince him that he's transgender. He worries that gay children can't grow up to be gay anymore, that transgender as an identity is being forced on kids who express any gender variance.
"I'm a little different because I would say, honey if you got a little boy and he loves dresses, let him wear the damn dress. You know, let him play with Barbies. I grew up forbidden to do those things. And it was very hard for me. I wasn't allowed."
Mormon-raised in a house that rejected homosexuality, Woods endured years of bullying and hid his desire to wear dresses. He attended Brigham Young University and even attended anti-gay conversion therapy. He dated a woman. But at 22, the fact that he was gay was undeniable. He came out.
Years later, Woods would make up for lost time by performing in drag. And that drag would make him a mini-celebrity in conservative circles. He would also tell his story — of liking dresses and dolls — but ultimately ending up gay as a counternarrative against the stories of transgender youth.
Presents also had a traumatizing experience coming out to his parents.
"When I was 19, I did tell them. I said, 'I think I'm gay,'" he said. "And instead of kicking me out, they locked me in."
Presents said he had no phone, no internet, no car and no way of leaving or communicating with people. His parents told him he could not be gay. He ran away from home.
"So I went out into this world unprepared," he said. "I was raped, I was assaulted. I fell into drugs."
Years later, he still doesn't talk to his parents, who he noted are Democrats. But extended family members have seen him on Fox News and Newsmax. They call him to say they are proud and excited.
"I tell people I'm proud that I've been able to grow beyond … the little boy that needed the affirmation from his parents," Presents said.
Not every LGBTQ+ conservative is proud of where the movement has gone, however. Jennifer Williams is still calling herself a Republican, but that label comes with a lot of explanations lately about the history of the party and what it used to be. Williams is the first transgender city council member elected in New Jersey.
"I came to consider myself a conservative and migrated to the Republican Party when I was a young person because of fiscal issues, fiscal conservatism, military foreign policy, larger things like that," Williams said.
Opposing LGBTQ+ rights seems antithetical to the conservative values Williams holds.
"What is important to our country and being an American?" she asked. "Is it the path of restricting the freedoms for LGBTQ people … then having a government determine what their happiness is going to be or what their life outcome could be based on discriminatory laws that you want?"
Williams said she sees a split in LGBTQ+ conservatives. Some are abandoning mainstream, anti-LGBTQ+ GOP politicians because they know and love transgender people. That was the evolution for conservative political strategist Rick Colby, whose son is trans.
Colby is with the group GRACE, which aims to platform moderate and Republican parents of trans kids. Colby and other conservatives have been speaking out following the September 27 Republican primary debate in support of transgender people.
"Parents' rights are like free speech — you can't just be for them when you agree with what's being said," Colby said in a statement. "We parents of transgender children love our children dearly and should continue to be allowed to make decisions about their medical care to do what's best for our children."
Williams said Republican candidates should consider voters like Colby. LGBTQ+ people have families, co-workers and neighbors.
"That's a voting bloc that these politicians who are pushing these policies should think about," Williams said.