Your trusted source for contextualizing the news. Sign up for our daily newsletter.
Many people with disabilities in the United States face a heart-wrenching choice: marry their partner and risk losing their life-sustaining disability benefits, or remain unmarried — and perhaps have to keep their relationship a secret — to keep their benefits.
Advocates describe it as one of the final frontiers of marriage equality, and part of the problem is that most people without disabilities, including legislators, are unaware that the so-called marriage penalty exists.
To raise awareness, more than 100 people with disabilities are expected to participate in a mass commitment ceremony on the National Mall Wednesday in a protest hosted by the Disability Rights Education and Defense Fund, a civil rights law and policy organization.
"A lot of people believe marriage equality is over and that everybody can get married," said Ayesha Elaine Lewis, a staff attorney at the Disability Rights Education and Defense Fund. "When we talk to folks, the response is generally, 'I can't believe this.' People just don't know, and that needs to change."
The reasons many disabled people cannot marry are more complex than the prohibitions that outlawed same-sex or interracial marriage, and the impacts are potentially life-threatening.
"There's no rule or law that explicitly says disabled people can't get married," said Robyn Powell, an associate professor of law at University of Oklahoma. "But there are marriage penalties baked into existing benefit programs related to income. These rules prohibit people with disabilities from marrying not explicitly, but implicitly because they would no longer be eligible for benefits."
Supplemental Security Income (SSI) is the most significant of the programs that have a marriage penalty. SSI provides monthly payments to people with disabilities and older adults who have little to no income. A single person receiving SSI can have no more than $2,000 in the bank at any given time to qualify for benefits. Couples, on the other hand, can have no more than $3,000 — a 25 percent reduction in benefits. If two people on SSI marry, they essentially experience more punitive restrictions on their assets — in other words, a marriage penalty.
Qualifying for SSI is important, even for people with significant disabilities who can work, because eligibility is tied to being able to receive home and community-based services covered by Medicaid in many states. Medicaid is the only health insurance that provides in-home care, and the average cost ranges from $51,000-$70,000 per year, according to the Government Accountability Office. Even most people making middle-class income in salaried jobs cannot afford that level of care out of pocket.
Marrying someone non-disabled can also easily push a disabled person over the threshold into not qualifying for SSI, based on that person's savings and income.
"Someone could be making the federal minimum wage, and if they're working full time that's enough to trigger reducing a person receiving SSI's monthly benefit," Lewis said. "If you marry someone who is making even $40,000, that's enough money for the government to say you married someone who can take care of you completely."
Amber Weise, 24, and her husband, Devin Weise, 26, knew the risks and decided to get married anyway.
"We're religious. We felt it wouldn't be right not to be legally married. It would have been going against our religious convictions," Amber Weise told The 19th.
Weise has spinal muscular atrophy, a neurodegenerative disability that impacts her ability to move on her own. She relies on a power wheelchair and needs assistance doing everyday tasks like transferring from her bed to her wheelchair and using the restroom.
She and Devin met on a now-defunct Christian Instagram meme page in 2019. Devin does not identify as disabled. They were both invited to a group chat to review and provide feedback on memes before they were posted. They began chatting on their own and struck up a long-distance relationship. Eventually, he flew out to meet her parents. They married in 2020. Devin worked at a hospital and Amber stayed home.
"During the first year of our marriage, my husband got a raise from $15 an hour to $18 an hour that made me completely ineligible for SSI," Weise said. She also lost home care hours. He continued working initially because they needed the money, and because they thought it would be a temporary situation.
"Most days, I just didn't have any care for those eight hours he was gone," Weise said. Since she is unable to use the restroom without assistance, she stopped drinking water in an effort to not have to go while he was gone.
"I drink very little — I basically dehydrate myself and just hope nothing happens," Weise said.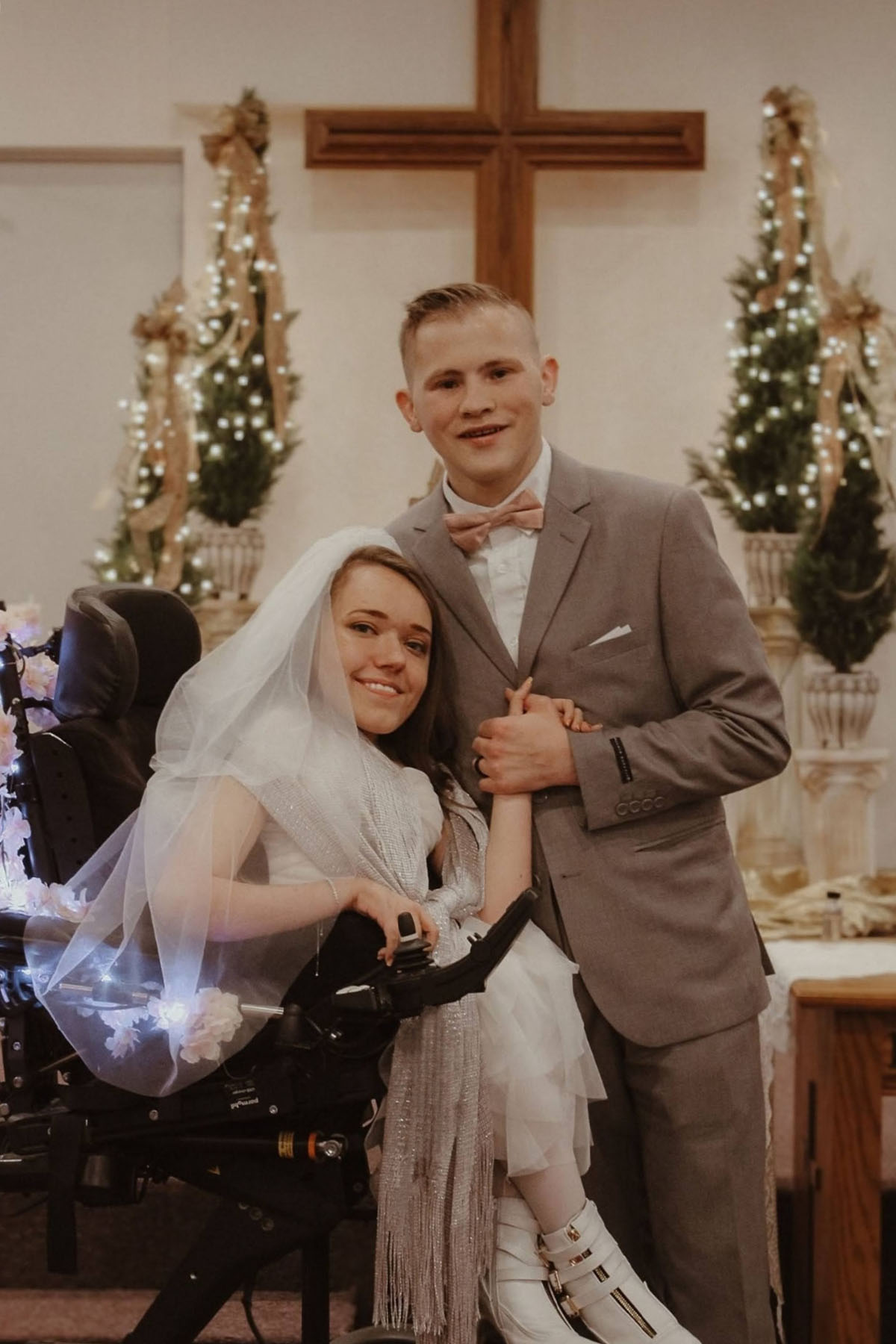 She also has low respiratory function and uses a machine called a CoughAssist to help clear secretions. She cannot use it on her own.
"If I was alone and I needed it, that could have turned into a life-threatening situation," Weise said.
Weise's husband eventually quit his job to work full time as her caregiver. He is receiving some payments from Illinois now, but ironically the payments could drive Weise into further ineligibility for SSI.
"We're planning to go to the Social Security office, because there might be a possibility that they'll exclude that income. But I'm not really sure if they will," Weise said.
Marriage penalties exist for a number of reasons, but foremost among them, according to Powell, are outdated assumptions about disabled life.
"Social Security asset and income rules have not been changed in over 30 years, so we're dealing with very archaic rules in general. These policies and benefits programs were established during a period where people with disabilities weren't expected to get married or have families," she said.
There is also the specter of fraud — the possibility that people with disabilities might somehow collect money they don't need. "There's the assumption that people with disabilities must be committing fraud. That if you marry someone with income, that person must be able to support you," Powell said.
Related to fraud concerns, couples do not even need to be legally married to risk losing their benefits. Simply appearing to be in a relationship can result in a loss of benefits.
"In SSI, there's also a rule where if the government thinks that you're pretending not to be married, then they can treat you as if you're married. That keeps folks from sharing the relationships on social media, sharing their relationships with the public," Lewis said.
Advertisements for the mass commitment ceremony are careful to specify that the event is not legally binding and in fact, should be viewed as performance art, in order to protect participants from potentially losing the disability benefits they rely on. The assertion that everyone is acting, that they may not be in relationships, is designed to provide a degree of plausible deniability.
There are some legislative efforts to end the marriage penalty. On Tuesday, Democratic Ohio Senator Sherrod Brown and Republican Senator Bill Cassady of Louisiana introduced legislation to raise asset limits for SSI to $10,000 for individuals and $20,000 for married couples, ending the reduction faced by couples currently. The amounts would also be pegged to inflation, in order to keep up with changes in cost of living. The bill was previously introduced in 2022 but died in committee.
Why hasn't there been a legislative fix for this issue? The reasons are complex. Lewis believes that it is a combination of lack of awareness and the fact that hyperpartisanship has made it difficult for Congress to pass legislation in general.
Weise and her husband will be attending the mass commitment ceremony in Washington, her first time visiting the nation's capital. She has hope that the policies will change in her lifetime.
"I'm going to wear an ivory dress. There's this idea that at a wedding, you wear a white dress to symbolize purity. I'm wearing ivory to symbolize that for disabled people, we don't have the purity of the fundamental right to get married without risking our lives," she said.