We're answering the "how" and "why" of abortion and politics news ahead of Election 2024. Sign up for our daily newsletter.
Democrats and abortion rights advocates in New York are pushing for a novel equal rights amendment they hope will establish the state as a haven for abortion access, boost Democratic enthusiasm in 2024 and set a roadmap for other states.
New York lawmakers have, in two consecutive sessions, passed the New York Equal Protection of Law Amendment, which would ban a wide range of discrimination based on sex, expressly including sexual orientation, gender identity and expression, pregnancy and pregnancy outcomes. It would also ban discrimination based on age, disability, ethnicity and national origin and establish a constitutional right to abortion and other reproductive health care.
The measure will now appear on the ballot in November 2024 for final approval, requiring a majority vote to pass and be enshrined in the state constitution.
Andrea Miller, president of the National Institute for Reproductive Health, a national advocacy group, described the amendment as "exciting" and a "first of its kind" in how it expressly links sex discrimination and reproductive rights to LGBTQ+ rights and others. 
"This would be the first time that a state constitution would explicitly name all of those as being encompassed by sex discrimination and within the context of sex discrimination," she said.
Advocates and lawmakers began pushing for the amendment, sponsored by state Assembly Member Rebecca Seawright and state Sen. Liz Krueger, before the Supreme Court's decision in Dobbs v. Jackson Women's Health Organization in June 2022.
A coalition of advocacy groups are spearheading a coalition backed by Democratic leaders like Gov. Kathy Hochul and House Minority Leader Hakeem Jeffries that launched last week to pass the amendment, with plans to put $20 million toward it, The New York Times and Axios reported. 
New York Democratic leaders, like Hochul, also said they hope the measure will drive voter enthusiasm and turnout that will benefit Democratic candidates. In some ways they see the amendment as testing the mobilizing power of abortion rights.
"The ERA isn't just about a single issue," said Emma Corbett, state director of communications for Planned Parenthood Empire State Acts. "Fewer and fewer voters are single-issue voters these days. There's this real opportunity to codify those freedoms for New York, and I think voters are gonna respond positively to that."
The issue of abortion helped Democrats overperform nationwide in the 2022 midterms, with ballot measures expanding abortion access also outstripping many Democratic candidates. But Democrats in New York underperformed and lost control of several vital seats in the House of Representatives, allowing Republicans to recapture control of the chamber.
The expansive reproductive rights protections in the New York Equal Rights Amendment have drawn opposition from conservatives and anti-abortion advocates. The New York State Catholic Conference called them "gratuitous" and "another unnecessary step in the state's quest to be the abortion capital of the country."
"New York State should be pouring resources into helping women and families, not promoting abortion through limitless funding, advertisements, and splashy legislation," the organization said in a January statement opposing the amendment.
New York has seen a slight increase in abortions performed in the state between May 2022 and March, according to a recent report from #WeCount, a project of the Society of Family Planning. The report found New York providers performed 258 more abortions on average per month after the Dobbs decision compared to April 2022 levels. The increase is relatively low compared with Illinois, Florida and North Carolina. Those states have absorbed much of the demand from Southern and Midwestern states that have banned the procedure.
But Republicans in North Carolina enacted a new 12-week abortion limit that went into effect on Saturday. In Florida, which currently has a 15-week limit, lawmakers passed an additional six-week ban poised to go into effect this summer pending a ruling from the state supreme court.
As more states ban or restrict abortion, advocates expect Northeastern states like New York, which have major cities and accessible transportation hubs, to become more crucial for out-of-state patients.
"We think New York will become an even more important access point, because the reality is there's only so much that a single state can absorb in terms of those seeking reproductive health care services," Miller said.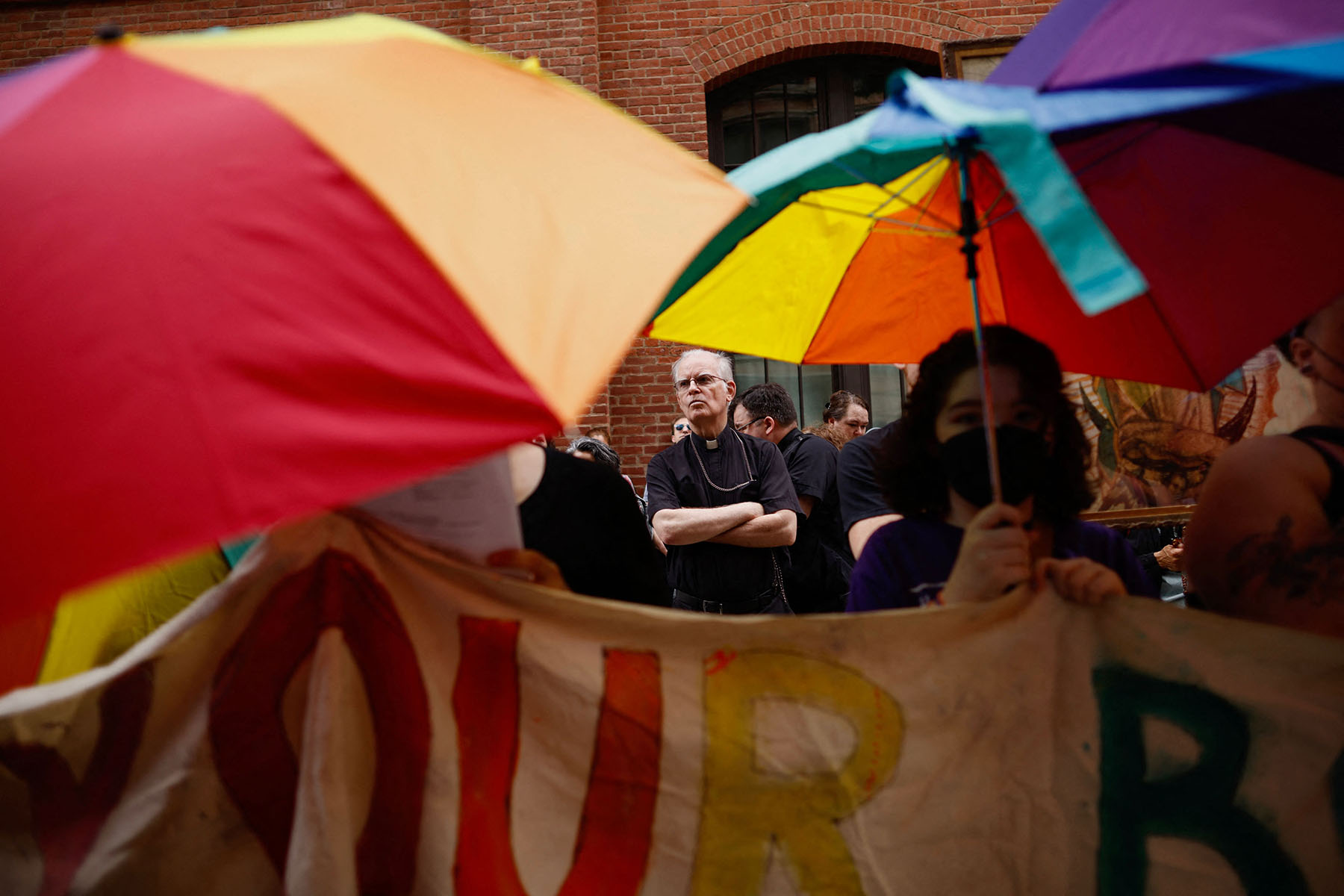 New York Democrats fortified abortion rights with the Reproductive Health Act in 2019, which changed state law to no longer classify abortion in the criminal code and allowed abortion to save a patient's life at any point in pregnancy.
Since taking office, Hochul and Democratic lawmakers have also allocated more funds to increase state reimbursement rates to abortion providers and expand access on college campuses, which advocates say provides more consistent and dependable access for patients. Corbett said those resources were crucial to helping clinics stay afloat in the post-Dobbs world but that more funding will be needed.
The amendment's inclusion of civil rights and anti-discrimination protections for LGBTQ+ New Yorkers also reflects a rising recognition of the interconnectedness of the attacks on abortion and LGBTQ+ rights unfolding across the country. In 2023 legislative sessions, many Republican-controlled states have sought to restrict abortion and gender-affirming care for transgender youth.
A growing number of Democratic-controlled states, including New York, have passed "shield laws" protecting patients and providers of abortion and gender-affirming care from punishment or retribution based on other states' laws.
"As individuals, we don't belong or subscribe to just one particular demographic," Corbett said. "We live intersectional lives, and our rights and freedoms must reflect this."
Even though New York is solidly blue at the federal level and Democrats control the state legislature, advocates aren't taking the current political environment for granted. They note that the push to pass New York's Reproductive Health Act took about a decade because of a bloc of conservative Democratic lawmakers in the state Senate who often aligned with Republicans.
"The vicissitudes of the political winds are ones that our rights and freedoms should not rest on," Miller said. "And so we see this constitutional amendment to be important for New Yorkers, and we also see it as a potential model as advocates and elected officials in other states who are seeking new avenues to create safeguards."
The federal Equal Rights Amendment was first introduced in Congress 100 years ago in 1923 but is still not ratified into the U.S. Constitution. Over 20 states have an equal rights amendment in their state constitutions, according to the Brennan Center for Justice, and still others have more limited gender equity protections.
The U.S. Supreme Court overturning Roe v. Wade made state supreme courts and state constitutions critical to fights over abortion access. Voters in three states — California, Michigan and Vermont — approved constitutional amendments enshrining an affirmative right to abortion and other reproductive health care in the 2022 midterms.
A coalition of advocates in Ohio submitted over 700,000 signatures on Wednesday to get a constitutional amendment codifying abortion rights to appear on the ballot in November. Efforts in Florida, Missouri and South Dakota are underway to put similar measures codifying abortion access on the ballot in 2024.
Above all, Corbett said, the amendment is a guardrail against shifting political winds that also stands as an expression of New York values — and a message to the rest of the country.
"It's important for our state to take this step and pass the ERA to really say, and put a stake in the ground, that these are our values, these are our rights and freedoms that we hold so sacrosanct," Corbett said. "By putting them in place, we can send a message, not only to our fellow New Yorkers, but to people living in other states that this is the path forward."