What do you want to know about abortion? We want to hear from you, our readers, about what we should be reporting and how we can serve you. Get in touch here.
CHARLOTTE, N.C. — The kids were sleeping and it was still dark when Rocky left her house in Stockbridge, Georgia. It was 4:30 a.m., but she knew she and her fiancé had to leave early to make it to the clinic, which was a four-and-a-half hour drive — maybe a little less if they could beat traffic.  
Rocky thought she'd caught her pregnancy early enough. A 31-year-old paralegal, she'd tested only a few days after missing her period and took two days to think about what to do. She realized that her family couldn't afford another child — she already had three kids, ages 3, 10 and 11.
Five years ago, Rocky, who asked to be referred to by a pseudonym because of the stigma surrounding her decision, had gotten another abortion at a clinic 20 minutes from her house. On a Friday morning in mid-June, she walked into the Georgia clinic again. The building, so crowded with patients last time, was conspicuously empty.
Rocky learned at the clinic that she was about six weeks and two days pregnant, too late for Georgia, which, as of last July, had banned abortions past six weeks. From Stockbridge, a city just outside of Atlanta, she only had two close options: She could drive about five hours south to Jacksonville, Florida, or she could trek north to Charlotte. The Charlotte clinic had an opening in a week; by the time she got her abortion, she would be just past seven weeks of pregnancy.
So this was the plan when she set off in the wee hours of the morning with her fiancé: She'd get her abortion pills in Charlotte, grab some lunch and drive back. Her cousin could watch the kids while they were gone.
In a few weeks, on July 1, North Carolina was set to begin enforcing its own new abortion law, cutting off access for anyone later than 12 weeks and imposing strict new regulations on how the state's clinics could provide abortions. Had Rocky been a week or two later in her pregnancy, her journey — juggling travel costs, child care and time off for the trip — may well have been impossible.
She had made it just in time. And, with the new state laws looming, Rocky could be in the last group of patients able to reliably access abortion care in the American South.
---
In the year since Roe v. Wade was overturned, a handful of Republican-led states across the country have pushed to outlaw abortion entirely. The impact has been most obvious in the South, where only three states currently allow abortion past six weeks of pregnancy — and all three are pushing to enforce new restrictions on the procedure. The near-total bans and tight restrictions will disproportionately affect Black Americans — the majority of whom live in the South, and who already face higher rates of pregnancy-related deaths.
Florida, where abortion is currently legal up to 15 weeks, is expected to enforce a six-week ban later this year, pending a ruling from its state Supreme Court. In South Carolina, a legal challenge has blocked enforcement of a newly passed six-week abortion ban for now. It's not clear how that state's court will rule, but access in that state is already tenuous: Only three clinics provide abortions, and none go beyond 14 weeks.
So if North Carolina's 12-week abortion ban takes effect July 1, the region will lose one of its last remaining access points for people seeking an abortion. While the law's 12-week limitation will cut off access for people seeking abortions in the second trimester, clinicians are perhaps most worried about its other provisions: namely, a stipulation that people make two in-person visits to a clinic for an abortion, separated by 72 hours. More than a new time limit on abortion, they said, that provision will make it impossible for most people traveling from out of state to access care in North Carolina.
On Wednesday, a federal judge in Greensboro will hear arguments in a lawsuit filed by the state's Planned Parenthood clinics, who have argued that many of the law's new provisions are vague, irrational or impossible to comply with. The clinics are asking that the law be blocked from taking effect while the case proceeds.
Currently, abortion in North Carolina is allowed up to 20 weeks, and while the state already has a 72-hour waiting period, the first visit currently can be completed over the phone. Almost as soon as Roe fell, North Carolina's abortion clinics saw a surge in out-of-state patients — pregnant people from Georgia, Alabama, Mississippi, Louisiana and Tennessee flooded the clinics across the state. Floridians who couldn't meet their state's 15-week cutoff also traveled to North Carolina. In the first nine months after the Supreme Court decision, North Carolina clinicians performed almost 8,000 more abortions than would have been typical. Only Florida and Illinois recorded larger increases.
At A Preferred Women's Health Center, the Charlotte clinic that Rocky visited, that change was visible immediately. Before the decision in Dobbs v. Jackson Women's Health Organization — which ended federal abortion protections — 20 to 30 percent of patients were from a state other than North Carolina. Now, that figure has doubled.
The clinic is one of the centers of the post-Dobbs landscape. Clinic staff estimate that about 40 percent of the out-of-state patients got their abortions at one of A Preferred Women's Health Center's North Carolina two health centers, in Charlotte or in Raleigh.
Calla Halle, the clinic's executive director, has met multiple times with Vice President Kamala Harris, the public face of the Biden administration's abortion rights response, who spoke in Charlotte on June 24, the one-year anniversary of the Dobbs decision. In her speech, which largely focused on the national impact of overturning Roe, Harris singled out the looming North Carolina law, calling it an "extreme ban" that was passed "overruling the will of the people."
On weekdays, the Charlotte clinic tries to limit capacity to 60 patients; on Fridays and Saturdays, though, the number of people on the schedule approaches 100. The clinic is so busy that workers had to change what abortions they provided. In the past, doctors here performed abortions up to the state's 20-week limit, a time-intensive procedure best performed over two days. But to see as many patients as possible, they scaled back, asking patients not to schedule an abortion at the clinic if they thought they were later than 13 weeks. If people were further along than they realized, the clinic's physician on duty would try their best to care for them anyway, as long as they were below 20 weeks.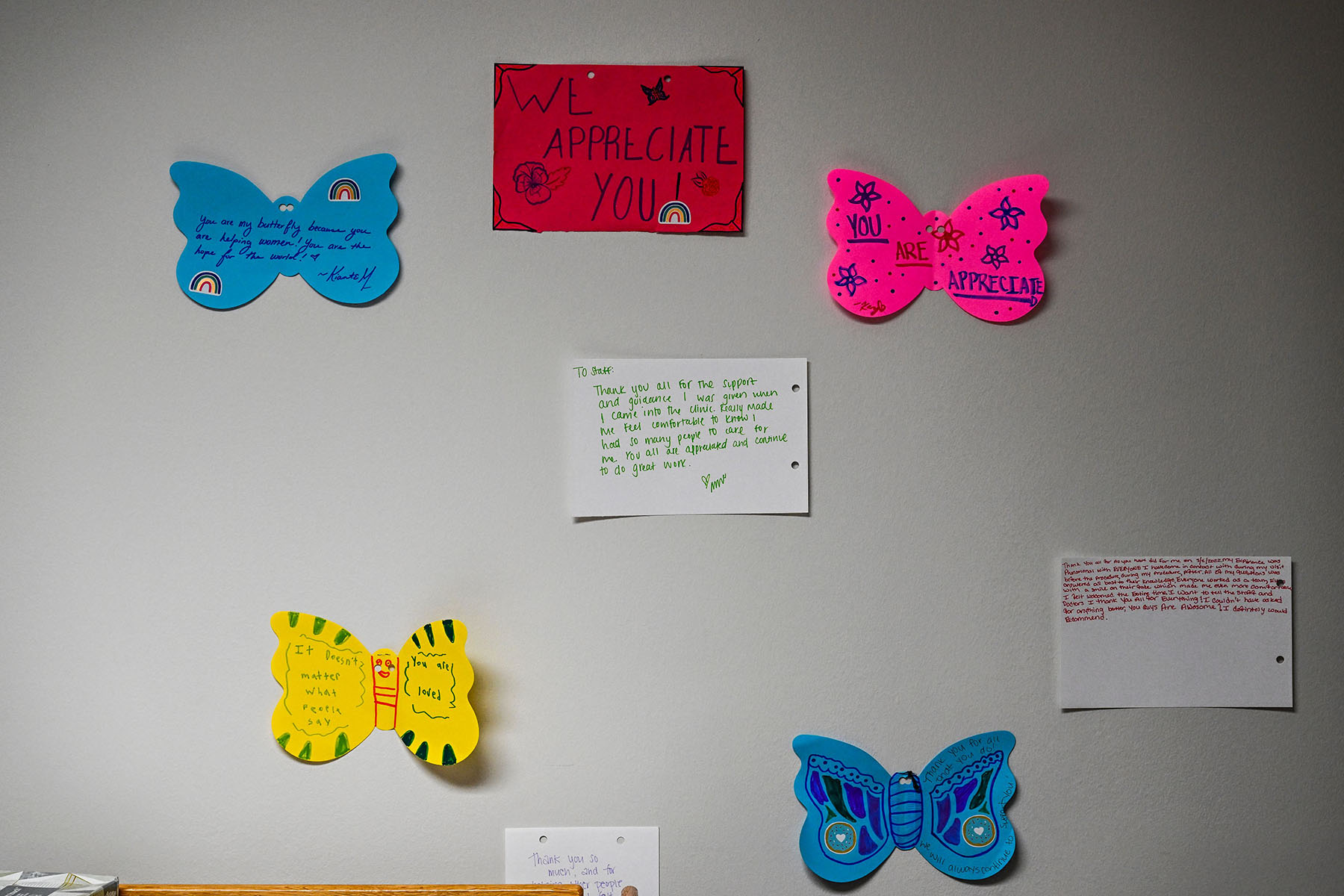 As Halle put it, "We're slammed."
But in just a matter of days, the picture will likely be dramatically different.
In theory, the 12-week ban has some exceptions. Patients pregnant as a result of rape or incest could get an abortion up to 20 weeks if they inform their doctor and the doctor reports the crime to law enforcement, which would then have to investigate the case. In the case of fatal fetal anomalies, abortions are allowed up to 24 weeks and throughout pregnancy if the pregnant person's life is in danger. But physicians fear that those exceptions won't work in practice. Cases of rape and incest are already rarely reported, and the investigation could serve as a deterrent. The medical exceptions in the law, they say, are too vaguely defined to be applied in practice.
The threat of the law is even driving some of North Carolina's health care providers to consider leaving the state, said Dr. Jonas Swartz, an OBGYN at Duke University who also works at Planned Parenthood in the Raleigh-Durham area. He worries about the patients he sees in clinic — who have often traveled from across the region — as well as the patients from North Carolina, whose pregnancies become dangerous and require emergency abortions, but whom he fears won't be able to find someone willing to provide them appropriate and timely care.
"We're being asked to make all these changes. None of it improves the care," he said. "All of it means that on July 1, the care is worse for my patients than it was June 30."
Without North Carolina, it's not clear where people in the South will be able to go. Even if South Carolina's six-week ban is blocked, no clinic there provides care past 14 weeks of pregnancy — already, A Preferred Women's Health Center cares for South Carolina patients who couldn't get a timely appointment at home. The next closest options are Virginia, Washington, D.C., and Illinois, a journey that could be more than 1,000 miles. Abortion funds in New York and D.C. — which spokespeople said already don't have enough money to cover everyone calling them for help — are preparing to see even more people travel from the South.
"The Carolinas, Florida and Virginia have been quite literally the last stronghold of abortion access in the South. Come July 1, Southerners generally won't have anywhere to go but north," said Jade Hurley, of the DC Abortion Fund. "We just don't have the funding and infrastructure to help everyone past the first trimester or past six weeks."
Already, when people can't get seen in Charlotte, the clinic tells them to call the National Abortion Federation, an association of abortion providers across the country. There, they hope, someone will be able to refer them to a health center in a state where they can still be seen — maybe Illinois or Virginia, maybe even New York or Massachusetts. But the math is turning against them; if Florida's six-week ban takes effect, and people can't rely on North Carolina, it's difficult to believe there will be enough appointment slots to meet everyone's needs, even with people traveling far further north. And even with financial support, they worry, a growing number of patients will find the journey too long, too daunting to make.
Angela Looper, who directs patient services for A Preferred Women's Health Center, put it simply: "Women will die."
---
Looper has been working in this field for more than 30 years, getting her first job at a North Carolina clinic after she had an abortion herself. This past year she's had to tell more patients than ever that there is nothing they can do for them.
Sitting at her desk one June morning, Looper checked her computer to see how many patients had been seen, how many more they expected, how far along they were and where they had come from. Looper gasped. Already, there had been one patient who thought she was only 12 weeks pregnant, only to discover at her ultrasound that she was in fact 23 weeks along. The closest place she could legally get an abortion was Washington, D.C. Instead, learning that she couldn't end her pregnancy here, the woman had decided she would keep the pregnancy.
"She came in this morning with one mindset. She had to leave with a different one," Looper said. "I hope these patients have some support in their lives."
It's incredibly difficult for people to measure how far along they are in pregnancy on their own, and as a result at least one person per day will make it to Charlotte only to be told they can't get an abortion.
Even for those who can make it in time, the journey is difficult — financially, physically and emotionally. Looper works directly with patients to help them coordinate their travel, balancing logistics like car rentals, child care and work schedules. Patients already struggled to make the journey up here — sometimes, they rented U-Haul vans instead of agency rental cars to make the drive because they were cheaper to book for the day. 
When the new law takes effect, Looper worries especially about the requirement that people make two in-person visits to the clinic. That would mean making the trip to a clinic twice within a week, or booking a hotel to stay in the city for at least five days. Both, she fears, would be prohibitively expensive for the people traveling from out of state.
In the interim, Halle, who inherited A Preferred Women's Health Center from her father, a trauma surgeon, is trying desperately to figure out how her clinic would adapt. With days left before North Carolina enforced its new abortion law, she still had no idea how they were going to comply.
"You're just watching hysterical breakdowns in real-time," she said.
She still had a million questions, including what the law even meant. Would the state now only let them provide abortions up to 11 weeks and six days? Could they provide care up to 12 weeks and six days? What about the new in-person counseling requirement? How would her clinics be able to see as many patients if they needed to devote space and staff to those meetings, which they used to conduct over the phone?
It felt like there was hardly any time to figure it out. And in the meantime, patients were still pouring in.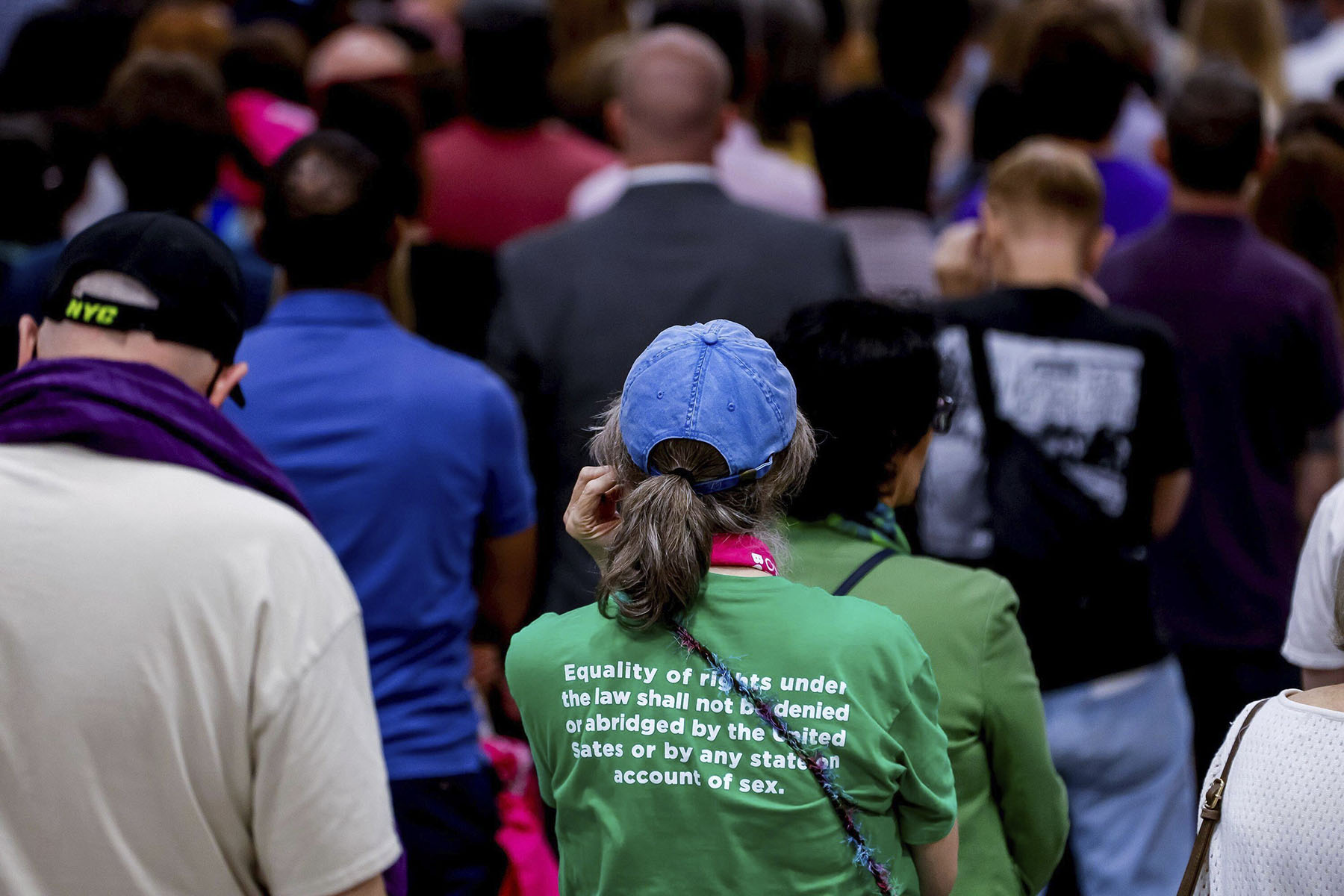 An abortion fund covered the trip to Charlotte for Nicole, who traveled from Greenville, South Carolina. Nicole, who asked to use a pseudonym due to privacy concerns, wasn't able to be seen at the clinic near her home. So instead, she had to take time off work and find someone to drive her two hours north to Charlotte. Someone watched her 3-month-old baby at home.
Nicole, 28, had learned she was pregnant again when coming in for an annual physical a few months after giving birth to her son. She was incredibly early in her pregnancy — so early that a pregnancy test she had taken only days before the doctor's visit had been negative.
Nicole didn't believe in abortion. Hearing the protesters outside tell her she was murdering her baby shook her; she kept thinking of all the wanted pregnancies she'd lost — seven in total. If she had any choice, she would have kept this one. 
But she had felt the physical toll her last pregnancy had taken on her body. She'd had frequent multiple-day stays in the hospital before giving birth, and was due for a follow-up visit with a renal specialist, who would assess how much damage her right kidney had sustained while pregnant. She wouldn't be surprised, she said, to learn she would need dialysis for the rest of her life.
Not only could Nicole not afford another child financially, but she knew that, given the state her body was in, another pregnancy could kill her. So she came to Charlotte, telling virtually no one why she was here.
"I feel isolated," she said. "I want to be honest. I'm a person who doesn't lie."
Already, South Carolina, her home state, records 36.9 deaths per 100,000 live births, per state data published this spring and looking at 2019. Black women, like Nicole, faced a far greater risk, with a death rate of 48.9 per 100,000 live births. In North Carolina, the data is hardly any better: Black women accounted for 43 percent of all pregnancy-related deaths in the state between 2020 and 2022. In the first nine months of 2022, the state recorded 30.9 deaths per 100,000 births.
With abortion less available, the numbers will only get worse, experts say. More pregnant people will die preventable deaths — with Black people particularly vulnerable.
"The legislators who have supported this have knowingly put North Carolina's population at risk," said Swartz, the Duke physician. "They have removed something that's critical for reduction of maternal mortality."
---
Rocky was exhausted. She'd gotten the abortion pills she needed, taking a dose of mifepristone at the Charlotte clinic and packing the second medication — misoprostol — to take from home, back in Georgia. Glancing at the clock, she hoped that she'd make it home by 3, latest 3:30 p.m..
The visit had gone as well as it could. The staff at the clinic made her feel safe and supported. She was roughly seven weeks pregnant by now, and hadn't begun to feel too many symptoms. She'd stocked up maxi pads, ibuprofen and chicken soup at home, hoping the bleeding and cramps from her medication abortion wouldn't be too terrible.
Sitting in the clinic, she counted out how much the trip had cost her: $550 for the abortion, $80 to get her car oil changed first, a full tank of gas each way and food on the road.
She figured the money would have to come out of the funds her family had set aside for trips this summer: a family reunion in Cincinnati, and a trip with the kids to Orlando to see her fiancé's parents.
Pregnancy didn't fit into their plans right now, let alone another child. They were planning to buy a house soon, and she was looking to change jobs. A baby wouldn't make those things impossible, but it would make them so much harder. And that was still to say nothing of the medical dangers Rocky, who is Black, knew she could face if she went through with the pregnancy. She'd already given birth to her youngest child during the height of the COVID-19 pandemic, a health crisis that disproportionately killed Black and Latinx Americans. It was a terrifying experience that she would do anything to avoid repeating.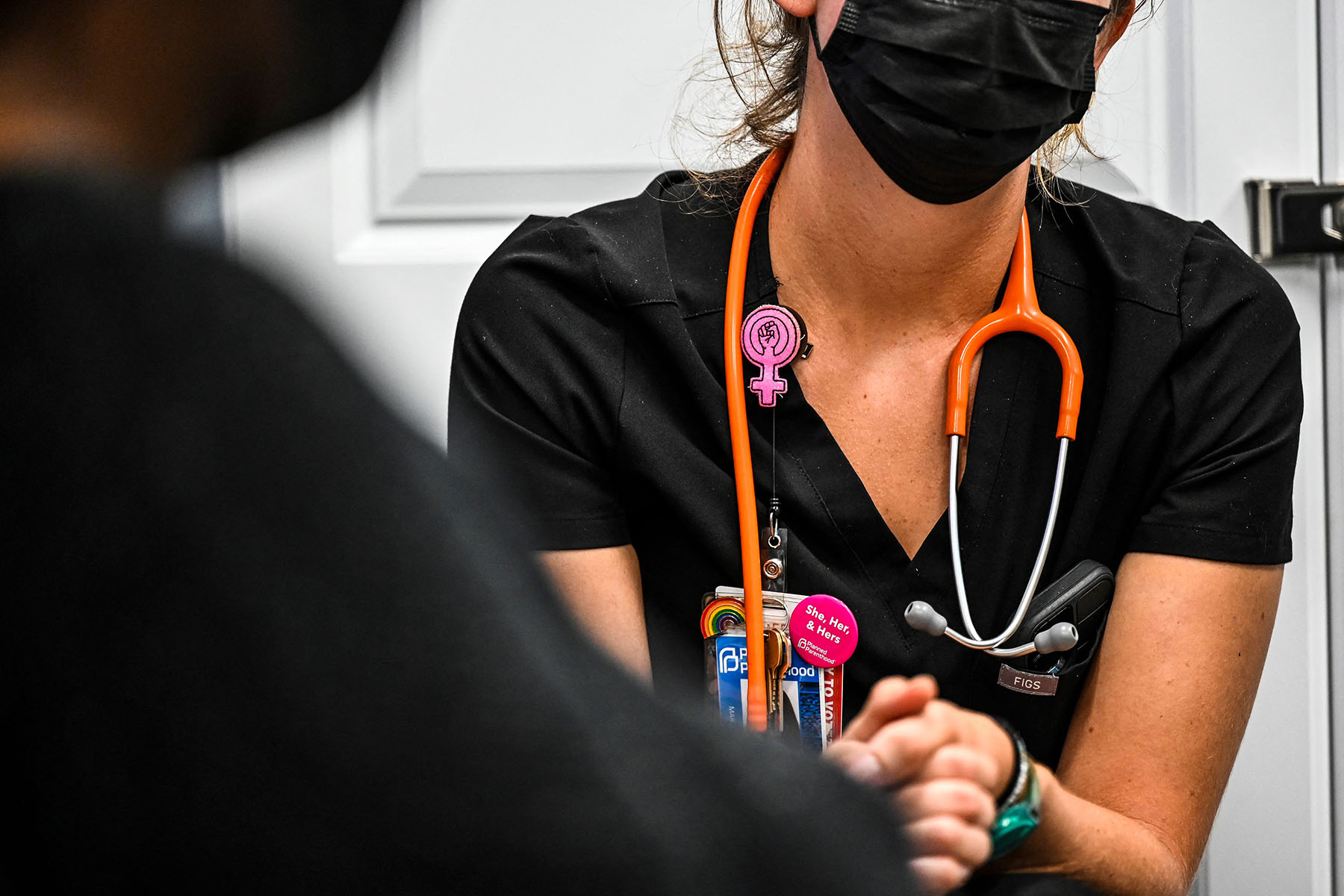 "As a woman of color, for me, it's an even bigger risk for me to have a child," she said.
It was still so surreal to imagine what would have happened if she'd made her appointment only a few weeks later. She'd still be less than 10 weeks pregnant, early enough to get an abortion in North Carolina. But the trip would be vastly more expensive. Her fiancé, a firefighter, would have had to take the week off from work. They'd need to find a hotel in Charlotte, somewhere all three kids could stay, or make the four-hour drive twice in a week to meet the 72-hour waiting period requirement.
But no matter what, she said, she would have done everything to find a way.
"I don't even know how it would have worked out," she said. "But if that's something I had to do, I would have done it."