Your trusted source for contextualizing abortion and politics news in Florida and beyond. Sign up for our daily newsletter.
Florida moved one step closer to a six-week abortion ban that would severely curtail abortion access in the state and the region, advancing a bill that abortion rights supporters say is in many ways more restrictive than bans in Texas and elsewhere.
The state Senate on Monday passed Senate Bill 300, sponsored by GOP Sen. Erin Grall. The bill, which Gov. Ron DeSantis is expected to sign, would ban abortion after six weeks of pregnancy, before many patients know they are pregnant. The proposed law would also require two separate visits to a health care provider to obtain an abortion and would ban providers from prescribing medication abortions via telemedicine or dispensing the medication through the mail.
"We will be the only state in the country with a six-week ban plus mandatory two trips without option for telehealth. It is beyond arcane," said Senate Minority Leader Lauren Book. "In Texas, if you live outside of 100 miles from an abortion provider, you can sign an informed consent waiver. We're not even doing that."
The measure would go into effect if and when the Florida Supreme Court — which is stacked with conservative judges appointed by DeSantis — upholds the legality of a 15-week abortion ban the state enacted in 2022. Court observers anticipate a decision by the summer.
"I don't want anyone to perceive that this is some far-off effective date," said Annie Filkowski, the policy director with the Florida Alliance of Planned Parenthood Affiliates.
The bill further prohibits organizations that receive state funds from supporting out-of-state travel for an abortion and directs $25 million in state funds to anti-abortion counseling centers.
The provision on abortion-related travel seems to target efforts like one out of the city of St. Petersburg, which is considering allocating $50,000 to the Tampa Bay Abortion Fund. Under the proposed law, abortion rights advocates believe a city paying for out-of-state travel for employees seeking abortions would be outlawed.
Stephanie Loraine Piñeiro, executive director of the Florida Access Network, an abortion fund, said many clinics nationwide, especially independent ones, have struggled to stay afloat in the face of strict abortion bans.
"Many providers were forced to shut down, if there is care available at all in their community," she said. "This is just another way for our state to eliminate the possibility of counting on our local government to support us."
The bill makes exceptions for cases of rape and incest through 15 weeks of pregnancy, unlike the 15-week ban currently in effect, but requires a patient to provide a copy of a police report, restraining order or "other court order or documentation." The bill also includes an exception in cases where the life of the pregnant patient is at risk but requires two physicians to sign off on the procedure.
Florida Senate President Kathleen Passidomo previously said the inclusion of rape and incest exceptions in the legislation was her "number one priority" in deciding whether to support the bill. But advocates say the documentation requirements, on top of existing barriers, will effectively cut off abortion access. Passidomo did not respond to a request for comment submitted through an aide.
"When you're relying on a justice system that doesn't believe survivors to begin with, it just compounds the problem," said Angela Vasquez-Giroux, vice president of communications and research at NARAL Pro-Choice America. "It's like they're stacking unattainable expectations on top of unattainable expectations. The intent here is to be able to point to exceptions, knowing full well they don't functionally exist."
"The rape and incest exception in its current unworkable form is going to help more Republicans for reelection than it will help patients," Filkowski said.
House Minority Leader Fentrice Driskell said experts who have testified before the legislature have pointed out that the lack of health care facilities and physicians, particularly in the northern part of the state, will exacerbate the restrictions of the bill. She added that she is really concerned about the impact on people of color and low-income Floridians.
"It'll be an even more difficult determination for a woman who doesn't have access to health care, who is working two and three jobs," Driskell said. "They don't have the time to do it on Ron DeSantis' timeline."
Republicans have a supermajority in both chambers, and Driskell, fellow Democrats and abortion rights advocates have few means of blocking the bill from passing. The fast-tracking of the legislation also comes as DeSantis prepares to launch a 2024 presidential campaign.
The measure, if it goes into effect, would have significant consequences for abortion access not just in Florida, the nation's third-most populous state, but in the entire South.
Patients from Latin America and the Caribbean have long traveled to Florida for abortions. And the state became an even more critical access point for abortions after the Supreme Court overturned Roe v. Wade in June, leading many neighboring states to ban or heavily restrict abortion.
"All of a sudden, you go from being an alleged abortion haven, which it was for the South, to now, we're about to become the most restrictive in the South with a six-week ban and a 24-hour mandatory waiting period," Piñeiro said. "It's hard. It's heartbreaking."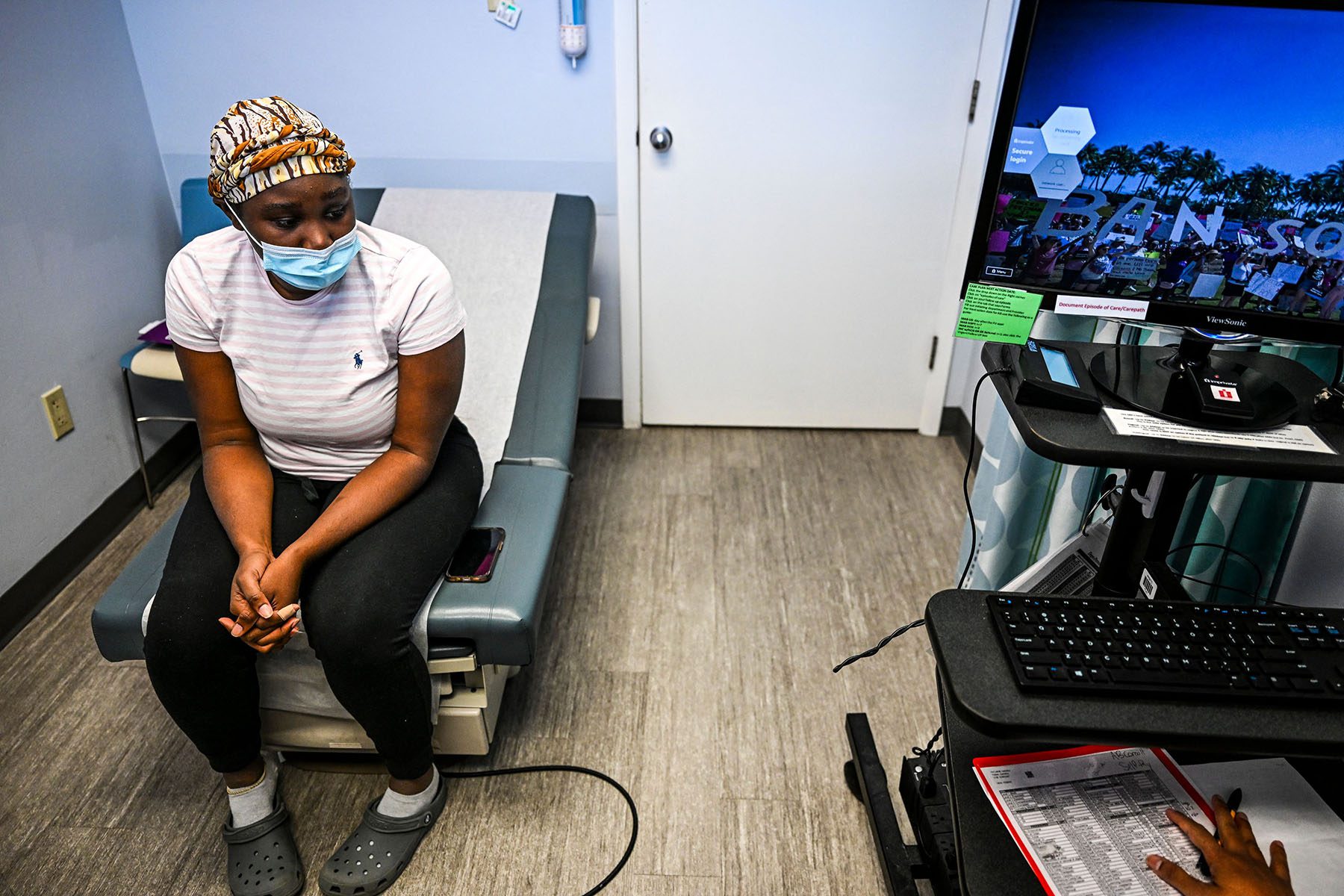 The state's Planned Parenthood health centers have seen a quadrupling in patients traveling from other states since Roe fell, with clinics in Tallahassee and Jacksonville, in the northern part of the state, absorbing most of the influx of new patients.
The influx was evident in the state's abortion data: 82,192 people got abortions in Florida in 2022, compared with 79,817 in 2021. More than 6,500 people came to Florida from out of state, a 38 percent increase from the year before.
Florida's State Agency for Health Care Administration also reported that last year, 115 abortions in Florida were performed because of rape and seven because of incest.
If Florida's six-week ban takes effect, North and South Carolina will be the closest states where abortion remains legal and accessible, though abortion access is under threat in those states, too.
The advancement of SB 300 comes after months of advocacy by anti-abortion groups pushing Florida Republicans to further restrict abortion with their new legislative supermajorities.
"Florida has become a destination state for the destruction of unborn life," Katie Daniel, state policy director for Susan B. Anthony Pro-Life America, said in a Tuesday statement. "We thank Sen. Erin Grall . . . and pro-life leaders in the Senate for championing SB 300 to create a policy that mirrors public opinion on the issue of life and expands resources for pregnant women and new moms."
A May 2022 survey from Florida Atlantic University found that 67 percent of Floridians believed abortions should be legal in all or most cases while 34 percent thought it should be illegal in all or most cases.
Some Florida-based groups are urging GOP lawmakers to make the bill more restrictive by removing the current exceptions for rape and incest. The group Florida Voice for the Unborn asked its supporters to call key House Republicans to urge them to scrap the exceptions so that "ALL unborn children are protected in post-Roe v. Wade Florida."
A Senate hearing on Thursday took place less than a month from when the bill was first introduced, in what onlookers say has been an accelerated process compared with the timeline for other significant bills in Tallahassee. A version has also moved forward in the state House, and if lawmakers are able to reconcile the two versions, DeSantis could have a bill on his desk next week.
"Do I think it's going to be a six-week ban? Yes, I absolutely do," Book said. "I have twins that are 6 years old, a little boy and a little girl. My daughter today has fewer rights than her brother does compared to the day they were born. And it has happened on my watch."
Driskell said that the bill's progress in Tallahassee doesn't reflect the views of the vast majority of Floridians on abortion.
"People are paying attention. The real challenge is whether it's going to translate to excitement at the polls more than a year away," Driskell said. "This is one of those bills that is going to restrict Floridians' freedom in a way like they've never seen. And I do think ultimately, the voters will think that this is a bridge too far."