Your trusted source for contextualizing the news. Subscribe to our daily newsletter.
TALLAHASSEE, Fla. — Vice President Kamala Harris tied the fight for legal abortion to fundamental freedoms, charging supporters to "resolve to make history" in a speech Sunday marking the 50th anniversary of the Roe v. Wade decision.
Harris' remarks reflected how dramatically the landscape for abortion access and the politics surrounding it have changed since the Supreme Court overturned Roe v. Wade seven months ago. Her choice to speak in Florida — which is poised to further restrict abortion access this year — indicated a recognition on the part of the White House that abortion rights are now being decided not in Washington but in state capitals like Tallahassee.
"America is a promise — a promise we must all make real in every statehouse, in every doctor's office, and yes, in every election," she said. "So to all the friends and leaders, I say, let us not be tired or discouraged, because we're on the right side together in the fight to protect the freedom and liberty of all people, of all women everywhere."
Harris, in her remarks, linked the fight for abortion access to the basic principles underlying the United States' founding, invoking the words of the Declaration of Independence and the national anthem declaring the United States to be "the land of the free and the home of the brave."
"Can we truly be free if families cannot make intimate decisions about the course of their own lives?" she said. "Can we truly be free if so-called leaders claim to be, and I quote, on the vanguard of freedom while they dare restrict the rights of the American people and attack the very foundations of freedom?"
The phrase invoked Florida Gov. Ron DeSantis, a Republican who is seen as a likely 2024 presidential candidate and who signed a 15-week ban into law in 2022.
Harris also addressed what the administration is doing to increase access to medication abortion, a major front in the fight over abortion access. The Food & Drug Administration (FDA) this month issued new guidance allowing retail pharmacies to dispense medication abortion for the first time. The move that drew a swift rebuke from officials in Florida, in particular — but Harris vowed the administration is "fighting back."
She told the crowd that President Joe Biden issued a presidential memorandum Sunday directing the Department of Health and Human Services to work toward providing greater access to medication abortion and protecting patient privacy. The administration has previously pointed to both areas as ones they can influence, but the new memorandum directs agencies to "consider new guidance to support patients, providers, and pharmacies."
"Members of our Cabinet and our administration are now directed to identify barriers to access to prescription medication and recommend actions to make sure that doctors can legally prescribe, that pharmacies can dispense, and that women can secure safe and effective medication," she said.
Harris again reiterated the administration's calls for Congress to pass legislation restoring nationwide abortion protections, which failed to pass the U.S. Senate in the last session of Congress, and slammed congressional Republicans pushing for a nationwide abortion ban.
"The right of every woman in every state in this country to make decisions about her own body is on the line," Harris said. "And I've said it before and I will say it again: how dare they?"
But, with Congress divided and unlikely to pass any substantive abortion legislation, Harris is using her office to draw the public's attention to state-level efforts to further restrict abortion — and support the lawmakers and advocates fighting them.
Harris has publicly spearheaded the Biden administration's response to the Supreme Court's overturning of Roe v. Wade since the draft of the decision leaked in May 2022, giving her an elevated profile to lead on an issue that galvanized voters in the midterm elections. The midterms also gave Democrats a larger majority in the Senate, freeing up Harris from needing to break ties in that chamber and giving her greater flexibility to travel the country and advocate for abortion rights.
Her choice to speak in Tallahassee held multiple layers of significance. Florida is likely to further curtail abortion access in its 2023 legislative session, and DeSantis is one of the White House's highest-profile political foes.
Harris decried "extremist" lawmakers in Florida for the state's "radical" 15-week abortion ban, which does not have exceptions for rape or incest.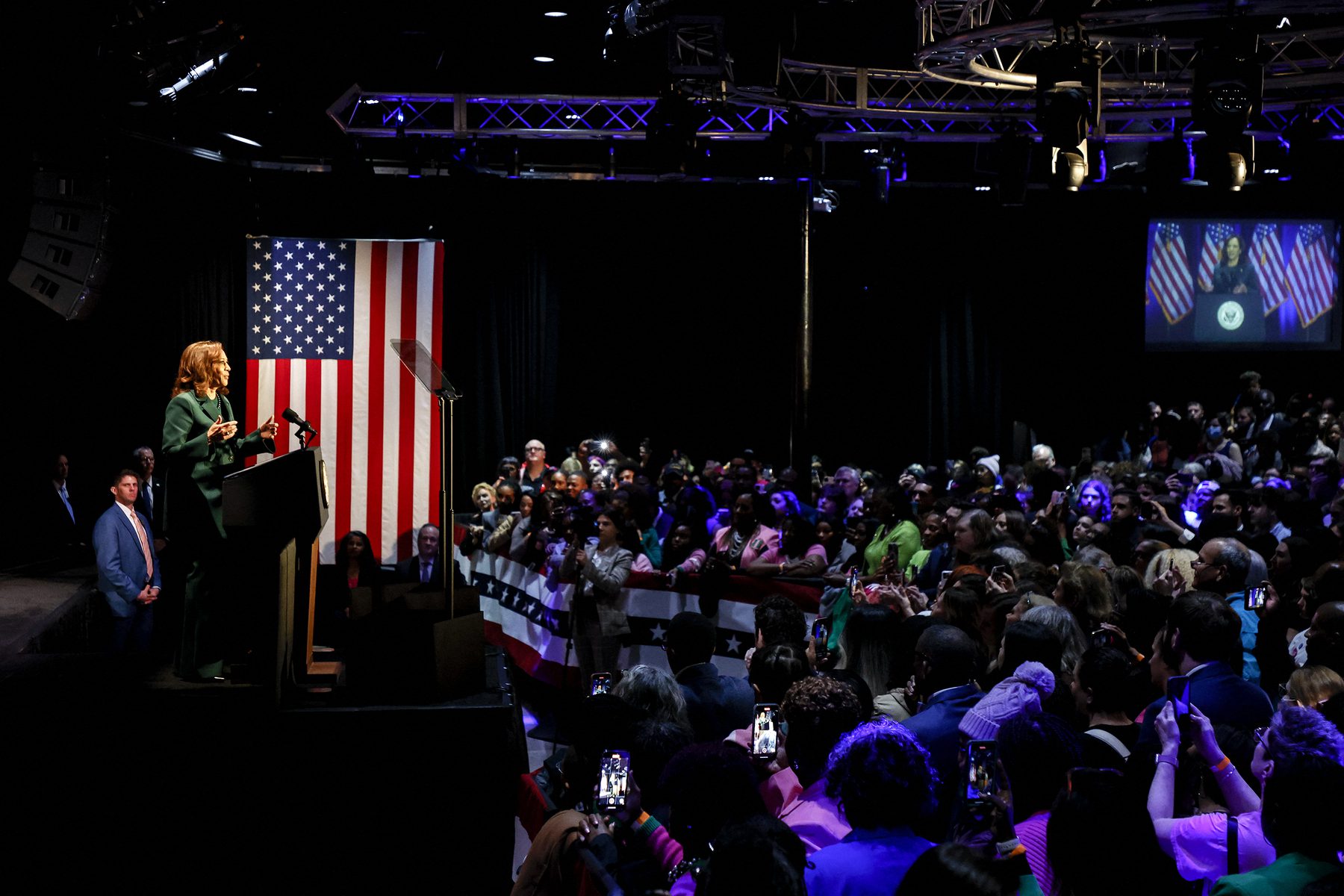 "The Supreme Court's action has meant that many dedicated doctors and nurses now lose their ability to care for their patients," she told the crowd of about 1,500, many of them wearing hot pink Planned Parenthood shirts. "That providers risk going to jail just for doing their job. And that patients are denied critical care, and even fear that they will be punished simply for seeking care."
Florida is also a critical access point for abortion. Patients from Latin American and Caribbean nations where abortion is banned have long sought abortions in Florida. And most Southern states now ban or heavily restrict abortion, making Florida a crucial lifeline for patients within the United States.
"Since the Dobbs decision, my colleagues and I have felt heartache over and over again as we must tell patients that we can't give them the care we are trained and qualified to provide," said Dr. Sujatha Prabhakaran, a Florida Planned Parenthood provider who introduced Harris at the event.
Laura Goodhue, executive director of the Florida Alliance of Planned Parenthood Affiliates, told The 19th that the number of abortion patients from other states coming to Planned Parenthood health centers in Florida has quadrupled since Roe was overturned, with its clinics in Tallahassee and Jacksonville absorbing most of the influx of out-of-state patients.
Many come from Georgia, where abortion is banned after about six weeks, but some travel from as far as Texas, she said, increasing the demands on providers and caseworkers who assist patients with travel, lodging and child care. Goodhue said the 15-week limit and surge in patient demands means that Planned Parenthood clinics are "triaging" to ensure patients can get care.
"It's so much case management that we've never had to do in the past," she said. "The falling of Roe v. Wade has made a huge impact on patients and health centers in the area."
Anti-abortion advocates are now lobbying Florida Republicans, who won a supermajority in the state legislature in the 2022 midterms, to go even further, banning abortion totally or at six weeks of pregnancy.
Marjorie Dannenfelser, president of Susan B. Anthony Pro-Life America, who recently told reporters that her organization would be "ambitious" in pushing for more state-level state abortion restrictions, slammed Biden and Harris as "out of touch" on abortion.
"Vice President Harris could not have set up a starker contrast between the radical abortion lobby and the compassion and common sense of the American people," she said in a statement ahead of Harris' speech.
Andrew Shirvell, founder of Tallahassee-based Florida Voice for the Unborn, is among those criticizing the state's Republican leaders for not passing a total abortion ban. He told the Miami Herald that DeSantis "should be embarrassed" by Harris coming to his backyard to "rally the troops."
"This is a crisis situation," Shirvell told the Herald. "It's very disappointing for our pro-life governor and our pro-life legislature to be totally indifferent to it. I mean, they seem to be talking more about saving gas stoves than they do all the unborn children."
Florida legislative leaders in both chambers have expressed support for further abortion limits, though it's unclear what restrictions would garner enough support to pass. DeSantis, for his part, told reporters in December he's "willing to sign great life legislation" when asked if he would lead efforts to pass a six-week ban.
A July 2022 survey from the University of South Florida and Florida International University found that a majority of Floridians polled opposed the Supreme Court's decision to overturn Roe v. Wade. While 44 percent supported some restrictions on abortion, only 9 percent supported a total abortion ban.
The Biden administration, with limited tools at its disposal, has taken actions to protect emergency medical treatment in pregnancy, expand access to contraception and federally funded family planning services, safeguard patient privacy and provide accurate information about abortion.
Harris's speech showed how the Biden administration's most powerful tool may be the bully pulpit. She ended her remarks with a call to action for the crowd, drawing resounding applause.
"Here now, on this 50th anniversary, let us resolve to make history and secure this right for all Americans — and to remember when we fight, we win," she said.