Your trusted source for contextualizing the news. Sign up for our daily newsletter.
Few people could predict precisely what would happen if and when the Supreme Court overturned Roe v. Wade, the seminal 1973 decision that guaranteed the right to an abortion. But what was clear — even months before the court did so this past summer — was that gutting the 49-and-a-half-year-old precedent would unleash legal chaos and uncertainty.
June 24, the day the court ruled in Dobbs v. Jackson Women's Health Organization, was only the beginning of a months-long battle over abortion rights — one that could stretch into years. Some state abortion bans took effect that day, forcing patients in waiting rooms of abortion clinics to be sent home, only to be blocked by courts days or weeks later. Others wouldn't be enforced for weeks to come. And still others would repeatedly boomerang, enforced one day but blocked by courts the next, sowing confusion for people seeking or providing abortions.
The Dobbs decision — the culmination of a decades-long legal project by abortion opponents — empowered individual states to ban or heavily restrict abortion. Since then, state legislators, governors and judges have battled over how to enforce abortion bans. Some states, meanwhile, worked to protect access to abortion, often through ballot initiatives or gubernatorial action.
Abortion remains legal in the majority of states. But millions of Americans currently live somewhere where the procedure is unavailable, and since June 24, thousands of pregnant people have traveled to other states to terminate pregnancies. Often it was difficult to know where patients even could travel. As laws were enforced, blocked and sometimes blocked again, the legality of abortion became difficult to track, and people would find out only the night before an awaited appointment that it suddenly had to be canceled.
As 2023 governing sessions begin, legislators in Republican-led states are expected to prioritize new abortion restrictions and bans, making the procedure even harder to obtain.
Sunday marks 50 years since the Roe decision. Now, in the seven months since the court's reversal, the scope of its protections are clearer than ever — as are the implications of its loss. The 19th has tracked who in America can get an abortion and where, a picture that has changed dramatically. Here's where laws stood as of these dates:
Four weeks before Dobbs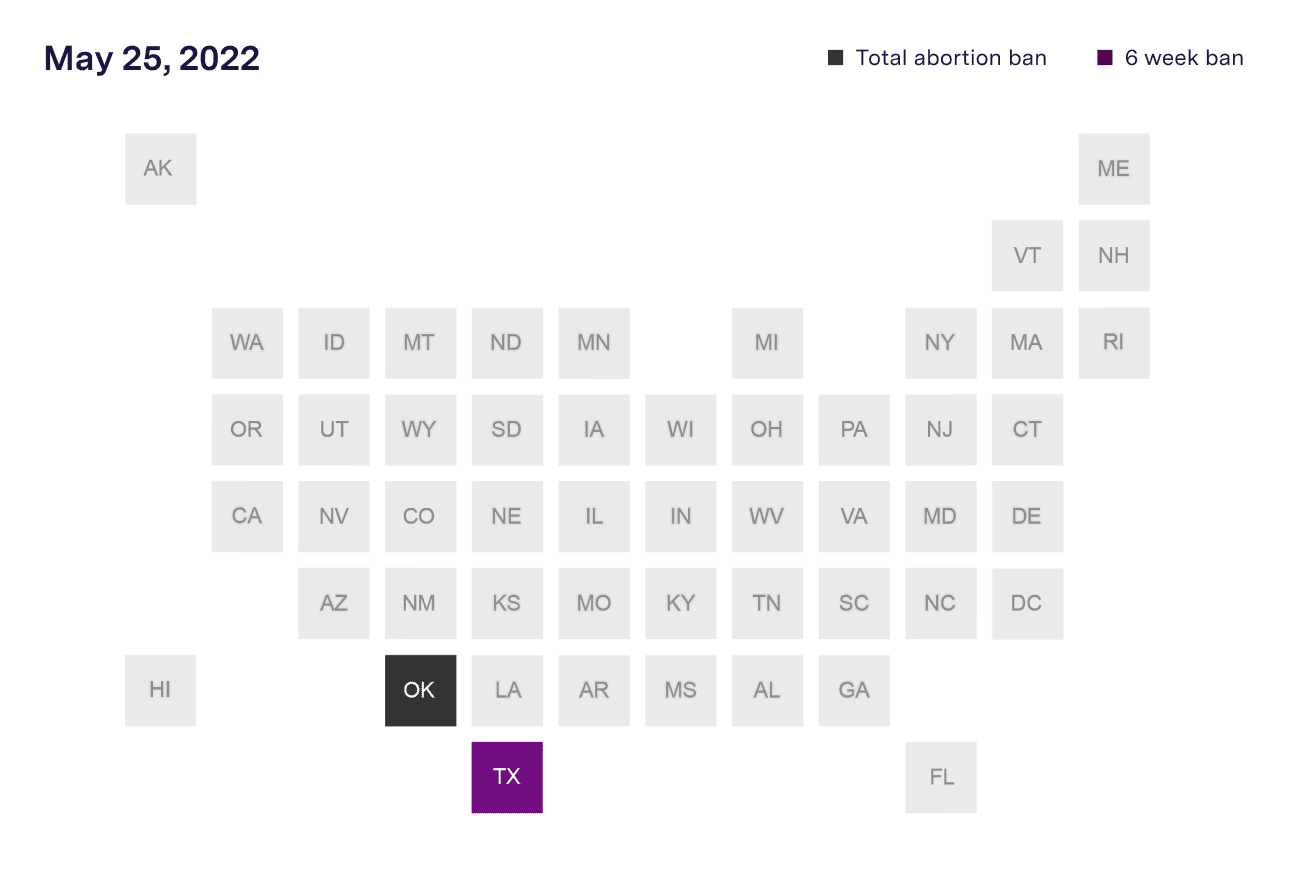 Before the Supreme Court opinion that would overturn Roe, near-total abortion bans were still fairly uncommon. But in two Republican-led states, lawmakers had already taken steps to virtually eliminate access to the procedure — offering a preview of what life could look like without the federal protection.
Abortions in Texas were unavailable for people after six weeks of pregnancy, the result of a law that held people civilly liable if they helped someone get an abortion after that point. That law, known as Senate Bill 8, had been in effect for more than eight months.
On this day, Oklahoma Gov. Kevin Stitt signed legislation that similarly leveraged civil penalties to prevent people from accessing abortions. The law, which took effect immediately, banned almost all abortions.
The day the Dobbs decision overturned Roe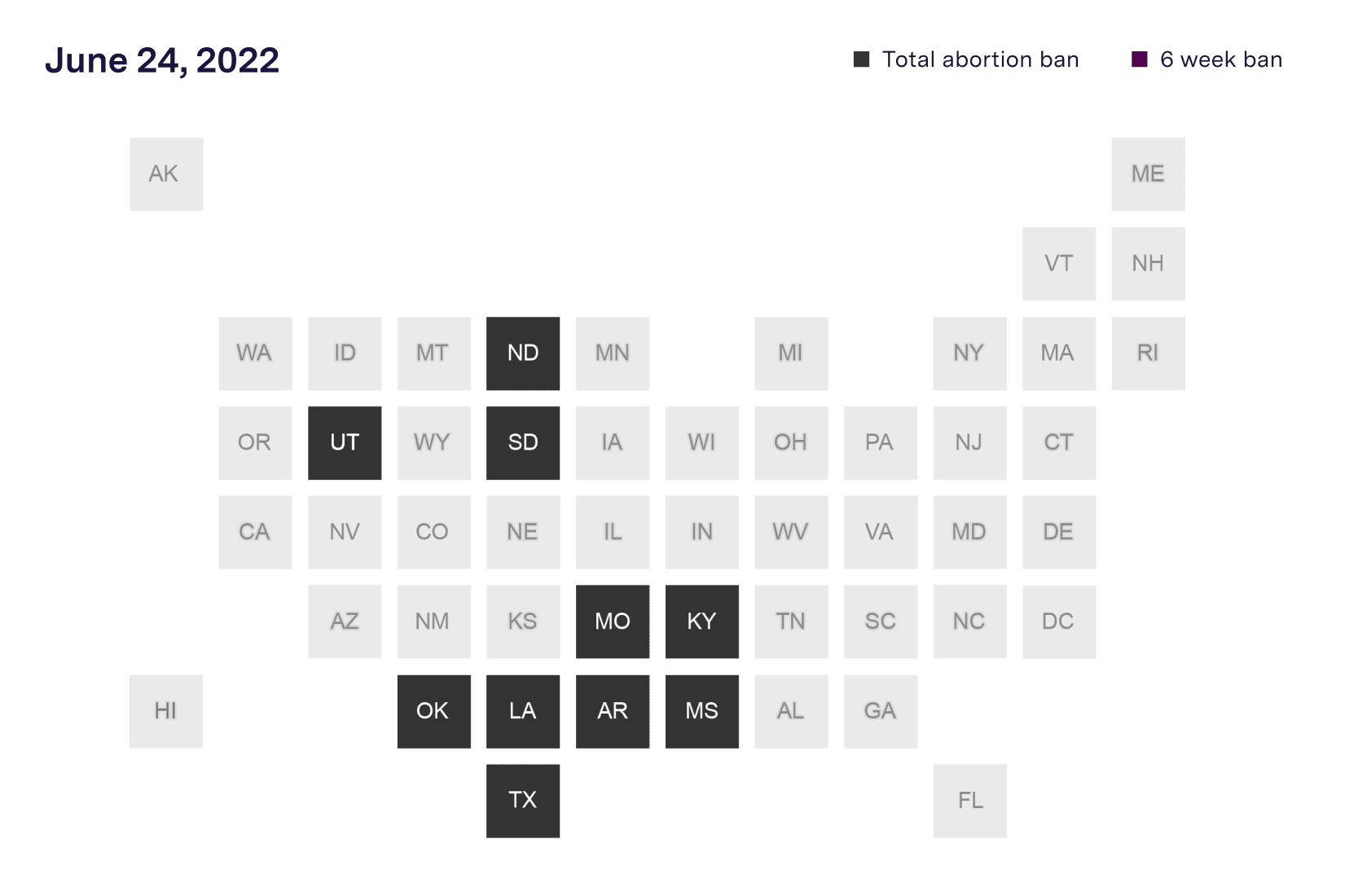 The Supreme Court's decision had an immediate impact, with abortion unavailable in a total of 11 states by the end of the day. So-called trigger bans, which were written to ban abortion if and when Roe was overturned, went into effect in Kentucky, Louisiana and South Dakota.
Trigger bans in Arkansas, Mississippi, Missouri, North Dakota and Oklahoma required state attorneys general to certify the court's decision before taking effect. By the end of the day, that had already occurred in Arkansas, Missouri and Oklahoma.
The decision also unleashed new uncertainty about whether abortion could be criminalized under state bans that were passed prior to 1973 and that had been blocked because of Roe's protections but had never been formally repealed.
In the confusion over what the court's ruling meant, Texas' attorney general declared he would enforce the state's pre-Roe ban, resulting in clinics halting abortions. In Arizona, West Virginia and Wisconsin, clinics stopped providing abortions because of uncertainty over what was now legally permissible. A pre-Roe ban took effect in Alabama, before being supplanted by a newer abortion prohibition, which the state had passed in 2019.
One week after Dobbs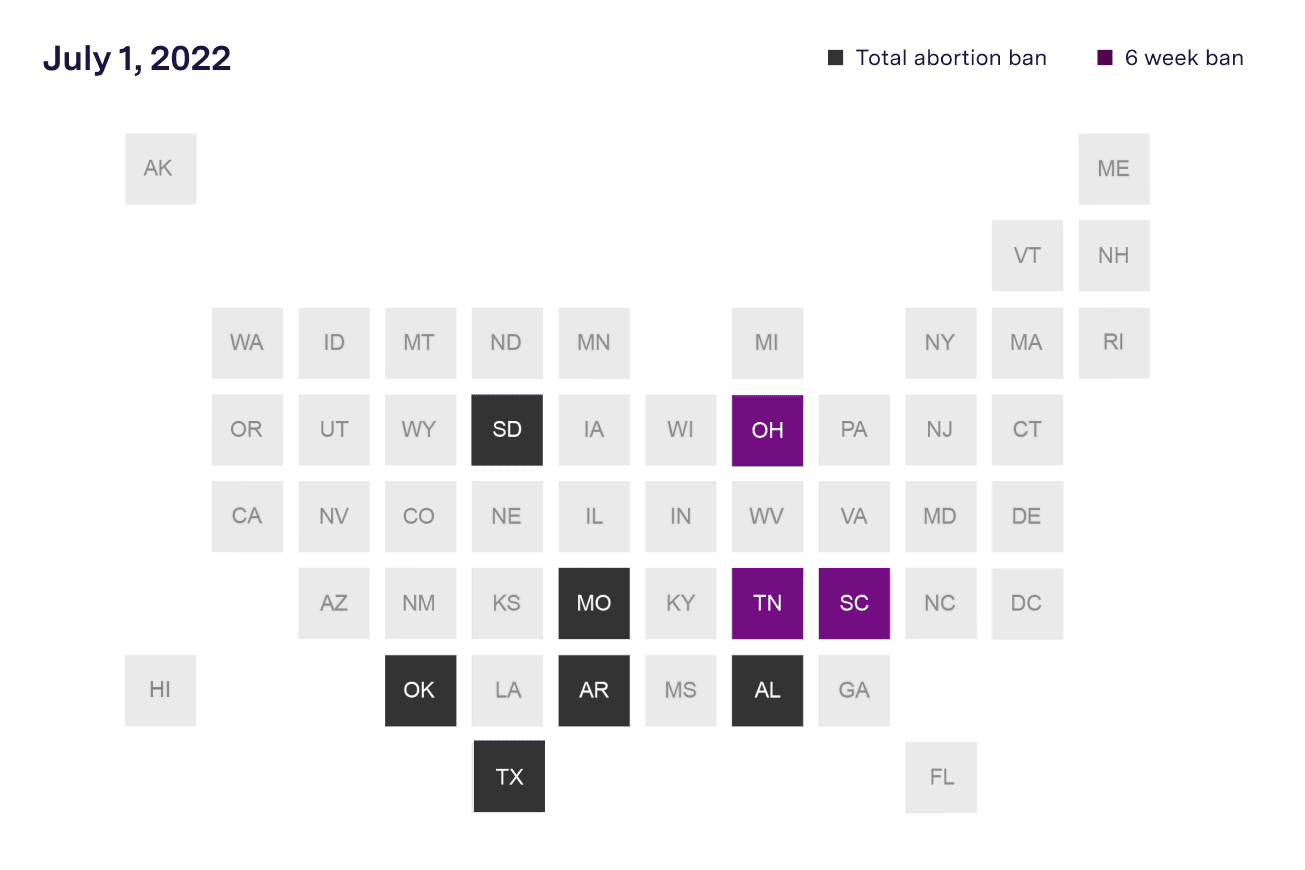 More state abortion bans had taken effect, while others were blocked — even if just temporarily — after being challenged in state courts.
Florida began to enforce its new 15-week abortion ban, which had passed earlier in the spring. In Utah, a law banning abortion after 18 weeks had taken effect, and Tennessee had started to enforce a six-week abortion ban.
Meanwhile, state courts had temporarily blocked abortion restrictions in Louisiana, Texas and Kentucky. That created short-lived windows in which the procedure was once again available in those states and a crush of patients desperate to make it into clinics while they still could. In Texas, the window lasted only a few days. By the end of this day, the state's abortion ban was back in effect.
Four weeks after Dobbs
As lawmakers, state officials and judges weighed in, it became even more difficult to track which laws were in effect — confusion that resulted in people seeking abortions often unaware of where they could or should go for care. Louisiana's abortion ban had gone back into effect only to be blocked again 10 days later. In West Virginia, a state judge issued a preliminary injunction blocking the state's pre-Roe abortion ban. A Georgia state court, meanwhile, ruled that the state could begin enforcing its law banning abortion after six weeks.
Attorneys general also played an outsized role in determining whether abortion bans would take effect. In North Carolina, the state's Democratic attorney general said he would not enforce a 1973 state law that banned abortions after 20 weeks of pregnancy. Arizona's attorney general, by contrast, said he would seek to continue enforcing the state's pre-Roe abortion ban, even as some clinics resumed providing abortion.
More trigger laws had also taken effect, with Mississippi banning most abortions as of July 7.
Five weeks after Dobbs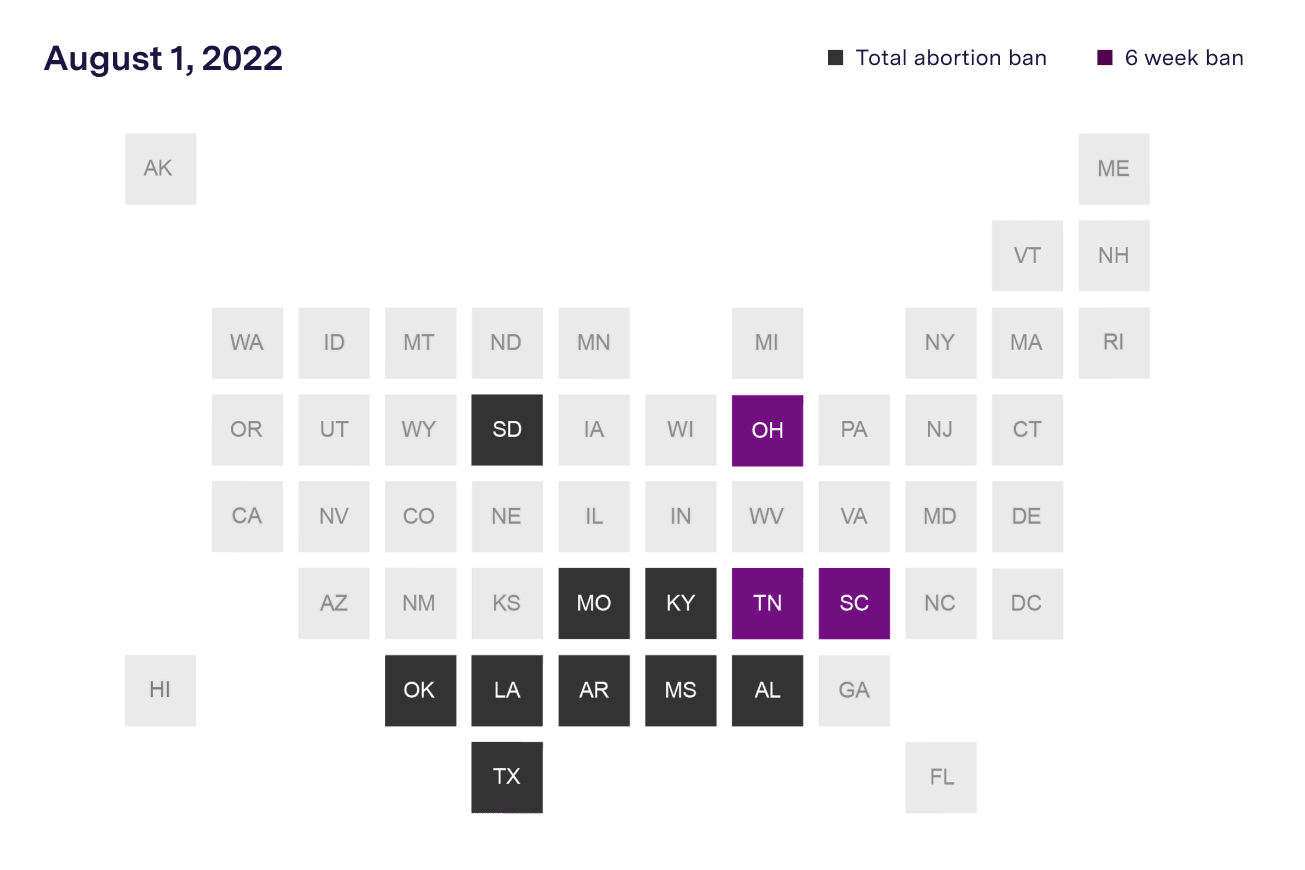 Kentucky's trigger law took effect this day, and the legal back-and-forth continued in some states. In Louisiana, yet another court had allowed the state's abortion ban to take effect. It marked the final time the state would flip back and forth between permitting and prohibiting abortion. Lawmakers in North Carolina had sought to bring their state's 20-week ban into effect, though no judge had yet ruled on that particular challenge. Meanwhile, a North Dakota judge had blocked the state's trigger law — slated to take effect at the end of July — until at least late August.
In Michigan, the state's pre-Roe ban, which was facing legal multiple challenges, had sparked particular confusion. The Democratic governor and attorney general had indicated they wouldn't attempt to enforce a 1931 ban, but on this day one judge ruled that county prosecutors could attempt to enforce it while another court said it should be blocked.
Seven weeks after Dobbs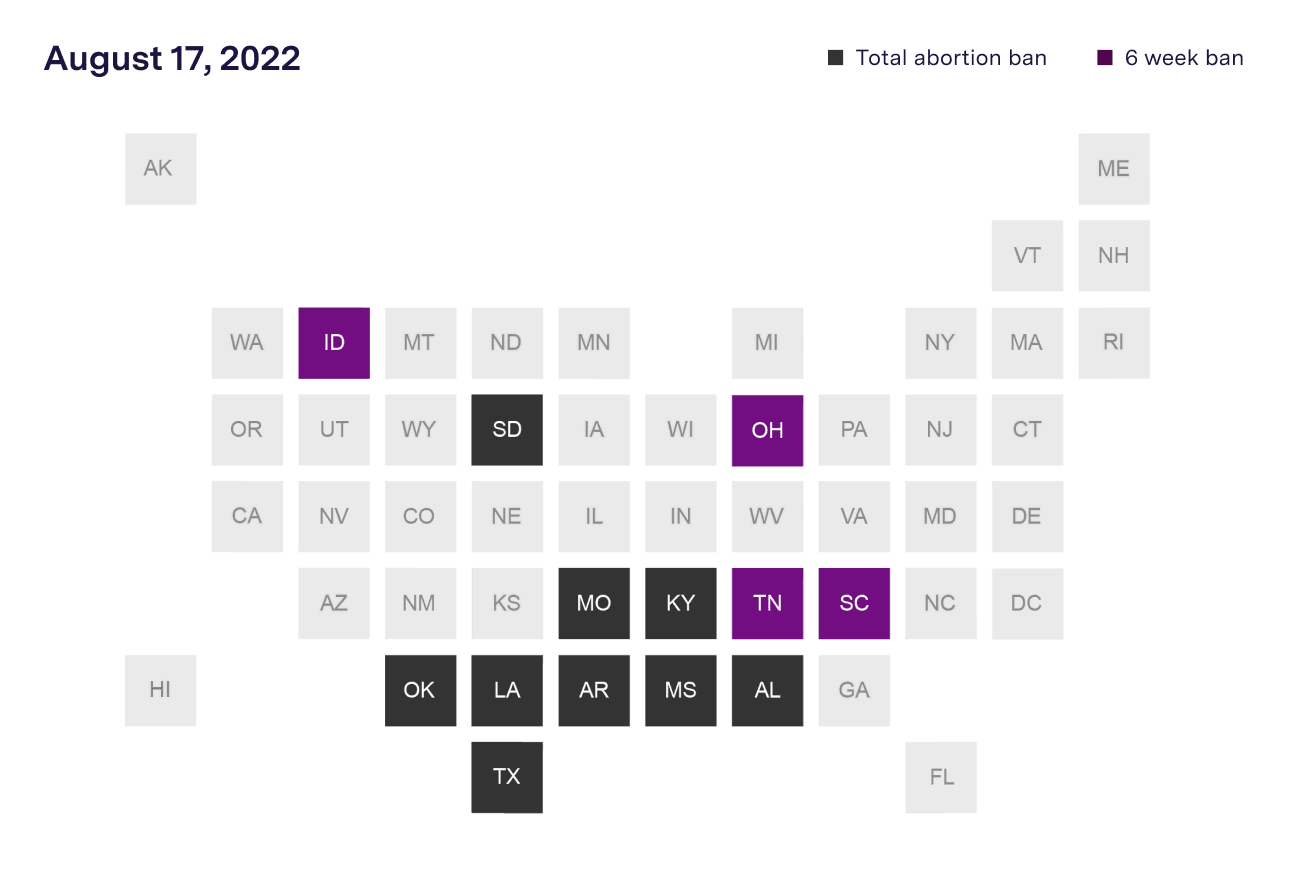 By mid-August, it was finally becoming clearer where abortion might stay legal — at least in the short term. An Idaho judge allowed the state's six-week abortion ban to take effect, and a near-total prohibition would start being enforced only two weeks later. Kansas voters had also rejected an effort to eliminate abortion rights protections from their constitution.
In South Carolina, a judge blocked the state's six-week abortion ban while the law was challenged in court. (The law would eventually be ruled unconstitutional.) One state away, a North Carolina court allowed the state's 20-week abortion ban to take effect. To this day, the Carolinas remain the two Southeastern states with the least restrictive active abortion bans.
And across the country, legal challenges continued to proliferate — with Utah's government appealing to get its trigger law enforced and Michigan's requesting its pre-Roe ban be blocked.
12 weeks after Dobbs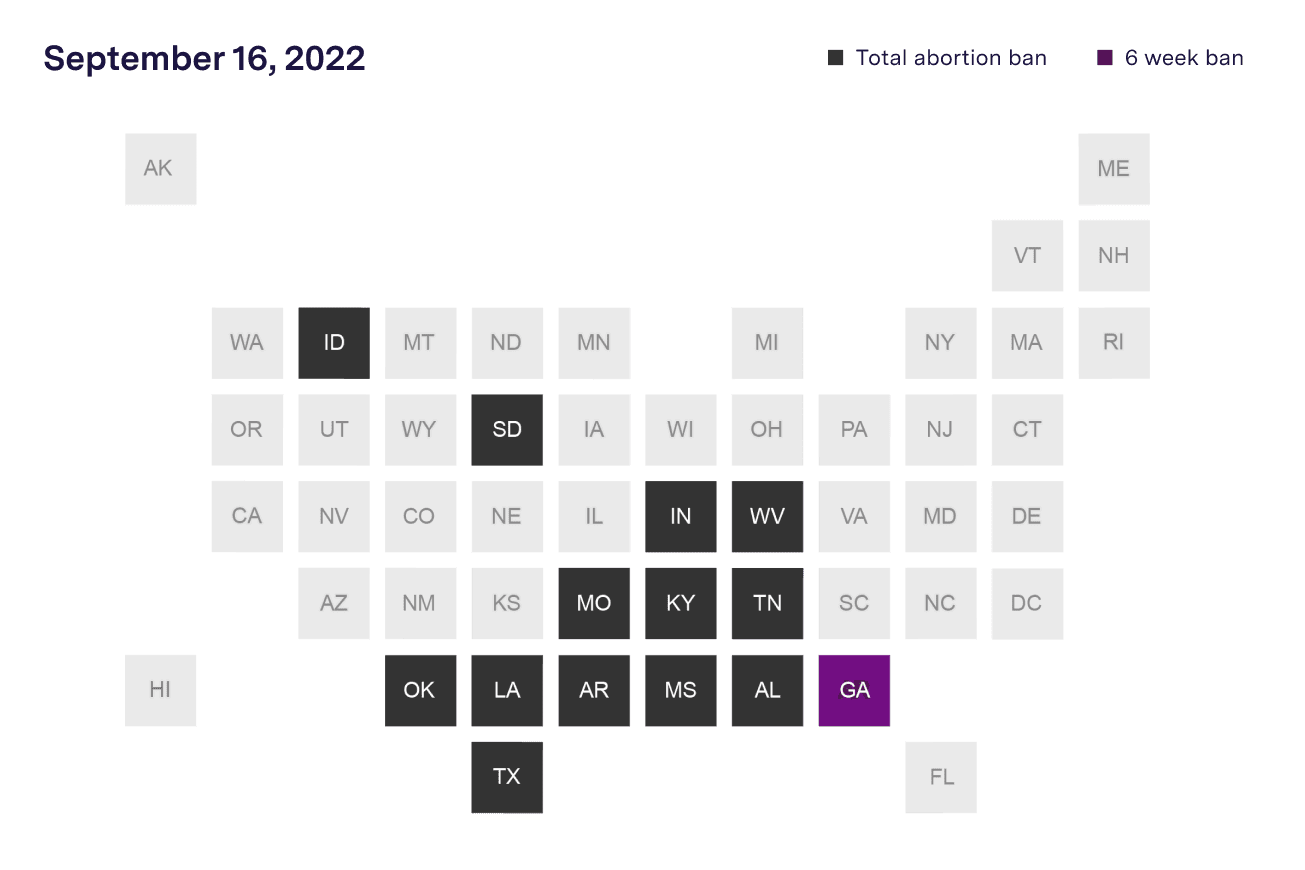 State courts had by now increasingly stepped in to block abortion bans from taking effect. Judges in Michigan blocked the state's pre-Roe ban, one that would ultimately never take effect. Two months later, in the midterm elections, voters would overwhelmingly endorse a proposal to enshrine abortion rights into their state constitution.
A court in Ohio ruled that the state's six-week prohibition could not take effect for the next two weeks. Thanks to the Ohio ruling, abortion would be legal in the state for patients up to 20 weeks of pregnancy.
Trigger bans had by now taken effect in even more states, including Tennessee, Texas and Idaho. (A state court blocked a similar ban slated to take effect in North Dakota.) New state abortion laws also started to have an impact,, with bans taking effect in West Virginia and Indiana.
14 weeks after Dobbs
By now, the whirlwind of new abortion laws had begun to slow down, at least for the time being. Only a week after taking effect, Indiana's new abortion ban had been blocked by a state court. And in Ohio, a state court issued a preliminary injunction so that the state's six-week abortion ban would remain blocked while being challenged in state court. To this day, both the Indiana and Ohio laws remain blocked.
Still, some legal back-and-forth remained, as courts in Arizona parried over which of the state's competing abortion bans should take precedence. In late September, a judge in Arizona ruled that the state's pre-Roe ban could be enforced to prohibit virtually all abortion. The decision shut off access for just under two weeks in the state — until, on October 6, an appeals court ruled to block the state's total ban and instead supplant it with a different state law, which prohibited abortion after 15 weeks.
Present day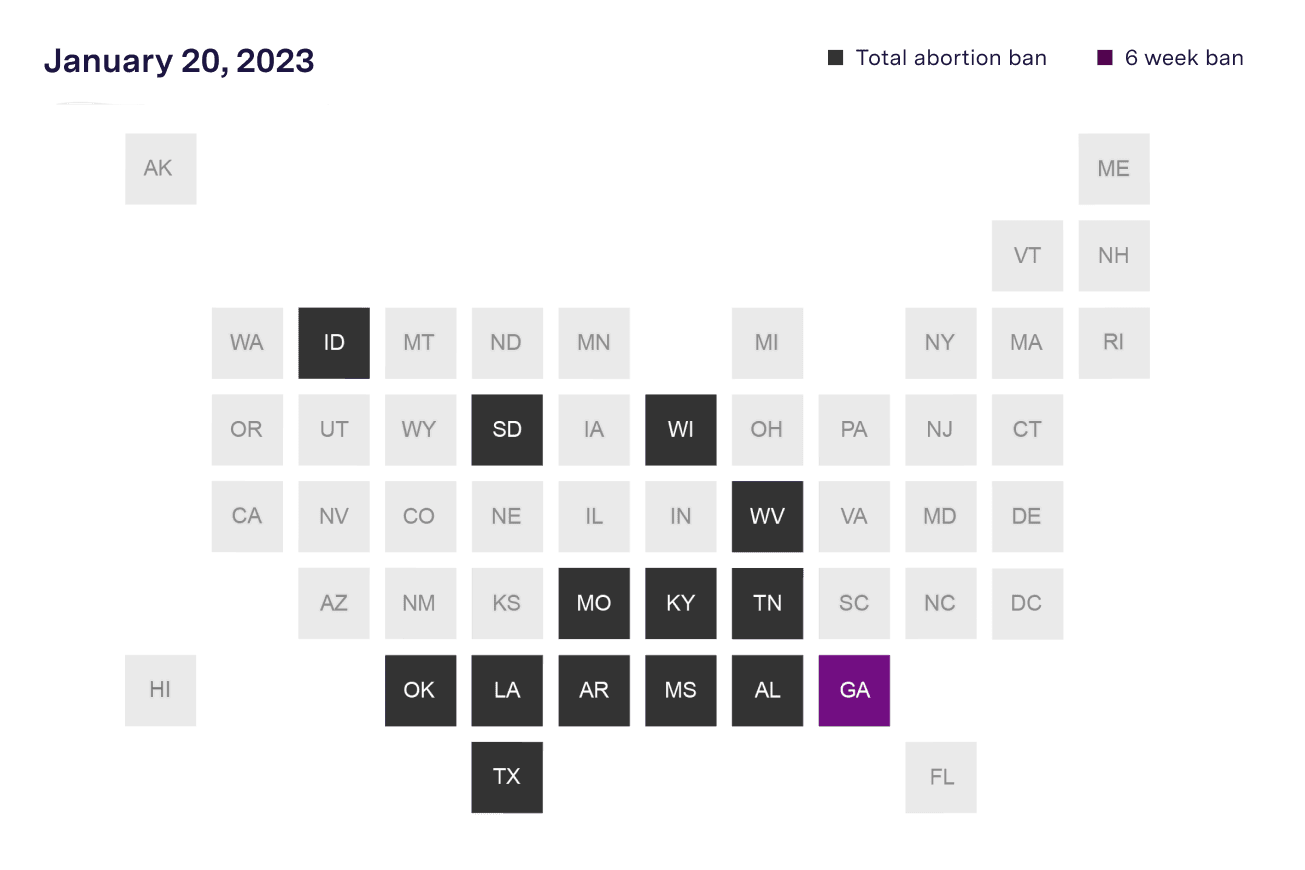 Practically, little has changed in access since the middle of the fall. Some of the first post-Dobbs legal battles have reached their conclusions — in South Carolina, the state Supreme Court declared a six-week ban unconstitutional, while Idaho's Supreme Court upheld that state's near-total abortion ban. The contrasting decisions underscore just how variable state responses may be when determining whether abortion remains a protected right.
Decisions are still pending in numerous court challenges, including in Arizona, Florida, Montana, North Dakota, Ohio, Utah and Wyoming. For now, abortion remains almost entirely banned in 13 states; in Georgia, it is illegal at six weeks of pregnancy, and in Florida and Arizona, it is banned for people after 15 weeks.
The picture of access is likely to change even more in coming months, with state legislatures reconvening across the country. Already, a proposed 15-week ban has been introduced in Virginia and a six-week ban in Nebraska. Lawmakers in North Carolina, Florida and South Carolina are also likely to push for new restrictions.
Jasmine Mithani contributed reporting.