Your trusted source for contextualizing LGBTQ+ news. Sign up for our daily newsletter.
Transgender women are navigating some of the harshest realities of American workplaces — pervasive discrimination, limited benefits, a violent political culture war. Those elements, taken together, leave them facing one of the widest pay gaps of any demographic in the workforce.
Trans women were paid 60 cents for every $1 earned by the average American worker in 2021, according to a report released last year by the Human Rights Campaign Foundation, an LGBTQ+ advocacy organization. It's one of the only studies of the transgender pay gap conducted in the United States, and while it only compares wages over a short time span, its insight is invaluable. Trans men and nonbinary people are paid only 70 percent of the wages paid to the average worker.
June 15 is LGBTQ+ Equal Pay Day, which both marks the pay gap queer people face and spotlights how little is still known about their economic realities. Every year, equal pay days for women of different races are observed at the point in the new year it would take them to earn the same as White men did the previous year. But for LGBTQ+ people, the date is observed during Pride month because the exact size of the gap is unknown.
Only recently, data has started to uncover that gap and spotlight the enormous disparities trans women, in particular, face. The 60-cents figure is very likely a conservative estimate, the Human Rights Campaign Foundation said. The numerous inequalities trans women face has pushed many into pockets of the economy with low, unstable pay and where the work can be dangerous. The current figure doesn't take into account part-time or gig workers, either, and it's not disaggregated by race. It's likely that, like with all groups of women, the disparities for trans women of color are even greater.
For decades, trans women have been an invisible part of the economy, omitted from economic data and often not even out to their colleagues at work. It's created an American workplace culture that is at best ignorant and at worst hostile.
Josie Caballero, the director of the U.S. Transgender Survey, the only national survey of transgender people, thinks of the challenges in layers: Trans women have limited access to gender-affirming health care from their employers, creating an enormous economic burden. They are also discriminated against and often pushed out of workplaces, and they have limited legal protections in a national political landscape that is actively working to claw back protections.
That has led to an unemployment rate for trans people that is three times as high as the overall U.S. unemployment rate, according to the 2015 U.S. Transgender Survey, the most recent data available (the 2022 survey will be released later this year). Trans women report losing jobs because of their gender identity at the highest rate of any trans or nonbinary group, according to the survey. And a disproportionately high number of trans women of color, especially Black women, work in the underground economy as sex workers, a job that often exacts a high cost on their safety and well-being.
"When you start adding all of those inputs you will see really quickly how expensive it is to actually be trans," Caballero said.
Education
Education is one of the factors that increases earnings over a lifetime, but trans women are less likely to complete high school or college than queer or straight cisgender women, according to an analysis of data from the Centers for Disease Control and Prevention's Behavioral Risk Factor Surveillance System, gathered from 2017-2019 by the Williams Institute at University of California at Los Angeles.
"We have a lot of data on what happens in schools, K through 12 and universities, that suggest there's still a degree of discrimination and harassment that happens to people that will make it harder for them to stay in school and to complete the level that they might want to," said M.V. Lee Badgett, an economics professor at University of Massachusetts Amherst who researches LGBTQ+ poverty.
While Badgett was researching economically precarious LGBTQ+ populations in Los Angeles, it was common for transgender people to say that once they began transitioning in college their families cut off financial support, leaving them to fend for themselves.
The combination of discrimination in educational settings and a lack of familial support "will make it a lot more challenging for trans people to be able to get a high level of education that will put them on a different sort of income path," Badgett said.
Workplace
That lack of support can follow them throughout their lives. Less than half of Americans say they know someone who is trans, according to research by Pew. In the workplace that translates to less education and focus on how to create environments that help trans workers thrive. And though diversity, equity and inclusion initiatives have been strengthened in the past several years, they are also now under attack by far-right groups.
Transgender people are the LGBTQ+ group most impacted by discrimination at work, with about half reporting that workplace discrimination significantly affected their financial well-being, according to a 2020 study of LGBTQ+ people by the Center for American Progress, a liberal think tank. Overall, discrimination against women in the workforce is still rampant — trans women are at the intersection of both gender and queer discrimination.
"When you have that lack of education, that lack of awareness and the lack of visibility of trans people generally in people's lives, it's much easier for people to try to just push people aside [in hiring]," Caballero said.
Power imbalance
Transgender workers are twice as likely as cisgender employees to report feeling isolated, and only about a third are fully out to their coworkers, according to a 2021 survey by McKinsey & Company. That leads workers to disconnect from their workplaces and to be less productive, said Christopher Carpenter, the director of Vanderbilt University's LGBTQ+ Policy Lab.
It's an environment that creates a power imbalance with employers. Because trans workers, and particularly trans women, are often dependent on their jobs to be able to subsist, they may be less likely to speak up when there is abuse or discrimination. The external pressure of financial instability keeps people in cycles of abuse.
"If you can barely pay rent or you can barely pay utilities or put food on the table, you definitely don't have the resources to pursue a legal case against your employer," said Mariah Moore, the co-director of programs and policy at the Transgender Law Center.
Moore, who is a Black trans woman, said most people like her often don't get a call back for a job at all, or if they do it's for entry-level retail or fast-food positions. According to McKinsey, trans people are 2.4 times more likely to work in food and retail, industries that have some of the lowest wages in the country. The majority of food and retail workers are women, particularly women of color.
Even for those who find jobs, many report that accessing promotions is difficult because of the different ways that discrimination manifests itself. Trans women report struggling with transmisogyny on the job that has fueled a myth that they don't experience a gender pay gap because they had male privilege before transitioning, Caballero said.
In reality, whatever higher pay a person might have earned "degrades very quickly, if there is anything at all, which I would argue that there isn't," when they come out as trans, she said.
A Dutch economic study from 2017 found that trans women earn meaningfully less after transitioning. The paper pointed out two effects on pay: transitioning — or being openly LGBTQ+ at work — and gender. Both trans men and trans women experienced a penalty for transitioning, but only trans women saw an additional level of pay discrimination for being women. The two effects combined mean that trans men didn't see a huge difference in pay, while the earnings loss for trans women was "amplified."
This all creates a cycle of financial instability that feeds itself. Without access to higher wages, workers can't build up credit or earn enough to make three-times rent, a rule that many landlords follow when assessing potential tenants.
"These things are already set up to prevent certain folks in certain socioeconomic statuses, it's there to keep them out," Moore said. "If you don't have safe, stable housing, you aren't going to be able to obtain consistent employment, you aren't going to be able to maintain consistent health care — you're not going to be able to have that structure in your life because you're still going to be in constant state of transition."
Health care
An important element in trans people's economic stability is their access to gender affirming care — without it, they face devastating economic and mental health outcomes. Caballero, for example, said she is still paying off loans for medical costs accrued for her gender-affirming surgeries, and that's with good health care. About 67 percent of Fortune 500 companies now offer trans-inclusive health care benefits, according to the Human Rights Campaign's Corporate Equality Index. Two decades ago, none did.
The cost to access even basic hormone replacement therapy can be hundreds of dollars a month. It could be the deciding factor between whether a trans person pursues a job at all or not. If they earn too much to qualify for Medicaid, which is a key lifeline to gender-affirming care for many trans folks, and jobs don't offer trans-inclusive health care, workers might choose to stay in low-paying jobs and retain their Medicaid access.
About half of states and Washington, D.C., specifically cover gender-affirming care through their Medicaid programs, though more states have been moving to exclude the coverage, particularly for trans youth. In state legislatures across the country right now, more than 125 bills have been proposed to restrict gender-affirming care, surgeries and hormone replacement therapy, according to the National Center for Transgender Equality.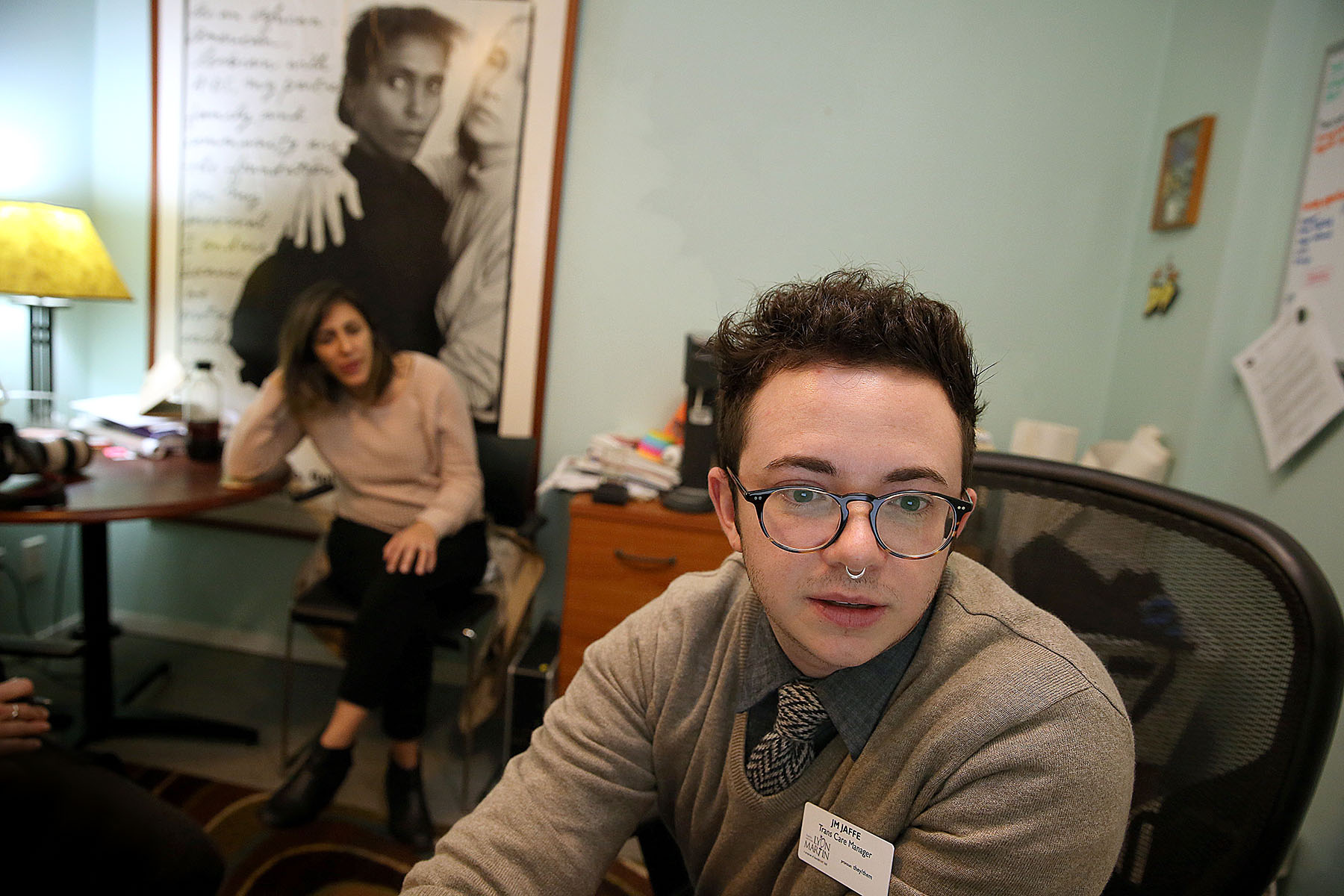 Underground economy
The instability, discrimination and paltry benefits available have created a pathway to sex work for many trans women of color. In the past several decades, sex work has been one of the only industries available to trans women, who have lived their lives "in the shadows" until quite recently, Caballero said.
But going into that line of work can also be something of a trap for many, Caballero said. When workers try to find other jobs, they can't report sex work on their resumes, for example.
"Particularly with trans women of color, they are forced into the underground economy or the sex work economy just to get food," Caballero said. "What does that also do? It creates a gap in your work history. Once you get locked into the underground economy, it kind of just makes it more difficult to get yourself out of that economy."
In recent years, laws that criminalize sex work have in some instances made the work more dangerous for workers, trans advocates say. The Allow States and Victims to Fight Online Sex Trafficking Act and the Stop Enabling Sex Traffickers Act, both passed in 2018, also banned sex workers from using online platforms and screening tools to do their work. Those tools let them vet clients for potential safety issues, connect with other sex workers and work independently. It has pushed workers back to the streets.
Legal discrimination
The criminalization trans people have suffered for decades, and continue to suffer, is the final piece standing in front of trans women's economic liberation.
Wendi Cooper learned that hard truth when she was just 19 years old. Six months after she transitioned in 1999, Cooper met a cop on the way to a club who she was interested in, and she thought he was interested in her. An explicit conversation between them was enough for him to arrest her under Louisiana's Crime Against Nature by Solicitation (CANS) law, an 1805 law that made offering oral or anal sex in exchange for money a felony with up to five years in prison. After 1992, those convicted had to also register as a sex offender; the punishments decreed by CANS are more severe than other anti-sex work laws in the state. The law, which is still in effect, has particularly targeted Black trans women, and the focus on specific sex acts targets queer people as a whole.
"Walking around with that status, it was impossible for me to be able to do the things that I need to do to be able to live in a society where you need some type of economic income to be able to sustain, to get housing, to get some type of transportation," Cooper said. "It was very challenging for me."
After her conviction, Cooper got a biology degree and worked as a nursing assistant, but when background checks turned up her registration as a sex offender, she was pushed out of job after job. She ultimately got a criminal justice master's degree to fight the Crime Against Nature law, and played a critical role in a federal lawsuit that challenged the law and removed more than 700 women from the sex offender registry. In 2018, Cooper also founded a nonprofit called Transcending Women to connect women, particularly those who are incarcerated, with financial and legal support in the South.
Though Cooper's conviction has since been expunged, it still appears in certain background checks. She's working to get her conviction vacated, erasing it from her record entirely. But at 44, Cooper's conviction has extinguished her hopes of economic advancement. She is the sole caregiver for her four nieces and nephews and is unable to earn enough to buy a home or afford extracurricular activities for the kids.
"The only income I have coming in is today I have to go do some Uber to be able to make ends meet," she told The 19th. "What I think about a lot is I went to school for eight years, I have two degrees, but I have $22 in the bank because of a conversation between two civilized adults."
Cooper is in a place that is a far too familiar reality for many trans women: survival mode.
"Even if I was to apply to a job now, I don't even have the experience to say, 'I am able to do this' because of my past," Cooper said. "The only experience I have is I know how to survive." 
What could help
To combat the slate of anti-trans bills moving through states, a federal Equality Act could be key, expanding the provisions under the Civil Rights Act to include gender identity and sexual orientation protections and strengthening avenues for recourse for trans workers who experience discrimination at work. Advocates have been pushing for the Equality Act since 1974.
Laws that require employers to post salaries or salary ranges for job openings are considered one of the most powerful tools to addressing the gender pay gap, and they could also help trans women who suspect they are being discriminated against at work.
"The fact that businesses aren't required to post salary ranges or be transparent … transgender women have more to fear in terms of retaliation if they were to push on that," said Angela Dallara, a spokesperson for GLAAD.
Corporations can also do more to close the gap, she said. Safety is the top reason that transgender workers might not pursue certain jobs, McKinsey found. Addressing that can begin with normalizing behaviors, such as asking all workers to state their pronouns, adding anti-discrimination language to their policies that address gender identity and sexual orientation, creating gender-neutral bathrooms and providing gender diversity training.
And there's also more than can be done to send a message that companies are ready to stand with queer workers, advocates said. Recent backlash to companies' Pride campaigns, including incidents with Target where the company pulled Pride merch off shelves at some stores after complaints and threats of violence against LGBTQ+ workers, have sent the opposite message.
Advocates want to see companies "standing up for trans people and not just caving when there is a little bit of backlash," Dallara said. "It's really important for LGBTQ+ and trans people to see what businesses' values really are. To know they're in a safe space."