*Correction appended.
DENVER — Approximately 2,500 White women sat outside the Colorado state capitol building downtown on Monday, demanding that Gov. Jared Polis sign an executive order to ban guns and implement a statewide buyback program. Groups began gathering at 5 a.m., saying they would be in place until 8 p.m. and return at 8 a.m. each day for a week.
The sit-in is organized by Here 4 The Kids, a group founded by women of color with a mission statement opposing gun violence and white supremacy. The group had said last week that they expected 20,000 White women to show up at Monday's sit-in.
The calls for White women in particular to demand an executive order is an inherent part of the strategy crafted by Saira Rao, a first-generation Indian-American woman who is one of the group's founders.
"White women are the most demographically powerful people in the country. Why is it that marketing companies go after White women between the ages of 25 and 55? Power," Rao said. And in addition to financial power and influence, white women have privilege — the kind of privilege that helps keep them safe from police violence in the midst of organized political actions such as this one, Rao said. "If 25,000 Black and Brown people show up, we get murdered and arrested, called Islamic terrorists and tear-gassed or worse. So it has to be White bodies, period."
The group of White women at the Colorado capitol came from across the United States. As they gathered, they spread picnic blankets and set up camp chairs, freely sharing snacks and sunscreen, introducing themselves to strangers and quickly swapping stories about everything from childbirth experiences to anecdotes about their families. Volunteers circulated among the crowds, announcing on the hour the 10-minute moment of silence in honor of victims of gun violence in America. Attendees would then come together on the capitol steps, bringing their hand-drawn signs and standing solemnly as more and more names of those killed by gun violence in 2023 alone were read aloud.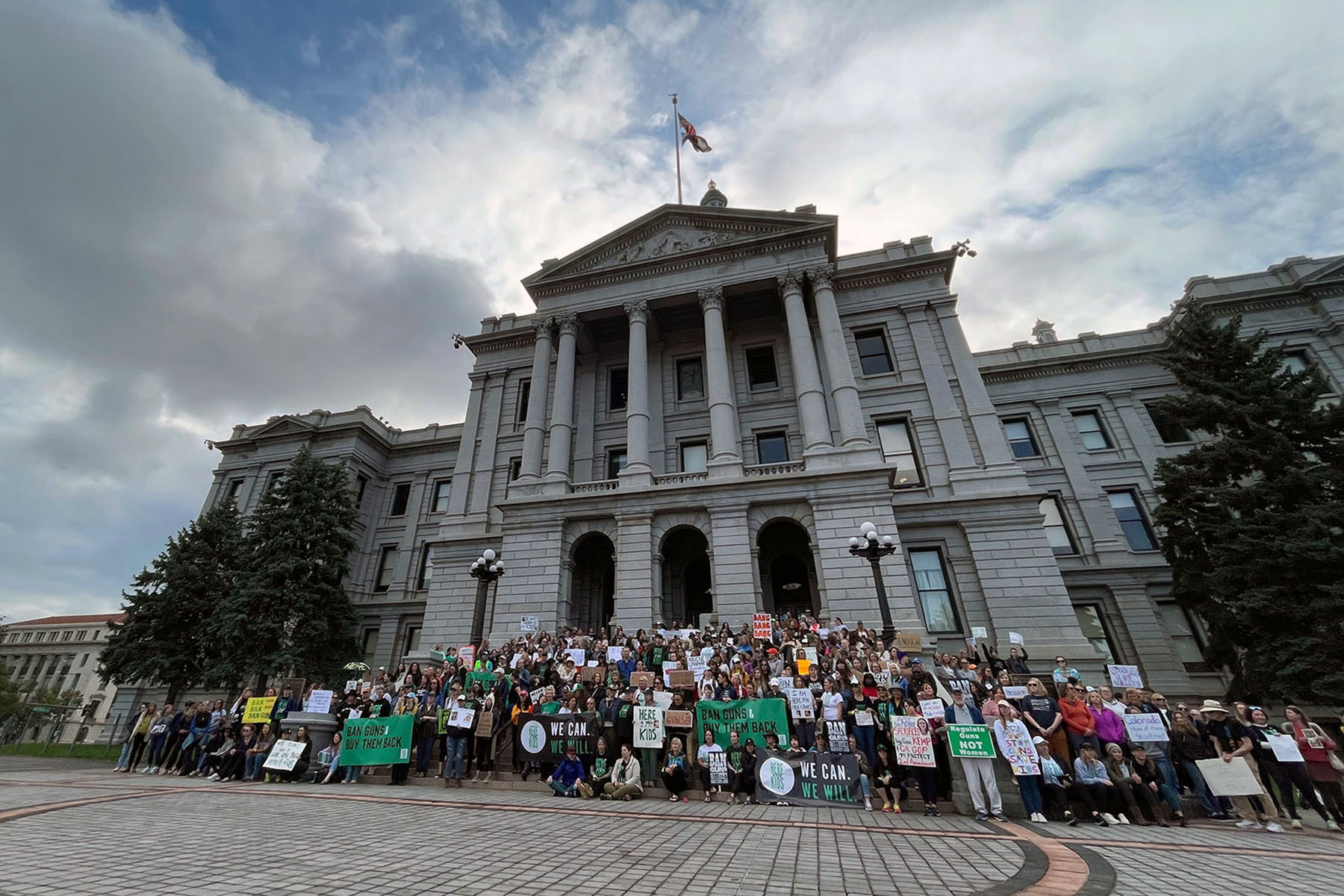 The mood was largely joyful and compassionate, as women frequently commented to one another about how energized they were to be out, sitting, doing something other than posting on social media or signing another petition as a means of expressing their frustration about the state of gun violence. They were somber coming out of the moments of silence, and occasionally concerned about whether the anticipated 20,000 attendees who had RSVP'd to the action would turn out.
While White women gathered at the capitol, a network of BIPOC, queer and disabled people worked on Here 4 The Kids' remote campaign, utilizing the hashtag #AmplifyJune5 to promote the social shares of those on the ground, directing people to contact their governor and other elected officials in their own states asking for an executive order banning guns, letting people share "artivism" projects, and providing virtual support communities for those grieving loved ones lost to gun violence.
Rao spoke of what she saw as the anti-Blackness underlying the Second Amendment and how it was designed to favor slave owners. Having White women make the demand to end the Second Amendment because of its foundation in white supremacy is necessary, Rao said, to fully make the argument that the right to bear arms is trumping children's right to live.
In engaging in this endeavor, Rao said she emphasizes to the White women involved that they are not allies and this work is not allyship since they are showing up for their own children's lives, safety and futures as well.
Rao said the choice of Colorado as a starting point was a deliberate way to focus her group's messaging around "expecting more from the Democrats" by looking at blue states that have "inordinately high" instances of gun violence.
Colorado is widely thought of as a state paving the way for the future of gun reform in America, an incubator for what is possible not only legislatively but in terms of grassroots action. At the signing for the newest batch of gun safety laws in April, Polis, a Democrat, was flanked by grassroots organizers from groups like Moms Demand Action. A slew of new gun safety measures in Colorado have been hailed as a major victory for gun safety advocates, many of whom have been engaged at a grassroots level for over a decade in the state where the gun lobby historically held great influence in the statehouse.
Polis' election in 2018 itself was considered by many to be a win for gun safety activists. Moms Demand Action, a part of the Everytown for Gun Safety network, campaigned for and endorsed Polis when he first ran in 2018 and again when he was up for re-election in 2022. The group was not involved in the Here 4 The Kids sit-in.
In April, Polis signed four new gun safety bills, just five months after the mass shooting at Club Q, a LGBTQ club in Colorado Springs. Two of the new laws have already been challenged by gun advocacy groups: One raises the age for buying a gun from 18 to 21; the other implements a three-day waiting period between the purchase and actual receipt of a gun.
The third new Colorado law is a "red flag" measure that allows those in mandatory reporting situations to petition a judge for an extreme risk protective order, or a move to have a gun temporarily removed from someone they are concerned may cause harm to another person. The fourth new law — sponsored by State Sen. Tim Sullivan, whose son was killed in the 2012 mass shooting at a movie theater in Aurora, Colorado — makes it easier for victims of gun violence to pursue legal action against the gun industry.
On June 2, Polis signed yet another gun safety bill into law: SB 279 is a ban on "ghost guns," or unserialized frames and receivers — the outer parts of a gun that hold its interior mechanisms and ammunition — that can be made from kits or 3D printers. Polis' signature now marks the fifth major piece of gun safety legislation he's signed in the first half of 2023.
But an executive order banning guns in Colorado would be considered unconstitutional under the Second Amendment, and would be subject to an immediate legal challenge as a result. A statement issued by Polis's office mid-Monday morning said, "The governor supports our Second Amendment right to bear arms and also shares the concerns about improving public safety including reducing gun violence, which is why the governor is committed to making Colorado one of the top 10 safest states."
The statement added that members of the governor's staff had met with leadership at Here 4 The Kids and took issue with their demand to ban all guns.
"These individuals' calls to improve safety and prevent gun violence through their specific requests for an executive order banning all guns would simply be unconstitutional," the statement noted.
But many of those who came to Colorado on Monday said they didn't need a full ban on all guns to feel like they had been seen and heard.
Laurie Muzzy, 42, traveled to Denver from Durham, North Carolina, because she said she was "afraid every place I go that someone is going to come in and just start shooting. Guns are just too available. There's been so many restrictions that politicians have tried to pass and there's not enough work being done to make this happen."
As a North Carolina resident, Muzzy said she is concerned about things like permitless carry and news stories she has seen about people of color being killed by police after finding guns in their vehicles when pulled over, even when permitted. "So I guess we have to ban all of the guns now. I don't want that to happen. I want my coworkers to be able to go hunting and bring back venison and share it with me. My father-in-law goes duck hunting and he's great, he's totally responsible. But that's just not worth kids' lives. Kids are more important than hunting."
Kelly Krupp, 29, of Golden, Colorado, was at the sit-in with her daughter, who was finishing first grade this week. Her young daughter climbed up a streetlight pole, waving her rainbow Here 4 The Kids sign clad in a gymnastics leotard and sunglasses. "I'm here with my daughter, Irene. She was in kindergarten when her school got its first gun threat, and it's been that way every semester since she started school. Her kindergarten graduation was right after Uvalde, and we were living in Texas at the time. She had a moment of silence at her kindergarten graduation for those kids. So something's broken and we want it fixed. I hope that Governor Polis signs the executive order that we've provided him and that change starts here."
Sandgren Dinkel, 46, is a crisis counselor currently living in Aurora, Colorado, who works in the city's public schools. Just last week, she lost a student to gun violence; unarmed, he was shot by the police. "I know some people want to ban guns altogether, but I'm saying let's have more rules," she said. "Let's have universal laws like background checks and waiting periods and lessons and classes required or gun ownership and regulations on storage and handling. Let's do all of that. Let's protect in the same way we do when we get a driver's license. I'm personally not asking for more than that right now."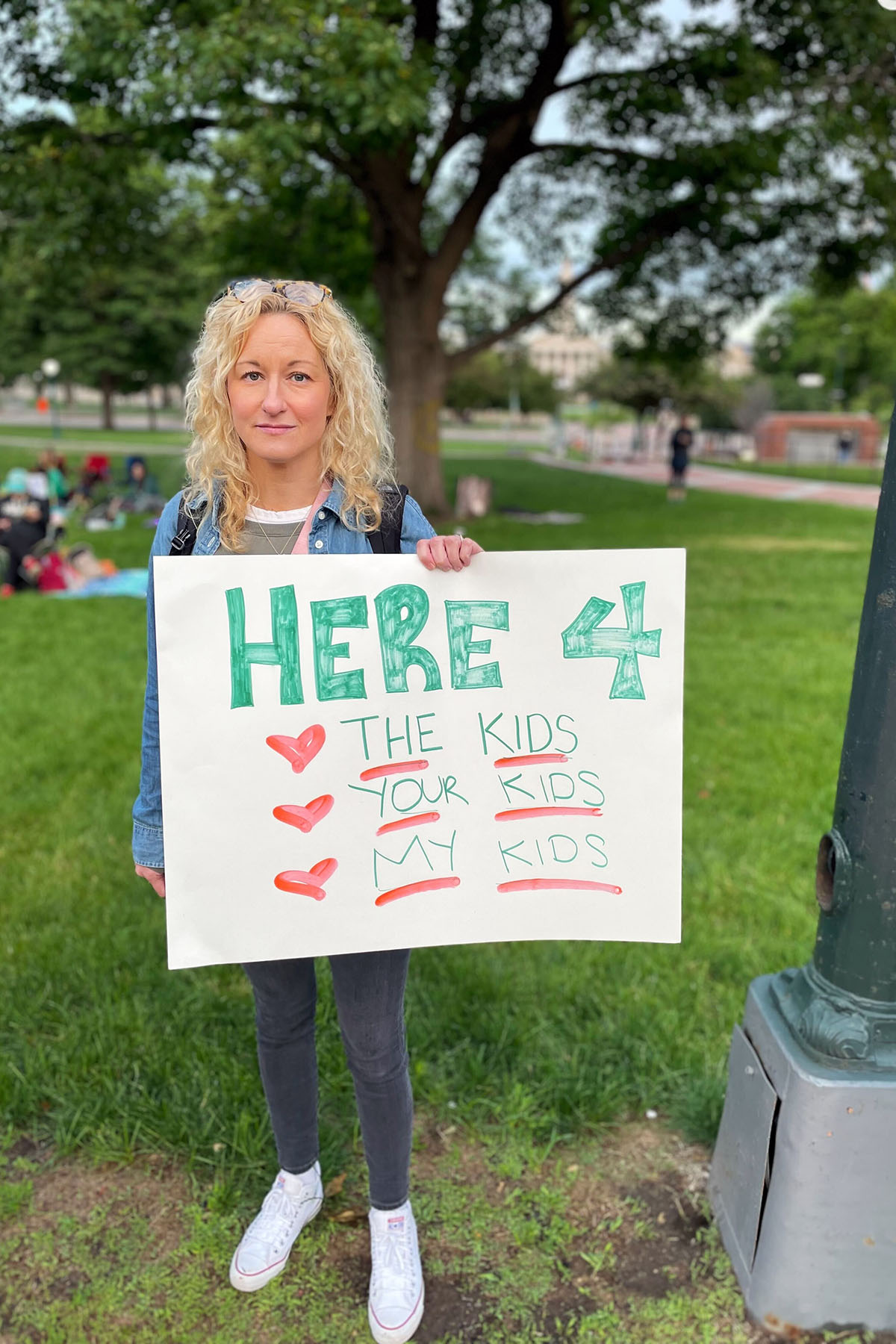 Denver resident Elizabeth Liebetrau, 43, began to cry when asked why she was there at the sit-in, holding a sign with her children's names on it as the reason she was there. "My kids are scared to go to school every day. They literally say, 'Mom — what if there's a shooter today?' And I feel that way at every concert and class and at yoga and at the grocery store. America is sick. We need some big action to change this."
Kinzie Sippola, 30, said she decided to travel to Denver from her home in Las Vegas when she learned that this action was specifically "a call for White women to come together." She said standing in community with the other attendees at Monday's sit-in was a powerful moment for her. "I had this realization that usually when I look around and see a lot of White women, I realize that I'm in a very privileged space. Today I'm with a lot of White women because we are using our privilege instead of accessing a privileged space." Sippola held a sign that read "2 Aunties Here 4 The Kids."
Wolf Terry, a resident of Lakewood, Colorado, DM'd Rao on Instagram in April saying she was interested in volunteering. Within minutes, she was on the phone with Rao, who asked if she could talk immediately. Rao started the call by telling Terry she was now one of six field organizers charged with orchestrating Here 4 The Kids' ground game in Denver.
Terry, 33, said this work has forced her to confront the way that White women often engage — or not — with social crises. "They're willing to post something on social media. They're willing to complain about stuff at the kitchen table or in their friends groups about the state of the world, but they're more willing to look the other way than anything else." Engaging with the work of Here 4 The Kids means she talks about white supremacy a lot, often with other White women, and "it's a scary word that brings up feelings that they don't want to feel and they don't want to tackle those feelings. They want to get easily offended and reject the idea that Black women, Brown women and Indigenous women know more than them because they have a lived experience of having to know more than them."
But the work is not solely about dismantling white supremacy, she said. It's also about guns.
"We've proven time, and time and time again that we will continue to use guns to violently harm marginalized people specifically," Terry said. "This is not an American dream. This is an American nightmare."
Terry said her involvement also feels deeply personal as the mother of a 5-year old autistic son. "You know what I think when I tour my kid's kindergarten for next year? I think he's going to be in a 26-person classroom and because of his sensory issues, if he were to go into lockdown, just as a drill, he will lose his mind because it would be too much for him."
She imagines the compounded danger that would create in an actual school shooting, and she is confident other parents have similar fears. "That is why people are coming together. Because we've had enough. It doesn't matter if you vote Republican, whether you vote Democrat, whether you're independent, whether you're Green Party — we're dying."
Bonnie Rosenberg, 66, learned about Here 4 The Kids after attending a film screening Rao hosted in Atlanta last month with Tina Strawn, the group's co-founder. After the screening, Strawn spoke to the attendees about the planned sit-in on June 5 and how they wanted White women specifically to show up for it. A friend of Rosenberg's who was also at the screening turned to her, Rosenberg recalled, and said, "Bonnie, we need to go." Rosenberg's husband, who was also there, said the same. So she bought a plane ticket and through Here 4 The Kids was put in touch with a group of approximately 20 other women from across the country to coordinate their plans to sit together. "I'm showing my White privilege by showing up," Rosenberg said. "There are over 200 mass shootings this year alone and the year isn't even over yet. If that doesn't motivate me, I don't know what will."
After one of her adult children moved to Germany, Rosenberg said she considered a move abroad herself out of concerns for her safety in the midst of America's gun violence epidemic. When people ask her if she is sad that her daughter does not live in the United States and closer to her, Rosenberg said she replies, "No — I feel that she is safer there. That's so sad that I have to say that. I miss her, and she's recently married and I miss them, but the point is she feels they are safer living there and I do too."
Rosenberg, who lives in the Atlanta suburb of Marietta, said she had never participated in a sit-in before. She's also never traveled outside of Atlanta for her activism before. She said she also liked the nature of the organizers' demand. "I personally think we should go to the extreme because nothing else has worked."
Nearly nine hours into the sit-in, Rao worked out of an off-site location where leadership — largely all women of color — could safely keep track of the day's events from a distance.
"This entire past two months has been the depth of depravity of this country and the heights of humanity. Seeing the videos and images that people are texting us from the capitol — it's so beautiful," Rao said. "Today's the litmus test on America: Are we choosing children? Or are we choosing the No. 1 killer of children?"
She said she was "delighted" with the day's turnout. When it comes to those who did not attend as promised, she said, "It goes back to heroes and villains. When history asks, 'Where were you on June 5?' are you going to be the villain who couldn't be bothered? Are you going to say, 'Sure I wish the guns wouldn't kill everybody, but I'm crazy busy. I have a SoulCycle class today. I'm going to go hiking today.' Are you going to be the hero or the villain? There are choices."
Rao concluded, "We're just getting started. This is the beginning. White Americans have been asleep at the wheel while their kids — while all of our kids — are getting murdered. Today is the dawning of a new day. I feel more hopeful than you'll ever know."
Correction: An earlier version of this article misspelled Laurie Muzzy's surname.