This column first appeared in The Amendment, a new biweekly newsletter by Errin Haines, The 19th's editor-at-large. Subscribe today to get early access to future analysis.
Students shot to death at a Christian school in Tennessee. Employees killed at a bank in Kentucky. Black teenagers killed and wounded at a birthday party in Alabama. A 16-year-old boy shot in the head in Missouri after ringing the wrong doorbell. A 20-year-old woman killed after pulling her car into the wrong driveway.
To be an American citizen is to endure the daily drumbeat of gun violence. In the first 109 days of 2023, there have already been more than 160 mass shootings in the United States.
Some lawmakers offer only thoughts and prayers, and others insist that something must be done. But the unrelenting toll of gun violence across the country has resulted in incremental change at best in a sharply partisan Congress and inaction more broadly, particularly in red states. The nation's status quo is unacceptable to many Americans, while talks of reform only affirm others' commitment to the Second Amendment.
The fight is also a gendered one. Nearly twice as many men as women own guns, and men outnumber women nearly 3 to 1 at the National Rifle Association's annual meetings; this year's gathering was held last weekend in Indianapolis. America's mass shooters are overwhelmingly White men. And among America's teachers, who have found themselves on the front lines of our country's gun violence epidemic, three-quarters are women.
The founding fathers authored the Second Amendment that has made the right to bear arms political doctrine for centuries. Today, men are still the majority of the lawmakers with power to make policy on guns at the local and federal level.
But women candidates are running and winning on the issue of gun violence, including 140 Moms Demand Action volunteers elected in the 2022 midterms, and Democratic governors including Gretchen Whitmer of Michigan and Katie Hobbs of Arizona. In the wake of the March 27 mass shooting in Nashville, Run for Something announced that nearly 700 women signed up to run for office — noting that 10 percent were from Tennessee and nearly half were born after 1994.
Single-issue voters are rare, but headed into another consequential election year, it is clear that guns will be on the ballot in 2024.
---
On March 27, three children and three adults were killed in a mass shooting at a private Christian school in Nashville. The thirteenth school shooting in 2023 and the most deadly school shooting of the year so far prompted Democratic Tennessee state Reps. Justin Jones, Justin Pearson and Gloria Johnson — a former educator — to demand action on the floor of the state House. Because their actions violated the chamber's rules, Republicans voted to expel Jones and Pearson, both Black men, who were both reinstated within days. Johnson, a White woman, narrowly avoided expulsion. 
The incident highlighted the link between race and the fight for gun safety, said Moms Demand Action founder Shannon Watts.
"We're seeing over and over again a spotlight shone on the white supremacy that underlies a lot of the lack of gun laws and also the gun tragedies in this country," Watts said. "I felt like the whole nation was seeing this crisis illuminated in that moment. When these two Black lawmakers were being expelled from the legislature simply for supporting gun safety, we were able to see in a new way how systemic racism and gun extremism and all of the things that go along with that, that are part and parcel of our nation's gun tragedy."
A CBS/YouGov poll released last week showed that more than 3 in 4 Americans say mass shootings are something the country could prevent and stop if we tried. In the same poll, 64 percent of Americans — including 72 percent of women, compared with 55 percent of men — responded that gun violence was a "very important" issue in the country today. That was true for 80 percent of Black Americans, compared with 62 percent of White Americans and 64 percent of Hispanic Americans.
For young people of color, gun violence is a particularly potent priority, said Noah Lumbantobing, spokesman for March for Our Lives, an organization founded by young people to advocate for measures to curb gun violence.
"When you think about voters of color, it's notable and it's important for anybody to think about in elected leadership, it's a top issue," Lumbantobing said. "It's an issue that is front of mind for young people across the spectrum. Whether they're afraid at school, at church, the grocery store, it is one of, if not the, issue that helps people decide who to vote for and drives people to vote."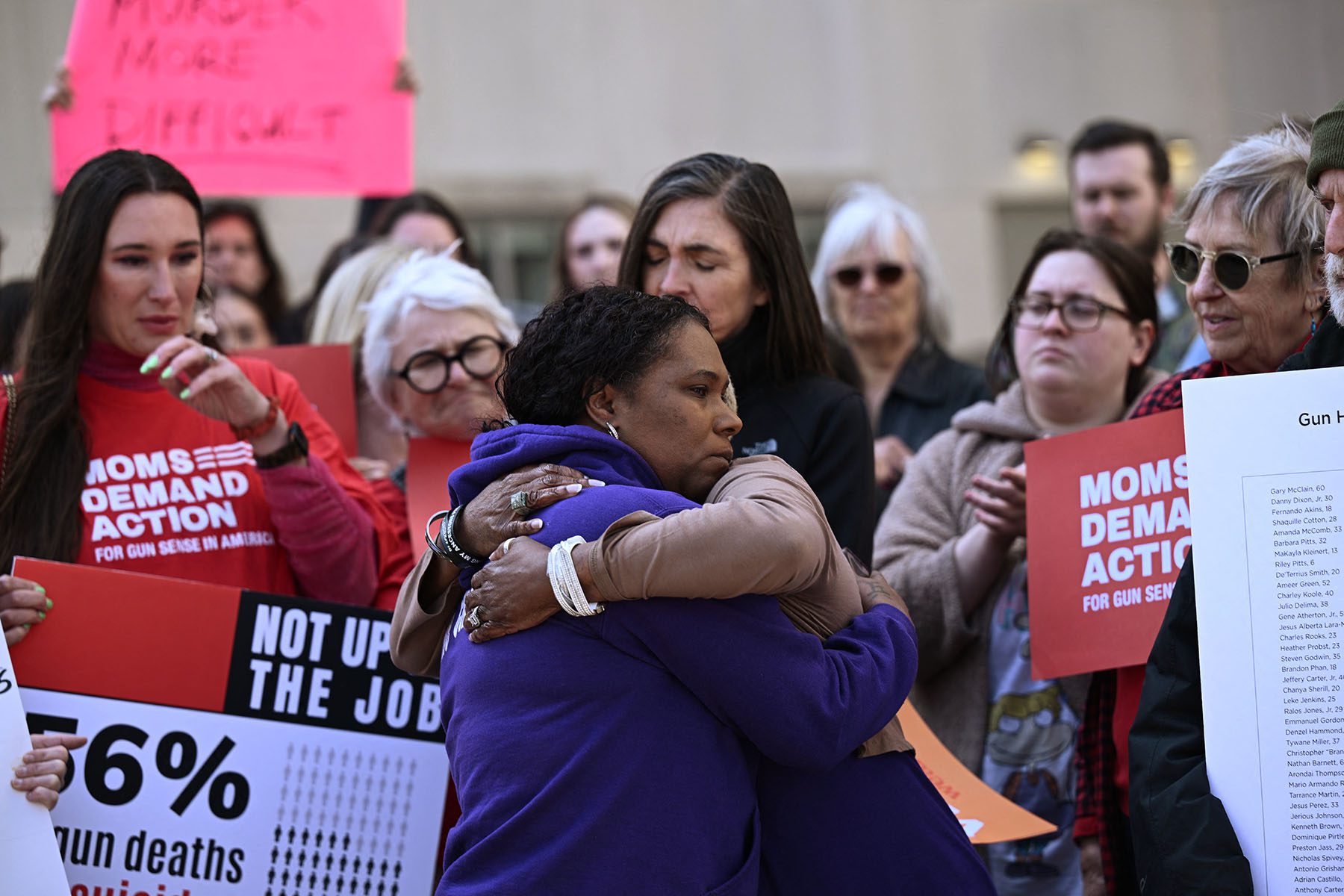 Adrianne Shropshire, executive director of the voter turnout organization BlackPAC, said gun violence was a top issue for Black voters in the 2022 midterm elections. That's not likely to change, she said, because the prevalence of shootings remains. Crime was one of the top concerns for voters in the 2022 election, and in Black communities in particular, that equates to a call for gun reform.
"When we would talk to folks, there was this deep concern … about the daily oppression of gun-related crimes that people feel most galvanized around," Shropshire said. "It's an issue that is with us until Black communities feel like there has been some actual reprieve."
Black voters, women in particular, aren't looking for "tough on crime" rhetoric, Shropshire said, but rather candidates who can talk about their specific plans for reducing the number of guns and what to do about illegal guns.
Watts agreed.
"I do think these shootings have galvanized parents, students who have had to live this way their whole lives and Black and Brown communities who bear the brunt disproportionately of this crisis," she said. "It has been a winning issue, but even more at the front of voters' minds going into the next election cycle. People are fed up with gun extremist politicians who are saying there's nothing we can do and yet we know they're putting gun maker profits above public safety."
---
Guns have long been a dividing line in our politics, but gun violence as a way of life in America is a more modern phenomenon that has further polarized the electorate and our leaders.
President Joe Biden and Vice President Kamala Harris, both licensed gun owners, have continued to push for federal legislative action around guns. Biden has tweeted in recent days about mass shootings in Dadeville, Alabama, and Louisville, Kentucky, calling the incidents "outrageous and unacceptable" and urging congressional action on universal background checks, and a ban on assault weapons and high-capacity magazines. On Monday, Biden called Ralph Yarl, the Black teenager shot in the head by an 84-year-old White man after he rang the wrong doorbell looking for his siblings.
On the day after Pearson and Jones were ousted from the House chamber, Harris made a last-minute visit to Nashville in support of the Tennessee Three, delivering a fiery speech condemning the Republican-controlled legislature's actions and calling for reform. And in remarks at the National Action Network conference in New York last week, Harris framed the debate not as a fight over gun safety, but over public safety and freedom, taking aim at the NRA members who said they were embracing freedom.
"So, we must ask: 'Freedom-filled' for who, exactly? Because it's not for parents who pray that their children will come home from school safe from a classroom in Uvalde or Nashville," she said. "Not for those who pray that their loved ones will come home safe from a bank in Louisville, Kentucky, from a grocery store in Buffalo, or from everyday gun violence in communities across our nation."
It's a message that will likely resonate well with suburban women and independents in particular, said Republican strategist Susan Del Percio.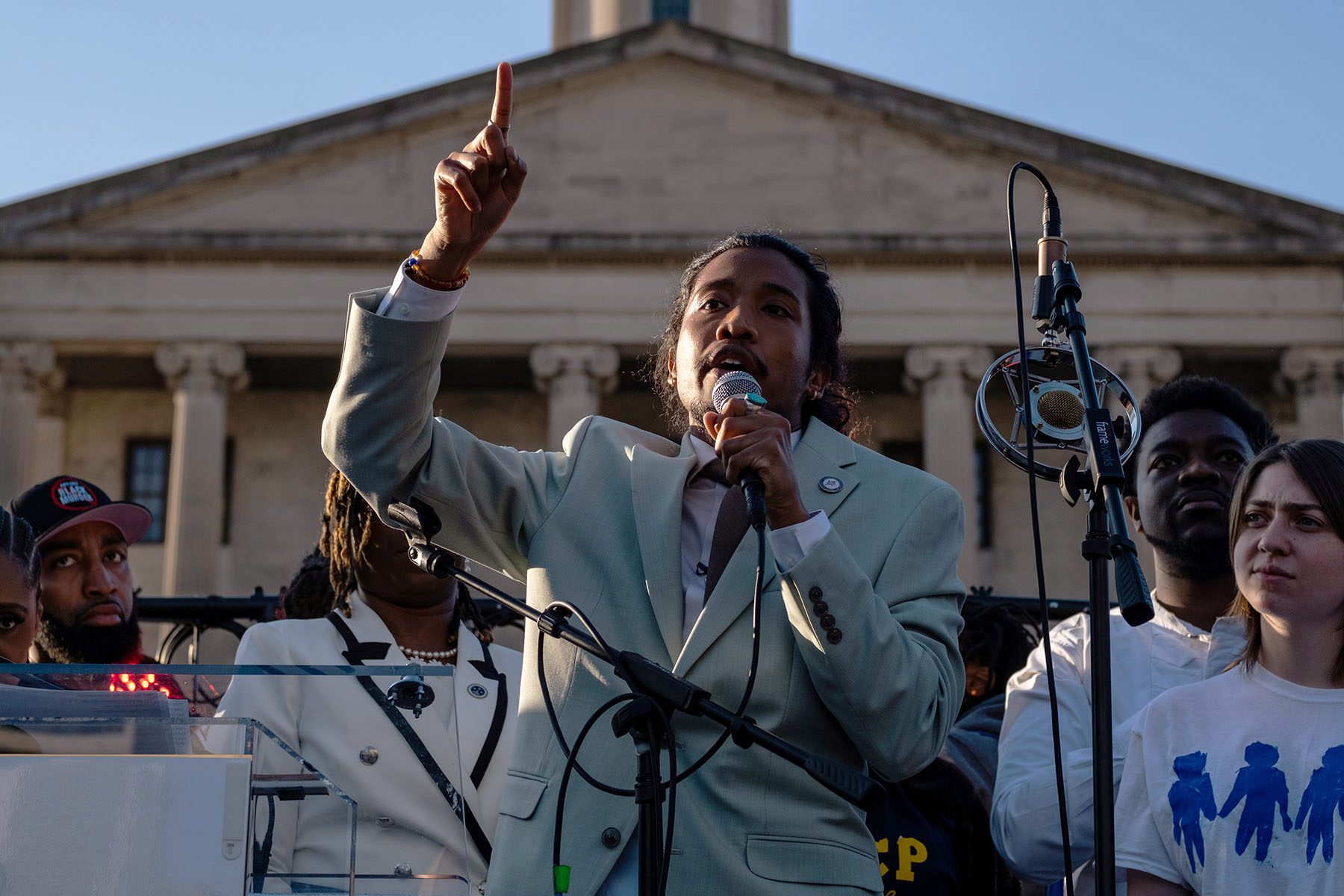 "One thing that Democrats have wisely done is move away from gun safety to a public safety issue," she said. "That resonates because voters in the suburbs tend to have kids or grandkids. And it's really getting to the point that everyone's at least one connection away from a mass shooting. I don't think people are going to be voting for Joe Biden or whoever the Republicans are picking — they are coming out to vote for their position, and public safety is the conversation."
---
Last summer, the Supreme Court's decision in the Dobbs v. Jackson Women's Health Organization that ended federal protections for abortion angered and mobilized millions of women, who make up the majority of the American electorate. Democrats capitalized on their outrage, casting the Republican position and the candidates who embraced it as extreme as a winning strategy.
Could the same happen next fall on guns? How will the issue intersect with a broader conversation around personal freedom and rights? The issue could be especially motivating for the Democrats' base: women, young people and voters of color.
Politicians can't afford to leave anyone out, said March for Our Lives' Lumbantobing.
"Young people know that it doesn't have to be this way," he said. "It's important for our leaders to recognize that in the absence of action, you're going to lose a whole generation of people — both electorally, but also, thousands of kids will die, literally."