This Pride Month, we're telling the untold stories of LGBTQ+ people. Subscribe to our daily newsletter.
At the start of "Chef's Choice," Luna, freshly fired from her job as an executive assistant, is unsure how she is going to make her rent. But a chance meeting with an odd request offers some relief: A Frenchman clad in all-black clothing offers Luna $1,000 to hop on FaceTime with his grandfather and pretend to be his girlfriend. Even though Luna knows nothing about the guy — other than that his first name is Jean-Pierre — she's also in need of cash to ride out her nascent unemployment. She accepts the offer.
Next thing she knows, she's in the middle of an intense grandparent drama involving rival celebrity French chefs, an elaborate cooking test of cherished family recipes, and a different kind of situationship with Jean-Pierre, who needs her to continue the ruse for a few more weeks to try to secure his inheritance. For an additional $600,000, Luna agrees to play his girlfriend. From that point on the paparazzi are everywhere and a fake relationship is born.
Jean-Pierre, a trans man, and Luna, a trans woman, are like oil and water. But while they continue their performance for the outside world, real feelings develop. Soon, the real performance is to each other, convincing themselves that the relationship is all for show. 
Pride Month: Resistance, resilience, recreation and rest
"Chef's Choice" is author TJ Alexander's second novel featuring queer and trans characters in the romantic-comedy genre, where Alexander feels trans readers, writers and characters strongly belong. Alexander spoke with The 19th about their new novel, representation and why rom-coms are the ultimate allegory for trans life.
This interview has been edited for length and clarity.
Jennifer Gerson: The book industry has long used the phrase "chick lit" to market funny books about love and romance — there have been rigid assumptions about who reads these books. How do you feel about this as someone who pushes up against this idea?
TJ Alexander: I am very lucky that my marketing and publicity teams have been on the ball, and they know what's up, and they understand that all kinds of people are reading romance novels and rom-coms in particular and that comedies are not just "for ladies." Books aren't just for ladies just because they have people kissing at the end.
In the America I grew up in, in the generation I grew up in, at least, there was definitely this idea that certain stories were masculine and that certain stories were for women — this idea that if you are a non-woman and you say that you're going to see a rom-com, you only did so under duress. There's this idea that you couldn't see that kind of movie and possibly be enjoying yourself, because then how could you also be manly? I think this is super, super silly. We all deserve to have full-on laughs and kissing stories. These stories are also for dudes and others!
How have you thought about using this genre as a way to make this kind of joy accessible to more people, and how do you think about the work of inclusion in writing rom-com books?
I wrote my first book, "Chef's Kiss," in 2020. That story was written while I was in the process of transitioning and coming out to different people in my life, and that informed that story, because that book was about that era of a queer person who is in the place of trying to figure out how to handle their loved ones and guide them through this minefield with you and hope that it all ends up OK.
Now in this second book, "Chef's Choice," I get to do something a little bit different and tell the story of two trans people falling in love with each other. I'm not ignoring the fact that there might be cis readers with this book, and I hope there will be cis readers, but I'm also like, "This book isn't about you." It's about these two people now, these two trans characters. I'm less concerned about talking to a cis audience and I'm more concerned about talking directly to a trans audience, because I think those are the people I am writing for because that's me. Ultimately, I am writing for me.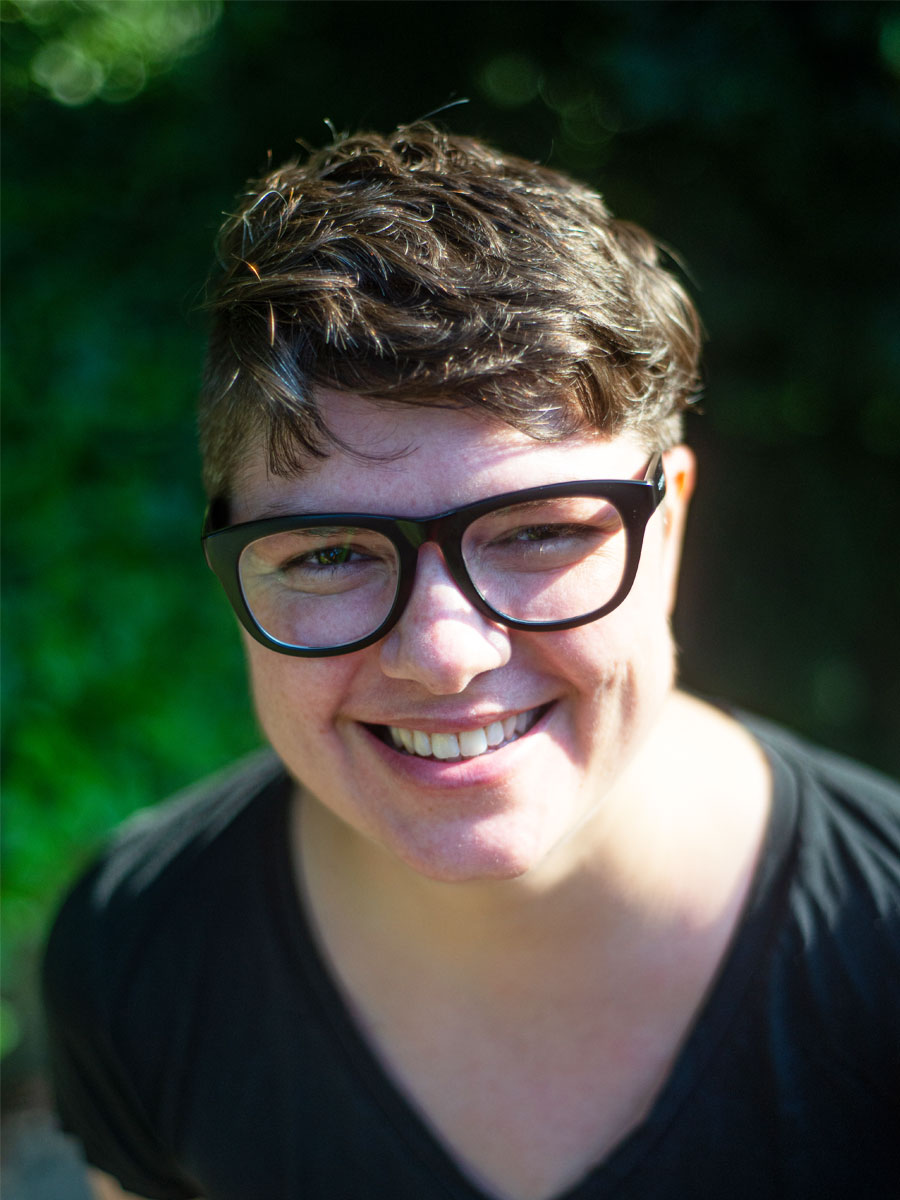 How did being very conscientious of writing for a trans reader inform how you thought about the characters in "Chef's Choice" and what details you shared about them and their interior lives?
I got to focus on what I want to see in a love story, which is two trans people taking care of each other and getting to know each other and supporting each other. I think there is a very specific way that trans people do that for each other that is very tender and unexplored in a lot of media.
Because I am a trans nonbinary person and I am married to a trans person, I just wanted to make something — I hate to use the word accessible, because that implies a hurdle that folks have to overcome in order to understand a trans relationship and a T4T couple — but I did want to make it less mysterious and strange to people, this idea that not only can we love ourselves, but we can love each other, and this is not a threat. We're not a threat in any way. These two main characters are just people who are living their lives and going on this silly little adventure, and they happen to be trans.
What do you hope readers will say when they finish reading "Chef's Choice"?
What I would really love to hear is about a trans reader finishing this book, closing the cover, and being like, "I gotta call up my trans friend right now and tell them, 'Oh, here we are!'"
Maybe it's not like they see these characters as exactly us, because my characters are living this kind of heightened comedy adventure, but I want them to be able to point to details and things that the characters say or jokes the characters make and say, "That's so me." That's what would bring me the most joy, knowing that the things that brought me joy in writing these characters might bring joy to other trans people, too.
What are some of the details you have in mind that you hope resonate in this way?
I think the argument that the two main characters, Luna and Jean-Pierre, have early in the book, where they are arguing about what their fake relationship is going to look like to others and they're coming to that conversation from two very different points of view. Luna has never been particularly obsessed with passing or being acceptable to cis people, whereas Jean-Pierre has spent his entire life with that as his main goal. She is shocked and angry to find out that he would think of them as a straight couple, that they would appear on the street as a man and a woman who a random stranger would perceive as straight or heterosexual. She's super offended that he sees them that way.
For lots of different reasons, these are the kind of conversations I think that trans people and trans couples are having all over the world, all around America. It's a really stirring conversation because neither of them are right or wrong, it's just that we have such a different way of looking at things even within our own community.
The other big one is something I straight up stole from a meme that went around a few years ago that talked about the intimacy of a trans couple taking their hormone shots together and how affirming and supportive that moment can be. There was a point when I was writing this book where I was like, "Yes I have to put that in there." It's just one of those little every day moments for a lot of trans people but to do it together with someone can be an incredible experience.
What is it like having this book come out in the midst of an unprecedented level of legislative threats to trans people's existence and an also unprecedented number of book bans that often target LGBTQ+ books?
It feels bad … No trans person I know wants to be thinking about all of this stuff all day every day. It's something that you feel like you have to balance — being informed and needing to take care of yourself. I want to know what's happening in the world, but I also just don't know how much of the daily horrible news I can handle. Everything feels turned up to 11 right now, and it is a current source of stress and it sucks.
I will be glad if my books provide some kind of — not antidote, because I don't think there is an antidote other than changing the policies that are affecting our lives in such horrible ways. I think that there does need to be some kind of relief, though, in the form of doing something for yourself that's fun or gentle or just silly. I hope these books can be that. For some people, I understand if it's not that because it just seems like a higher bar than ever to get over this horrible feeling that all of this news brings you every day.
How are you thinking about the role that representation plays for trans people to see their lives represented as joyful and happy and in loving and safe relationships?
There's a long history of trans people being in entertainment but also being the butt of the joke, or being this tragic figure who could not possibly survive. Those were the kinds of stories that I was growing up with as a kid, if trans people were ever spoken of or represented at all. It was a real bummer. It's nice to see the good — which is that some things are changing. You see more trans and nonbinary characters now. In some media, though, I think there is still a tendency … for a cis audience to expect tragedy when a trans character shows up or when they hear that there's a trans story being told.
One of the things I had to fight my way through in getting representation for my first book was this idea that yes, it's about trans people but it's a comedy, and nothing bad happens in the end. My experience is not, "Oh, you are trans so your life is going to be an endless series of battles and a real slog." My life isn't that way at all. It is increasingly becoming more difficult to make it in America, but I think in its most natural state, trans life is just a pretty normal life with its own silly ups and downs like anyone else has.
When it comes to representation, I think the answer pretty universally is just more of it. Just put more of it out there, and then there's not so much pressure on any one character being the only trans character in a movie coming out in theaters all year and then having to ask, "Well, do they die? Are they good?" If there's only one, there's a lot of pressure to perform for a lot of different people. But if there are a dozen, if there's 50, if there are 100 trans stories being told, then it's less of an issue to me if some of them are bummers, if some of them are dark, if some of them are horror stories — and then some of them have humor. We should be able to have the same kind of breadth of the canon that other people get to have.
Why do you want people to think of rom-coms specifically as also being trans stories?
When it comes to being a trans person and just living your life, it's actually very funny. I have so many hilarious interactions as a nonbinary person who isn't going to pass as either a man or a woman, because I am neither and that throws a lot of people off and it makes for some really funny little skits that people get to do with me. If there isn't any malice directed at me, it's really easy to live a life that is funny and fun.
I think rom-coms, especially just the structure of them, lend themselves to trans characters because part of being trans — especially for people like me who are older [Alexander is 39] and transition later in life — is that your life is already a story of learning about yourself and growing into fullness, to literally and legally becoming another kind of person.
In a rom-com there's intrigue, there's interest in something or someone, there's some obstacle that you have to get over or overcome — and that's just the trans experience in a nutshell. And then hopefully, fingers crossed and knock wood, at the end everything works out and you are with the person that you want to be with, whether that's your romantic partner or yourself. To me, it's a no-brainer to adopt the rom-com as a trans allegory.