This Pride Month, we're telling the untold stories of LGBTQ+ people. Subscribe to our daily newsletter.
It was just past midnight on March 3, 2020, when the wind blew open the French doors in Christa Suppan's Nashville bedroom. That's strange, she thought. Suppan glanced at her phone: 20 missed calls, dozens of texts. One stood out: "You gotta go down to Lipstick."
Without warning or alarms, one of the strongest tornadoes in American history had swept through Lipstick Lounge, the purple and bubble-gum pink confection Suppan has co-owned for nearly two decades and one of the last remaining lesbian bars in the country. She didn't know what would be left of it when she pulled up that night, finding a couple staff members and bar patrons standing outside, dejected.
The entire patio had been ripped from the ground and thrown like a frisbee one street over. The two roofs had blown off, the front windows blown out. Glass everywhere.
"Of course I cry, because it's jacked," Suppan said recently. The only thing she could hold onto was that it had happened on a Monday when the bar was closed. No one had lost their lives.
The cleanup effort began that night, but the bar didn't even have the money to cover the deductible to file a claim with its insurance. Many lesbian bars exist in a perpetual state of precarity — lesbian women impacted by the gender pay gap have fewer funds to begin with, experience more difficulty trying to obtain loans and insurance, and generally have less disposable income when their businesses are upended. That's on top of the longstanding challenges of running any bar, not to mention a queer bar in a red state already hostile to LGBTQ+ people. 
Pride Month: Resistance, resilience, recreation and rest
Lipstick and the two dozen or so lesbian bars operating around the country are surviving on a cocktail of resistance, reinvention and community. Some are new, while others are decades-old, survivors from a different time when hundreds dotted the United States. All are contending with two main foes: economic hardship and political hostility as more states pass legislation limiting access to queer stories, queer joy and trans health care.
Lesbian bars first emerged around the 1940s, when women were beginning to earn their own income. They became popular because they were the first places marked as specific "lesbian" places, but they were always marred by financial hardship. It wasn't until the 1970s, after women were allowed to take out a credit card in their name without needing a man to sign off, that the number of lesbian bars, restaurants, bookstores and cafes started to rise. The 1980s were a time of growth — real estate was cheaper, bars started to add brunch and diversify, activism was booming — bars numbered in the hundreds.
But there was still profound racism and exclusion. Black women had to show three or four types of ID to get in, said Jack Gieseking, a research fellow at the Five College Women's Studies Research Center and author of "A Queer New York: Geographies of Lesbians, Dykes, and Queers." Transgender people were often discriminated against. And by the late 1990s and early 2000s, the number of bars and other lesbian spaces started to dip, driven by a move to sobriety, rising rent prices, gentrification and a changing world that afforded LGBTQ+ people new language to define themselves.
"There were so many trans people coming into themselves around that era because the Internet had happened, and there were all these chat groups and resources … And it's like, 'Wait, am I still lesbian? Do I belong there?'" said Gieseking, who is writing a book on lesbian bars called "Dyke Bars*: Queer-Trans Spaces for the End Times." "And it just really wiped out a lot of spaces."
Underneath all that was a steady beat of economic hardship. Bars were so difficult to operate that owners were counting cents to pay bills, Gieseking said. Lesbian women overall today earn about 87 cents for every dollar earned by White men, according to a 2022 report from the Human Rights Campaign, the first to study the pay gap for LGBTQ+ women. Though the gap for lesbians is the narrowest gap among LGBTQ+ women, it is wider for lesbians of color. Lesbian couples face a double pay gap.
"How do you sustain a business when you're trying to be supported by a population group that has limited economic resources and as a couple?" said Japonica Brown-Saracino, professor and chair of the sociology department at Boston University, who has done research on lesbian bars.
When Lipstick got torn apart, Nahsville's queer community rallied to raise the funds so that Suppan and her co-owner, Jonda Valentine, could pay their deductible and reopen the bar by the following week. They reopened on March 10 — the day before the World Health Organization declared COVID-19 a pandemic. Days later they were closed again, and would stay closed six more months.
Those were days that tested their resistance. The bar got a Paycheck Protection Program loan and an Economic Injury Disaster Loan, both pandemic-era aid programs, but there were still other bills to pay — electricity, pest control, state taxes — tens of thousands of dollars for a business that had already been literally blown to bits just days earlier.
Back in 2002 when Lipstick first opened, Suppan and Valentine poured everything they had — and didn't have — into creating a space that did not exist in Tennessee. It was a bar built by lesbians, but they marketed it as a bar for humans seeking acceptance. They've tried everything: karaoke, drag, bingo, games, a pet parade, a high heel race. Valentine, the daughter of a preacher, sings gospel songs on stage.
Suppan didn't collect a paycheck for years — "I'm talking like 13 or 14 years," she said.
But they survived. They've survived because they are needed — Lipstick has hosted food pantries, fundraisers and even funerals — and because of an ineffable quality they have imbued into Lipstick, creating a space that people have fought to protect for two decades.
The tornado and the pandemic brought a new type of test they thought perhaps they would not overcome.
"This building has always held so much energy, and I said, 'One day I walked in [during the pandemic] and I felt nothing,'" Suppan said.
She was in a fight that many lesbian bars across the country were in at the time. Only 16 were left when Erica Rose, the co-creator of "The Lesbian Bar Project," a short film and later TV series, decided to start filming the bars to bring attention to just how few were left. "The Lesbian Bar Project" got so much attention the directors were able to raise more than $250,000 for the bars by 2021.
That helped places like Lipstick, and the attention from the project inspired others to open lesbian bars in their communities. Now, the number has risen to 27 by Rose's count. Two have opened in Los Angeles alone after years of none in the area.
It's a resurgence also fueled, in part, by a desire to reclaim spaces in a political climate that in some states has limited access to queer stories, queer joy and trans health care.
"I think that people, when faced with the possibility of having no safe spaces to go to, the majority of people didn't want to live in a world like that," Rose said.
In Tennessee, a bill to ban drag performances that could be viewed by children has already been signed, though a federal judge last week ruled it unconstitutional, and in Texas, another similar bill has passed the legislature and is awaiting Gov. Greg Abbott's signature.
Nashville's anti-drag bill hasn't affected Lipstick yet, but in Houston, Pearl Bar owner Julie Mabry is already navigating the fallout. Pearl, open since 2013 as one of two lesbian bars in Texas, has already experienced its fair share of headwinds. Pearl didn't get a PPP loan during COVID-19 and has had several recent expenses, including building an enclosed fence to help keep the bar and its patrons safe in an increasingly hostile political climate and after a November shooting at Club Q, a queer nightclub in Colorado.
Then in May, as Mabry was shopping around for new insurance policies, an underwriter said in an email that it would not take on the risk of insuring her bar specifically because it runs drag shows three times a week, a response to then-proposed legislation in Texas.
"This is very scary because speaking up about it can also put us in an even more detrimental situation. There is more hatred than there's ever been," Mabry told The 19th. She's since been able to secure insurance with a different carrier who doesn't view drag as a risk.
More lesbian bars today are embracing drag, and more are offering a variety of events at different times of day. Lesbians often have more caregiving responsibilities, Brown-Saracino said, and so bars have evolved to include more daytime activities and brunch, things that are more friendly to those who are also parents. At Lipstick, Suppan is working on an expansion to add a sports bar because "there's a point where you age out of a nightclub, and I'm aged," she said.
Today's lesbian bars have a broad clientele in mind — they are lesbian-owned, yes, but they are also spaces for queer folks, people of color, trans people, nonbinary folks and even straight people. It's a desire to move away from their history of racism and exclusion, and they're evolving to better serve their patrons.
All of that exists in a dichotomy, said Greggor Mattson, professor and chair of sociology at Oberlin College and the author of "Who Needs Gay Bars? Bar-Hopping through America's Endangered LGBTQ+ Places."
Mattson, a gay man, admits that bars aren't really his scene. "When I'm honest and look at how I spend Friday nights, it is at home," he said. There's an ambivalence about queer bars that has always been there. Why do queer folks have to have a separate space, and, at the same time, how could they survive if they didn't have this separate space?
"Ambivalence is home turf for queer people," Mattson writes in his book. "We want to hide for our safety, and we want to be visible at the same time, seen for who we really are and noticed by the cute person over there. We want to push through the pull of respectable, heterosexual tides, and we want a place and time just to rest. We want to be special. We want to be normal."
In a way, lesbian bars have evolved to house those two identities. Mattson remembers a time about five years ago when he was at a lesbian bar that was showing "RuPaul's Drag Race." As he looked around, he realized that those standing along the back wall were gay men. All the people sitting at the bar were women or femmes, and standing behind them were transmasculine people.
"The bar didn't ask us to, but we had arranged ourselves so it was women first," he said.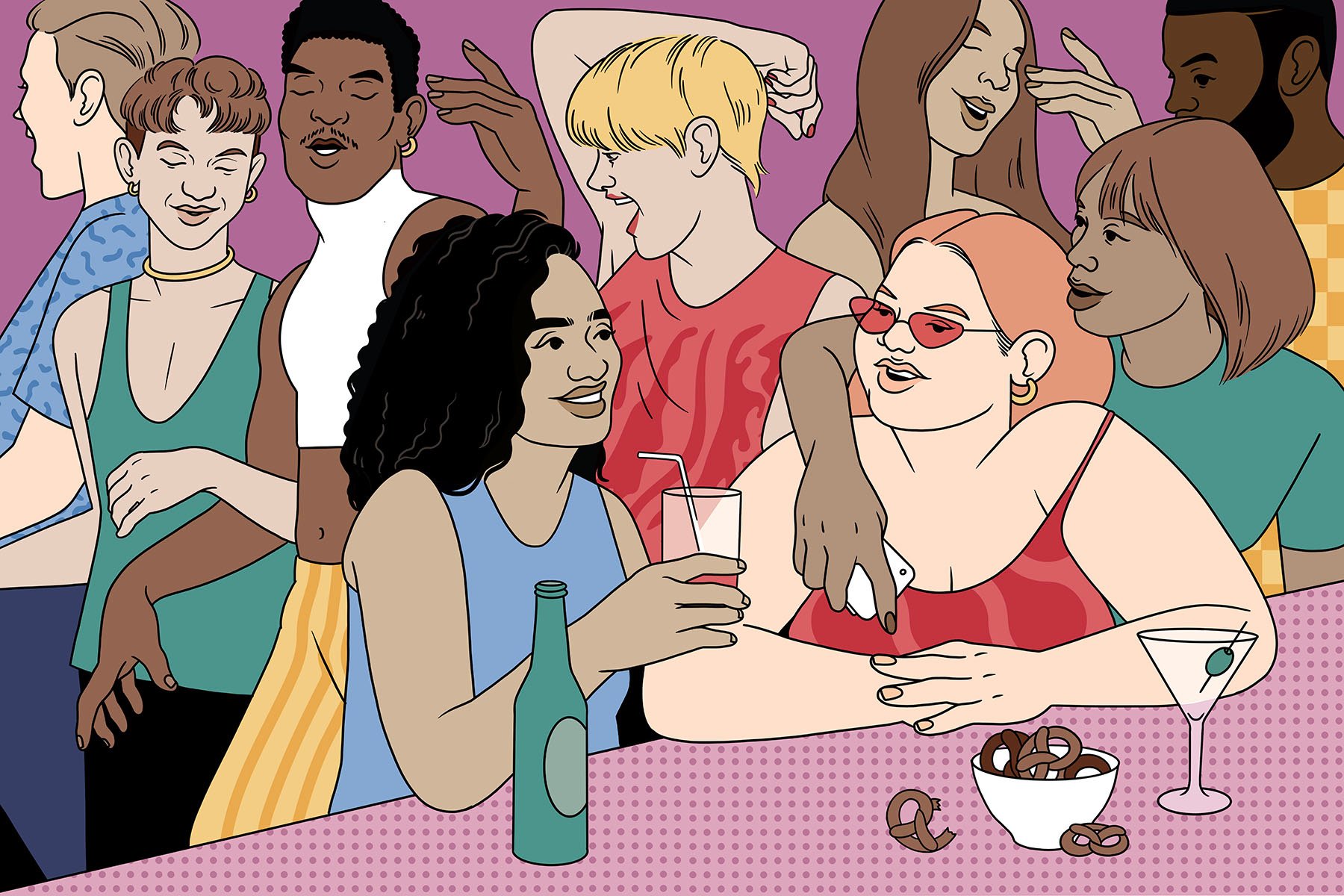 That approach, of creating a bar for all, is getting back to the core of what these spaces mean for a lot of people and the promise they hold. The need for unbridled acceptance led people who often didn't even have prior business experience to create lesbian bars in the first place, said Alex Ketchum, author of "Ingredients for Revolution: A History of American Feminist Restaurants, Cafes, and Coffeehouses."
"The fact that anyone ever opened them — there is a lot of hope there," Ketchum said.
In Worcester, Massachusetts, hope is what led to the opening of Femme Bar in March, the first lesbian bar in the area. Owners Danielle and Julie Spring started thinking about having a space in Worcester after a transformative trip to Cubbyhole, the famous lesbian bar in New York City.
Then, when Danielle's sister Dianté died suddenly in 2022, she decided it was time. Her sister had always supported the idea of her opening a lesbian bar.
"I thought I should finish this in her honor. She was pushing it more than we were pushing it," Danielle said. "I realized a long time ago that hope is really hard. To show others that there is hope, we have to keep opening these spaces."
The bar is for all queer people, and they offer an extensive menu, a mocktail menu for those who don't drink alcohol, brunch, karaoke, trivia and singo — bingo, but with musical clips. Julie Spring runs a book club out of the bar on the first Tuesday of every month. On the front wall is a mural of a woman wearing the same jewelry Danielle's sister wore every day.
On opening night, when patrons first got to experience the space "a lot of women were coming in there and walking in the front door and crying," Danielle said.
That's all part of the quality that's difficult to describe about the lesbian bars that have endured. There's hope and endurance, companionship and care.
At Lipstick, Suppan is a caregiver in many ways. Most days she goes to bed at 3:30 a.m. and rises at 6:30 a.m. with her 9-year-old son — his baby shower was even at Lipstick. She cares for the bar and its patrons, and the patrons care for her.
In particular, Jan Taylor and her partner, Mallory Church, were early supporters of Lipstick Lounge. Taylor befriended Suppan's mom years ago — they called her Miss Connie — and when Miss Connie's health was deteriorating, Taylor, a massage therapist, offered to massage her mom. By then, Taylor was sick herself. She had been diagnosed with cancer — an aggressive non-Hodgkin's lymphoma.
When a new experimental treatment came up, Taylor's partner and Suppan thought of throwing a fundraiser to cover the new treatment. Of course, they did it at Lipstick. It was a tall ask — they were trying to raise $10,000 in 2007 and not quite getting there.
Suppan hopped on stage.
"Here's the deal," she told the crowd. "Y'all need to raise $1,500 in the next five minutes. If you do, Jan gets to shave my head." Taylor herself was bald by then.
Suppan's staff jumped right up. In 30 seconds they had thrown much more than $1,500 at the stage.
Giddy, Taylor was handed some clippers by the karaoke host, who was in beauty school at the time, and shaved off Suppan's thick blonde curls except for one red streak Suppan always left in her front bangs. They laughed and laughed.
The medication ultimately didn't work. Taylor died shortly after with Suppan there as she took her last breath and uttered one last word: "Wow."
Suppan tells the story through tears. The magic of Lipstick and places like it is in its community, in the people who have kept visiting it and the ones who have kept it alive.
"You can only put so much love into something, but I feel like it's never-ending," Suppan said. "Jonda and I talked during the pandemic — 'Should we just close? Should we just be done?' We went back and forth. But it was like, I don't feel like our jobs are done yet."