Your trusted source for contextualizing education news. Sign up for our daily newsletter.
Having grown up in landlocked Atlanta, Madison Quarles was unnerved by the thought of spending weeks at sea. Yet when she got the chance in 2021 to spend a fortnight in the North Atlantic on the OceanXplorer — an advanced marine research and media vessel from exploration nonprofit OceanX — she traveled to Bergen, Norway, despite her fears.
"I was scared because the biggest boat that I had been on was a boat that's in a lake that could barely go that fast," said Quarles, who had then wrapped up her sophomore year at Spelman College, from which she just graduated earlier this month. "So having to go from that to a research and media vessel made me very, very nervous."
With a length of 285.76 feet and a breadth of 70.21 feet, OceanXplorer is cavernous enough to hold a 72-member crew, four deep sea vehicles and four laboratories. It also has a helicopter that can search long distance and film from the sky and an onboard production house that a media team uses to turn research discoveries into real-time digital content. Through OceanX's Young Explorers Program — which OceanX launched in 2021 with partners the National Oceanic and Atmospheric Administration, Gloucester Marine Genomics Institute and Coral Vita — college students like Quarles can explore the ocean with professional scientists aboard the ship.
Biology major Quarles applied to the program on her own, but OceanX wants to systematically develop more Black students, particularly Black women, into marine scientists. So, it recently announced a unique partnership with Spelman to offer students and faculty from the historically Black women's college the opportunity to take part in the Young Explorers Program. In August, three Spelman students are expected to take part. The nonprofit is also offering the Spelman community access to employment opportunities, research and curriculum development and collaborative efforts with OceanX's partners such as Black in Marine Science, which works to diversify the field and celebrate the work of existing marine scientists of color.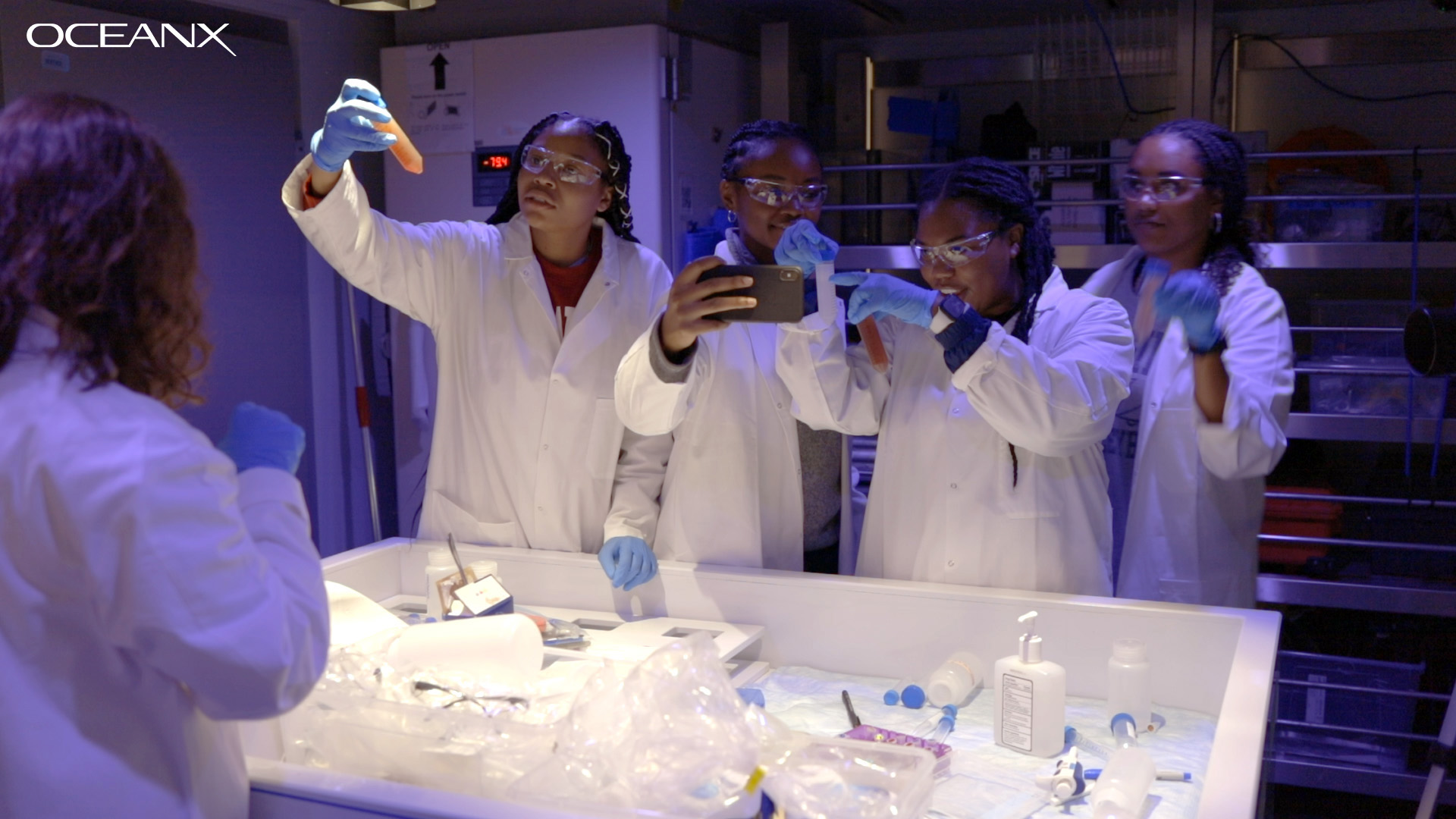 "This collaboration — what makes it different is that it guarantees a spot for a Spelman student on the ship each year starting in the summer," said Nicole Johnston, a lecturer in Spelman's biology department and the college's resident marine biologist. "Women of color are vastly underrepresented in marine science, and this is an opportunity really directed at people who are traditionally underrepresented. And the thing that makes this even more unique is the fact that OceanX has paired with Black in Marine Science, who are on the ship with the students there. It's like that saying, 'If you can see it, you can be it.'"
Black Americans make up just 6 percent of the life sciences workforce; slightly under half (48 percent) of those professionals are women. That isn't expected to change anytime soon, according to the Pew Research Center. Even though colleges and universities started granting more STEM (science, technology, engineering and math) degrees last decade, the numbers of women and/or people of color in the industry lag behind other groups. The OceanX-Spelman partnership strives to change that by giving students of color the tools needed to succeed in marine biology, including connecting them to Black scientists to instill the message that it is possible for historically marginalized groups to thrive in STEM.
"It's not that Spelman students can't be marine biologists or that the opportunity for marine biology doesn't exist," said Dr. Jerry Volcy, director of the Spelman Innovation Lab and a key partner in the college's new OceanX collaboration. "The challenge is that Spelman students typically don't envision themselves as marine biologists because they've never seen a marine biologist who looks like them. So the idea of being a marine biologist is not even on the radar. It's not even under consideration."
Volcy said that he has often encountered students who love the ocean but have never considered marine biology to be a viable career path. Diversifying marine biology serves both Spelman students and the nation as a whole, Volcy said, as the United States needs to develop more scientists to compete globally.
Mattie Rodrigue, OceanX's science program lead, said the nonprofit is partnering with Spelman to ensure that its work reaches a variety of people and not just industry insiders. Whether communities are on the front lines of climate change or know little about the ocean's state, the exploration organization aims to expose them to scientific research through its media and education channels. OceanX operates under the belief that the more people know about the ocean, the more likely they will be to conserve, protect and sustain it, Rodrigue said.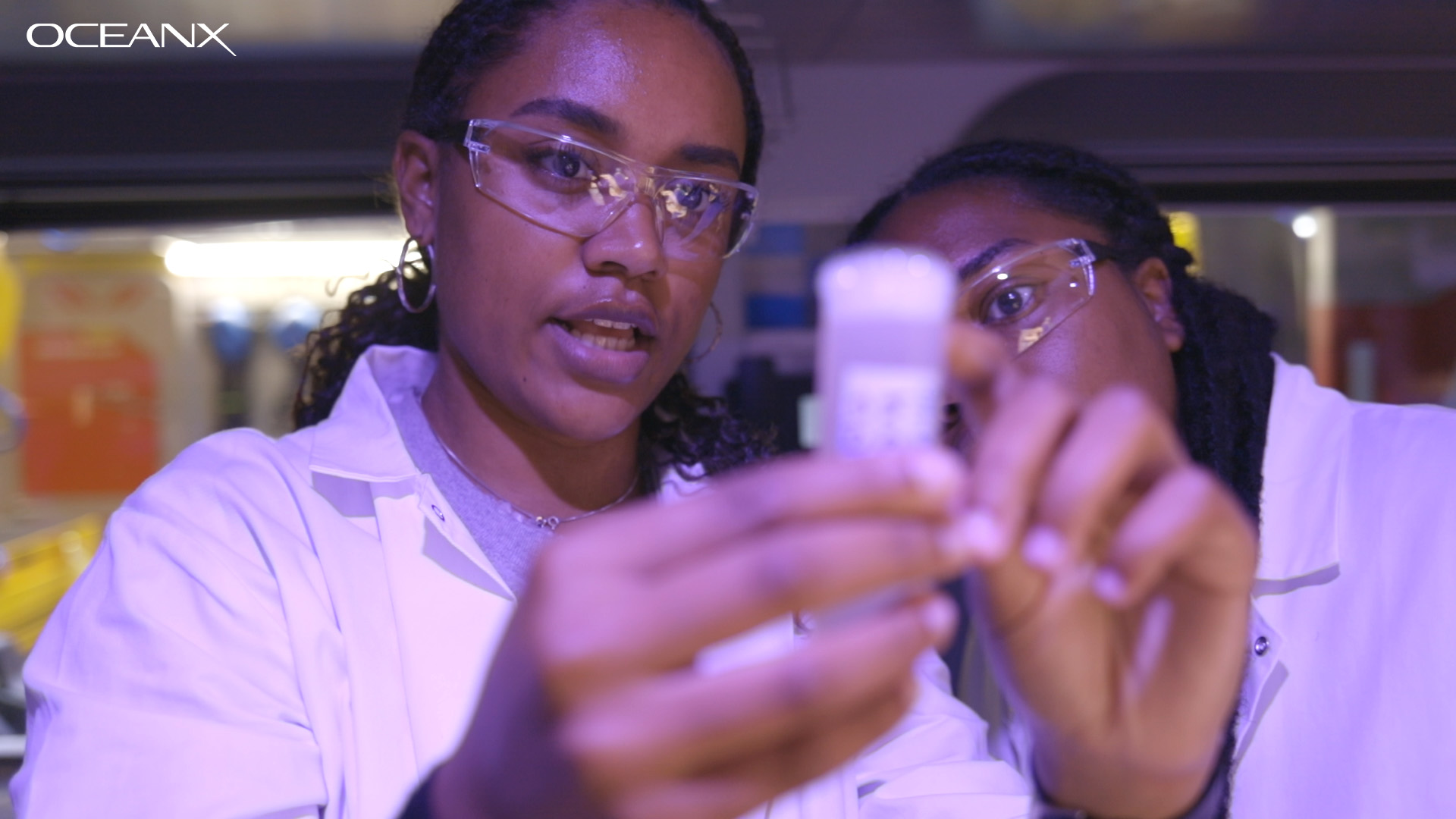 "So, all of our work is underlined by our commitment to change the face of science into a more diverse and inclusive field," she said. "We're really hoping through partnerships like this amazing one with Spelman and other initiatives that we're taking on that we can provide tools and accessibility for historically underserved people, groups and communities to really get out and engage in the ocean science exploration space to make discoveries of their own and amplify that work. We're really excited to partner with Spelman because Spelman is iconic. It's an incredible institution."
Through the Young Explorers Program, OceanX will provide Spelman students and faculty with hands-on access to the tools and technology necessary to investigate largely unexplored areas of the ocean. The opportunity to get direct experience prompted Quarles to apply to the Young Explorers Program independently two years before OceanX and Spelman began a formal partnership. She spent the 2020-21 school year attending college remotely due to the pandemic and wanted a change.
"I was literally learning biology through the comfort of my home during fall semester of 2020, and we weren't in a lab," she said of her sophomore year. "We didn't get to physically touch anything. So, obviously, as a biology major, I felt like my education was going to be limited by that because one of the main things about being a biology major is the lab experience."
Still, Quarles had doubts about whether she was a good fit for the Young Explorers Program. Imposter syndrome kicked in, and she wondered if she deserved a spot on the OceanXplorer and was capable enough to make it on the vessel two weeks, especially after being largely isolated at home without a lab and little human contact outside family members. Once she boarded the ship, which Quarles described as "magnificent, huge and beautiful," she connected with multiple Black women who encouraged her and eased her anxieties. A Black woman mentor also lent her support and guidance during her time on the vessel.
"I think that especially in marine sciences, it can be rather difficult to get connected with people who look like me," Quarles said. "Oftentimes, there's not a lot of minority presence in fields like this. I really appreciated OceanX because they wanted to make sure that they did their part in diversifying this field, and I really appreciated being able to get on the ship and learn from mentors, be assisted by mentors and get advice from mentors who looked like me. It was truly refreshing."
A fellow Atlantan, Quarles' mentor told her that coming from a landlocked city does not disqualify someone from pursuing an ocean science career. In addition to interacting with her mentor and fellow college students on the ship, Quarles listened to experts give lectures on subjects such as the vital role that corals play in the environment. She also toured OceanXplorer and learned what maintaining it entails — examining the engine room and observing how to clean the ship's bolts. From Rodrigue, Quarles learned about the vessel's laboratory operations such as DNA extractions and water sample collections. She witnessed lab research be featured in digital media content for audiences without STEM backgrounds.
"She was there when they came across some hydrothermal vents," Johnston said of Quarles. "They are these amazing underwater ecosystems that we still know so little about, and some of what OceanX can do is explore these ecosystems. The fact that you have students on the ship, when they're saying, 'Hey, we've just come across a hydrothermal vent' — that sort of experience is life-changing."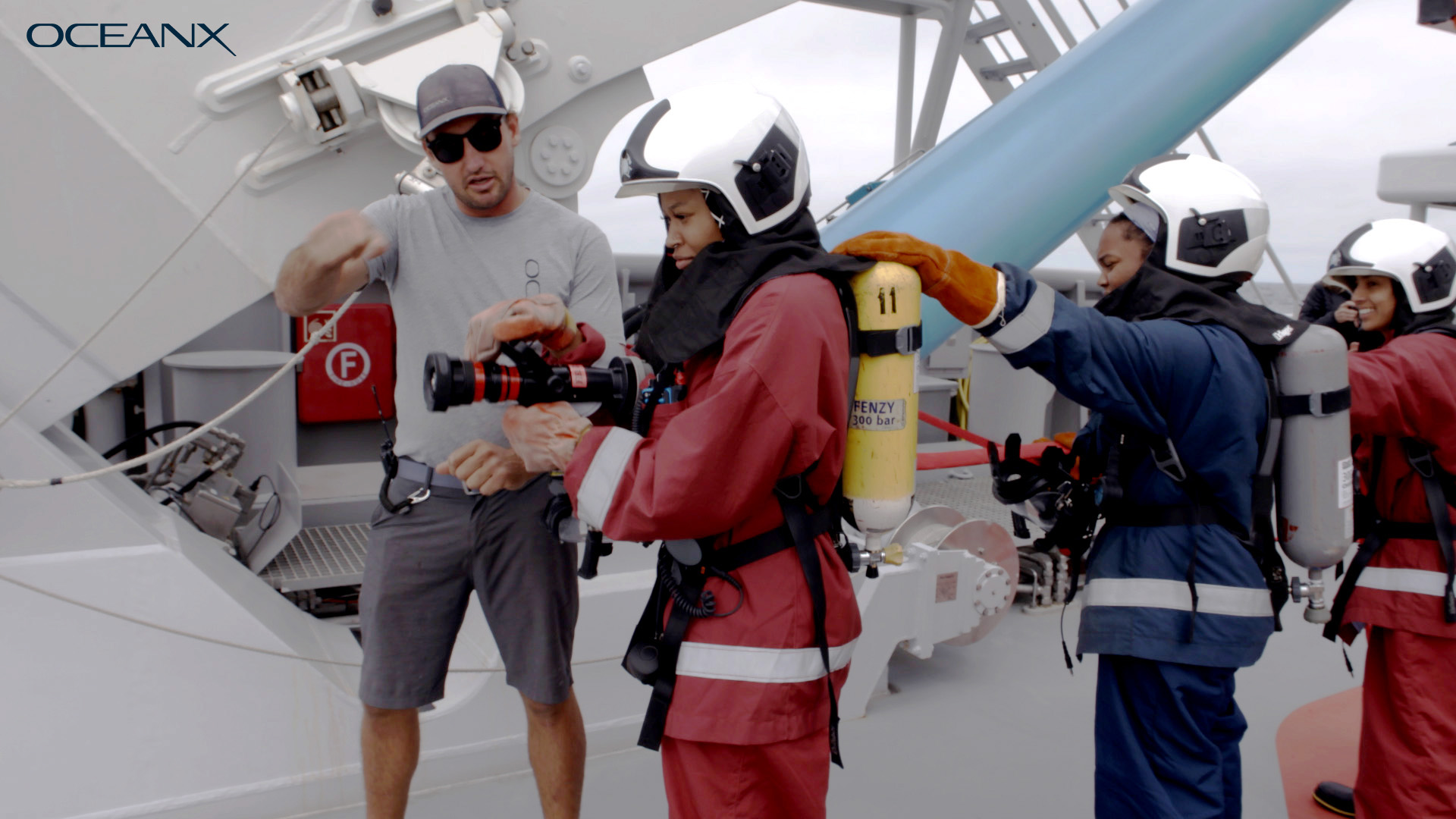 Through it all, no one made Quarles feel judged if she wasn't familiar with certain concepts or techniques, she said. When she returned to Spelman in fall 2021, she felt more confident because of her time at sea. Her journey to the North Atlantic also taught Quarles that her biology degree does not make medicine her only career path, as she met several biology majors on the ship who weren't doctors, she said.
Johnston hopes that Spelman's OceanX partnership leads more students to seek undergraduate, postgraduate and employment opportunities in marine science. The program, she stressed, is also relevant to students interested in media and film careers since OceanXplorer has an onboard production house.
"It's combining both Hollywood-caliber movie production studios with a state-of-the-art lab and deep sea exploration facilities," Rodrigue said. "What we're able to do with the vessel is really combine the power of science exploration with discovery. To have students from underrepresented groups be able to come on and experience that is something that we hope we'll continue long into the future."
Quarles's OceanXplorer support system made her feel as if she can attain any career goal she sets. She learned not to underestimate herself during her two weeks at sea.
"It's easy to look into a field and not see people who look like you and give up," she said. "It's really easy to do that. What's harder is envisioning yourself in that field where you don't already see yourself. That takes perseverance and that is where the change happens."