Your trusted source for contextualizing race and education news. Sign up for our daily newsletter.
A Houston high school with a history of underperforming has given the Texas Education Agency (TEA) the opening needed to take over the city's entire public school district. In March, TEA announced that it would begin running the Houston Independent School District (HISD) — where leadership is predominantly women and people of color.
The takeover means that the HISD superintendent and nine trustees will be removed and that TEA Commissioner Mike Morath, who is White, will name new HISD leaders by June. The current superintendent is Black, seven trustees are Black or Latinx, and eight are women.
Although Phillis Wheatley High School now has a C rating, it had low state accountability ratings for five straight years last decade. State law allows Texas officials to take control of any district with a school that has a failing record.
News that the state plans to install a board of managers to run Houston public schools has been met with public outcry, protests and legal complaints. Some are concerned that the school board appointees who will replace the trustees voters elected won't represent the interests of the school district's racially diverse constituents. Morath was put into place by Republican Gov. Greg Abbott, who has backed school vouchers, book bans, restrictions on diversity, equity and inclusion in hiring and other policies critics say undermine public education.
"Everything about the takeover is concerning, and the community is getting no concrete answers from TEA," said Ovidia Molina, president of the Texas State Teachers Association, an affiliate of the National Education Association, the nation's largest labor union. "Especially, the loss of local control with the removal of an elected and diverse school board that is going to be replaced with board members handpicked by the unelected state education commissioner."
The ACLU of Texas, along with the NAACP and other advocacy groups, is asking the U.S. Department of Justice to investigate whether the TEA's plan to take over HISD violates Section 2 of the Voting Rights Act, which prohibits any procedure that denies citizens the right to vote because of their race, color or "membership in a language minority group."
The largest school district in Texas and one of the largest in the nation with 276 schools and an enrollment of roughly 200,000, HISD's population is nearly 90 percent students of color. Due to the racial makeup of the constituents in Democrat-led Houston, the ACLU also wants the DOJ to investigate whether the TEA takeover amounts to discrimination under the 14th and 15th amendments, which provide equal protection and voting rights, respectively.
Since the TEA plans to appoint a board of managers in June, the ACLU has asked the Department of Justice to act swiftly, ACLU of Texas attorney Ashley Harris told The 19th. She is hopeful that the federal agency will intervene, noting that it has a track record of investigating alleged voting rights violations in Texas. The allegations against state officials there are similar to those that surfaced after White Republican lawmakers moved to take control of constituencies run by Democrats of color in Jackson, Mississippi, earlier this year and Mason, Tennessee, last year.
Hundreds of Houston students, parents and educators marched in the rain last week to protest TEA's decision, chanting: "T-E-A, go away!" and held signs stating, "Takeovers take away our voting rights."
The move to replace HISD leadership follows the state Supreme Court in January siding with the TEA in a legal battle over the law that allowed HISD to be taken over due to Wheatley High's performance.
Two lower courts previously continued an injunction to stop the HISD takeover, but this year's state Supreme Court ruling allows the TEA to proceed with its plans even though Wheatley High School is no longer failing. To turn Wheatley around and improve the school district overall, Molina said, "the community elected an almost entirely new board to represent them and make changes to make HISD better. In the last two to three years, this board, students and educators have shown growth and improvement."
Jackie Anderson, president of the Houston Federation of Teachers, the union representing HISD's instructors, emphasized how remarkable it is that Wheatley High made gains during the pandemic, a period when schools nationally struggled.
"If this school could improve during the pandemic, just imagine what the school, or any other school in HISD that may be experiencing some low numbers, could do with more support?" she asked. "But if this one school, which now has a C rating, and the district overall has a B+ rating … why does the commissioner feel he has no other choice but to go back to 2019 in 2023?"
Harris described the state takeover of HISD as "hostile." She said it is a ploy by "state officials and a state agency to strip power from Houston voters of color by replacing their democratically elected school board trustees with a board of managers that is instead appointed and handpicked by the TEA commissioner and is accountable only to the commissioner and the governor instead of being accountable to local voters of color."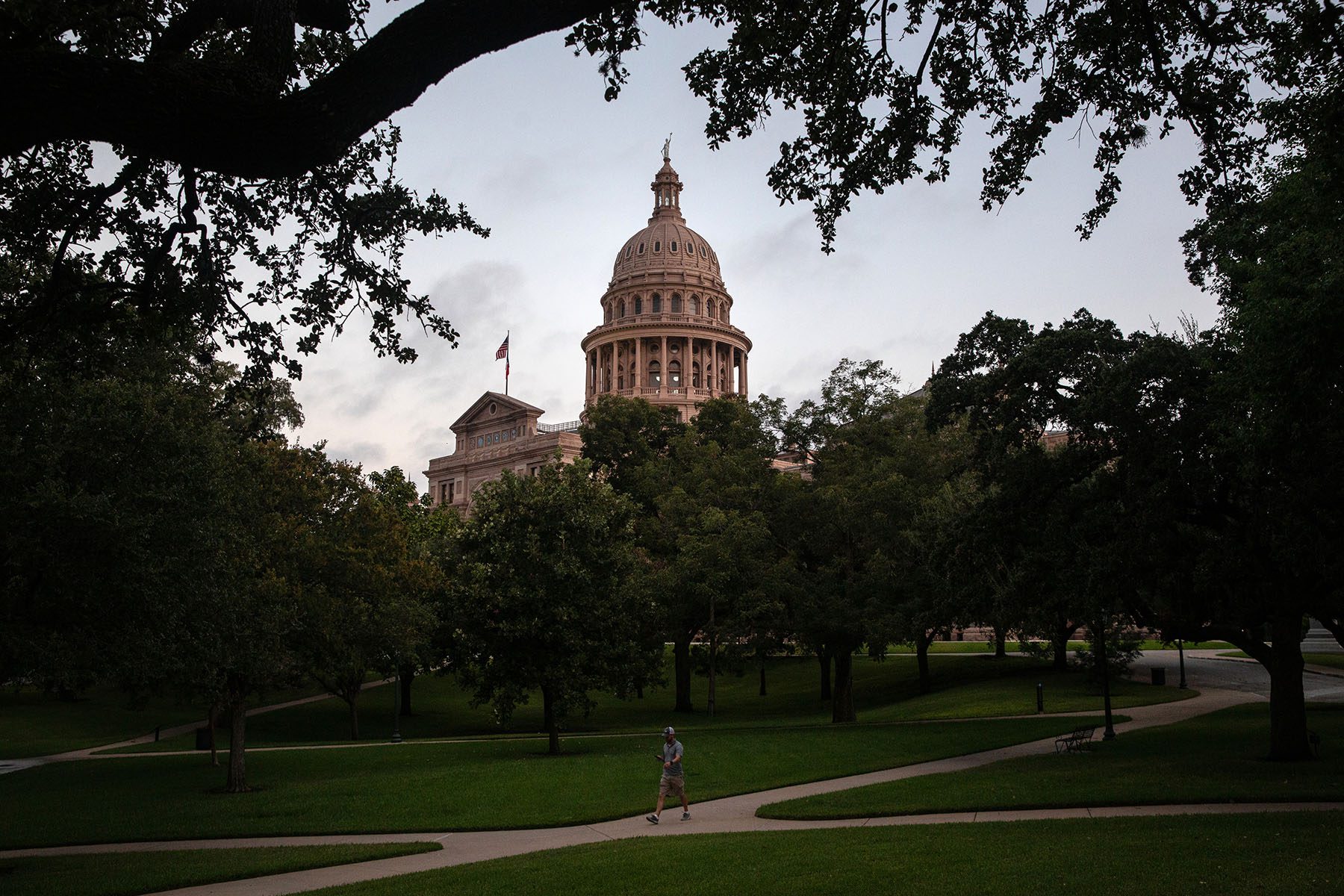 TEA Commissioner Morath told Houston's FOX 26 that the conditions of some Houston public schools necessitate the takeover. "Houston has many schools that are outstanding, some of the best schools in the state, and in fact, large numbers of kids in Houston are truly flourishing. But there's also a number of students in Houston ISD who the district [has] simply not provided adequate supports for those students to be successful, and in some cases, for extended periods of time." TEA did not respond to The 19th's request for comment from Morath.
Texas officials are not required to take over Houston public schools because one school underperformed, Harris said.
"When you look at the education code, this is a discretionary choice," she continued. "They get to decide what action to take. In other school districts that have primarily White voters in the district and primarily White students, they don't choose to take these same actions, even if those schools have lower overall ratings than HISD … It begs the question of why they are doing this in one of the most diverse cities and school districts in Texas?"
Anderson views the takeover as both an attack on democracy and on public schools. She said the education commissioner's effort to seize control of HISD this year got underway as the governor promoted legislation to create education savings accounts (ESAs) to enable parents to cover private school costs for their children with state funds. That legislation was approved in the Senate on Thursday, the same day that the House passed an anti-school voucher measure, making it unlikely that the Abbott-backed Senate Bill 8 will survive a House vote.
Molina described the governor as a lawmaker "whose top education priority is taking millions of dollars in tax money from HISD and other public school districts and transferring it to unregulated private schools." In a statement, she called SB 8 "an assault on public education."
"If not stopped, this bill would soon cost our public schools and taxpayers $1 billion a year to enrich unregulated private schools, and that figure would continue to increase," the statement continued. "The ultimate losers would be the vast majority of Texas students, who would remain in under-funded public schools further stripped of needed resources."
Representatives for Abbott did not respond to The 19th's request for comment, instead referring inquiries about the governor's record on education to TEA.
Since private school tuition is typically more than the $8,000 provided by the ESAs, they "will not help low-income families send their children to private schools," Molina said. "And low-income Texans can't afford to make up the difference. Instead, Senate Bill 8 will create a private-school subsidy or entitlement program for the well-to-do at everyone else's expense and with no public accountability."
Because the state's top lawmakers are vocal proponents of "school choice," Anderson doesn't expect their efforts to take over public school districts to stop with HISD. She pointed out that just weeks after TEA decided to assume control of Houston public schools, it announced plans to put Austin ISD's special education department under a conservatorship despite the fact that the state agency itself has been federally investigated for mismanaging special education services in Texas.
"It's the fox guarding the hen house," Anderson said.
As for the Houston takeover, Molina said it's unclear how state officials will carry it out. She worries that it could lead to massive job turnover. "In some previous takeovers, schools let go all of their employees and then they have to apply back [for their jobs]. So, we don't know if our educators are going to have another job in the fall." Most HISD educators are women, according to Anderson, though she did not provide a demographic breakdown. HISD also did not provide these details about its workforce before publication.
Given the difficulties school districts have had recruiting and retaining educators, Molina fears the takeover could destabilize the HISD workforce and prompt students to leave the district.
"In the fall, how many educators are not going to want to come to HISD because they don't want to be associated with a school district that has the title of being in a takeover situation?" she asked. "How many students are not going to come back, which means that we're also going to lose funded positions? You're not just taking over a school district. You're dismantling communities, and you're dismantling communities that you have neglected and under-supported. You should be doing better by them — not worse."