Your trusted source for contextualizing education and politics news in Tennessee and beyond. Sign up for our daily newsletter.
NASHVILLE, Tennessee — Two imposing wooden doors and a horde of state troopers stood between hundreds of protesters inside the state Capitol and Republican lawmakers, who voted Thursday to expel two Black colleagues and in favor of measures that would mean more guns in school buildings.
Another set of troopers, metal detectors and ornamental columns stood between hundreds more Tennesseans who protested outside, spilling down the Capitol steps, around the building and into plazas across the street.
"Whose house? Our house!" was one of the chants echoing from the steps Thursday morning ahead of the session.
Among the crowd demanding the legislature take action to curb gun violence at schools was a strong contingent of teachers. Most weren't calling for an all-out gun ban. They also didn't want the armed school security guards that the state House was voting for. They wanted the legislature to pass broadly popular measures that would keep guns out of the hands of people who could be a danger to others and curb the availability of high-powered guns like the one used to fire 152 rounds in the fatal March 27 shooting at Nashville's Covenant School.
"Nobody's talking about banning guns," said Allison Halbrook, a veteran teacher in Metro Nashville Public Schools who fears for the future of education. "We can have common sense gun reform. We can have red flag laws. We can ban assault rifles. We can have background checks. So there are a slew of things we can do."
Halbrook and the other teachers, parents and students were also here to protest the expulsion vote for three state House members who had brought their demands for change to the chamber itself. Ultimately, Justin Jones of Nashville and Justin J. Pearson of Memphis were expelled — though they may be reappointed ahead of special elections — while Rep. Gloria Johnson held on to her seat. Johnson is White, and Jones and Pearson are Black.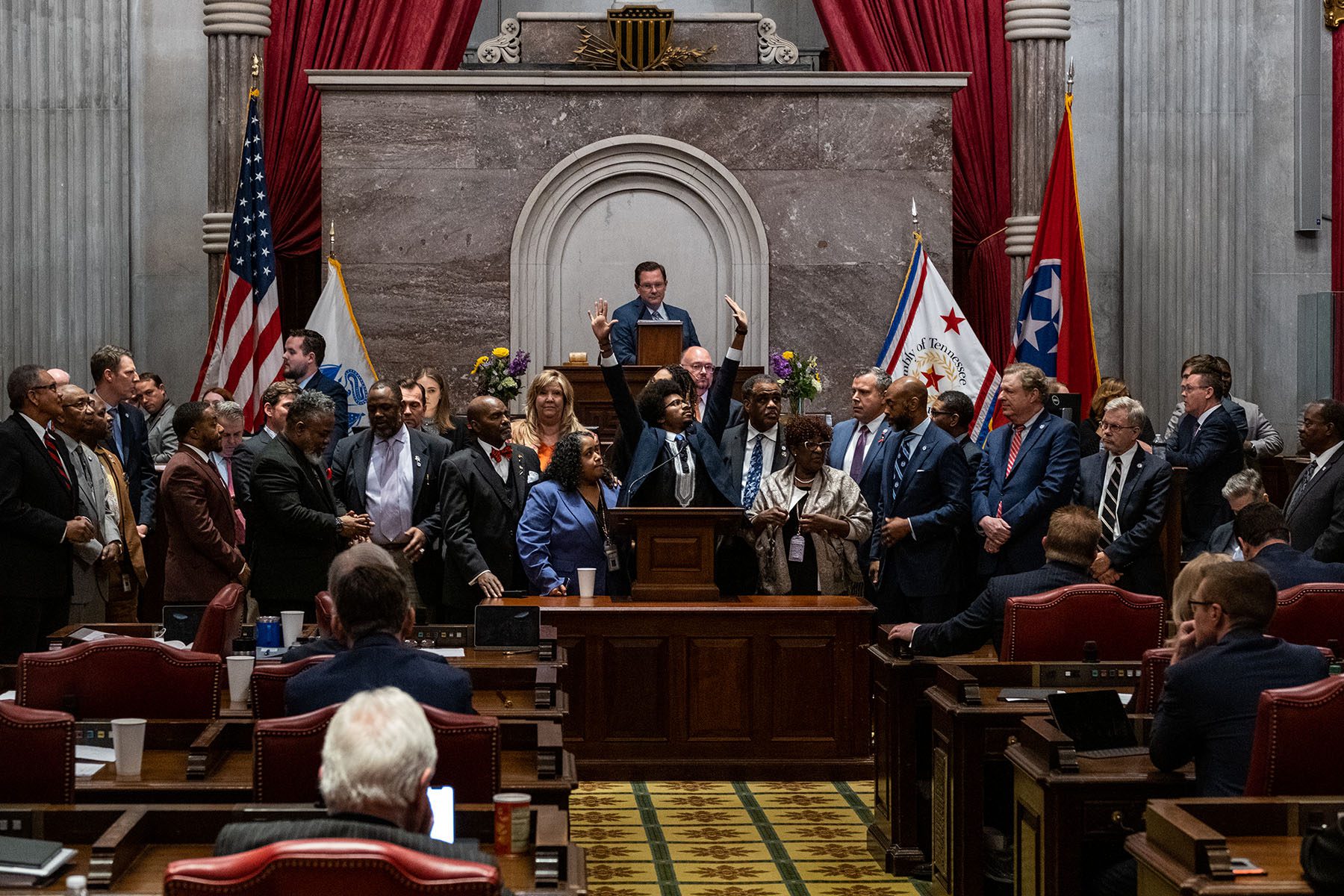 Inside the building, as the 10-hour session stretched on, protesters did not waver. Just outside the chamber, they cheered for the Democratic lawmakers speaking out on gun violence, booed the Republicans who condemned them, and sang the gospel song and protest anthem, "This Little Light of Mine." Some protesters got to the Capitol hours before the House was even due to begin its session; from Pearson's Memphis district, some boarded buses as early as 3 a.m. to get here. The ones who couldn't make it inside stood outside with umbrellas, plastic-covered signs and flowers for the six killed by the shooter last week.
Thursday's expulsion spectacle began with the advancing of Republican-sponsored bills that would bring more guns into schools. As part of a school safety package, one of the bills would intend to place at least one armed school resource officer on every campus. Earlier this week, the House advanced another bill that would allow teachers to carry concealed weapons on school grounds.
We don't want gun battles at our schoolhouse door.

Rep. Gloria Johnson
Johnson, a retired special education teacher and gun owner herself, called for gun restrictions on the House floor Thursday with her expulsion vote looming.
"We need to keep the guns from coming to the schoolhouse door. We need to be taking actions that prevent them from ever getting to that door," Johnson said. "We don't want gun battles at our schoolhouse door. We want our kids to be safe and feel safe. We are the only country in the world that has this type of violence."
Guns are now the leading cause of death for children in this country, according to data by the Kaiser Family Foundation. Most Americans, including in red states like Tennessee, want stricter laws. An August 2022 survey by the AP-NORC found that 71 percent of Americans say gun laws should be stricter. The most popular policies would limit who can purchase guns. 
Johnson said she has witnessed firsthand the effects of gun violence in schools on more than one occasion.
At Central High School in Knoxville in 2008, Johnson was preparing for the day when a 15-year-old fatally shot another 15-year-old, sending kids fleeing into her classroom. Years earlier, she taught in a Colorado school in the aftermath of the 1999 shooting at Columbine High School that left 15 people dead and 21 injured by gunfire. At the time, it was the deadliest mass shooting at a high school in history.
Sidney Sheppard, a 24-year-old teacher, was outside the Capitol on Thursday morning, donning a lanyard for STEM Prep High School, the Nashville school where she teaches.
She said she does not feel safe in her classroom and came to hold space for her students, who were not present. As she spoke, protesters' chants echoed from the Capitol steps: "What do we want? Gun control! When do we want it? Now!"
"I really don't fear for myself as much as I fear for my kids and their safety. They can't really control getting on the bus in the morning and being forced to stay at school all day in a place where they don't feel safe or they don't feel protected, or they don't feel heard," Sheppard said.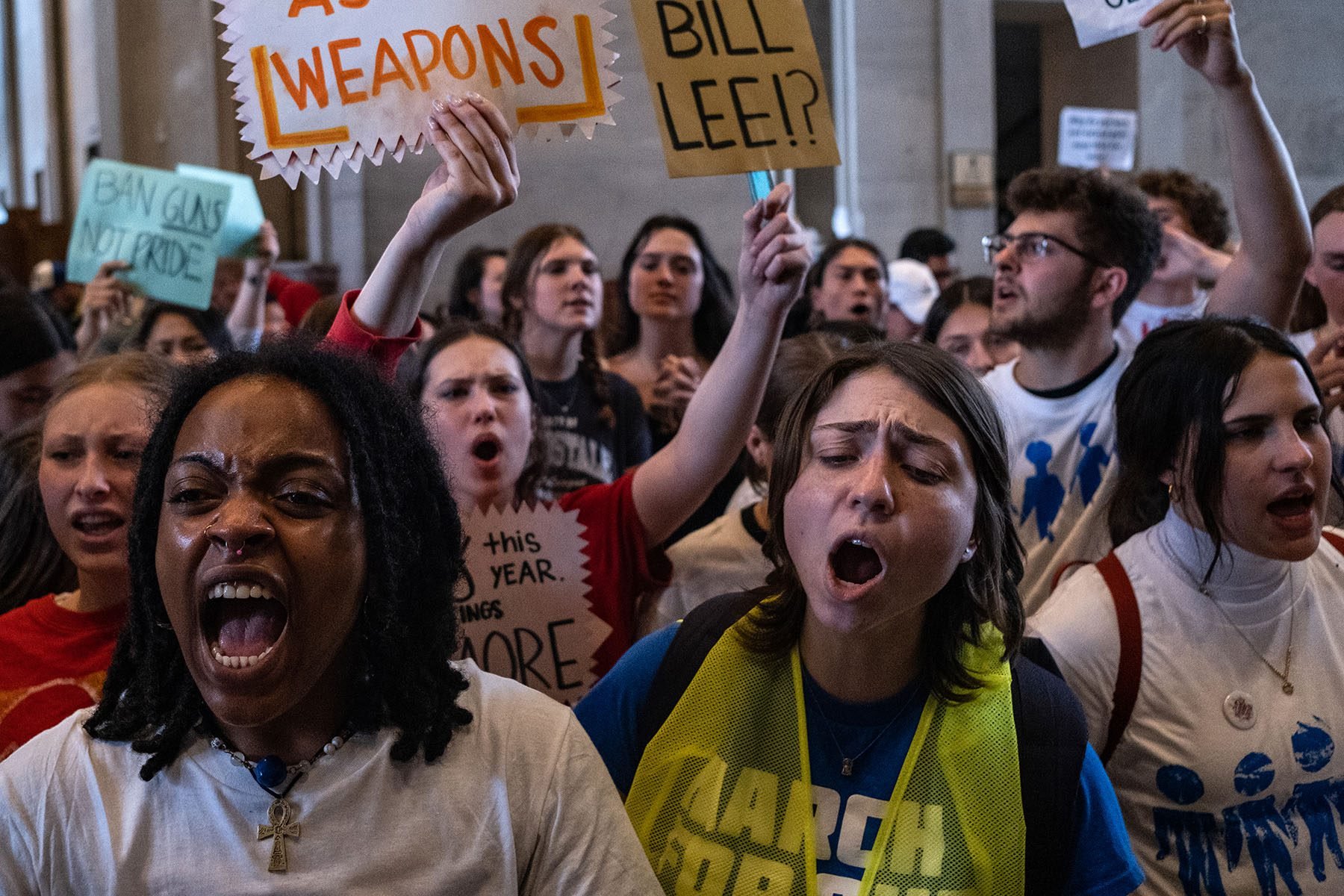 Students, including 12-year-old Brice Newton and 8-year-old Elliot Honea, were also among the protesters both inside and outside the Capitol.
Newton held a bright blue poster with "No more gun violence" written in bubble letters with black marker. It was his first protest. His Nashville private school, which is near the Covenant School, was placed on lockdown because of the shooting last week.
"I just want to help support because I hate having guns in schools and all that because people can get seriously injured or deaths can happen and we don't want that to happen," Newton said. He said he thinks adding his voice to the protests will help to stop the shootings.
I'm not going anywhere.

Allison Halbrook, teacher in Metro Nashville Public Schools
Halbrook, who has been a teacher for more than 20 years, said she worries about whether the woman-dominated profession will continue to attract young people. The stressors of the COVID-19 pandemic, consistently low wages, and mass shootings in places where children are sent to learn have led to record turnover.
"If I were a young person, 23 or 24 years old, I would not choose teaching as my profession right now," Halbrook said.
But Halbrook, holding flowers and a poster-sized photo of the Covenant School, ended with a resolute statement:
"I'm not going anywhere."