We're answering the "how" and "why" of politics news. Subscribe to our daily newsletter.
Nikki Haley urged Republican primary voters to reject "stale ideas and faded names" as she formally announced her bid to become the nation's first woman president in a speech Wednesday that leaned heavily on America's foreign threats and roundly rejected national conversations about addressing systemic racism. 
"America is not past our prime. It's just that our politicians are past theirs," Haley said during her formal campaign launch in Charleston, South Carolina. Haley, 51, is the first major Republican candidate to formally challenge former President Donald Trump's third bid for the White House; if successful, she would become the nation's first woman and first Asian-American president.
"The America I see will win the fight for the 21st century. … And it will require doing some things we've never done, like sending a tough-as-nails woman to the White House."
Haley, the former governor of South Carolina and Trump's first ambassador to the United Nations, talked about being the daughter of Indian immigrants and growing up in a small town in South Carolina that didn't know "who we were, what we were or why we were there." Haley, who studied accounting and helped lead her family's successful small business, went on to defeat a longtime Republican state lawmaker to start her career in politics.
She drew on her background to denounce American "self-loathing" that is "eating away at our national core," referring to criticism of systemic inequality in the United States. "My immigrant parents know better. And take it from me, the first minority female governor in history: America is not a racist country," said Haley, who with fellow Republican Susana Martinez in New Mexico became the first woman of color to be governor in 2011.
At the same time, Haley urged Republican primary voters to see her as part of a new generation of leaders and someone who was used to "shaking up the status quo" at a time when Republican voters, donors and leaders are weighing whether to support Trump's return to the White House.
Haley said she doesn't believe in "identity politics" or "glass ceilings," but joked: "As I set out on this new journey, I will simply say this: May the best woman win."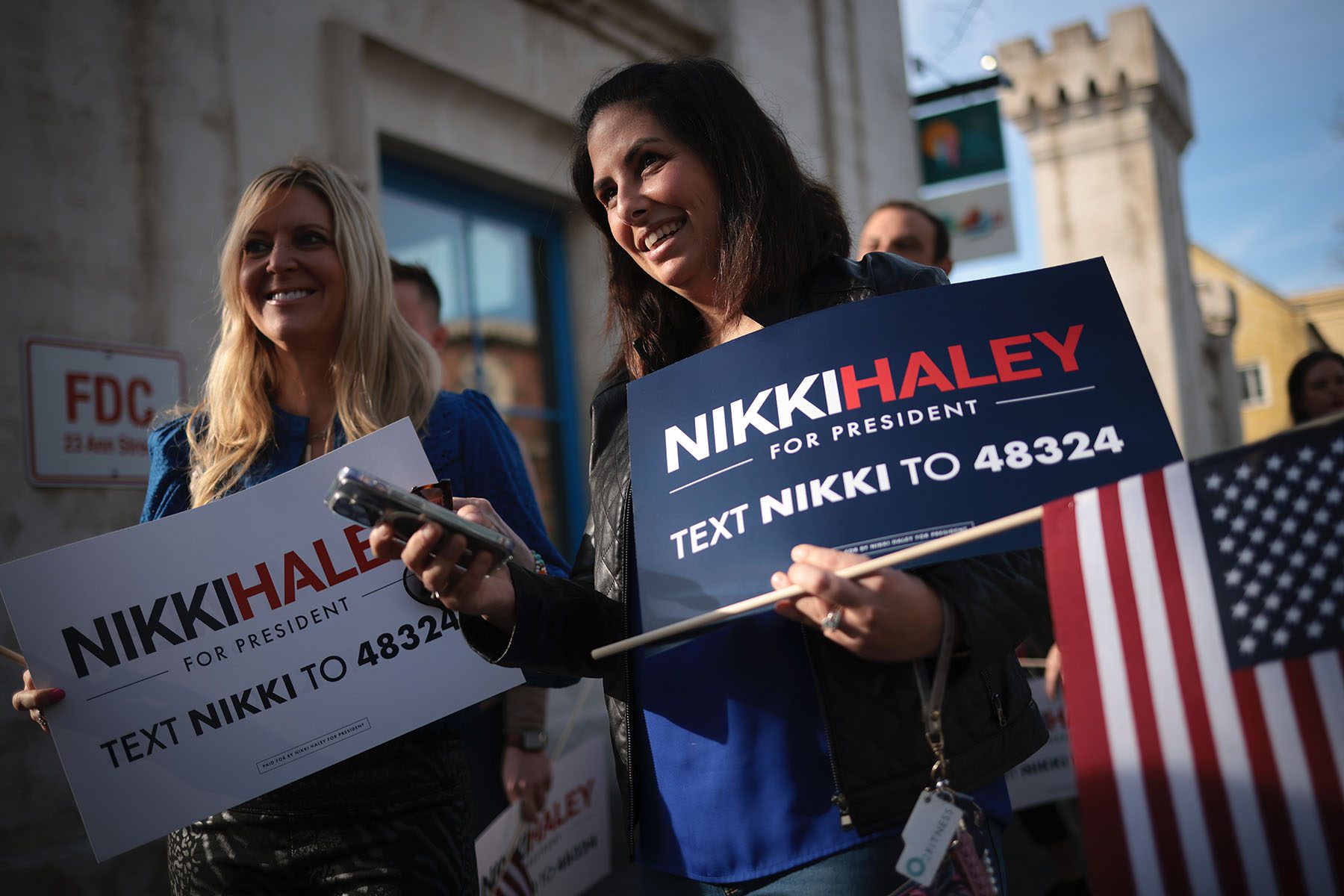 During her 25-minute speech, Haley laid out a campaign platform that started out with addressing kitchen-table issues — "too many families are paying too much for groceries, too many mothers are searching frantically for baby formula and too many children … are so far behind in the classroom" — but swelled into an embrace of the issues of crime and safety that tend to animate the Republican base.
"We have too much crime on our streets, too many drugs flooding our cities, and too few police and border patrol," Haley said. She denounced what she called the nation's Democrat-led "spiraling" into socialism and called for stricter barriers to voting and immigration.
Notably, Haley's speech made no mention of abortion or Republican-led efforts to ban trans student athletes from competing on teams that align with their gender identity.
Haley was introduced to the stage by Cindy Warmbier, the mother of Otto Warmbier, an American student who died in 2017 due to injuries sustained while he was imprisoned in North Korea during a guided tour of the country.
Warmbier said that she became close to Haley after her son's death and that the former United Nations ambassador inspired her to seek justice for her son's death.
During her speech, Haley leaned heavily on her foreign policy experience, drawing a picture of herself as a tough leader in front of foreign enemies and drawing a grim picture of America's national security threats.
"I told the world that America would have the backs of our allies, and for those who did not have our backs, we were taking names! The dictators, murderers, and thieves at the U.N. didn't know what hit them," Haley said.
After her remarks, Haley was joined on stage by her husband, her two adult children and her future son-in-law.
Haley's event also included a prayer by the Rev. John Hagee, a pastor and Christian broadcaster who suggested in a 2006 interview that Hurricane Katrina was willed by God to halt a Gay Pride parade in New Orleans. Hagee later recanted his comments.
The event also included an endorsement from Rep. Ralph Norman, a South Carolina Republican and member of the hard-line conservative House Freedom Caucus. Norman, Haley's first congressional endorsement, was one of the 20 House Republicans who initially voted against House Speaker Kevin McCarthy's eventually successful bid to lead them in the chamber.
Haley remains Trump's lone official challenger — for now. Other Republicans planning or considering jumping into the race include Florida Gov. Ron DeSantis, former Vice President Mike Pence, former Secretary of State Mike Pompeo, former Maryland Gov. Larry Hogan and Sen. Tim Scott of South Carolina. South Dakota Gov. Kristi Noem is also said to be exploring a run.