Two stark realities were represented outside the U.S. Supreme Court on Tuesday morning: Abortion advocates stood somberly holding signs, their voices overtaken by the shouts of an adjacent group of anti-abortion activists chanting plans to "dance on the grave" of Roe v. Wade.
By Tuesday evening the dynamic had flipped: Most of the protesters outside of the Supreme Court were chanting in favor of Roe, the landmark 1973 Supreme Court decision granting a federal right to abortion. Hundreds of protesters rallied outside the U.S. Supreme Court on Tuesday, after many abortion rights advocates and anti-abortion activists had already stayed past midnight the previous night.
Several moments underscored high tensions after Politico published a leaked opinion draft that would overturn Roe. The draft, written by Supreme Court Justice Samuel Alito, indicated that the court would overturn Roe completely. Chief Justice John Roberts verified the document's authenticity Tuesday, but stressed it is not the final opinion of the court.
For many court watchers, the contents of the leaked decision are not entirely surprising. Many have expected abortion rights to be scaled back in some capacity, if not completely. Still, multiple abortion rights demonstrators told The 19th that hearing the news Monday night hit them hard.
"In my lifetime, I've seen the passage of civil rights, voting rights and Roe v. Wade – basic fundamental protections for everyone around this country – getting slowly eroded and dismantled," said Carol Joyner, 61, who lives in Washington, D.C., and joined the protests on Tuesday.
Many of the anti-abortion activists, however, were visibily excited. "It was incredible," Steve Corson, 65, of Arizona said about learning the news of the draft opinion. "It was like a miracle, and I jumped up and down and praised the Lord last night. And this morning I came here and I'm still celebrating because it's gonna happen."
One group, the Progressive Anti-Abortion Uprising, beat drums and danced as they celebrated what several described as a long awaited effort to strike down Roe.
"We believe that providing adequate care to communities of color like social programs, places where they get affordable pregnancy care. Those are all really important. But we don't think that any of our liberation comes at the expense of our children's lives," said group member Kristin Turner.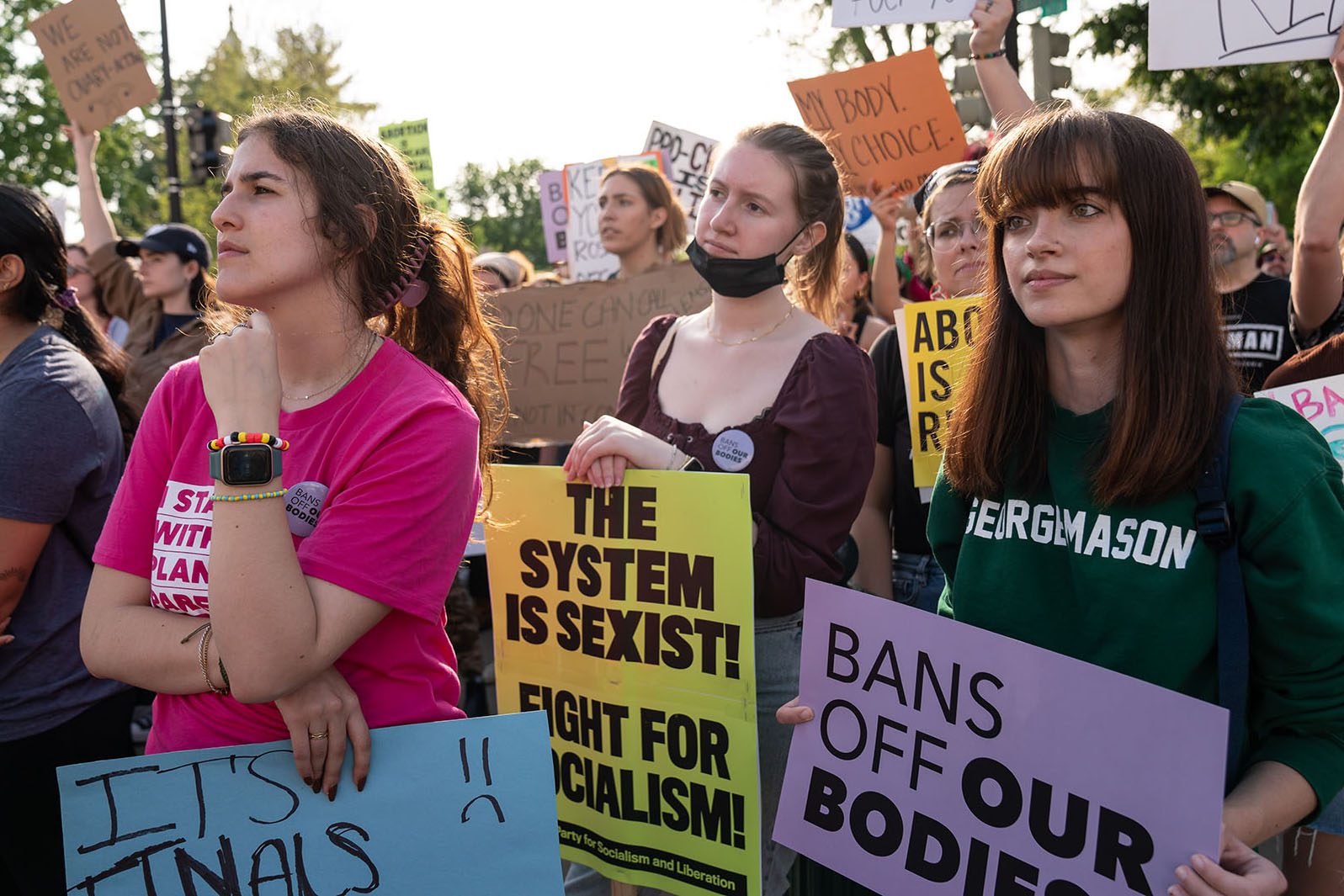 Some of the crowd became more tense as the day continued, with face-to-face shouting when some anti-abortion demonstrators crossed the barrier between the two groups, each shouting through megaphones. Around 7 p.m., a small number of competing activists started shoving each other outside the Supreme Court following a shouting match — leading to at least one person falling to the ground. D.C. police officers on bicycles later formed a protective ring around anti-abortion protesters after they left the immediate Supreme Court grounds.
Nicole Marikisohn, a 32-year-old abortion clinic escort who lives in Alexandria, Virginia, said that though she is distraught by the draft opinion, she is also concerned about misinformation around current abortion access care being spread.
"Abortion access is still protected in all 50 states in this country right now in varying degrees," she said. Nothing regarding abortion care will immediately change until the court hands down its decision.
Michigan resident Katie Polik, 25, arrived in Washington, D.C., on Saturday for vacation. When she saw the news about the drafted opinion, Polik said she thought it was important to be present at the protests. Back in Michigan, a pre-Roe v. Wade abortion ban is still on the books, and Polik worries it will go into effect again if the Supreme Court officially overturns the federal standard set by the Roe ruling.
"In a country where maternal mortality is so incredibly high, to not have access to health care that can ensure your safety is kind of wild and upsetting," Polik said.
Since 2005, 13 states have passed "trigger bans," designed to abolish abortion in those states if Roe is overturned. Four states, in addition to Michigan, have complete prohibitions on abortion that passed before 1973 that have never been repealed.
Several trans and LGBTQ+ people protesting in support of abortion on Tuesday said they are worried that the draft ruling would directly harm their rights. The opinion argues that landmark LGBTQ+ cases cannot be used to support Roe, including cases such as Lawrence v. Texas, which ruled that gay sex is not a crime, and Obergefell v. Hodges, which made marriage equality the law of the land.
The opinion says the appeal "to a broader right to autonomy" in cases like Lawrence v. Texas and Obergefell v. Hodges is not comparable to the issue of abortion, although Alito adds that dismissing such a link is not meant to undermine those cases. The opinion also pokes holes in protections offered by the 14th Amendment's due process and equal protection clauses, essential pillars of current legal battles over gender-affirming care for transgender youth.
Herb Geraghty, executive director of anti-abortion group Rehumanize International, said that though he advocates for trans and LGBTQ+ rights — especially as a bisexual and nonbinary person — he believes the current draft opinion would narrowly impact abortion access and not affect LGBTQ+ rights.
"I am worried about any threats to LGBTQ rights, potential and hypothetical, that could arise as a result of any ruling from the Supreme Court. But again, ultimately, what we're talking about is an extreme act of violence against a living human being," he said.
For others looking to a future without Roe, they have already witnessed the challenges people have faced without it. Adriane Fugh-Berman, 63, said she fears such a future would lead to more harm as people seek out less safe alternatives.
"You can't stop abortion, you can only stop safe, legal abortion," she said.