This year, 36 states are scheduled to hold elections for governor, and at least a dozen include major bids from women, women of color and LGBTQ+ people. Eight incumbent women governors are seeking reelection, 12 women are running for open seats in six states and 18 women are running as challengers in 15 states, according to the latest data from the Center for American Women and Politics.
Last week, two more woman-on-woman contests were set: Former TV anchor and 2020 election denier Kari Lake won the GOP gubernatorial primary in Arizona and will face Democratic Secretary of State Katie Hobbs, and in Michigan, Trump-backed Tudor Dixon will face incumbent Democratic Gov. Gretchen Whitmer.
On the ballot is the potential for history, with several candidates poised to break representation barriers around gender and race:
Women are poised to be contenders in several states that have never elected a woman governor.
At least 37 Republican women are running for governor this year, already breaking the 2018 record of 20; at least six are their party's nominee, another record.
At least two Democratic women could become the first Black woman elected governor.
There is expected to be a record number of women gubernatorial candidates who identify as White, Black, Latina or Asian American Pacific Islander.
Candidates this year could break the record for concurrent number of women governors at any one time (nine).
These bids for statewide office increasingly reflect the polarization of politics on issues including education, particularly around race; health care; immigration; LGBTQ+ rights; policing; and voting. Over the summer, several Democratic women have focused on abortion rights following a Supreme Court ruling that overturned federal abortion rights. Some Republican women in particular have bolstered debunked myths about the 2020 election while supporting proposals that restrict voting.
Here's what we're tracking. Go here for past races.
---
August 9
Wisconsin
Incumbent: Democrat Tony Evers, running
2020 presidential margin: Biden +0.6
The Republican primary to challenge incumbent Democrat Gov. Tony Evers became a match-up between former President Donald Trump and former Vice President Mike Pence. Trump-endorsed Tim Michels, a construction executive with no previous political experience, emerged over Pence-backed Rebecca Kleefisch, a former lieutenant governor under former Wisconsin Gov. Scott Walker.
Both Kleefisch and Michels cast doubt on the 2020 presidential election results, a position that several Republican candidates throughout the country have taken ahead of the midterm elections. But Michels also expressed support for decertifying Wisconsin's election results — Kleefisch noted it's not legally possible.
August 23
Florida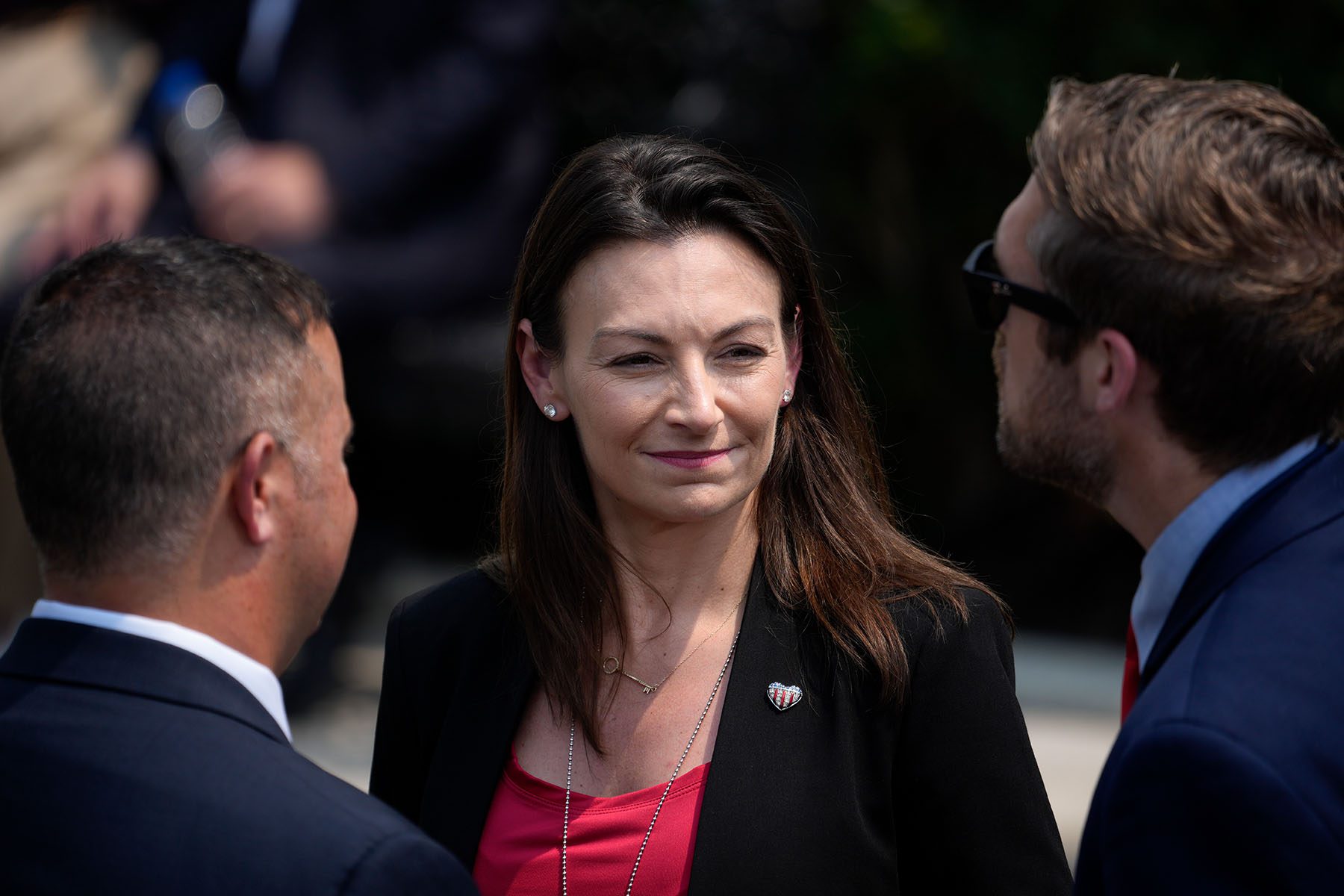 Incumbent: Republican Ron DeSantis, running
2020 presidential margin: Trump +3
Whoever faces Republican Gov. Ron DeSantis in a general election will be up against nearly unparalleled fundraising for a gubernatorial race. DeSantis, who is seeking a second four-year term, has raised more than $100 million for his reelection bid. Unlike other candidates with similar records, he has amassed the money without tapping into independent wealth.
A potential 2024 presidential hopeful, DeSantis gained national attention for signing a so-called "Don't Say Gay" bill into law that restricts public school teachers from discussing LGBTQ+ history or people in public elementary schools.
A handful of Democrats want to unseat Republican Gov. Ron DeSantis this year: U.S. Rep. Charlie Crist and Nikki Fried, Florida's commissioner of agriculture and Florida's only statewide elected Democrat. Florida voters have never elected a woman governor.
State Sen. Annette Taddeo dropped out of the race in June and is now running for a congressional seat.
---
September 6
Massachusetts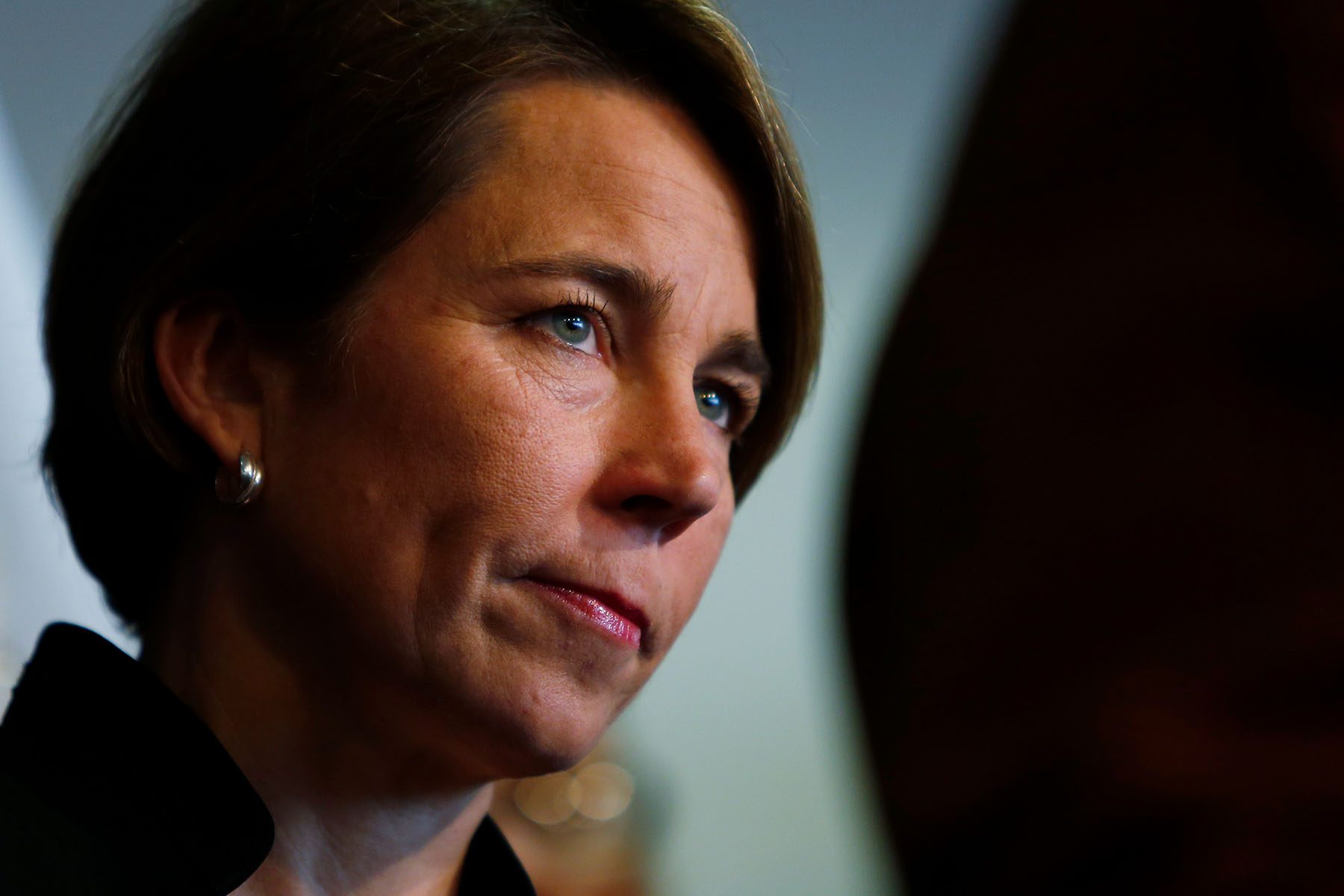 Incumbent: Republican Charlie Baker, not running
2020 presidential margin: Biden +33
The decision by Republican Gov. Charlie Baker to not seek reelection gives Democrats one of the clearest shots at reclaiming a top statewide post for a state that leans heavily blue.
Attorney General Maura Healey is now the lone Democrat seeking the nomination, after candidates including State Sen. Sonia Chang-Díaz dropped out of the race in June. Recent polling shows she has a 30-point lead over each of her potential opponents in the Republican primary.
If Healey wins the primary and the general election, she will be one of the first out lesbian governors of any state and the first in Massachusetts.
---
Results from races that have passed:
May 3
Ohio
Incumbent: Republican Mike DeWine, running
2020 presidential margin: Trump +8
Nan Whaley, the former mayor of Dayton, won the battle of the mayors in the Democratic primary for governor against John Cranley, the former mayor of Cincinnati. She'll compete against Republican Gov. Mike DeWine, who is defending his handling of the pandemic during his first four-year term.
Voters in Ohio have never elected a woman governor. At the end of 1998, Republican Nancy P. Hollister, then the state's lieutenant governor, became governor for 11 days when her predecessor resigned to join the U.S. Senate.
But that history is up against political winds: Sen. Sherrod Brown is the only Democrat to win a statewide race in Ohio since 2006.
---
May 17
Idaho
Incumbent: Republican Brad Little, running
2020 presidential margin: Trump +31
Republican Gov. Brad Little emerged from a crowded primary. One of his highest-profile challengers was Janice McGeachin, the state lieutenant governor who had the backing of former President Donald Trump and has repeatedly embraced a far-right agenda.
McGeachin first gained national attention in 2019 when she posed with two members of an anti-government group at the statehouse. McGeachin received criticism this year for delivering a taped speech at a white nationalist conference in Orlando. She later defended her appearance.
Though they ran on separate tickets, McGeachin's challenge of an incumbent governor in her own party was unusual, but not entirely surprising given her public criticism of her boss over his pandemic mitigation response. In the instances that she briefly served as acting governor when Little was out of the state, she signed executive orders banning mask mandates and COVID-19 testing and vaccine mandates.
The state's political leanings mean the primary will determine who ultimately will be the winner in November.
Oregon
Incumbent: Democrat Kate Brown, not running
2020 presidential margin: Biden +16
Democratic Gov. Kate Brown, who is bisexual and considered the first out LGTBQ+ person to be elected governor in the country, has reached the state's term limits and could not run for reelection. Tina Kotek, who served as House speaker in the Oregon statehouse, is the Democratic Party's nominee. If she wins, she will be one of the first out lesbian governors of any state.
The road to the Republican nomination is among the most crowded, and no winner has yet been called — 19 candidates are running.
---
May 24
Alabama
Incumbent: Republican Kay Ivey, running
2020 presidential margin: Trump +25
Republican Gov. Kay Ivey, the first woman elected governor of Alabama, beat back a crowded primary field as she seeks a second four-year term.
Ivey's reelection announcement in 2021 staked her bid on infrastructure, the economy and her response to the pandemic. But in the final weeks of the primary, she pushed vague conspiracy theories about the 2020 election and expressed anti-immigrant sentiment.
"The fake news, Big Tech and blue-state liberals stole the election from President Trump," she said in one ad. "But here in Alabama, we are making sure that never happens."
There is no proof of widespread voter fraud in the 2020 election.
Ivey has raised the most money in the primary — $6.6 million — well above her competitors from both major parties.
Arkansas
Incumbent: Republican Asa Hutchinson, not running
2020 presidential margin: Trump +28
Republican Sarah Huckabee Sanders, a White House press secretary under Trump, secured her party's nomination for governor after she effectively cleared the field last year. Her campaign announcement leaned on her support for Trump, who quickly endorsed her.
Huckabee Sanders has become a prolific fundraiser, bringing in more than $12 million during her bid.
Huckabee Sanders, whose father is a former Arkansas governor, could make history in November: No woman has ever been elected governor of the state.
Georgia
Incumbent: Republican Brian Kemp, running
2020 presidential margin: Biden +0.2
Stacey Abrams is the Democratic nominee, hoping to become the first Black woman elected governor in the country.
She's facing the same opponent as in 2018: Republican Gov. Brian Kemp, who defeated Trump-backed David Perdue.
Four years ago Abrams accused Kemp of using his position at the time, as secretary of state, to suppress voter turnout. Kemp denied the allegation. But access to the ballot box continues to be a central theme in the Georgia governor's race. Perdue, who has the backing of Trump, claims without proof that his runoff bid and the 2020 election were "stolen."
---
June 7
Iowa
Incumbent: Republican Kim Reynolds, running
2020 presidential margin: Trump +8
Republican Gov. Kim Reynolds is the nominee for her party as she seeks a second four-year term.
Reynolds was the first woman elected Iowa governor in 2018. She has gained national prominence since then, delivering the Republican Party's rebuttal of President Joe Biden's State of the Union address earlier this year.
Reynolds will face Democrat Deirdre DeJear, a former secretary of state candidate who worked on the Iowa campaign of Kamala Harris when she ran for president. She would be the first Black woman elected to statewide office if she wins.
But DeJear's political prospects are an uphill battle in a state that has shifted more conservative in recent election cycles. Reynolds has also raised millions for her reelection bid while DeJear had just $8,500 available as of January, according to the most recent numbers released.
New Mexico
Incumbent: Democrat Michelle Lujan Grisham, running
2020 presidential margin: Biden +11
Democratic Gov. Michelle Lujan Grisham, who is seeking another four-year term, will face former TV meteorologist Mark Ronchetti in November.
Lujan Grisham, who was elected in 2018, is only the third woman of color to ever be elected governor in the country. She has outraised all her opponents as she counters criticism about her response to the pandemic — which included extended restrictions on gatherings. Lujan Grisham has defended her decisions, saying they helped save lives in the state.
South Dakota
Incumbent: Republican Kristi Noem, running
2020 presidential margin: Trump +26
Republican Gov. Kristi Noem is seeking a second four-year term and had raised a record-setting $8.5 million as of January for her reelection bid.
Noem gained national attention after the start of the pandemic for challenging mitigation measures. In recent months, she signed the first anti-trans law of the year and signed an executive order that prohibits mandated teaching of "divisive concepts" in K-12 schools.
She'll face the state House minority leader, Jamie Smith, a Democrat, in this heavily Republican state in November.
---
June 14
Maine
Incumbent: Democrat Janet Mills, running
2020 presidential margin: Biden +9
With Democratic Gov. Janet Mills clearing her party's primary, the real test for her reelection bid will come in November when she faces Paul LePage, a two-term former Republican governor who has also cleared his party's primary ballot.
LePage, who clashed with members of both major parties during his time in office, notoriously said he was "Donald Trump before Donald Trump." He has made his criticism of Mills' response to the pandemic a key issue for his campaign.
South Carolina
Incumbent: Republican Henry McMaster, running
2020 presidential margin: Trump +12
In the Democratic primary, State Sen. Mia McLeod lost to former U.S. Rep. Joe Cunningham. They were the two top fundraisers in their party's primary for a chance to go up against Republican Gov. Henry McMaster in November.
---
June 28
New York
Incumbent: Democrat Kathy Hochul, running
2020 presidential margin: Biden +23
Democrat Kathy Hochul became New York's first woman governor last year when her predecessor, Andrew Cuomo, resigned in disgrace over allegations of sexual misconduct. (He has mostly denied wrongdoing.)
Now Hochul is seeking to be elected on her own to a full four-year term, and her fundraising — a record-setting $21.6 million as of January — helped clear some of the field. She won the Democratic primary easily and will face Republican Lee Zeldin in November.
She will run with Lt. Gov. Antonio Delgado, who she named to that post after the former lieutenant governor resigned following charges related to a campaign bribery investigation.
---
August 2
Arizona
Incumbent: Republican Doug Ducey, not running
2020 presidential margin: Biden +0.3
Trump-endorsed Kari Lake, a former television anchor who has called Biden's 2020 win "a sham." emerged as the winner over Karrin Taylor Robson, who had more support from establishment Republicans, including the state's governor.
Katie Hobbs, the current secretary of state, is the Democrats' nominee. She campaigned on ensuring accessible elections, a holdover from her messaging as the state's top elections official during the 2020 election.
Candidates have raised more than $24.4 million for this statewide race, according to totals for the first quarter of the year.
Kansas
Incumbent: Democrat Laura Kelly, running
2020 presidential margin: Trump +15
Democratic Gov. Laura Kelly is seeking reelection in a conservative-leaning state where Republicans who control the legislature have clashed with her policies. In the general election, she will face Republican Attorney General Derek Schmidt, a longtime statewide official who has been critical of Kelly's pandemic response.
Michigan
Incumbent: Democrat Gretchen Whitmer, running
2020 presidential margin: Biden +3
Trump-endorsed Tudor Dixon emerged from a crowded and chaotic Republican field to challenge Democratic Gov. Gretchen Whitmer, who gained national prominence during Trump's years in office for her public criticism of the former president's policies. Dixon, a conservative media personality, recently declined to answer a question about whether she thought the 2020 presidential election was stolen.
Whoever advances from the Republican primary will face Whitmer's fundraising prowess: She has brought in $9.5 million this year and raised about $29.3 million this election cycle.